INSERT SHORT HEADER
There are some key staple pieces of clothing which make up the basic wardrobe of every sharp dressed man out there. Having these items makes getting dressed in the morning easy as everything required for that effortless look is to hand.
So what exactly are the key pieces every man needs? We have narrowed it down to six essential things which should be tucked away in every gentleman's wardrobe, to ensure he looks well-dressed every day.
A Good Pair of Jeans
For those weekends relaxing you can't beat a good pair of jeans – classic blue denim which fits perfectly and enhances in all the right places. Jeans are so versatile, teamed with a t-shirt for the ultimate casual look, to pair with a Tuxedo jacket for a night on the town.
The important thing is to make sure they are good quality, not worn out and are in a current and appropriate style for you – the last thing you want to do is wear jeans which are not right for your size or your age. Classic tailored jeans suit any age or frame.
Plain T-Shirts
You can't go wrong with owning a series of plain t-shirts – they look great paired you're your jeans for a casual look, or under a suit for a trendy smart choice. Every man's wardrobe should include a quality plain white t-shirt and a dark charcoal grey as an absolute minimum.
But the great thing with t-shirts is they come in so many styles and colours. Pick a neckline that suits you, whether it's round neck or V-neck, and avoid logos or garish slogans – keep it classy with plain t-shirts.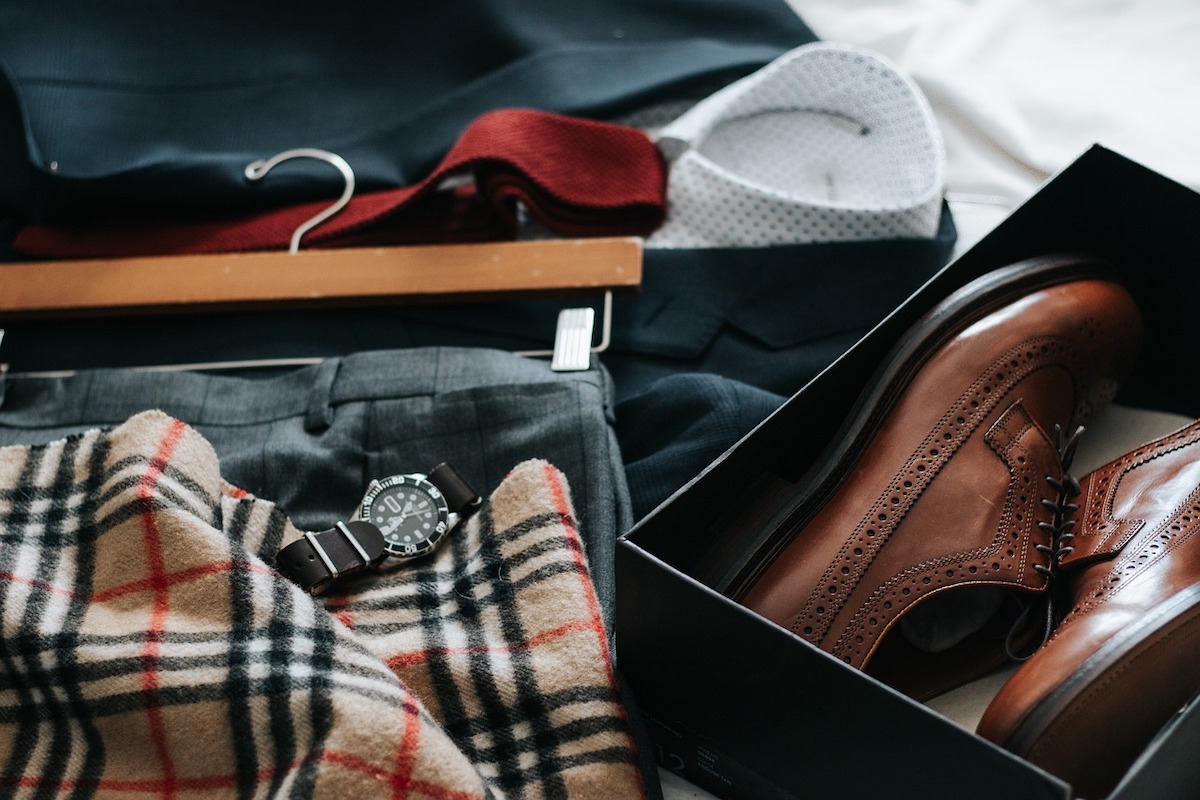 Shirts for Every Occasion
There are times when a t-shirt is just too casual so every well-dressed man needs a set of shirts to choose from, to wear daily to work with a suit, or to team with jeans for a smart night out. Plain white shirts are a must but other classic colours should also be explored, including blue and pink, to add a bit of creativity to the everyday wardrobe choices.
You also need to make sure you have a formal dress shirt designed for cufflinks that will match perfectly with that Tuxedo tucked at the back, so you know you can create the perfect evening look without any hassle, should the occasion arise. Having a versatile men's dress shirts also add more functionality to your wardrobe, you can use this for social gatherings for either work or play time.
Other shirts which you might want to wear with jeans or other casual trousers include short-sleeved shirts and you may even want to add in some of your favourite team rugby and polo shirts to broaden out the wardrobe even more.
Quality Cashmere Jumpers
Another staple which comes in many colours is a cashmere sweater – which every gentleman should own, to keep warm on summer evenings and wrap up cosy within the winter. Again, choose a shape and style which most flatters your body shape.
Choose colours which complement your skin and hair tones and you can even wear a thin cashmere jumper under a suit as an alternative to a dress shirt and tie, for a colourful and cosy look.
A Series of Different Suits
Any gentleman will have a number of different suits in his wardrobe but it should always include two workwear options – navy and grey – to see the week through. A tuxedo or dinner suit should always be kept carefully at the back of the wardrobe ready for that party invitation and a linen summer suit makes the wardrobe complete.
Accessories
Finally, every man needs to have the proper accessories to complement all of his outfits. With shoes there should be a number of pairs but at least one pair of brogues and a pair of black lace-ups. These will work with the different suits, moving from casual to dressy just with a change of footwear.
With suits comes the need for ties so having a broad range of colours, patterns and styles means you will be ready for every occasion. Formal ties, plain ties and crazy ties all have a place in every man's wardrobe.
Other essential accessories include a pair of cufflinks to go with that Tuxedo as long as you have the right style of shirt to go with it, and a smart umbrella to keep your clothes dry whatever the weather. For those sunny days, you also need a pair of sunglasses which not only protect your eyes but enhance your sharp sense of fashion.
If your wardrobe has all six of these essential things included then getting up and dressed in the morning should become an easy task as you have everything you need to look sharp, smart, casual or romantic, at your fingertips, and just by switching a shirt or a tie, the look can be completely changed very easily.