Christmas is now over and we find ourselves in 2015. Whether 2014 was a good or bad year for you in terms of your personal style, this new year is a chance to change up your wardrobe and get off to a good start in January!
January is arguably one of the coldest months which means you're still having to wear plenty of chunky knits and overcoats. The overcoat has been a massive hit this Winter and shows no sign of stopping as we head into 2015. If you haven't already, take a look at our editors picks for coats and match it up with a warm thick jumper. Small details makes the difference between a normal outfit and a stylish one, so choose wisely when it comes to picking your jumpers. There's some cool patterns out there right now so you're bound to find one to suit your personal taste.
Now we're not saying follow the trends, but one that is definitely worth noting is the roll neck/ turtleneck, whichever name you prefer. The roll neck is a stylish garment that has returned and no longer attached is the old man stigma is once had. They are great for dressing up, replacing the typical white shirt if you wanted to add warmth to your outfit and they also look great under a blazer, you only have to take a look at how Oliver Cheshire has been wearing it and they certainly look slick. Roll necks can also be worn on casual days as well just pair them up with any slim/skinny jeans.
Although the fedora was a go to hat in 2014 and I'm sure we'll see plenty at the upcoming LC:M, they just don't add much in terms of practicality. If you want a stylish winter accessory this January then make a small investment in a ribbed hat. We all have them days where your hair just isn't going the way you want it, so it's always nice to have a back up to slip on as you leave the house.
Everyone seems to have a new found determination when January comes around, so why don't you translate this into your wardrobe by wearing something you've always wanted to try, but never braved. One example is the patterned pancho/cape scarf which is a rising trend at the moment. They look great and make statements at any special event, as well as down the street. Patterned scarfs are rising this season and can be worn a lot easier to dress down.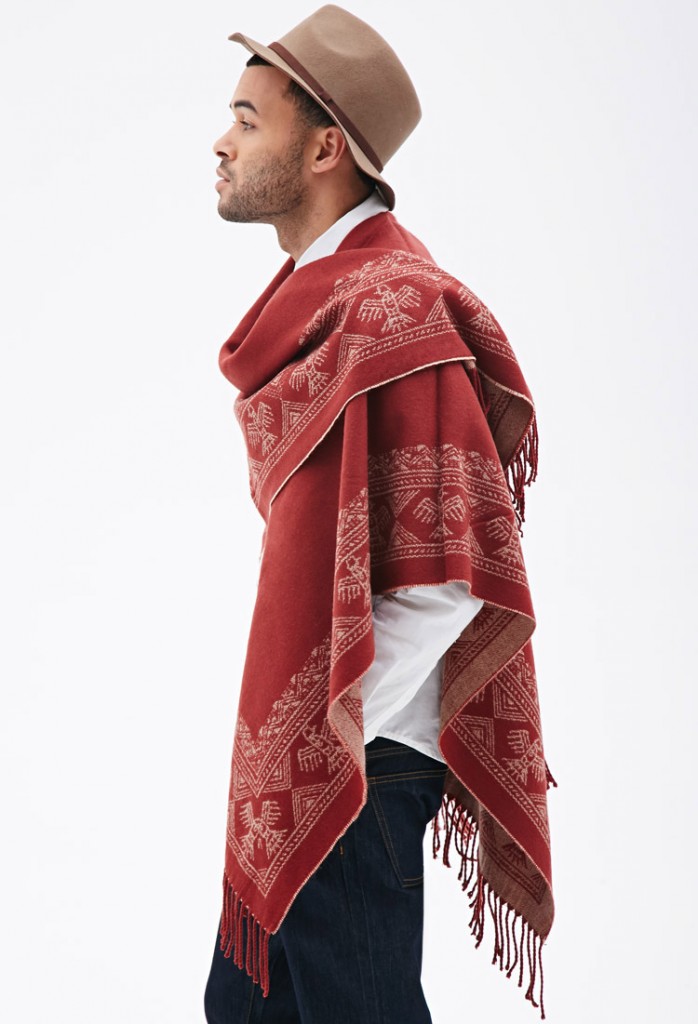 Click here to buy this Southwestern-Patterned Poncho.
From Boxing Day onwards it's a great time to pick up some sale steals. With reduced prices in almost every store until around the end of January, it's a great time to purge your wardrobe of anything you don't wear and start to fill it with items you think you're going to wear all the way up to the end of 2015 and beyond. When buying clothes think of what you already have, what you can match it with and more importantly will you wear it. It is definitely a case of quality over quantity.
So there's just a few suggestions on what you should be wearing and doing in January. What are your essential items going into 2015?