After he revealed his innovative collection to the world, Dirk Standen, the editor-in-chief of STYLE.COM interviews the man to get an insight about the latest collaboration, why he wants to be the Robin hood of fashion and as well as all the things that run in the mind of Mr West. Read the interview below:


It's quite daring to keep clothes that simple. Nearly every designer over-embellishes and over-designs, and then people don't actually want to wear the clothes.
I wouldn't consider myself to be a designer in that way, I just want to propose a solution to problems that me and my wife and my friends face. I sit with a group of problem solvers and say, "In this situation, I would like to have this." And then from my art background—from my heart background—I have a perspective on color that I've always wanted to get across. What I thought was interesting was taking a red and doing it in a sports bra, and as opposed to the usual super-techy fabrics that people use for gym clothes, to really have more of a dry approach to the gym clothes. Even with the way we took Adidas socks and turned them into sports bras. It's like, "What is almost like Alaïa that you can sweat in?" A sock! And it had to only be the sports bra because it looked really funny once [it] started going into the biking shorts. I tried that and that didn't come out so well.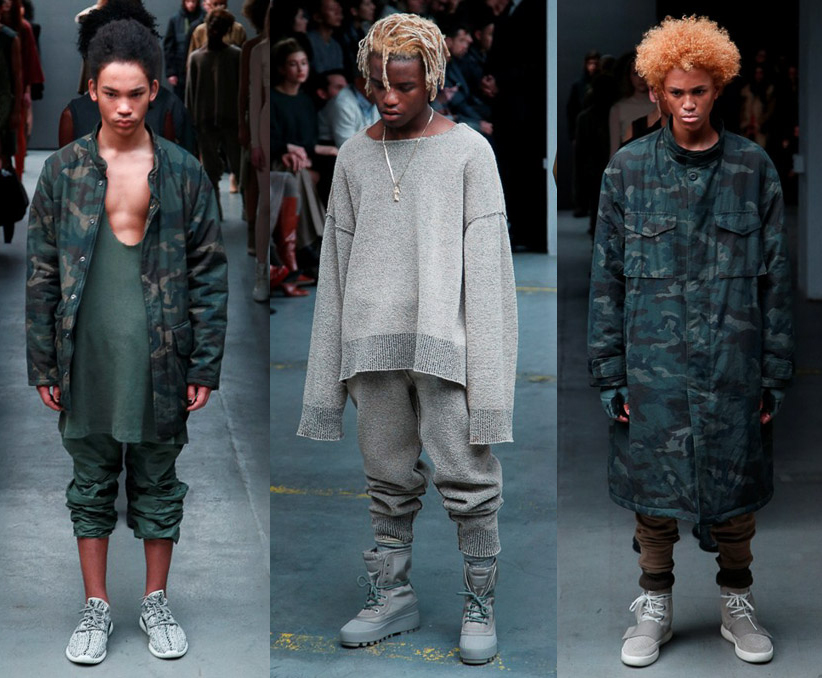 And did Adidas give you a completely free hand to do whatever you like? How was working with them?
No, they put some boundaries, but solutions come from boundaries. I stepped in, we had to learn [to work with] each other. I had to learn what my voice was because I was still coming off of doing crocodile this and almost irresponsible takes on designing clothes to make up for a lack of skill. And now I have a real purpose to what I want to present. Adidas is the perfect place to be. If someone was to say, "Hey, do you want to go to a high-end house now?" I'd absolutely say no. I'm not trying to [sound] presumptuous, I'm just saying that if in my wildest dreams I was presented with the opportunity, I would absolutely say no at this point. Because I'm only concerned with making beautiful products available to as many people as possible … The least I could do is spend my time trying to give other people a piece of the so-called good life. Everyone should have the good life. It's like [Amancio] Ortega [founder of Zara] and H&M group. Before that happened, you could tell who came from money, who didn't, who had a bigger paycheck, who didn't. It was about separation and I think high fashion is about elitism and separation, and I am completely opposed to that … [though] I'll still go to crash the Saint Laurent fashion show so I can be closer to the genius that Hedi [Slimane] has, even if the prices aren't genius, even though the prices are completely unfair.
It's funny that you bring up Hedi Slimane because of the reaction on our site in the comments section. Your work is very different, but the only two people who get that extreme a reaction, for and against, are Hedi and you. I don't know what inspires people to either absolutely hate it or absolutely love it, but there's no in-between with you. Have you looked at the comments on this collection? Have you seen what people are saying? 
Oh, no, they just need to have the clothing. Anyone that has a negative comment just needs to have the clothing in their life. I don't need to read that because it's not going to inspire me in any way. I don't need any more negativity in my life [laughs] to make me work harder. I can't possibly physically work harder. I have to tell myself to go to sleep.
What about the reviews? Did you look at the reviews, or are you in a place now where you don't care about that kind of thing?
I don't read the reviews, because it's some kind of backhanded compliment or something focusing on not the main point. It was really difficult to do this. It would be difficult to make a proposition this simple for any designer. So many people told me that it had to have logos or it had to have this, but I fought for exactly what I wanted in my closet. I fought for what was true to me … There are a lot of kids in the streets that have waited for someone to speak for them and what they're doing and for them to connect with it directly. And that's what I'm here to do. Just as the last photo showed you, I've got an army behind me, so unless the reviewer is recognizing the army, they're not recognizing the tank coming. I mean, I don't know if people felt this, but it's too late. Like the Drake album says, if you're reading this, it's already too late. If you're seeing this, it's already too late.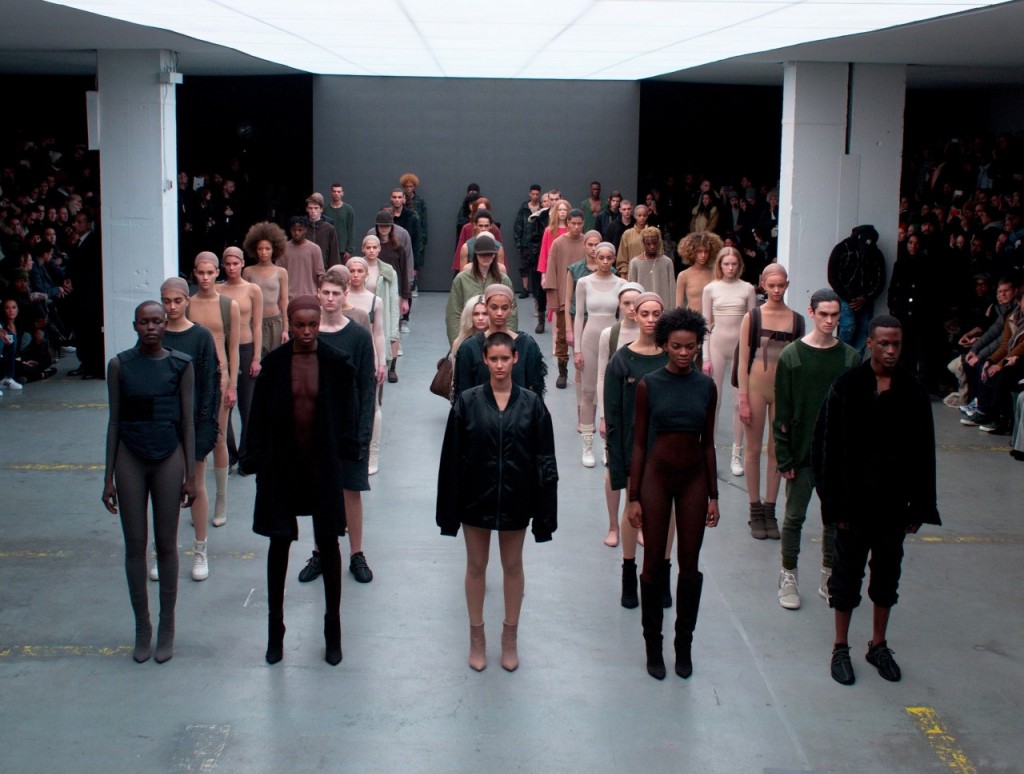 Tell me about the casting. It was every different type of body. Was that always in your mind as you were designing?
One hundred percent. Do you know how many fights I've had with intellectual fashion people about the idea of putting bodies on the—I won't even call it the runway. What would you call a place where a military brigade stands? It's no longer called the runway for me.
The parade grounds, maybe?
Yes, the grounds. Because in an army, people are different sizes. No one says you can't join the army unless you're 6'2″. People sometimes ask, "Why does Kanye West pander to fashion in this way?" I don't pander to it, I'm trying to learn from it. Because I believe there's some information in it that can help people have better lives. And it's being held and blocked and not given to the people. So this is very much a Robin Hood approach that I have to making clothes. Before, the companies, the big groups, the LVMHs, the Kering Groups, created the workplace [for] the beautiful souls that go and dream of fashion their entire lives. [They] go to the Harvard of design, Parsons, or the Yale of design, Saint Martins, they dream of one day being a part of the magic that fashion week creates and what these lines create. And they felt that if they worked in mass [market], which had—past tense—a negative connotation, that their dreams would be stepped on, crushed, and they would be thrown in some office in the garment district and never get to feel the glory of the true Paris runway. But when I did concerts, two, three years ago, when [Central Saint Martins] professor Louise Wilson was alive, I'd give 100, 200 free tickets to Saint Martins students in London. I did runway shows—one of the things that was successful about the runway shows is that there are people that I hired straight out of Saint Martins that went on to work for Balmain, that went on to work for Givenchy. And that made me a part of the system, as opposed to when you think of the idea of a celebrity hiring somebody, you'd be more embarrassed to have that name on your résumé. And now, I've got such a hard reputation of screaming, of doing this type of thing, if you've got my name on your résumé—
You can handle anything?
You can handle anything! [laughs] It's like New York City, the person. If you can make it here, you can make it anywhere. But seriously, because we don't take the shit. So now I'm able to go and hire people directly from Parsons, people directly from Saint Martins, and that was the key. These super-dreamers, these super-passionate people, these super-special spirits and souls—they were looking for a place to go. And now we have a place where you not only can create in an environment that's comparable to creating at a fashion house or creating at Apple or at Pixar, but also you can connect with people the way that H&M or Zara or, of course, Adidas can connect with people.
Do you feel that high fashion is sort of old-fashioned in a way?
I believe the category of ready-to-wear should be removed. I'm biased, but I think the best red-carpet look of all time—if not, one of the top five—was my wife's look at the Grammys. You know what [Jean Paul Gaultier] just did. He said, "Fuck the shit. I'm making real shit. I'm doing perfume and couture." And by focusing on that, he delivered … I just think for me as a person that dresses the most photographed person in the world, I get bored with ready-to-wear really easily. Here's this glamorous being, this modern-day Helmut Newton girl, and you just get this "mid" thing. I just feel like we've been hit with this barrage of extreme medium. And you never go and ask, "Hey, can I get an extreme medium?"
Tell me about dressing Kim. Why is that important to you? Do you see it as similar to your design process, dressing her?
It's learning. She was always my muse, now she's become other designers' muses. Or designers' muses, because like I said, I don't want to disrespect designers by calling myself a designer, I just think I have a vision of something that I want to do. But God has a special way to teach people through life. I guess I got a little more credit for my second collection than my first, for whatever that is worth. But soon as we started dating, fashion people were really opposed to the idea of reality stars. And all the relationships, the somewhat friends that I had somewhat built up, completely turned their backs on her and me. They already had their back to her, and now they turned it to me. The so-called traction that I was getting in the high-fashion world was completely thrown out the window and I was finally allowed to go to school, where every day I was in my mom [Kris Jenner]'s house, in my little brother's old room, Rob's old room, re-tailoring a Céline skirt, re-tailoring a Saint Laurent jacket, re-tailoring a Zara top, re-tailoring Wolford … And day by day by day, [Kim and I] learned, we got better. We looked at the photographs together and she improved my style, we improved each other.
That's fascinating because a lot of designers don't work with a woman's body like that. I think that's one of the problems with fashion right now, so I find it fascinating that you're working directly with her.
With the body of all bodies, right?
And a different body than you see in fashion most of the time. That's what we were talking about with the Adidas collection.
And how do you present that in a way that's sexy and still dignified. And that's part of the reason why I work with really strong women, like Vanessa [Beecroft, the artist who staged the Adidas show], that will not allow a woman to even be halfway disrespected. It's such a far cry from what you would traditionally hear and see in rap. It was a complete new education.
"One of my dreams is to be the head creative director of the Gap. I'd like to be the Steve Jobs of the Gap."