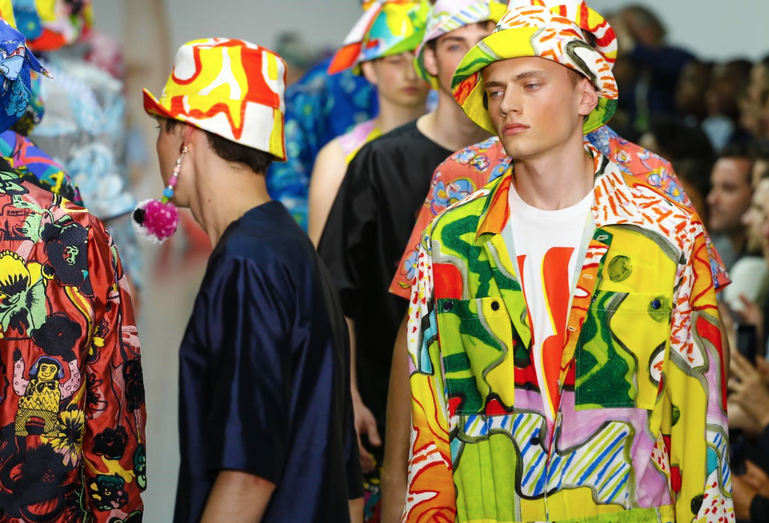 Exploding onto the London Collections: Men catwalk with an eruption of colours, Kit Neale's Spring/Summer 2016 collection draws influence from hoarding and purpose of objects through an exploration of thrift stores, British Car Boot Sales and flea markets. The collection offers an insight into the personal aspirations, influences and motives as Kit questions the reason to design, the purpose of consumerism, and the principle of fashion, art, culture.
Being influenced by the idea that "one man's trash is another man's treasure," Kit Neale began to form her collection around this concept, "I love the story objects can tell… I love that feeling of finding a piece of clothing in a thrift store, that jacket or jumper which feels just perfect, but costs a fiver!" Shaping this ethos around her new collection, Kit Neale successfully materialised the concepts of "fun, freedom and expression" through her garments.
The designers Spring/Summer 2016 collection features floral prints and hand drawn characters by Kit and partner Caspar Hodgson, that are embellished across several satin pieces and silks. Jacquards also made an appearance in the collection, emitting a nostalgic essence with its oversized relaxed silhouette made out of furnishing fabrics – similar to those found in a thrift shop – giving a nod to British subcultures.
View the entire collection below, and let us know in the comment box below, what you thought of Kit Neale's designs.