White trousers were made for summer!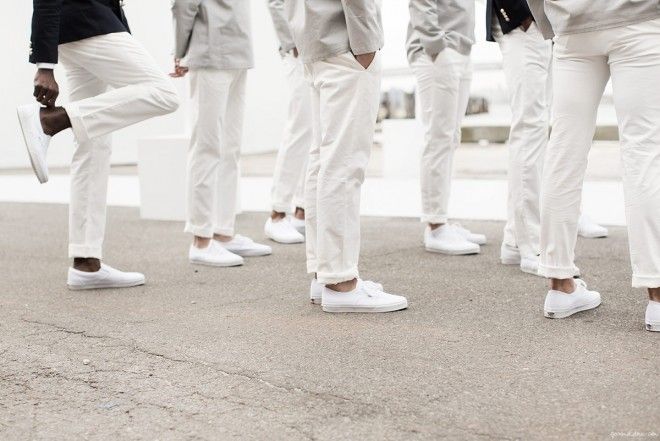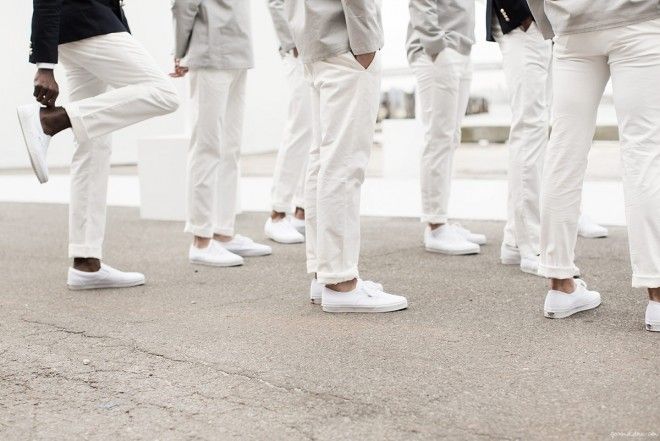 While Autumn/Winter can be epitomized by the parka and beanie hat, order Spring/Summer on the other hand is all about keeping things clean, simple and white. PAUSE is a firm believer that white trousers shouldn't be the reserve of millionaires who sail on yachts or own holiday homes in the French Riviera, because we believe white trousers are such a versatile satirical piece, it should be a firm go-to for all men. Sure behind the scenes they require great care and meticulous cleanliness; on the surface, whether they're loose or skinny, white trousers are cool, crisp, laidback and extremely sophisticated when paired and rocked correctly.
Formal
No more duvets and hot chocolate, it's time to get out & about and bring your white trousers with you. For formal occasions, white trousers are perfect when teamed with light weight sweaters, with a blazer with underneath either a tee or a white collar shirt in lighter colours such as pastels as well as various shades of grey. Complete the look with either a sharp pair of minimal brogues or loafers, if you want to get a classy and well put together attire.
Key Piece: Blazers to set your outfit ablaze.

Casual
Sometimes all you want to do is have a casual day, so all you need to give your white trousers the laidback chill look is to pair them with plain tees. With no laziness, when picking the perfect tee you need a T-shirt that fits your body shape and have a sharp tailored looking aesthetic. Eventually spice up the look with a trilby hat for a burst of fun and a wild selection of light; complete it with boots or comfy trainers that range from Visvim shoes to the classic adidas Original Stan Smiths.

Key piece: Sneakers to make you look like the coolest kid on the block.


Showstopper
Summer is all about pops of colour, energy and vibrancy: white trousers are the perfect combination to a whole spectrum of fun prints, bright colours and bold fashion choices. We're talking floral prints, checks and retro cool – imagine the title sequence of Saved by the Bell but on a shirt, then you will know what we're talking about! But forget mainstream stores, it's all about that vintage and sites like Rockit and Blitz can be a cool kids Mecca.
With the shirt doing all the talking, every other component of the outfit should be kept nice and simple. Preferably white or black, a monochrome pair of pumps or converse is what is required to add some balance to the overall look, whilst still maintain that eye catching flair.
Key piece: Colourful printed shirts, tees or blazers can do the talking.

Shop a range of white trousers / jeans here: