Jewellery does not really get manlier than that.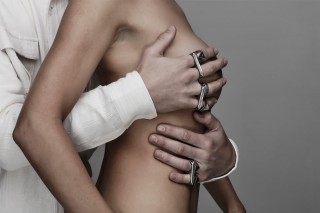 Provocative advertising is most often than not the best way to attract attention to a product. Australian brand I Love Ugly placed their bets on a series of very racy shots to promote their new range of men's jewellery and oh how right they were! The campaign featuring a man's hand cradling a completely naked woman in a variety of suggestive poses. And of course, the mentioned hand is covered with rough looking and yet so stylish rings. Cast from oxidised silver, each piece unique thanks to a particular distressing process. And to make it even more special, the rings are hand-finished with engraved quotations. The prices range from $255 to $335 for the silver range. There is a also a new 18K gold ring which will be going down for $2,110. So do not be afraid if men's jewellery and make sure you get your hands on this unique collection (no pun intended).
Available from the I Love Ugly website tomorrow, and from the day after the brand's flagships stores in Los Angeles, Sydney, Melbourn and New Zealand the day after.
#PAUSEFestival – Coming your way.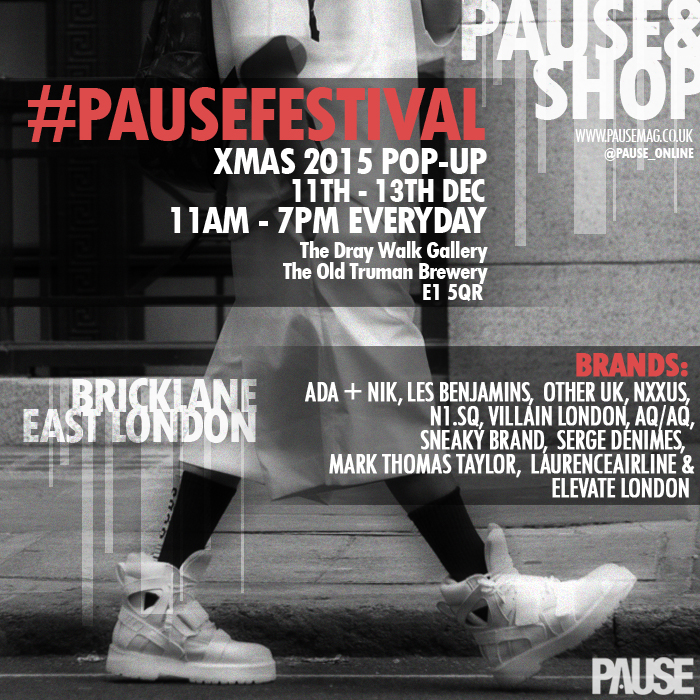 From Friday the 11th until Sunday the 13th of December 2015 PAUSE will be holding a #PAUSEFestival – Xmas pop up event in the heart of Bricklane, East London. Located at the The Old Truman Brewery on The Dray Walk Way Gallery, the pop up store will open from 11am until 7pm every day, selling a wide range of menswear brands: Ada + Nik, Les Benjamins, OTHER UK, NXXUS, N1.SQ, Villian London, AQ/AQ, Sneaky Brand, Serge DeNimes, Mark Thomas Taylor, LaurenCeairline & Elevate London.
MENSPIRE will be offering their barbering service during the event.
PAUSE will be selling our very own tote bags in black and we will be releasing an exclusive limited edition in denim.
On Friday the 11th of December, the first 10 customers will receive a free PAUSE black tote bag and the first 25 customers will get a free goodie bag. (Store opens at 11am)
On Saturday the 12th of December we will be selling new luxury footwear brand NBDA, which will launch at the #PAUSEFestival event. (Only on Saturday)
On Sunday the 13th of December we will be running an exclusive competition; full details coming soon.
Full Address:
The Dray Walk Gallery
The Old Truman Brewery
E1 5QR
*Free Entry* – Feel free to bring your friends & lots of CASH so you don't miss out on the goodies.

Further details please email [email protected]
Because clothes is not all that makes the Balmain muse.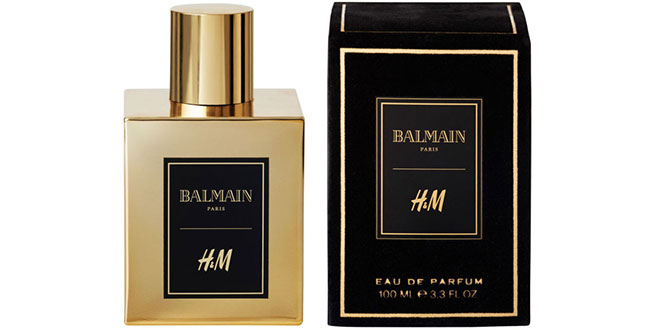 Just as we bearly managed to recover after the H&M x Balmain craze, the Olivier Rousteing and the Swedish high street giant are doing it again. This time, the focus is more precise and on only one primary sensory experience: the smell.
On December 3rd, the H&M and Balmain fragrance is going to hit the shelves of selected H&M stores across the world. The prefume promises to be extracly how you would imagine the luxury French brand would. Top notes of tonka bean and white jasmine petals, a heart of white woods and cedar and a finish of musk and sandalwood makes for a very heated yet sophisticated combination.
If you are ready for the whole queue deal again, save the day on Thursday. And by day, we mean the whole 24 hours, because that is how H&M and Balmain waiting gig seem to roll.