#PAUSEFestival – Coming your way.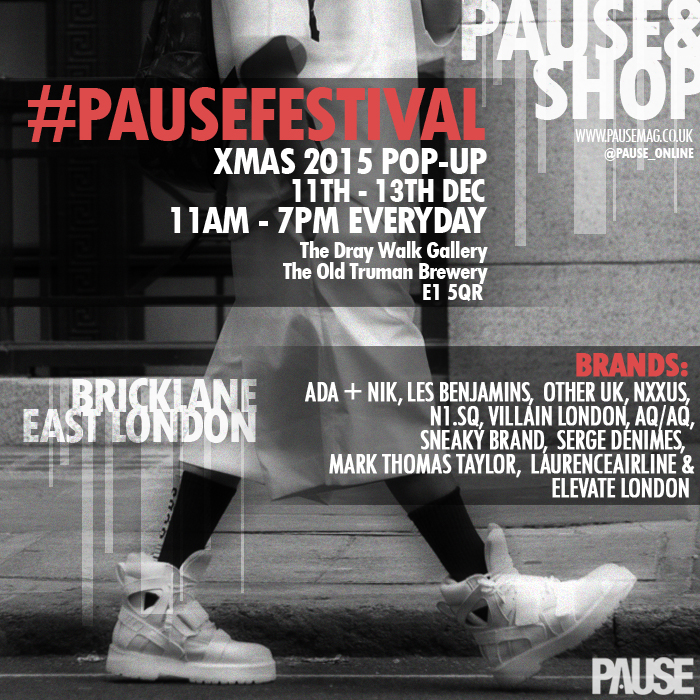 From Friday the 11th until Sunday the 13th of December 2015 PAUSE will be holding a #PAUSEFestival – Xmas pop up event in the heart of Bricklane, East London. Located at the The Old Truman Brewery on The Dray Walk Way Gallery, the pop up store will open from 11am until 7pm every day, selling a wide range of menswear brands: Ada + Nik, Les Benjamins, OTHER UK, NXXUS, N1.SQ, Villian London, AQ/AQ, Sneaky Brand, Serge DeNimes, Mark Thomas Taylor, LaurenCeairline & Elevate London.
MENSPIRE will be offering their barbering service during the event.
PAUSE will be selling our very own tote bags in black and we will be releasing an exclusive limited edition in denim.
On Friday the 11th of December, the first 10 customers will receive a free PAUSE black tote bag and the first 25 customers will get a free goodie bag. (Store opens at 11am)
On Saturday the 12th of December we will be selling new luxury footwear brand NBDA, which will launch at the #PAUSEFestival event. (Only on Saturday)
On Sunday the 13th of December we will be running an exclusive competition; full details coming soon.
Full Address:
The Dray Walk Gallery
The Old Truman Brewery
E1 5QR
*Free Entry* – Feel free to bring your friends & lots of CASH so you don't miss out on the goodies.

Further details please email [email protected]
Chanel have unveiled their stunning pre-fall collection in Rome.
The global design house's creative director, Karl Lagerfeld,  opted to show the most recent pre-fall collection in the Italian capital representing a 'Parisian in Rome'.
The predictably gorgeous collection incorporated both male and female attire with season appropriate design statements such as the earthy tweed outwear, clean white tops, inflated sleeves and a selection of carefully picked necklaces and pendants.
See more images from the show below.