In an attempt to lighten the world of street fashion photography, a new Twitter account called The Sarcastialist has emerged – a direct tongue-out parody of one of the most popular street style blogs, The Sartorialist. Taking images from The Sartorialist's site, the anonymous tweeter, now with more than 18,000 followers and counting, reposts the photos of street models with amusing captions that aim to take the seriousness out of the solemn looks and eccentric clothing.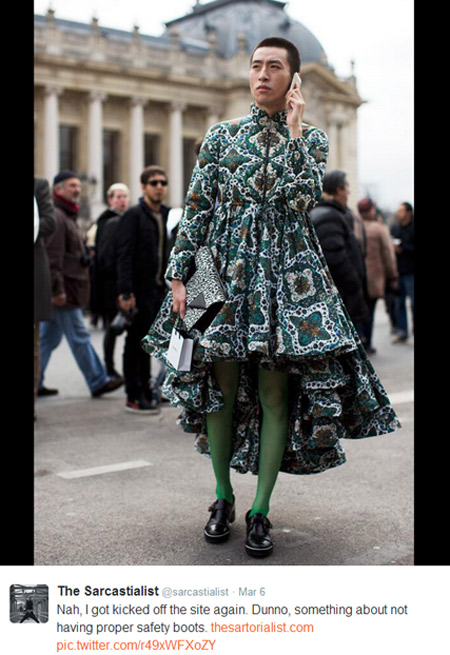 Hailing from Liverpool and injecting typically Scouse humour into the tweets (using words that perhaps not everyone will understand), The Sarcastialist recently spoke to BuzzFeed about why the account feels necessary: "The Sarcastialist came about because of the way the people in 'street style' blogs are portrayed. We're meant to think these characters are having a much better time than we are: spending all day waxing their muzzies in the sun and drinking eight quid cappuccinos, before riding home on their Danish racing bikes to watch Jean-Luc Godard films. This might be true but I'm convinced they have to worry about waiting in for the Iceland (a supermarket) feller, or getting mince out of the freezer as much as the rest of us, so I thought it would be nice to show another angle."
Evidently then, the Twitter account isn't trying to undermine the work of Scott Schuman on The Sartorialist, which has been featured in GQ and Vogue, resides in a permanent collection in the Victoria & Albert Museum, London, and has even been published by Penguin in an anthology in 2009. Instead, the tweets seek to portray a lifestyle that tries to match the common man and woman, rather than a somewhat elevated and extreme depiction of how fashion exists in this millennium.
"I'm not really taking the piss out of them. I thought a couple of my mates might see it and have a laugh, but it seems to have found a real audience. I'm happy to keep on knocking out the tweets as long as people want to read them", says The Sarcastialist.
The thought that The Sarcastialist could start his or her own blog in addition to Twitter, make sure it's equipped to go online, and perhaps even reach even greater heights than the parodied source, would be a great sign that people can dress however they want – yet still laugh about it at the same time.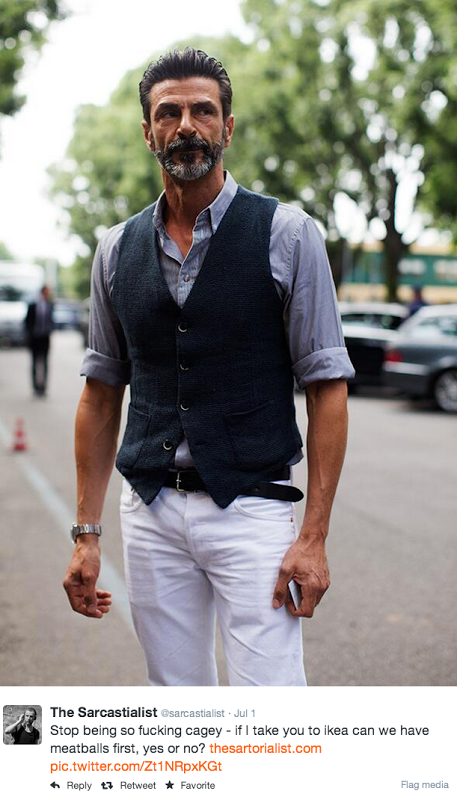 9th Day Of Christmas
Creative Direction and Styling: Samantha Ria // @SamanthaRia
Photographer: Benjamin Glean // @benjamingleanphotography
Assistant Stylist: Rhys Marcus Jay // @rhysmarcusjay
Hair and Makeup: Jaysam and Michael @ Jam Deluxe // @jam_deluxe
Fashion Assistants: Bernice, Emma and Albert
Model: Cameron @ Select // @camgreen11
On the 9th day of Christmas, PAUSE brings to you..
Clothing credits: Roll neck – Reiss, Jacket – Levis, Bottoms – ADYN
Gift Credits • Vita Coco – @vitacocouk • Reality Dreams Top – @realitydreamscc • The Blue Beards Revenge Pomade -@thebluebeards • Express Quinola @quinolauk • Structure Bonus Size Paste @structure_hair