PAUSE Meets Yungen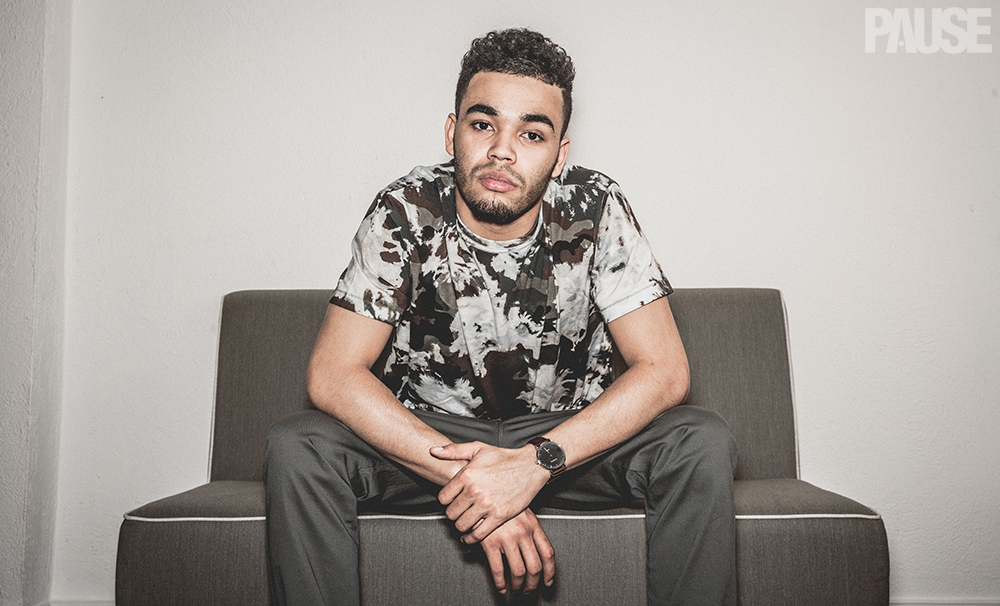 T-shirt: Off-White @ Harvey Nichols, Jeans: Topman, Watch: Kartel
Interviewer: Johnson Gold // @Johnson_Gold
Photographer: Jamie Kendrick // @Jamie_Kendrick
Fashion Editor: Samantha Ria // @SamanthaRia
Studio Assistant: Erwan Filidori // @Sickwan
Studio Location: Vrumi
Clothing Credits: All brands from Harvey Nichols
Listen closely and open your ears as we introduce you to London's rising rapper, Yungen. Climbing up in the UK music scene, Yungen was a kid who was too shy to face the camera growing up. Since 2010 Yungen has been able to share his life experiences from track to track, dropping hard lyrics on YouTube and winning Best Newcomer on the MOBO Awards. Today, Yungen is now signed to Sony RCA and drops his latest single Take My Number featuring Angel. We at PAUSE got a chance to talk with Yungen about his career growing up, favourite sportswear brands and what it means to be Forever Young.
What does the name Yungen mean to you and how did you come up with the nickname?
It was something that came from my friends; nearly all of my friends were older than me. They use to make jokes, "Oh Yungen" and I was like "Stop calling me that." When I started rapping and I was in studio, people would be like "Oh what's your name?" and my friends would be like "Oh, Yungen!" and I would still be like "Stop calling me that, that's not my name." Now when I look back it means a lot because it was my childhood, so it makes me think a lot about growing up.
Lets take it back to the '2k8' [2008] days, tells us about some of the challenges you faced growing up in South London?
It was weird because 2008 I lost one of my best friends, it was mad because I was 16 years old. We was literally young, running around just having fun, doing what you do as a 16 year old from a council estate. I lost one of my best friends that summer, the last day of summer. That changed my whole direction of life and where I wanted to go, it made me want to take things seriously. Even down to things like we always use to have motor peds, but illegally. I never got my motor ped again. That's the best thing that's happened to me and being the worst thing as well.
"2008 I lost one of my best friends, it was mad because I was 16 years old"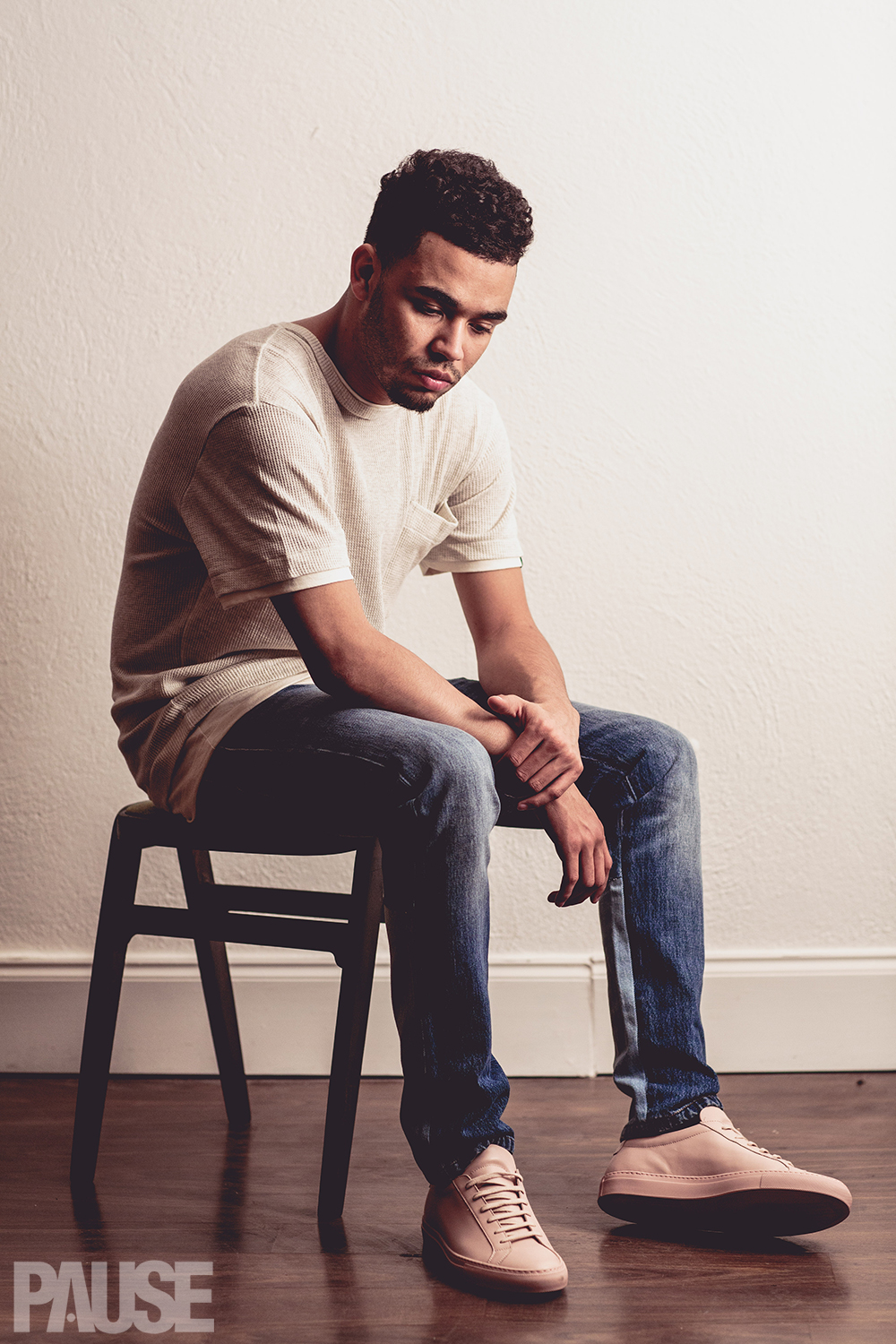 T-shirt: Mihara Yasuhiro Modified, Jeans: Valentino, Shoes: Common Projects – All @ Harvey Nichols
How has South London made you who you are today?
I think it's basically me… I was saying it the other day, even to what I eat. Morleys is what I eat. I would die for Morleys, that's me! South London has made me to who I am today.
Since the begging of your rapping journey, what has been some of your favourite tracks to date?

My first song that I ever done was Home Town, that's the first song I ever did about my estate and even my friend that died. That song means the most to me. Ain't On Nothing is probably my biggest song, that's taken me somewhere else. Even made people look at me that wasn't interested before. That's another song that means a lot to me and also Too Real.
So did you start rapping from 2008 when your friend died? When did you decide to take your music seriously?

Nah, I was rapping and messing about before that. But I would never rap to anyone. Then I wasn't serious then, I was writing a lot more because I had to write about. 2010 is when I took it seriously.
Why?
That's when I shot my first video and stuff. My friends were really onto me, they would say "Stop rapping to us man, go and rap on YouTube! We're sick of hearing you, you're sick." I was like "Nah man," I was shy. Even through my whole school life, I didn't take any pictures. I haven't got one picture in my school uniform. Not one picture, not even a school photo.
Really? Why?
I just didn't like cameras, I use to hate cameras. But I look back now and regret it because I have no memories of school. But now I would shoot videos and stuff, 2010 is when I first had a camera in my face.
"Through my whole school life, I didn't take any pictures. I haven't got one picture in my school uniform… 2010 is when I first had a camera in my face."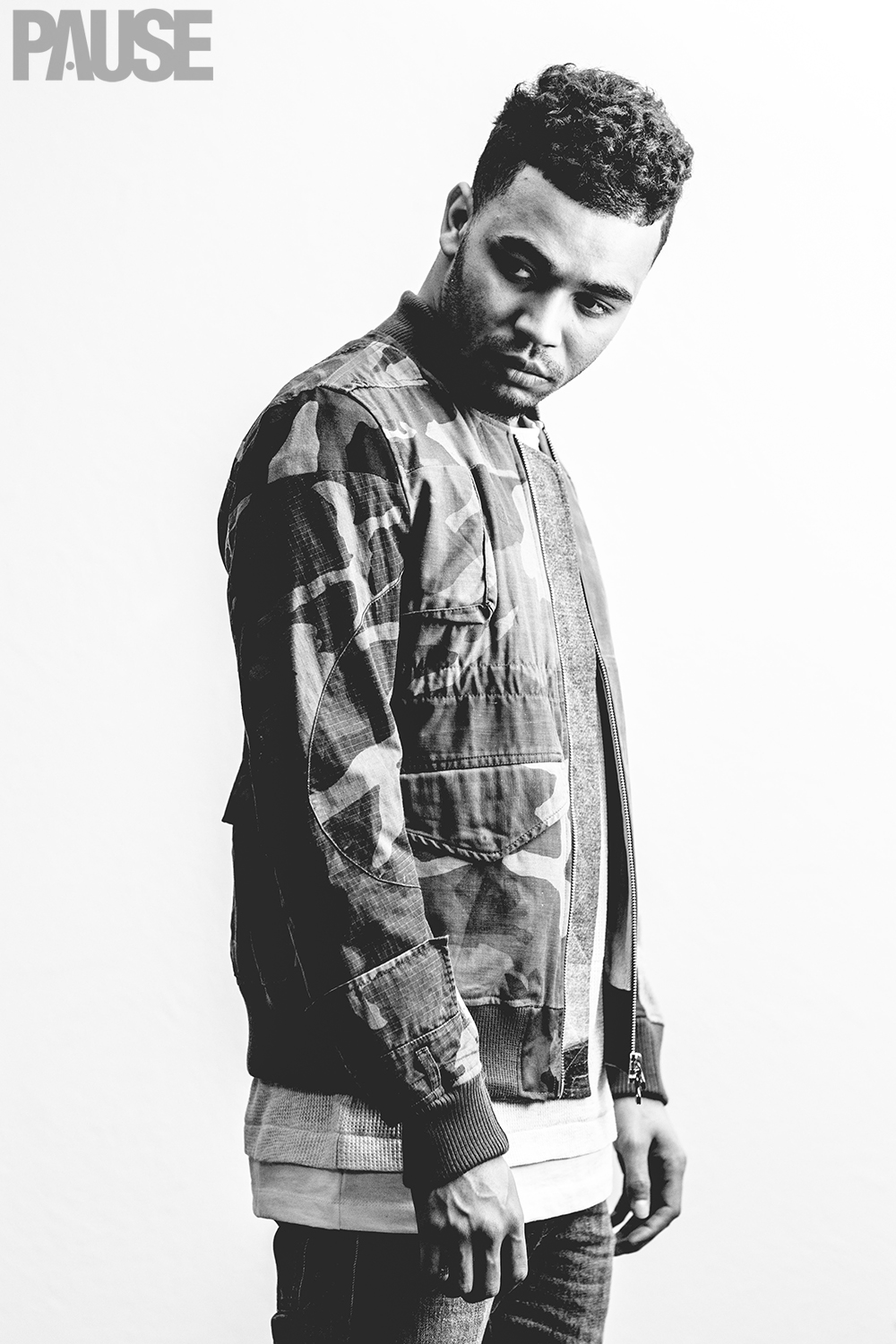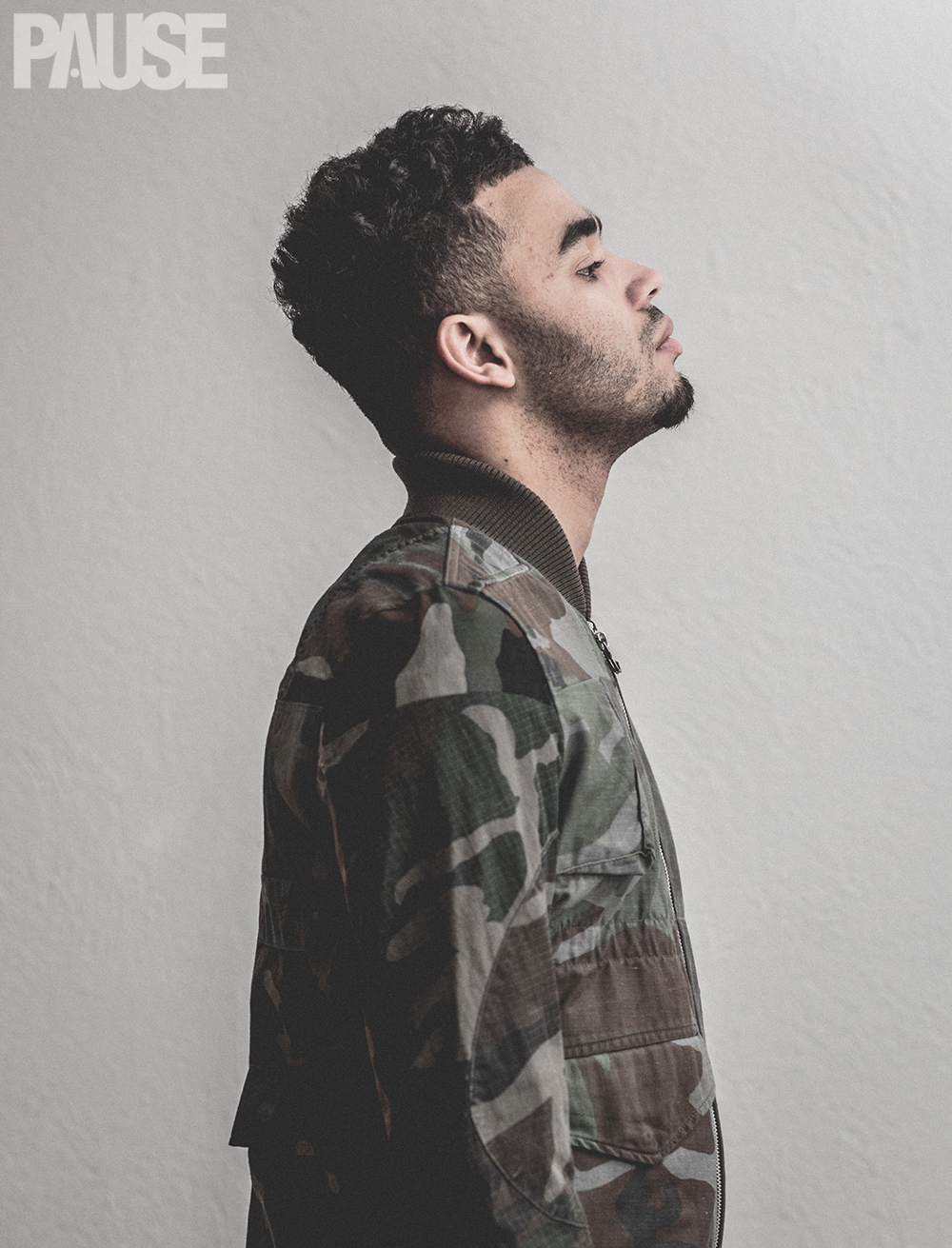 Jacket: Mihara Yasuhiro Modified @ Harvey Nichols

What made you turn to the other side? What gave you the confidence?
I think just me putting out that video and seeing how much love it got and I thought "wow man," because for me, that was a big thing. It's all good my friends are telling me, but you never really believe it. I was like "Oh you're my friends though; you're going to tell me I'm good."
I remember when the video got on Spiff TV and for me that was a big thing because I use to go and watch Spiff TV as a kid. Now, I don't appreciate stuff like that but at the time that was a massive thing to me.
You've got a tune called 'Comfy' – What would be your day to day comfy wardrobe essentials?
A tracksuit.
If you had to pick one, would you pick a Nike or an Adidas tracksuit?
Nike tracksuit, I'm just a Nikey boy. I love Nike. But in the last few years, I feel like Adidas has brought back the old 90s tracksuits when we was kids. Everyone has started wearing them again but I'm just more of a Nike tracksuit guy.
What other sport/street wear brands are you currently feeling right now?
Nike mainly but I like what PUMA has going on. PUMA is doing a lot now, I feel like they've proper [really] evolved by touching the youth right now.
"I'm just a Nikey boy."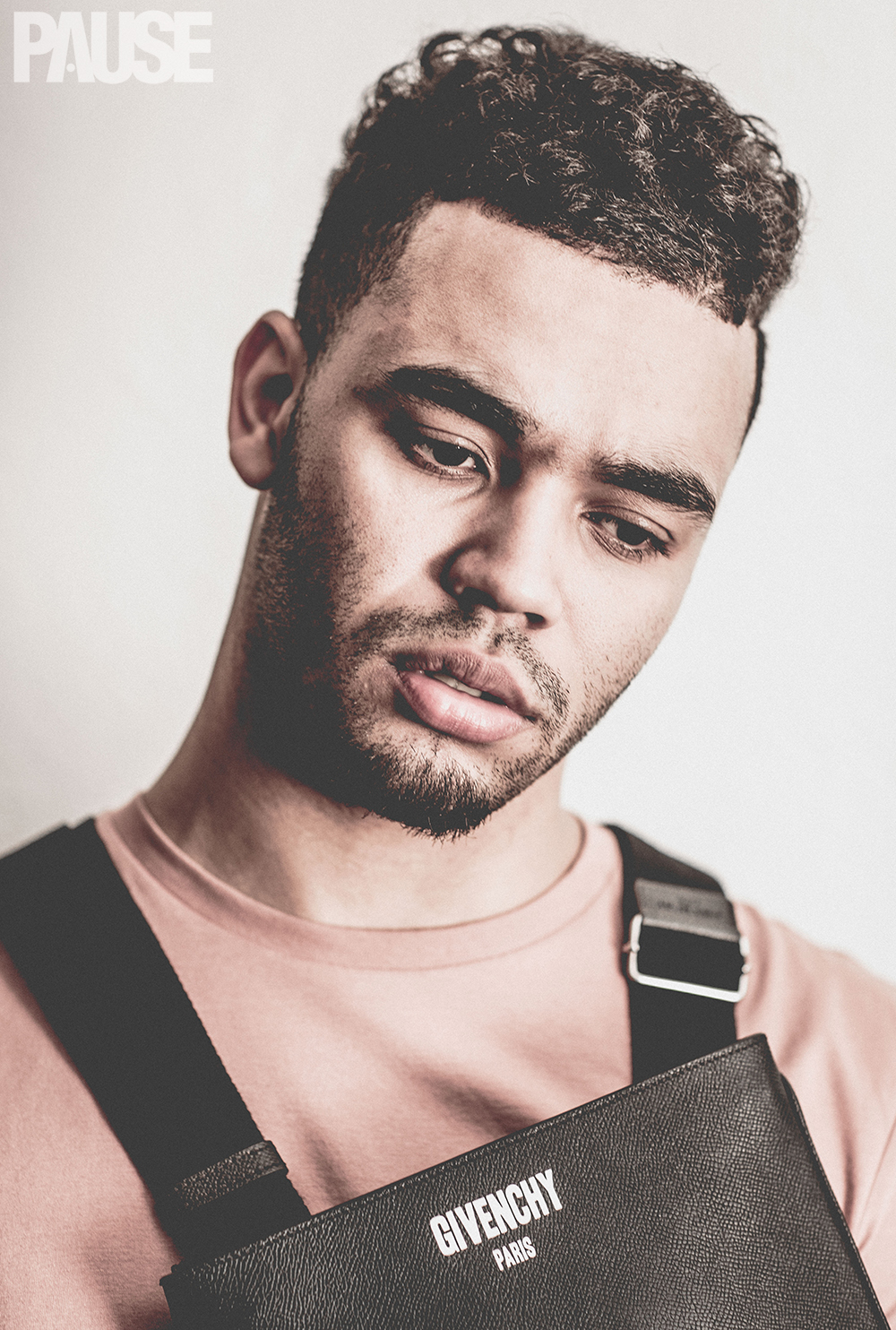 T-shirt: Topman, Bag: Givenchy @ Harvey Nichols
"PUMA is doing a lot now, I feel like they've proper [really] evolved by touching the youth right now."
You just launched your single 'Take My Number' featuring Angel, what made you venture a bit more into RnB with this song?
Do you know what's weird? And no one believes me when I say this. If you look at my playlist of what I listen to in my car, I don't listen to rap, I just listen to RnB. I got four other sisters and I'm in the middle of all of them. We'd all listen to RnB growing up, that's all I would hear in my house.

What kind of RnB tunes did you listen to growing up?
Old school RnB from Jagged Edge to Ginuwine, that's how deep it was in RnB. I would class Drake as RnB, that's the new RnB I'm into. I love RnB, That's my feel and with Angel he's got that, that's our RnB guy here in the UK and I think he deserve a lot more credit than he gets. I say it all the time, if he was American, he would be massive.
What does it take for a guy to take a girls number in today's age? What tips would you give the PAUSE readers?
[Huffs ]… Do you know what? I feel like it is too easy now, social network has ruined everything. I feel like social network has ruined that moment of walking down the road, seeing a beautiful girl and thinking wow. The nervousness of moving to a girl and if she rejects you, social media has ruined that. With Instagram, you just go in there and comment, "Hey… you look good… etc" and then you're in! That's how I feel now.
The good girls, I feel like you have to stay in the DM's now, for a while. You can't go straight for the kill "Yo, can I get your number, you on What'sApp?" because they will shut you down. The good girls, [laughs] there's not many.
"I feel like social network has ruined that moment of walking down the road, seeing a beautiful girl and thinking wow."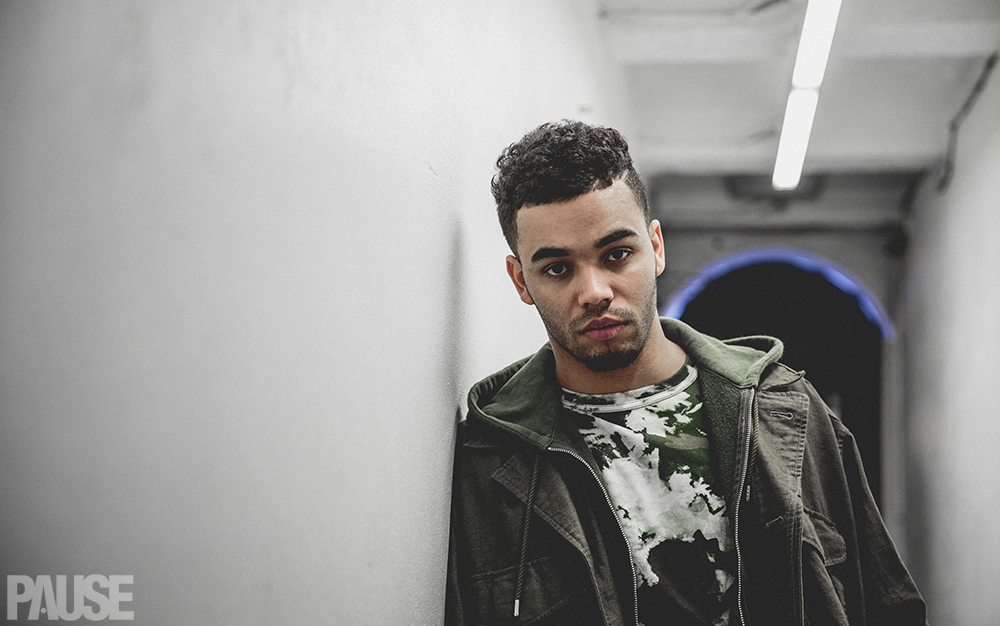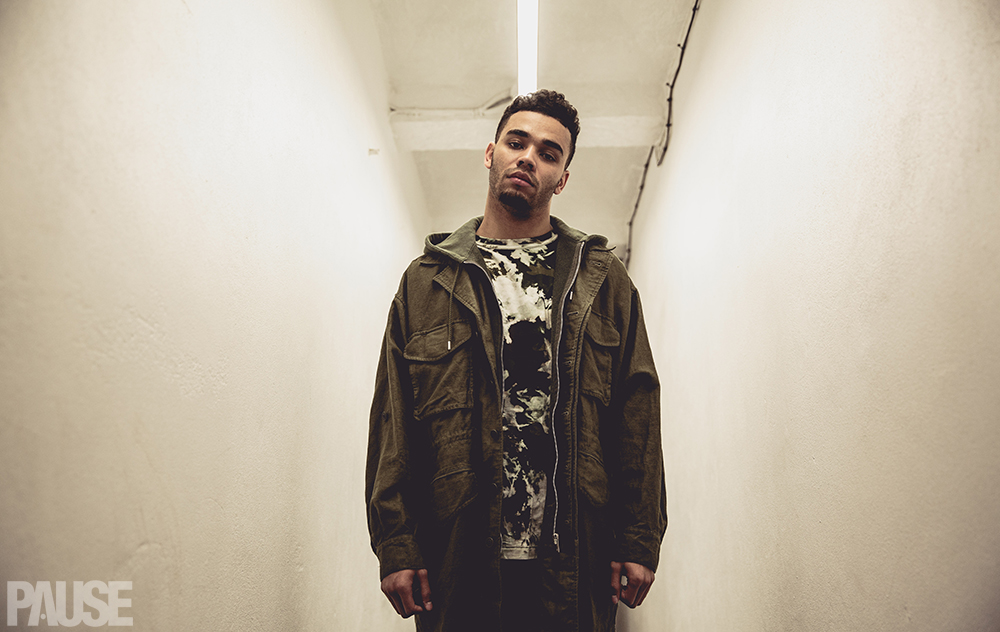 Coat: Mihara Yasuhiro Modified @ Harvey Nichols, T-shirt: Off-White @ Harvey Nichols, Jeans: Topman, Watch: Kartel
How do you come up with your Instagram captions?
A lot of listening to music… I would take a picture and it would make me think of a lyric and a song. Whether it is my own song, something I would hear or a feeling. I only put up a picture when I'm feeling something. That's why I don't just put up pictures without captions.
So I might take a picture now, but I'm not feeling something now. But I might be driving home and be listening to Drakes new album then think of a lyric and think oh yeah.
You'll be performing at Wireless this year, are you excited?
Yes! Very because I didn't get booked last year, I hadn't been booked before by having my own slot. It meant a lot this year. Last year I didn't get it and I was a bit disappointment in myself, so I was like next year I've got to get Wireless!
What plans have you got coming up this summer?
I've got a project dropping hopefully. It's finished but we're seeing how Take My Number goes. I've got a lot of festivals coming up; Reading and Leeds, Glastonbury and loads of over festivals. So I'm looking forward to it, this is going to be my best summer ever.
"I've got a lot of festivals coming up; Reading and Leeds, Glastonbury…  this is going to be my best summer ever."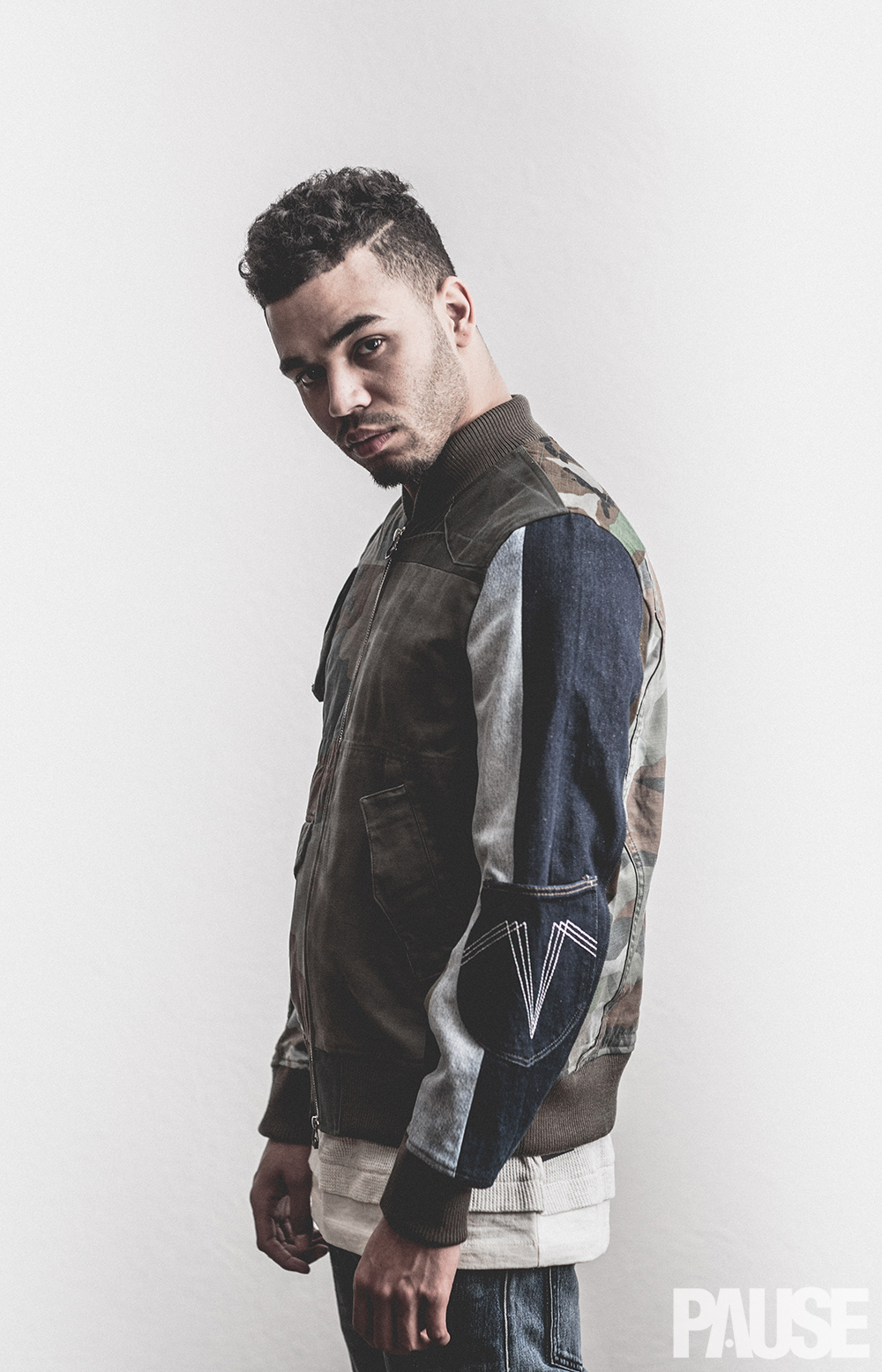 Jacket: Mihara Yasuhiro Modified @ Harvey Nichols
What have you learnt about the music industry since you got signed?
Urm… not much has changed since I got signed to Sony RCA. But I've realised how serious things are and how much work gets put into making a record big. Because before, when you're just a fan of music and you're watching it, you don't understand what goes on behind the scenes. Where I am at now, doing my first single, I was like "Oh rah [wow], can't we just tweet it?" But it's not like that. I think being signed has come at a good time for me. I feel like I got to a point where I knew a lot of the underground. I know how to get a hundred thousand views or even get a million views. But to sell records I don't know and that's where the label comes in.
Who are the top 5 UK MC/Rappers at the moment?

I would say… Stormzy, Skepta, Krept and Konan, G FrSH. I'm going to say G FrSH because I feel like he's very much underrated. Every time I listen to him I'm always like "Your one of the best," so definitely G FrSH. I'd have to say Wretch 32 because Wretch is my favourite of all time.
What does it mean to be 'Forever Young'?

It means everything to me; because of the whole name Yungen people are like "What you going to do when you get old?" and I say "I'm Forever Young," but forever is more than this. Even with all my friends from my estate, DJ's… everyone. We're going to do this for ever, even my manager. We had a friendship before this and we're going to do this forever.

What advice would you give to your younger fans about making decision for their future?
I feel like you've got to go with your heart, always. People always say take advice, but when advice is good. Always believe to go with your heart in every situation.
"Always believe to go with your heart in every situation."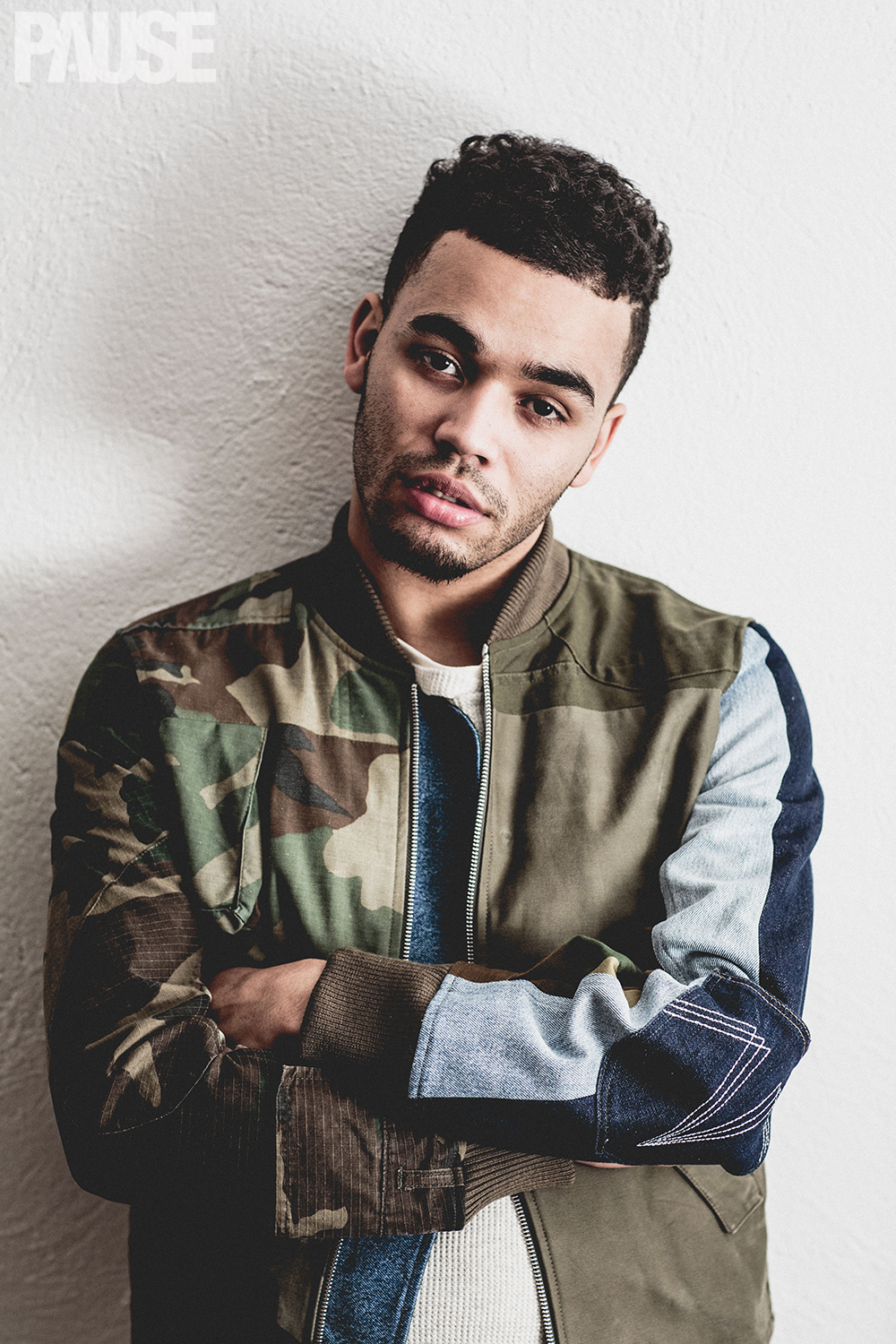 Watch Take My Number by Yungen featuring Angel below:

Gucci Reborn
Being part of the fashion industry is always a risk. You can never count on your current place, because even if you reach the highest position and everyone loves you now, tomorrow everything can change. Never relax, never think you are safe, because you aren't. Recently, several creative directors of big companies have abandoned their roles. It is pretty obvious that being a designer and conceiving eight collections per year is not a game. However, it is part of the game, to surprise the audience everyday.
Gucci creative director Alessandro Michele received the International Fashion Designer of the Year award at the 2015 British Fashion Awards. In his acceptance speech, he said "They had the courage and the foolish act to appoint an unknown guy like me as the creative director of one of the most influential fashion houses in the world." You must be a little crazy to desire to work in the most competitive industry and to keep your position. And Alessandro Michele is certainly a little crazy, in a way that people admire.
Thanks to his idiosyncratic sense of vintage style, he has helped to return Gucci to the fashion conversation. Marco Bizzarri – Gucci CEO – said "Fashion is about creating emotion, it's not necessarily rational. I thought, why should I look for someone else when he can translate the heritage and when the values of Gucci are in his veins?". He made the right bet! From January, Gucci's clients have strikingly increased. The brand also gained new customers – younger and more fashion-forward – and still maintained the previous ones.
Michele pulled treasured vintage pieces from his wardrobe to use as inspiration, and many prints were taken from antique textiles in his own collection, all "to put together that kind of garden" as he expresses it.
He describes himself as the waves of the ocean: he gesticulates a lot, shaking his head with all his thick long hair following those energetic but delicate movements. "I am passionate about the shapes of the craziness" he tells. Only eight months have passed, but he revolutionized this brand. How did he do it? In only five days he realized his first collection for Gucci thinking, "as a kamikaze", to do it and then live the house. "Don't ponder, ponder means make errors".
His works are focused on imperfections, because to create something perfect you need to include a few errors in it. An error creates beautifulness. As an antique wardrobe makes the design of a minimalistic and modern room more fascinating, a vintage language in the lines gives to the clothes a new perspective. "The polluting cause is fundamental for me".
His last collection was soft, youthful and had a sense of freedom – according to Vogue. Floral prints, chiffons, bows, cuffs, laces were the protagonist. The most impressive part is his well-crafted androgyny. His feminine-infused menswear, all rose tinted, intended to give the concept of the freedom to construct new meanings, going back to the original idea of Gucci luxury.
The silhouettes were fluid. Floral embroidery were all over flared-trousers suiting, bomber jackets and shirts. Everything was brought to exaggeration. Rich in detail and lavishly decorative. The historical logo has been adapted to a new softer hand and the interlocking G motif was applied to trench coats and bags.
The joyful pop colours with flyaway blouses and sparkling lurex tops remind vintage Bowie androgyny, while silks with cherry blossoms and birds called to mind chinoiserie; in a season were minimalism and dark shades are the most popular trend, this is a bold move.
The rampant machismo that once defined Gucci has flowed into a more nuanced territory. In this new chapter of its history, in fact, menswear and womenswear are blurred together. Watches, sunglasses, bags and wallets are unisex. Why limit the choice?
One trend that cannot certainly be unnoticed is fur: fluffy footwear popular both in men and women fashion – included open shoes versions. Gucci's Kangaroo fur-lined loafers first took centre stage in July when they made their debut in the menswear runway show. Soon after, the brand launched the female version as part of their 2015 Fall/Winter season look.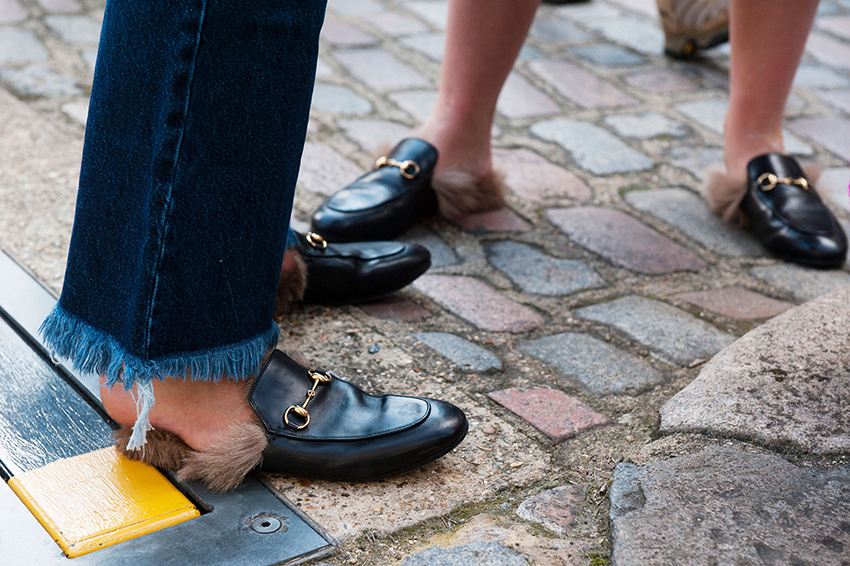 Does avant-garde always come along with peculiarity?, Where are we all going to end up?