The LCF MA continues to tell a bright future for British fashion.
Check out all the looks from the LCF MA graduate designer show from this Friday, January 8th.
Alexis Housden
With inspiration coming from the concepts of mourning and loss, Alexis Housden presented an ethereal collection of sheer white shirts, light flowing trousers and some alternative uses of veiling. PAUSE's favourite? A sleeveless duster jacket in a romantic pastel pink.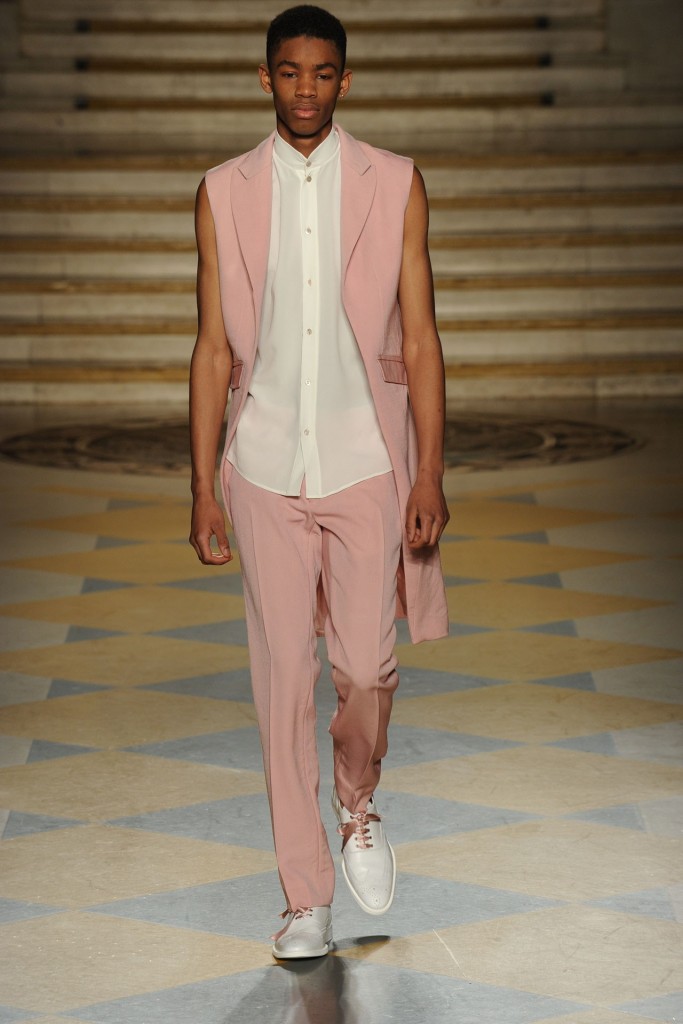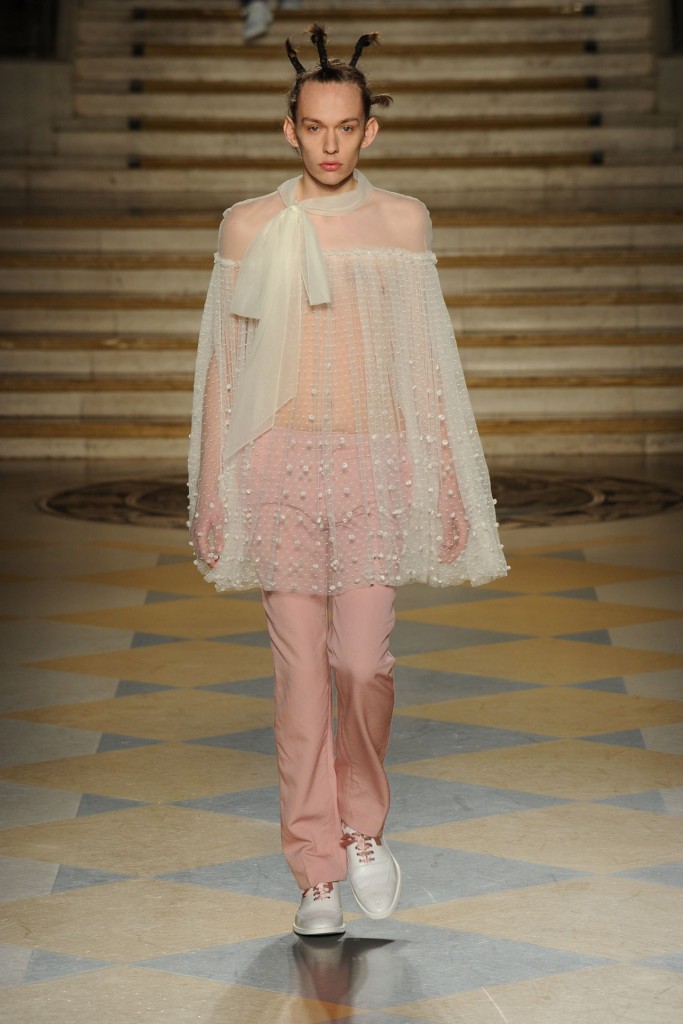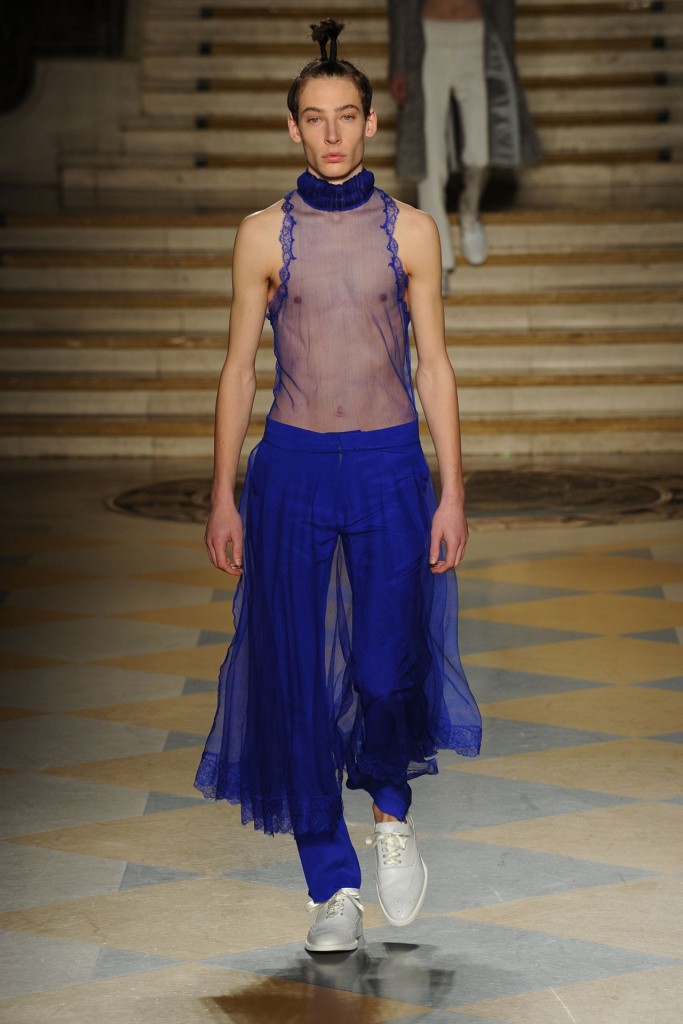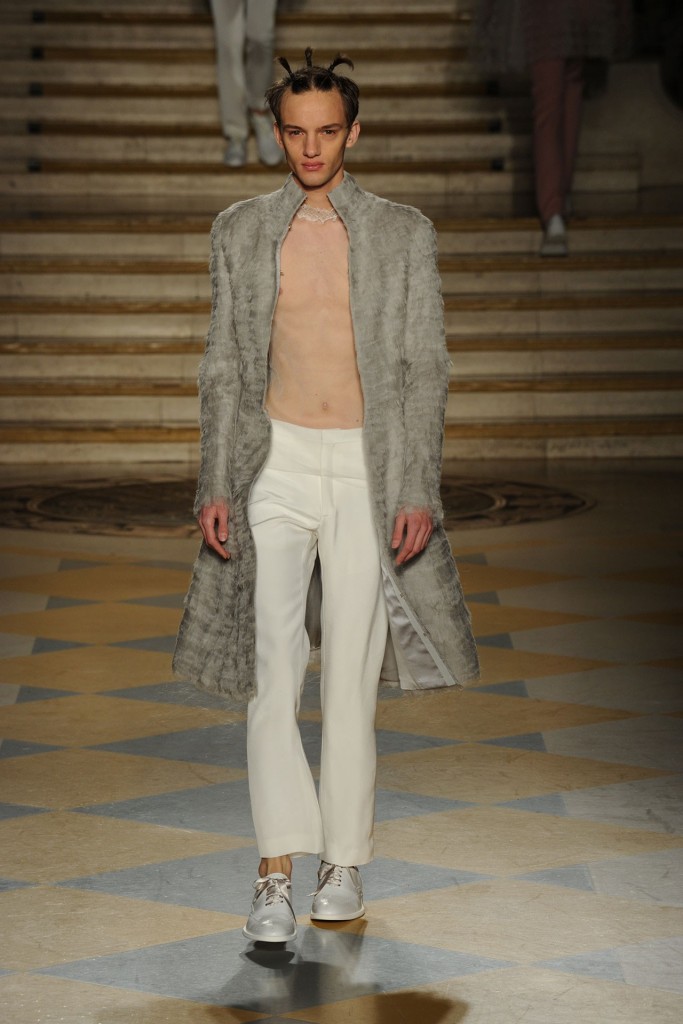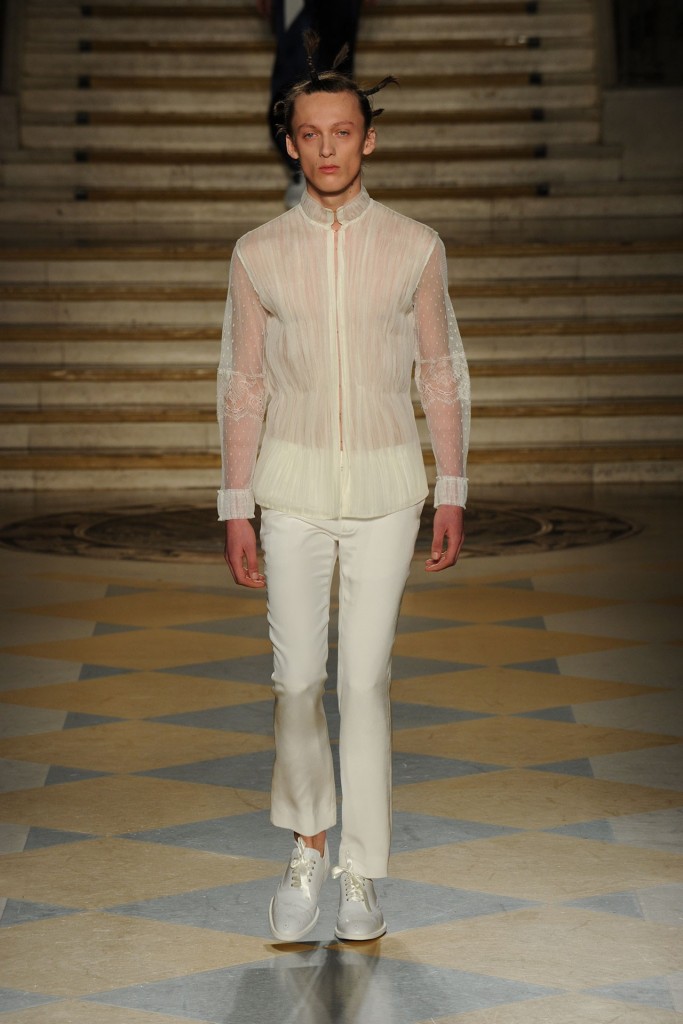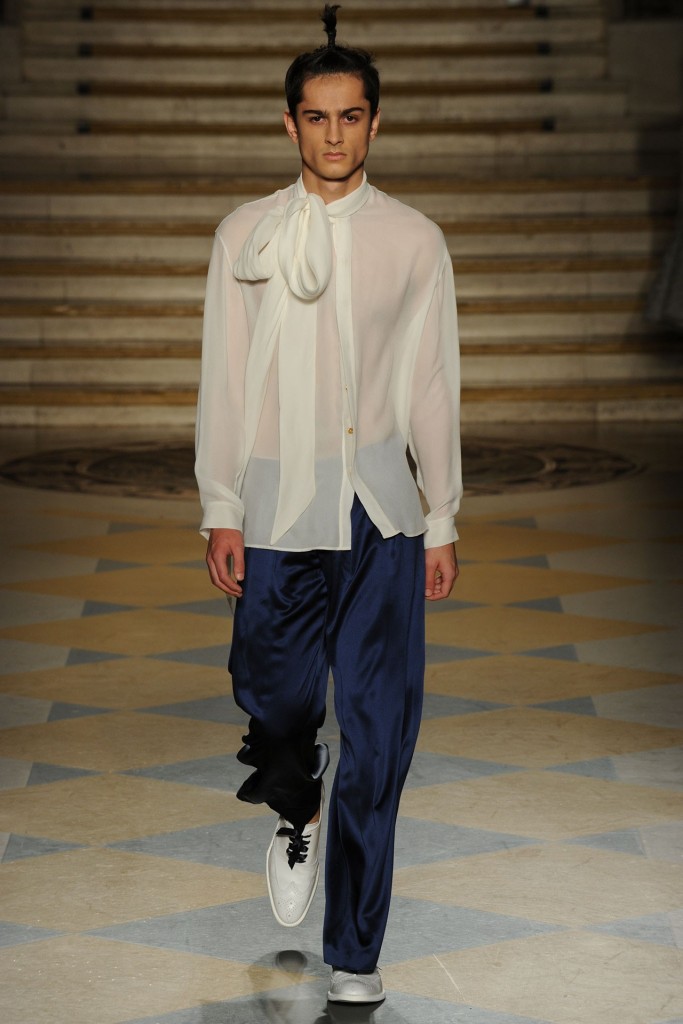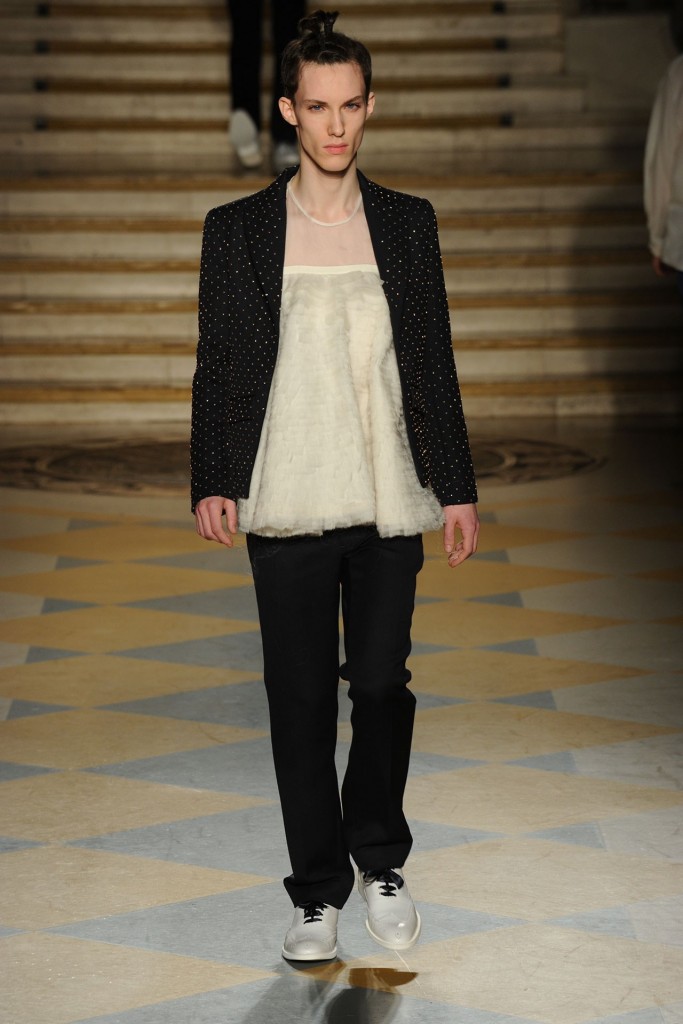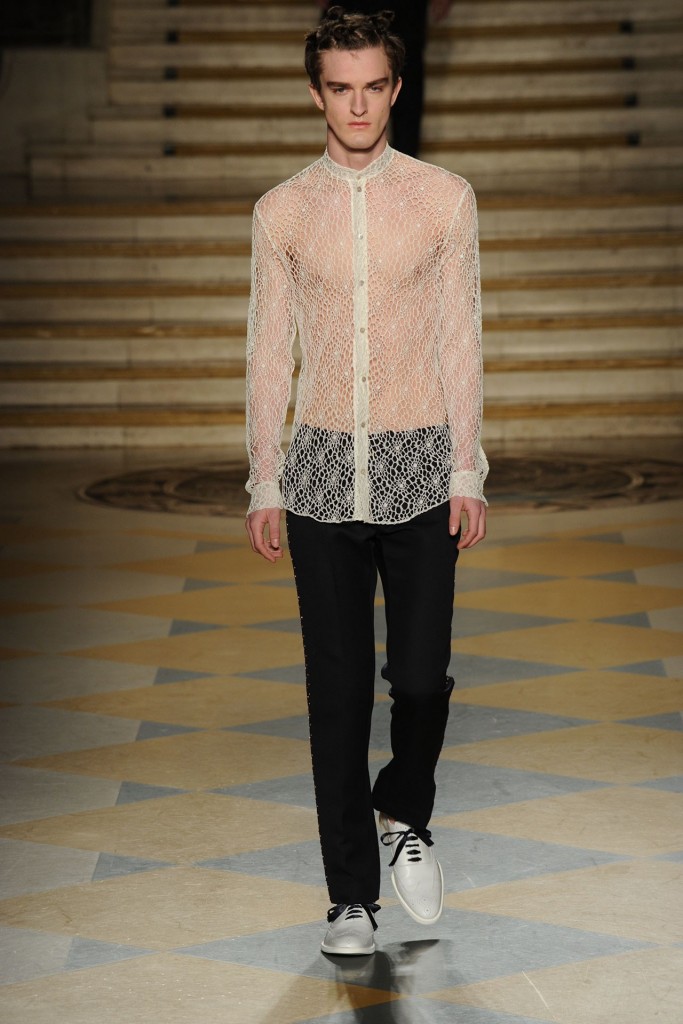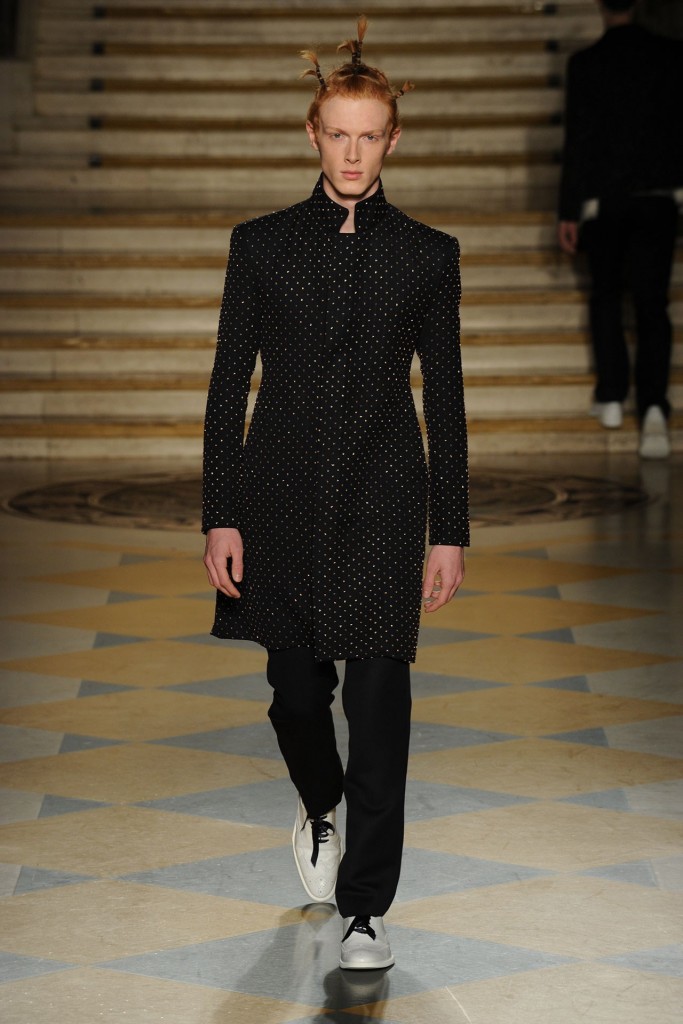 Bethany Williams
Using organic, reconstructed and recycled materials as the basis of her collection; Bethany Willams presented us with a selection of oversized knits, deconstructed denim and cardboard infused materials, all of which were sourced in partnership with Tesco and food banks – advocating William's predilection to fashion as means of helping others without selfish, ideological intentions.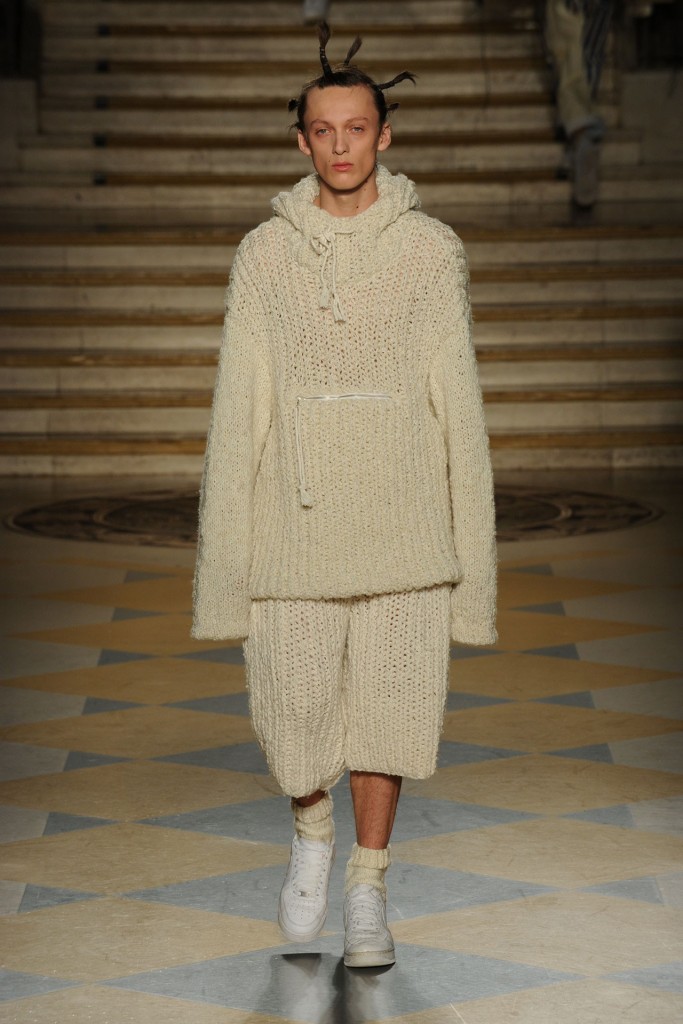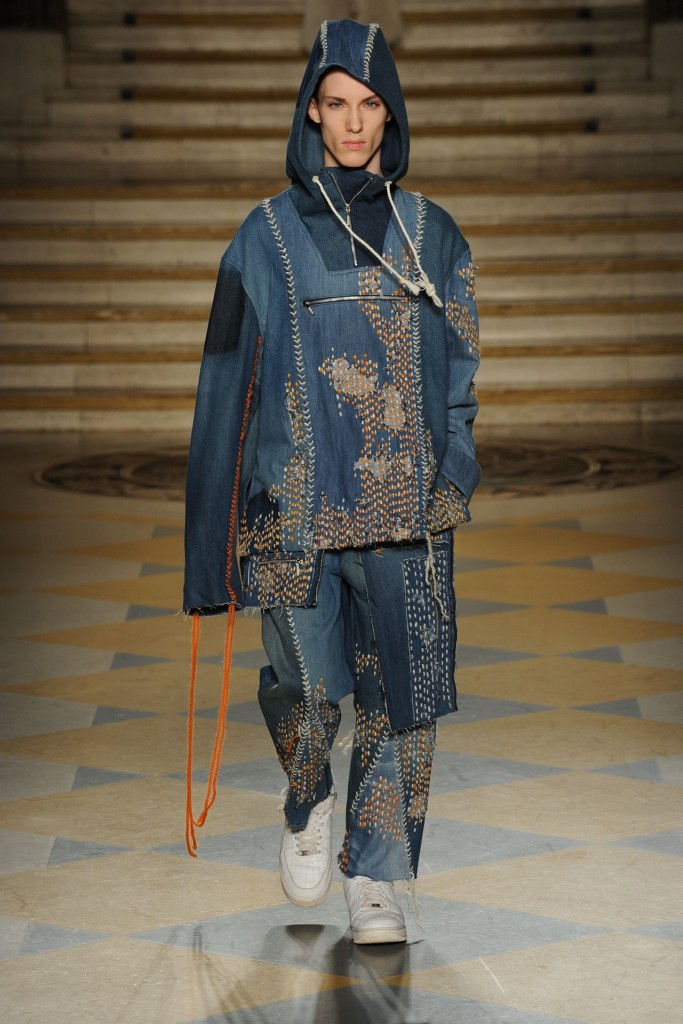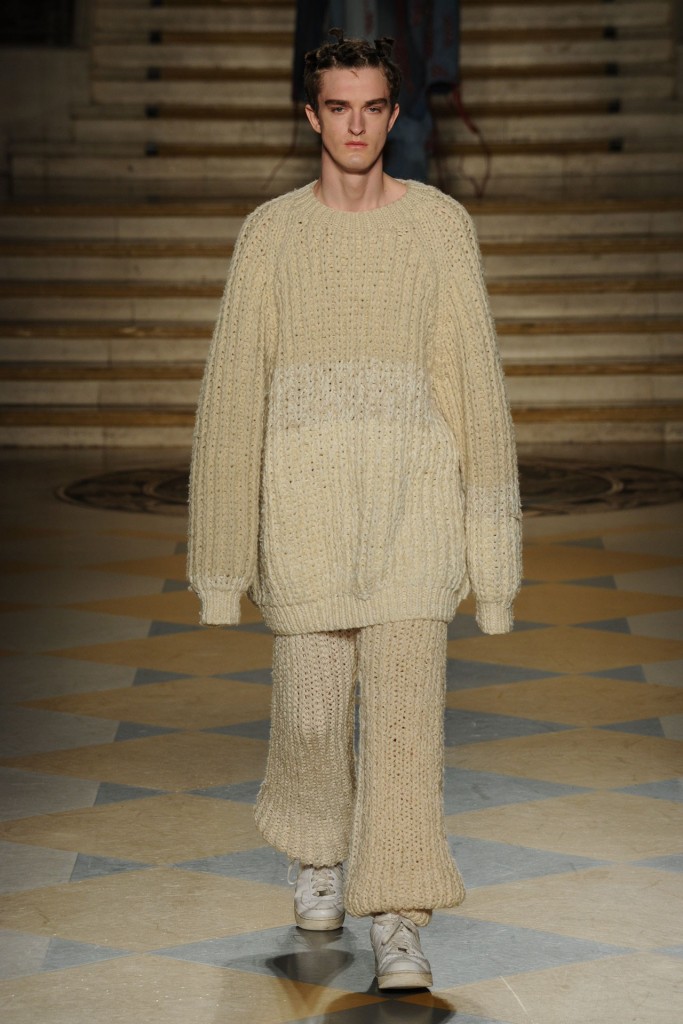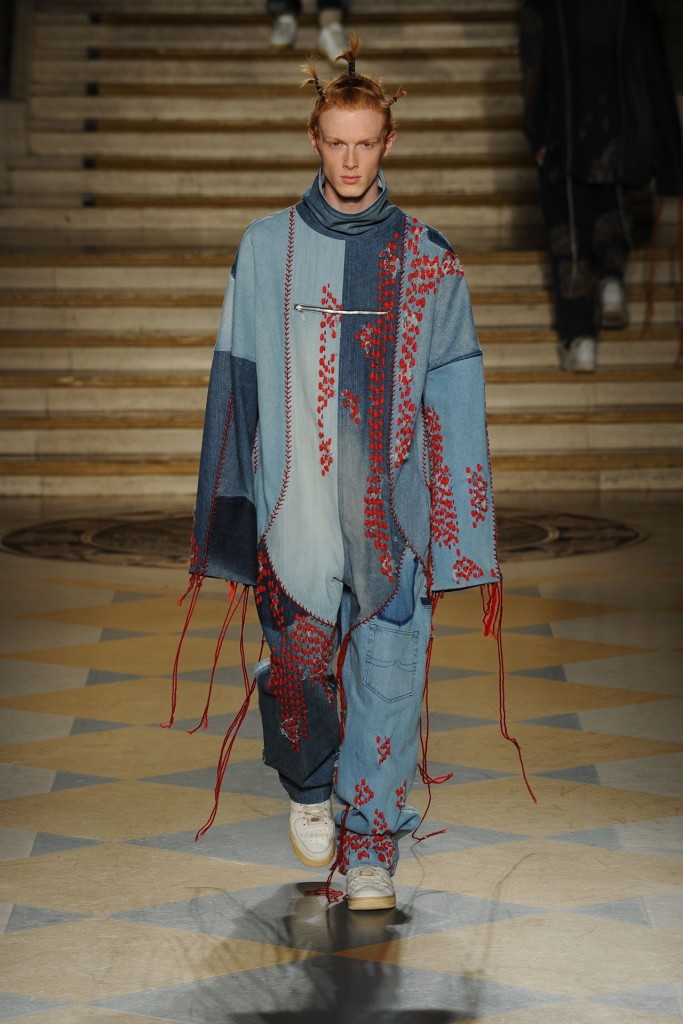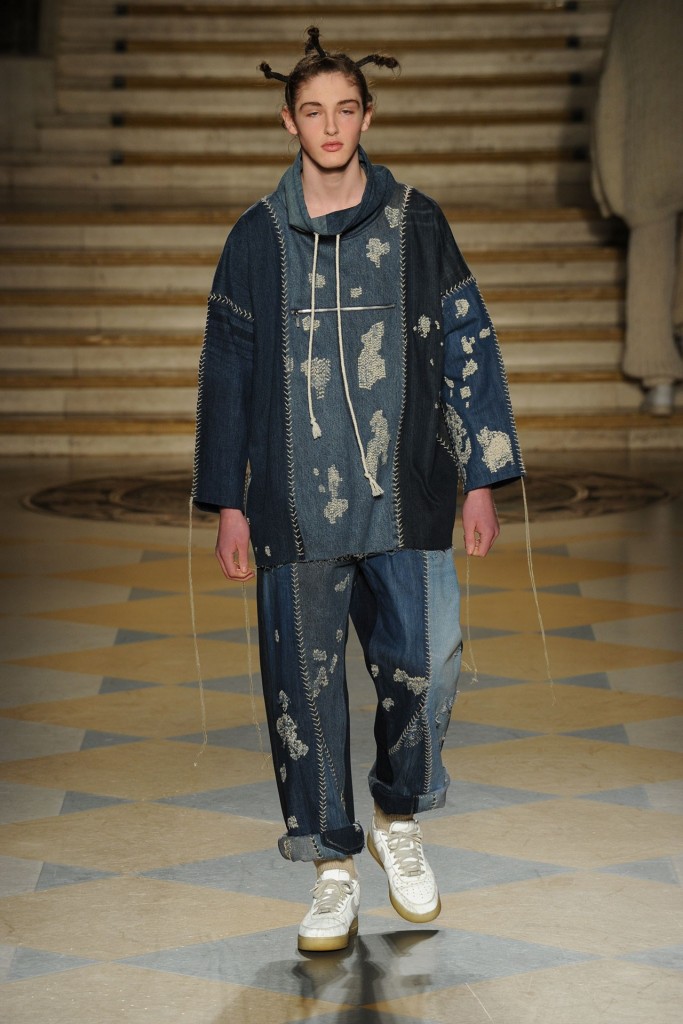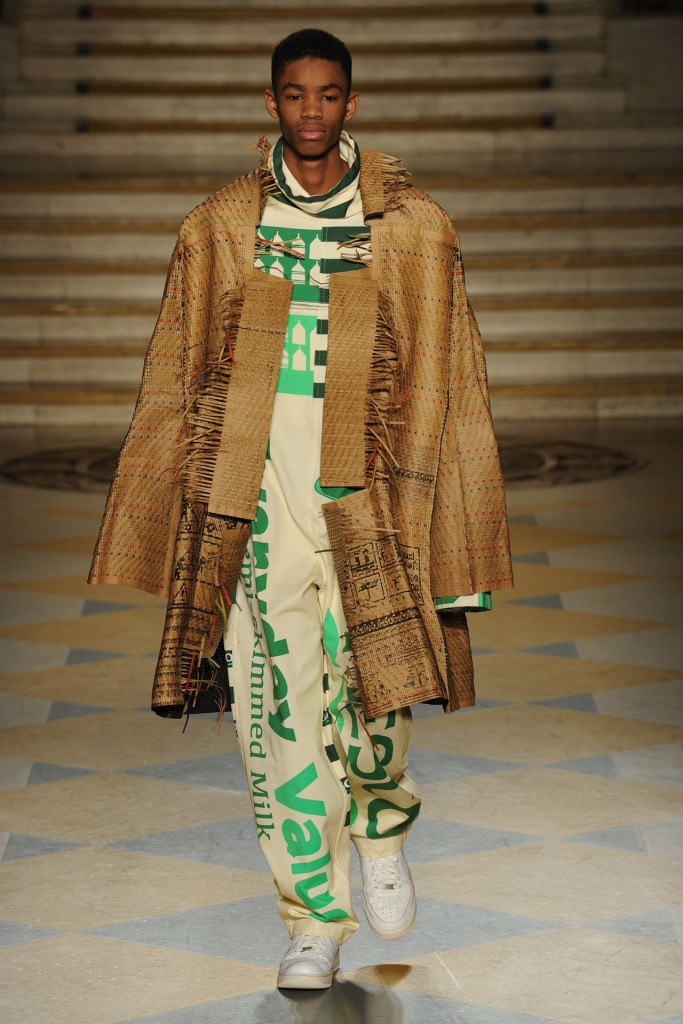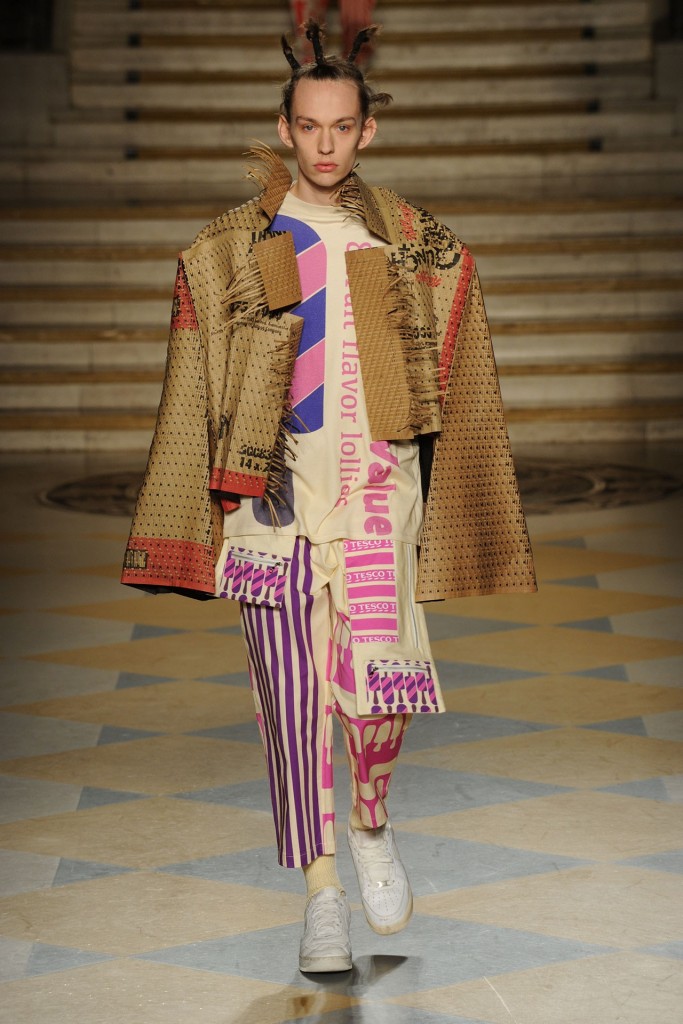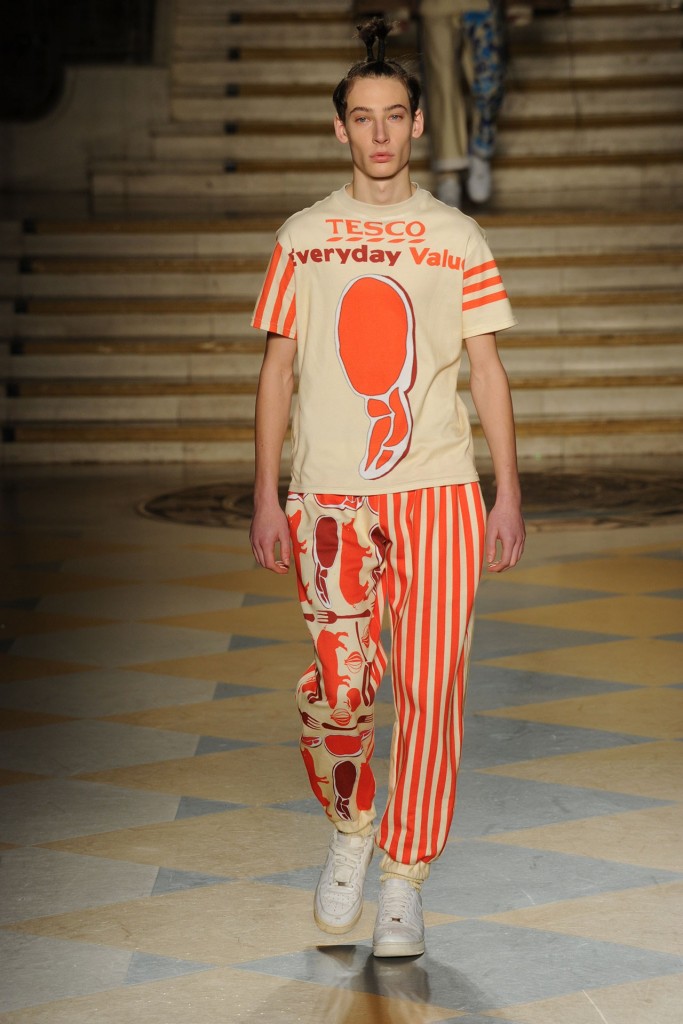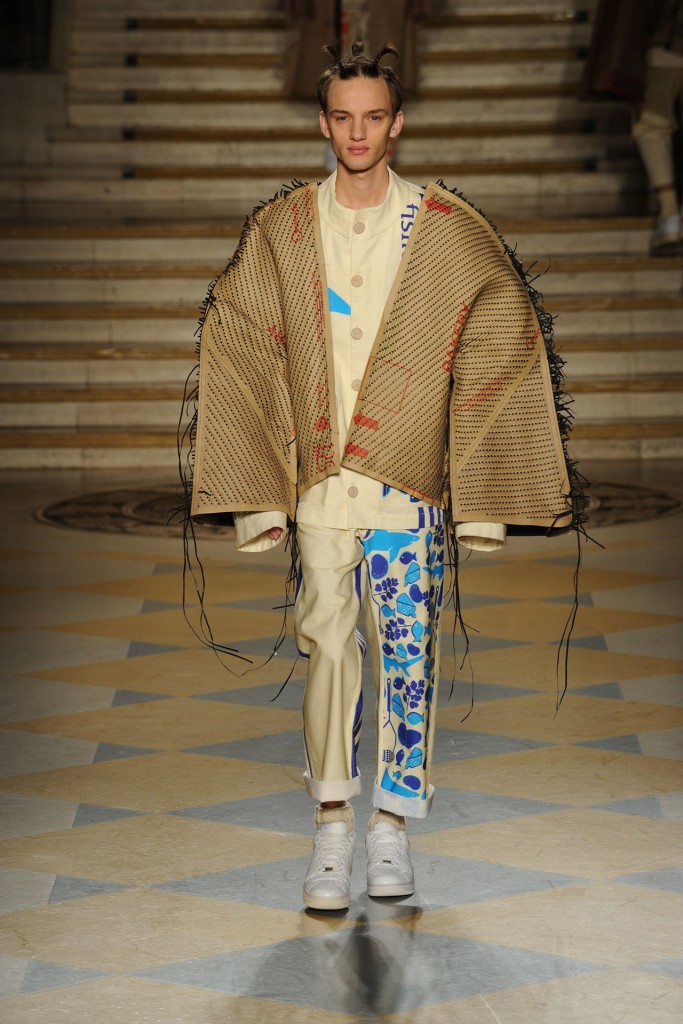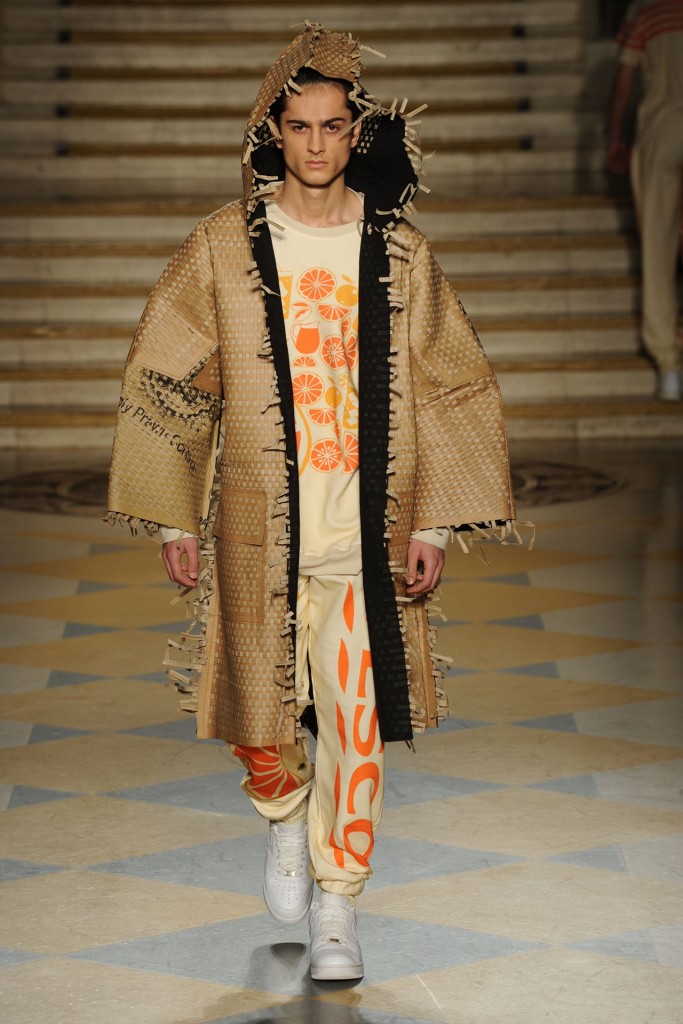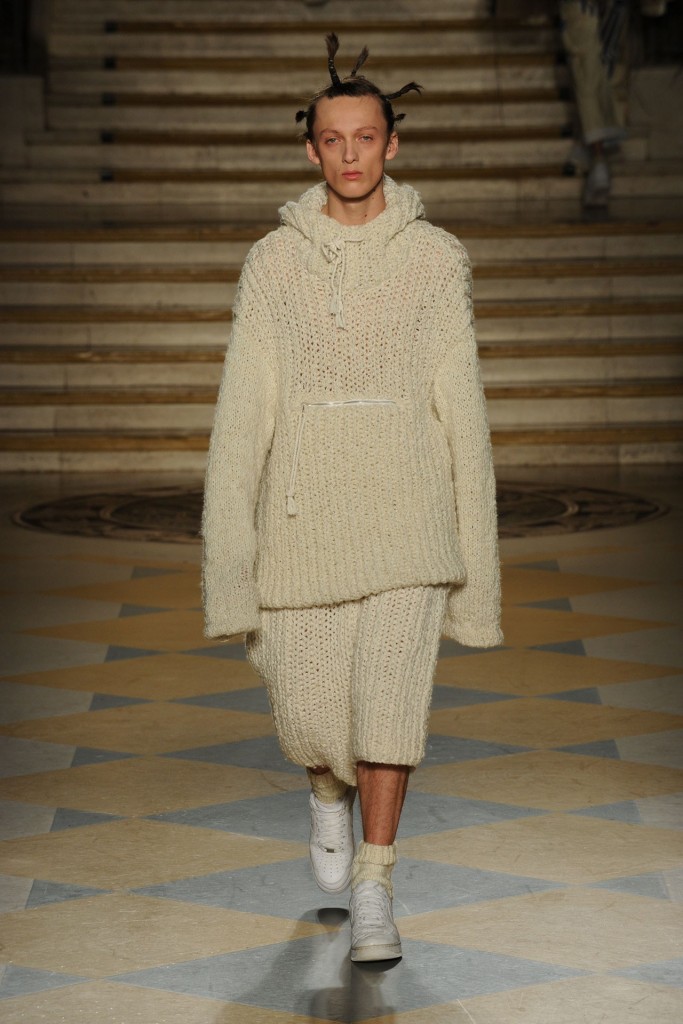 Grant-James Povey
Fusing elements of historical and modern day fashion, Grant-James Povey explored the idea of voluminous, oversized aesthetics in direct contrast to the sleeker dressing of the modern day gent. Billowing shirts, large-fit tailoring and flowing trousers formed the foundations with elements of Victorian and current day attire combined to complete the selection.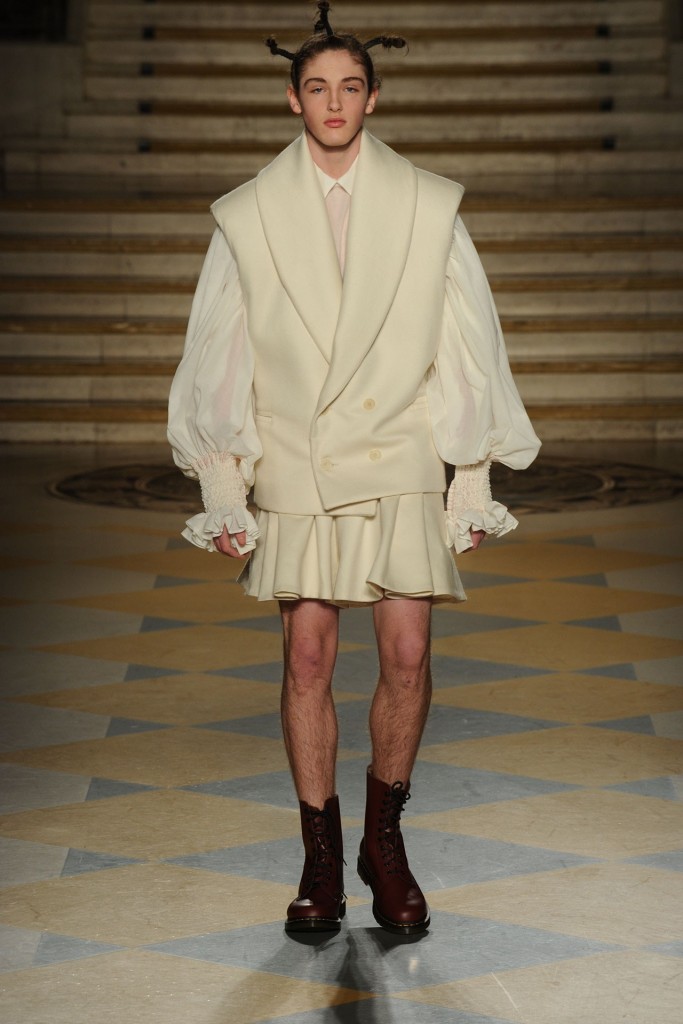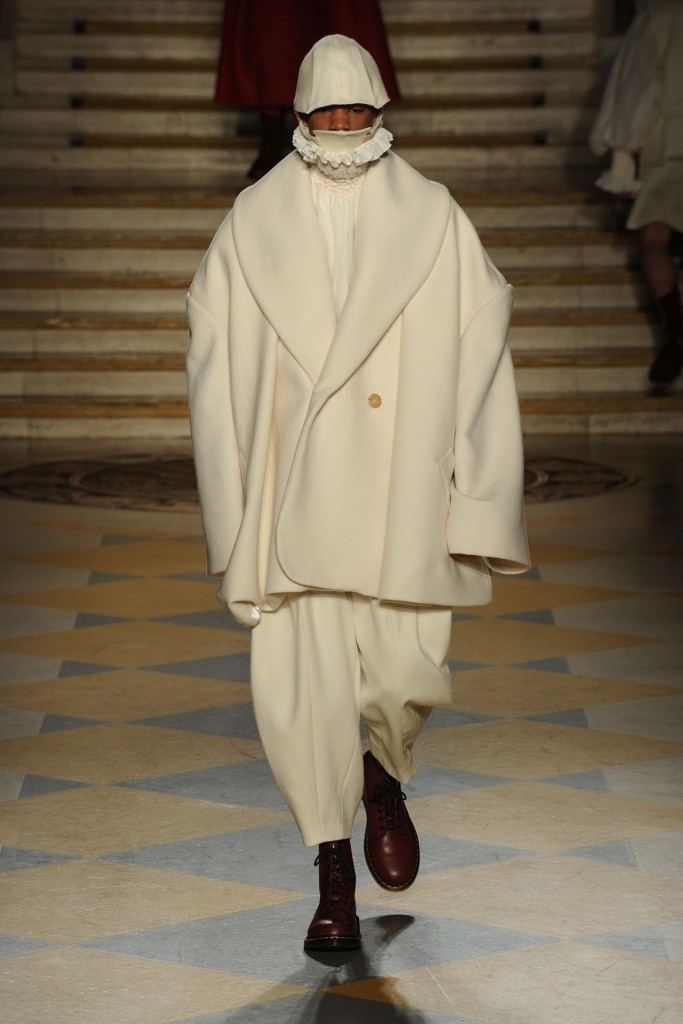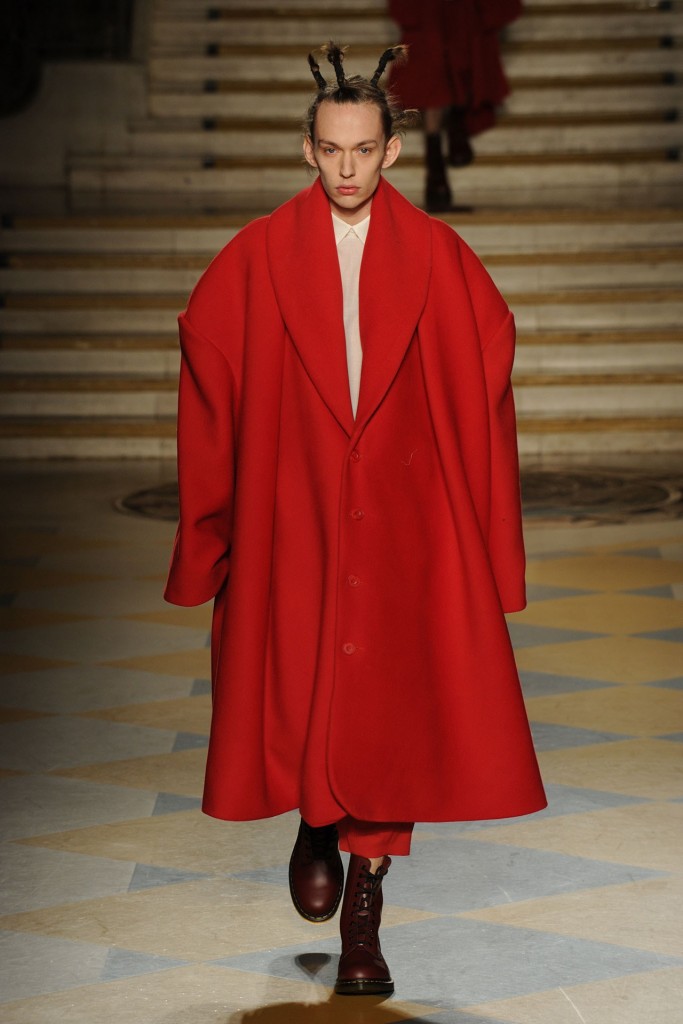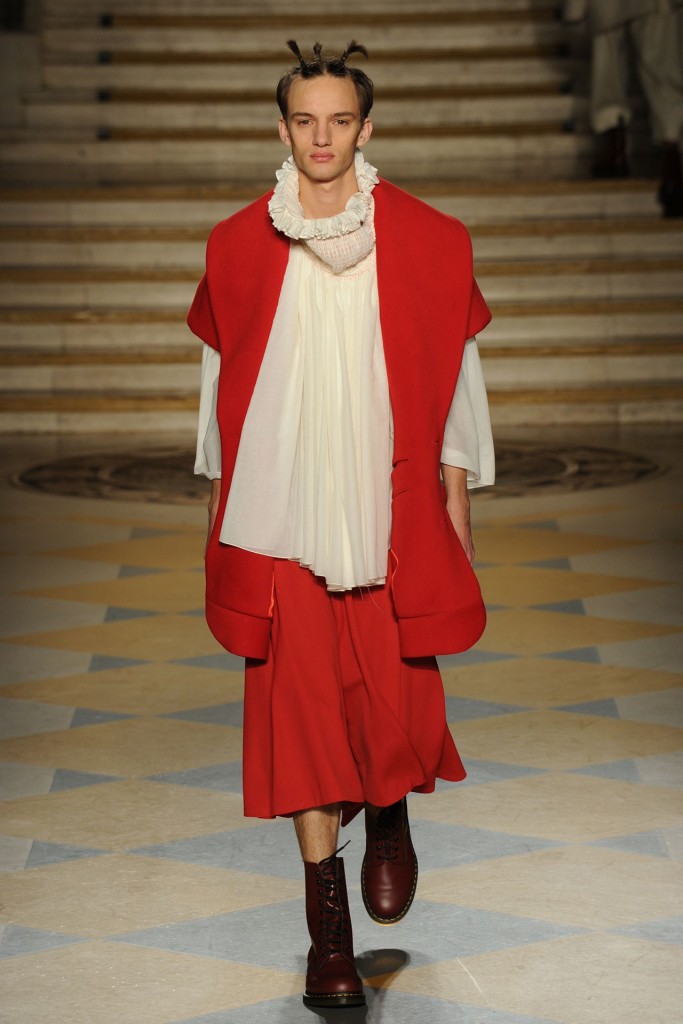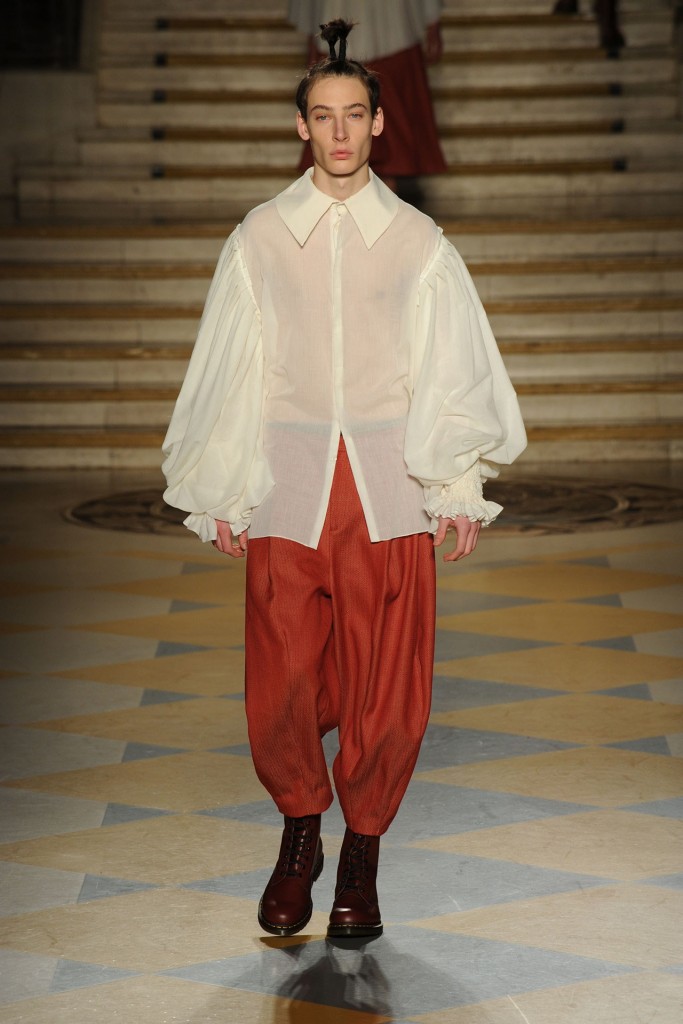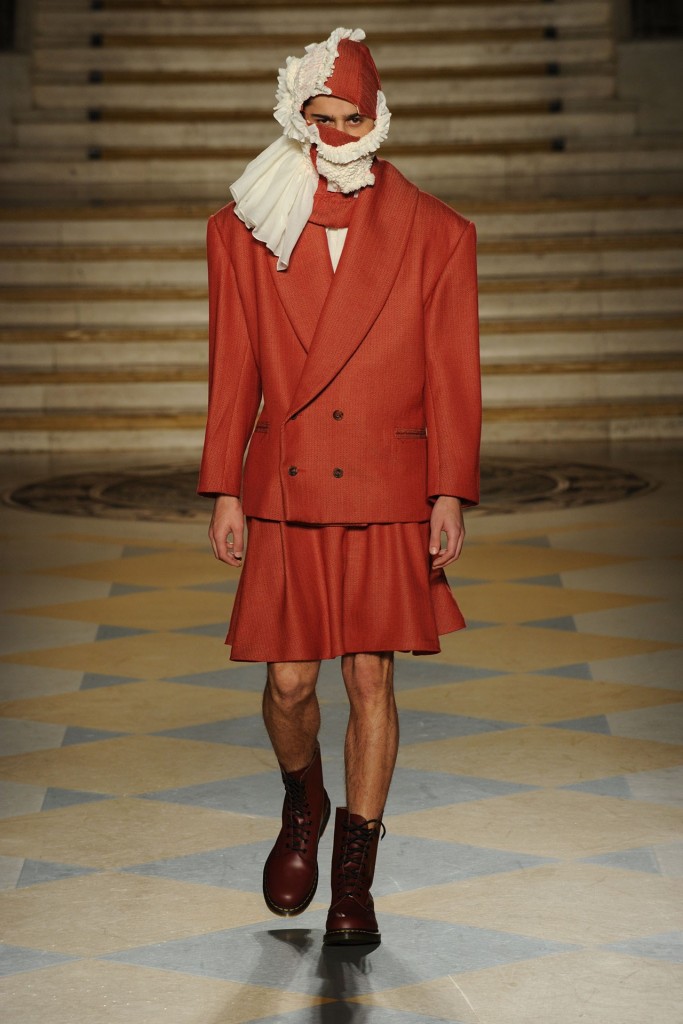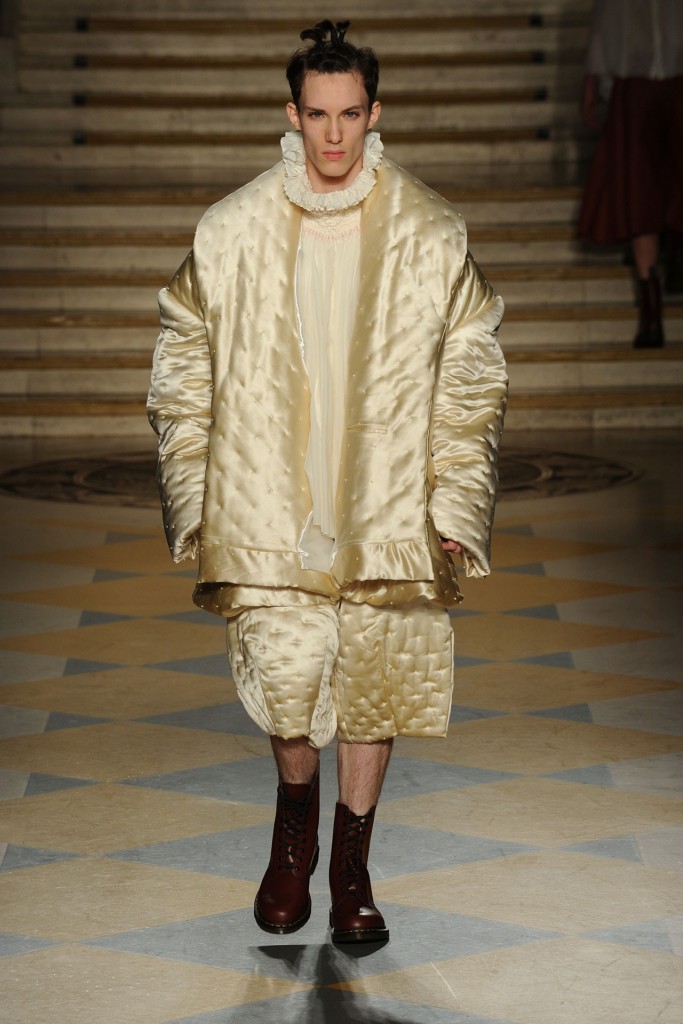 Jeuken Cho
Exploring the elements of depression and how perception and reality are rarely on the same path. Jeuken Cho was inspired by the suicide of Robin Williams and how he was perceived as a jovial, happy person but was suffering on the inside. Bold colour choices and a mixture of materials took form as outerwear and knits for this profound graduate collection.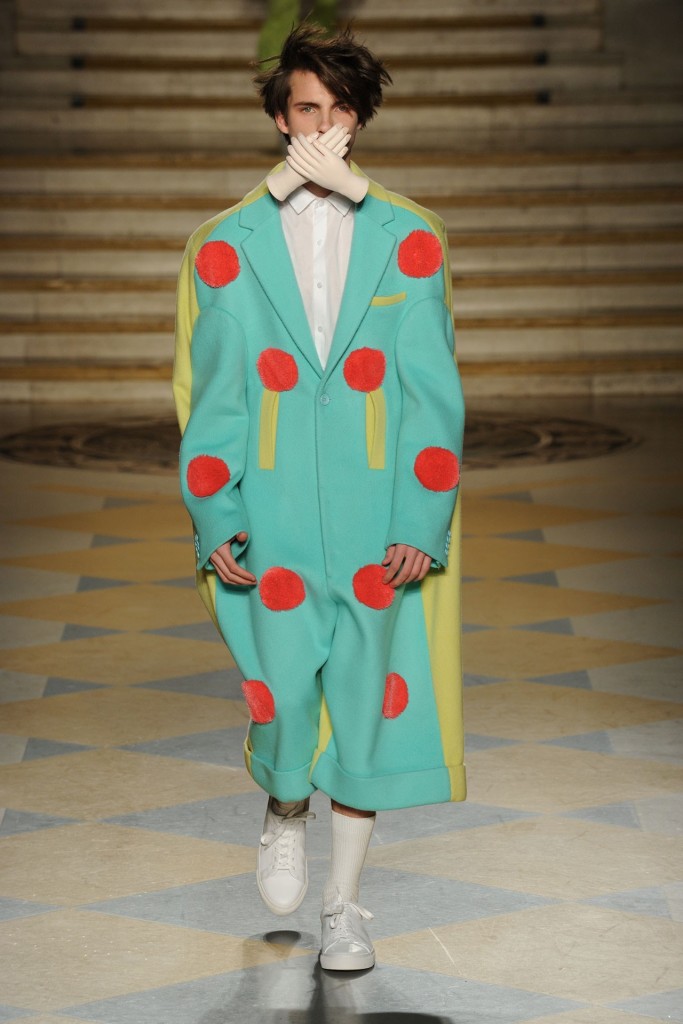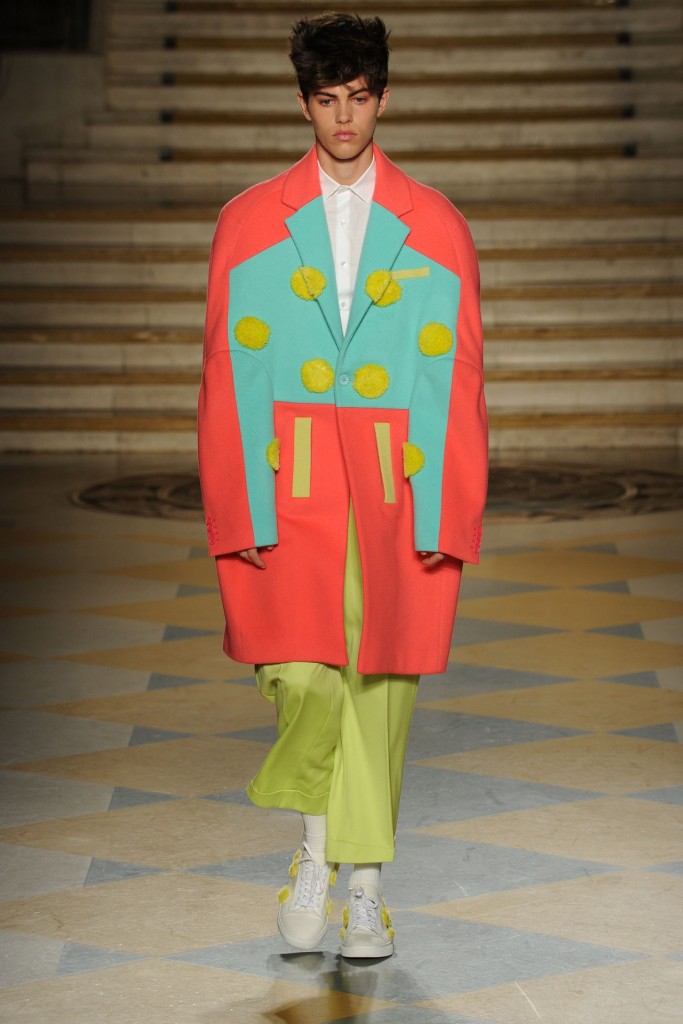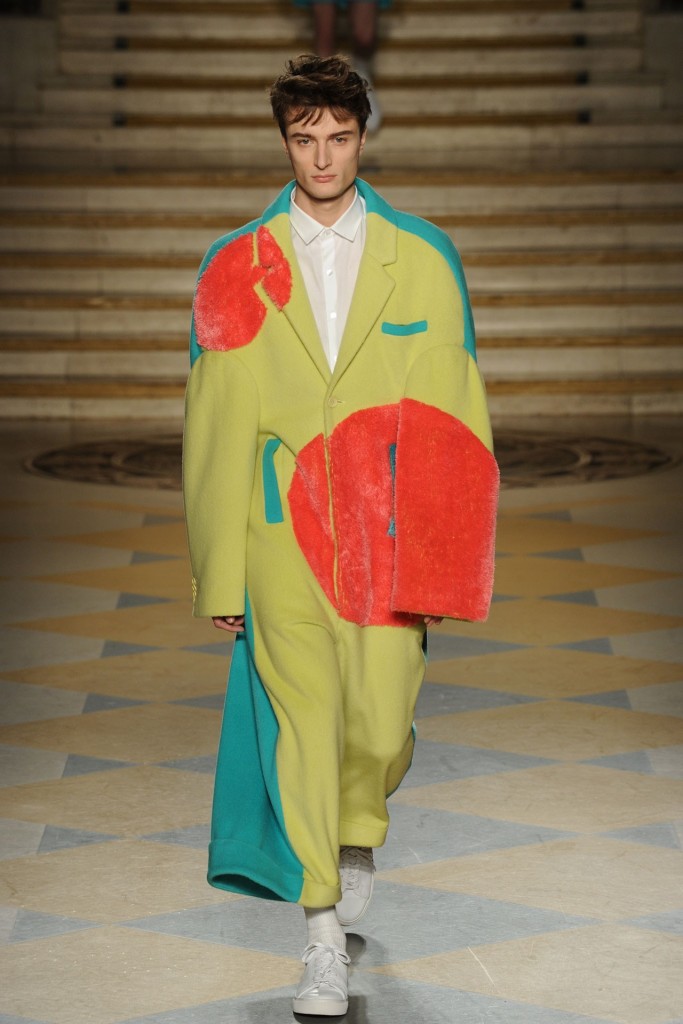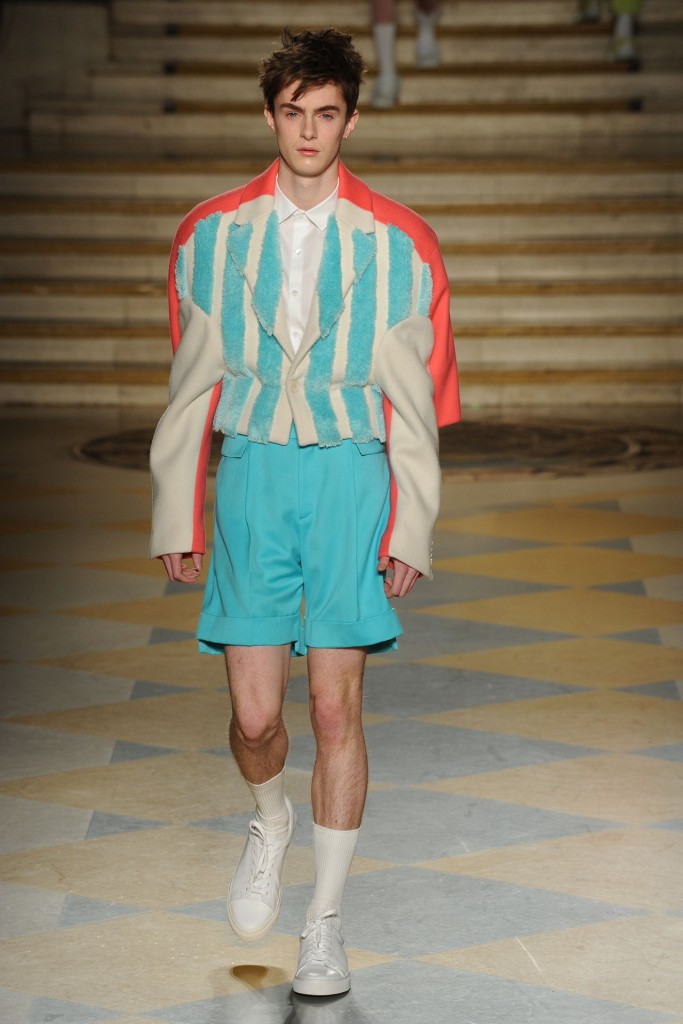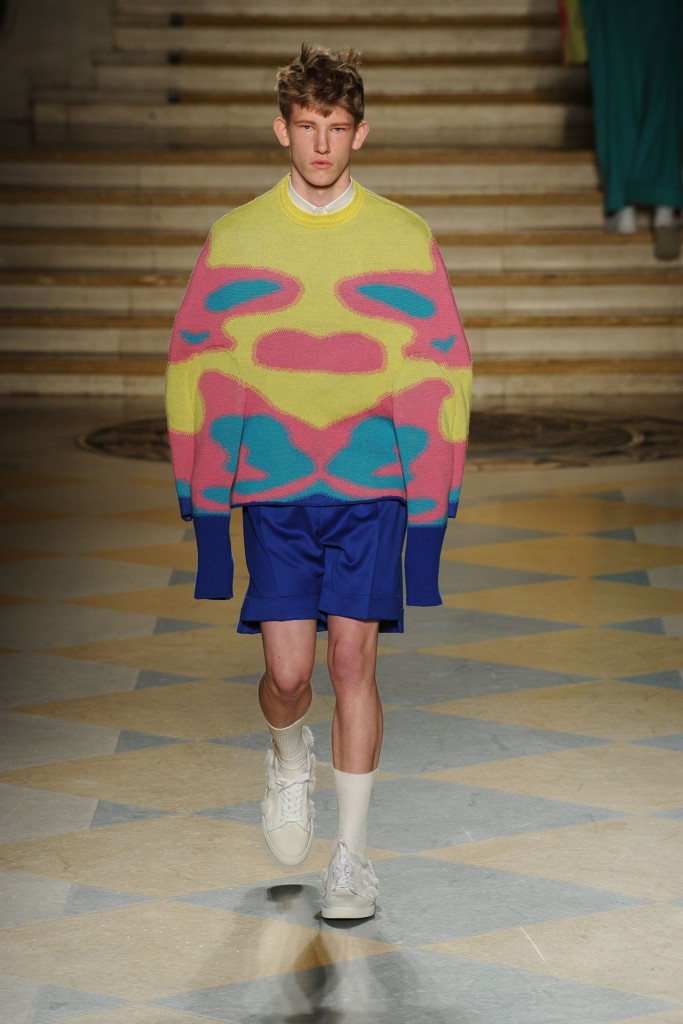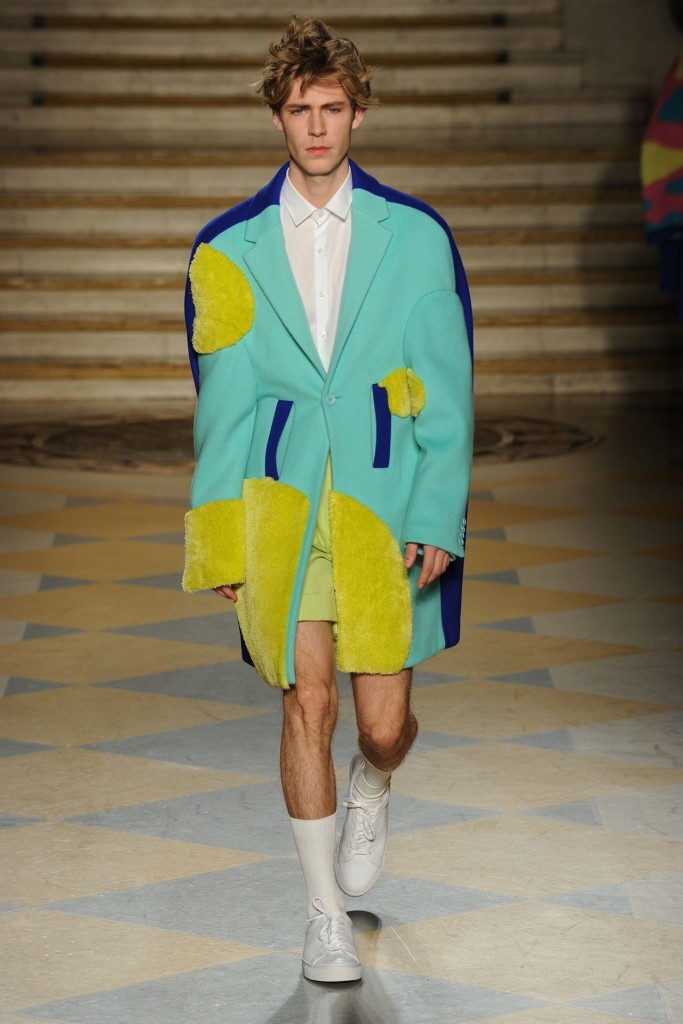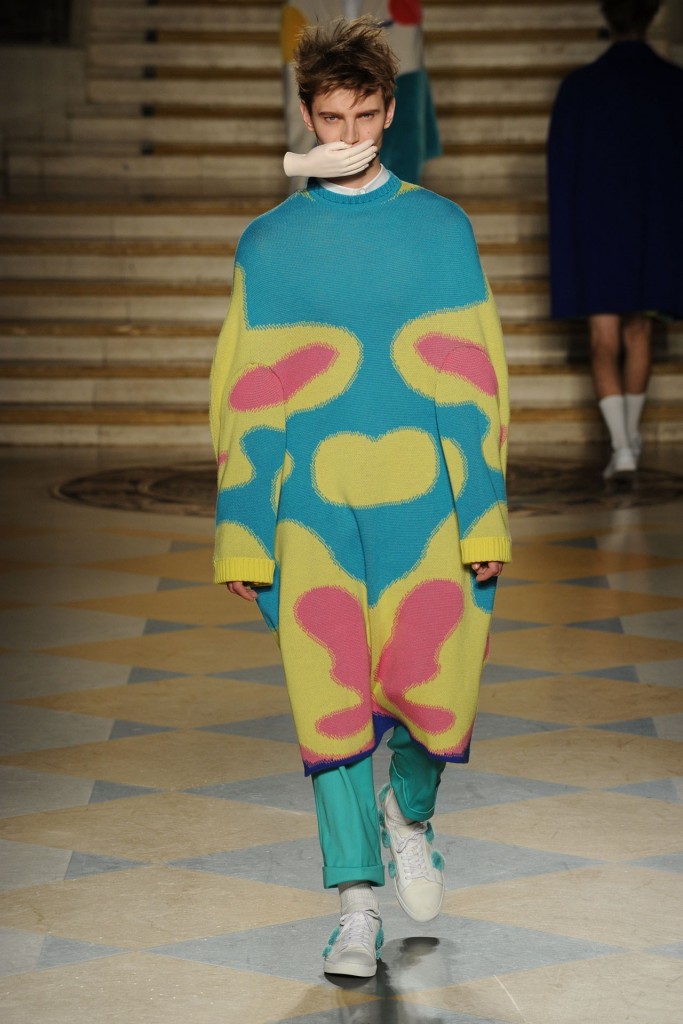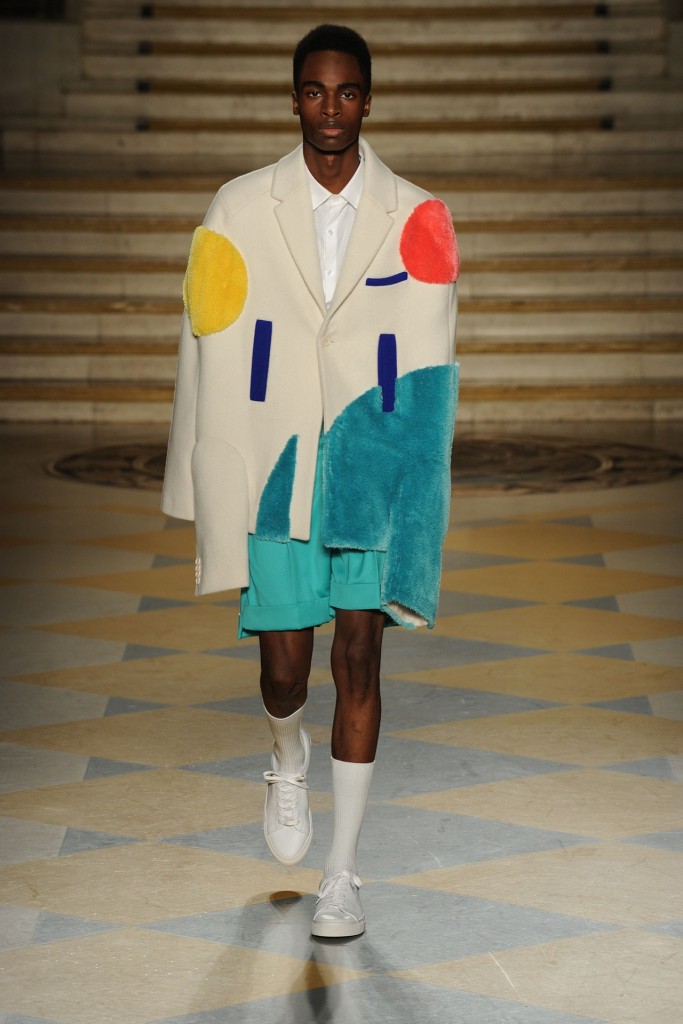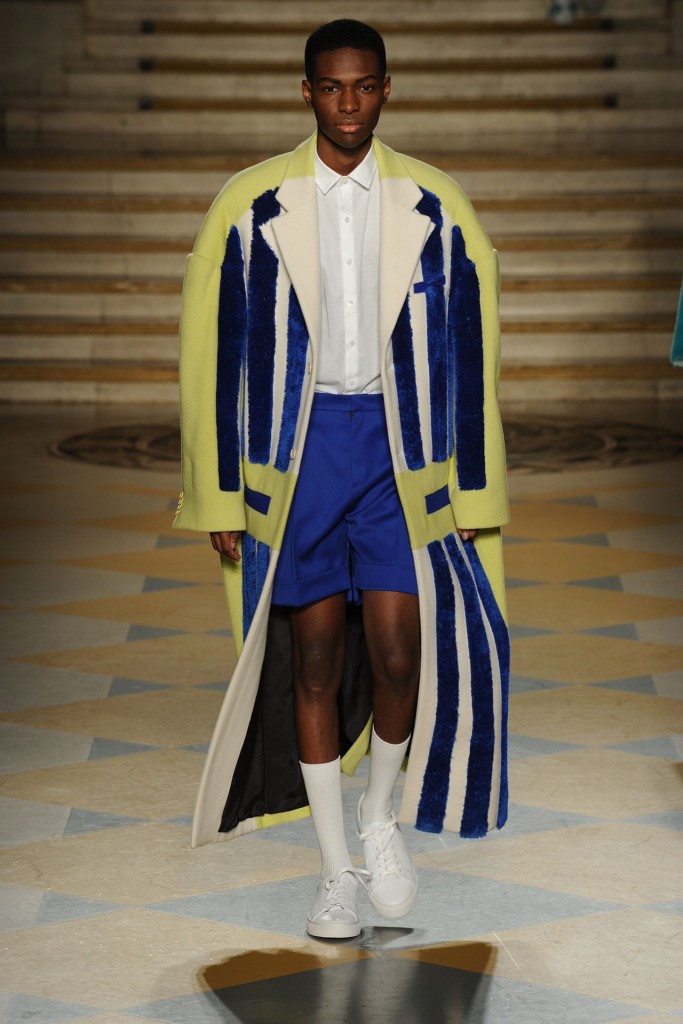 Jinhaili
Exploring the flowing movement of material on the body mixed with traditional tailoring techniques, Jinhaili showcased a muted collection of tailored jackets, kimonos and baggy trouser. Metallics, camel, black, navy and burgundy dominated the runway with an exquisite selection of materials used.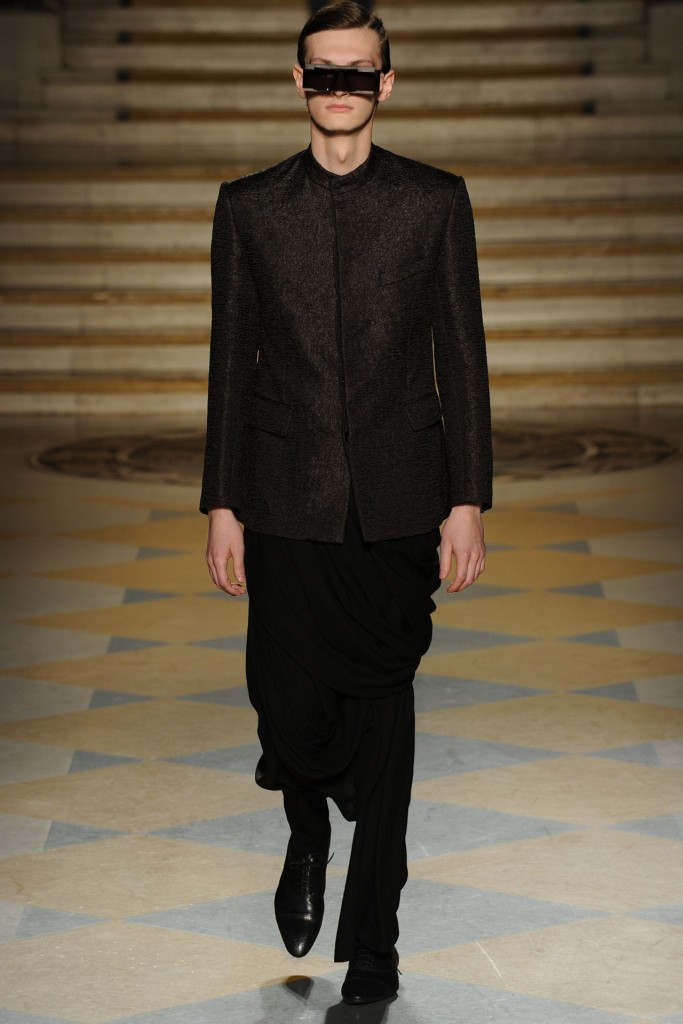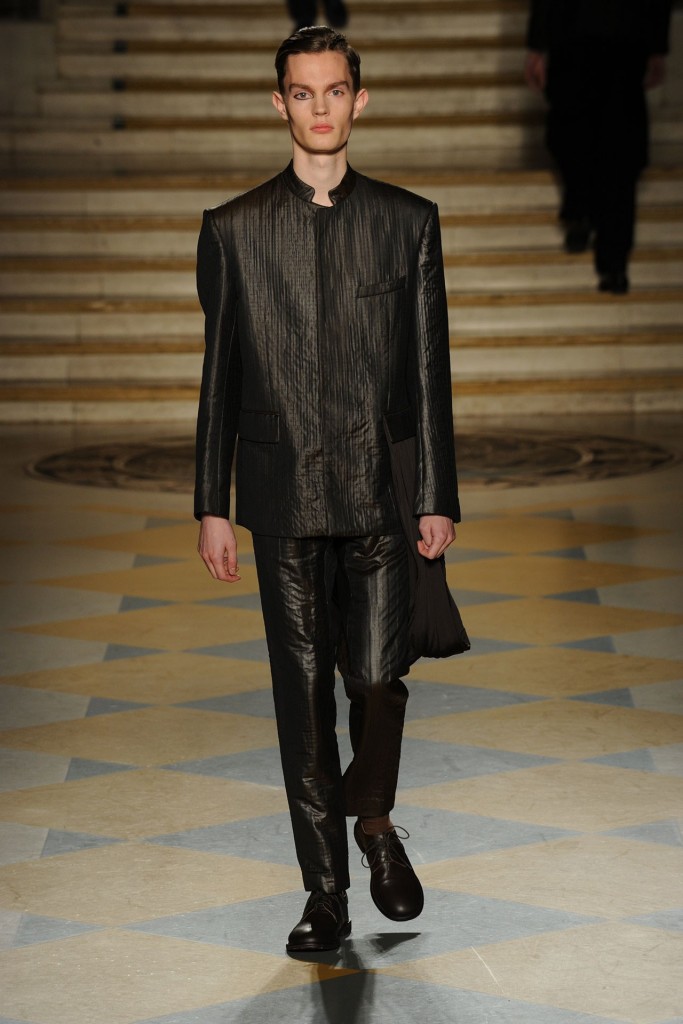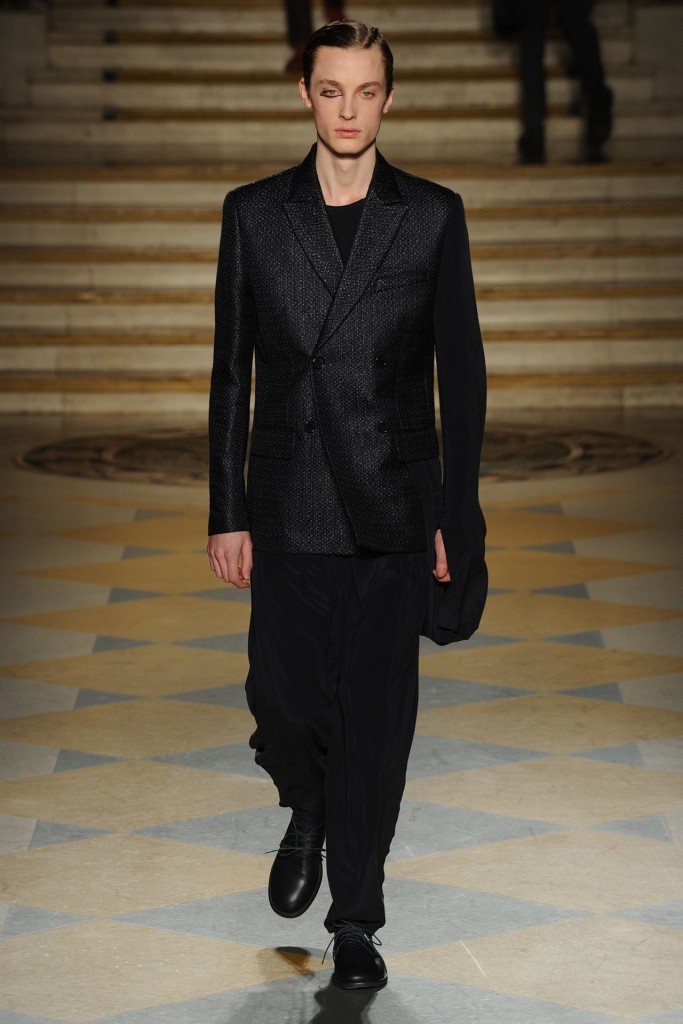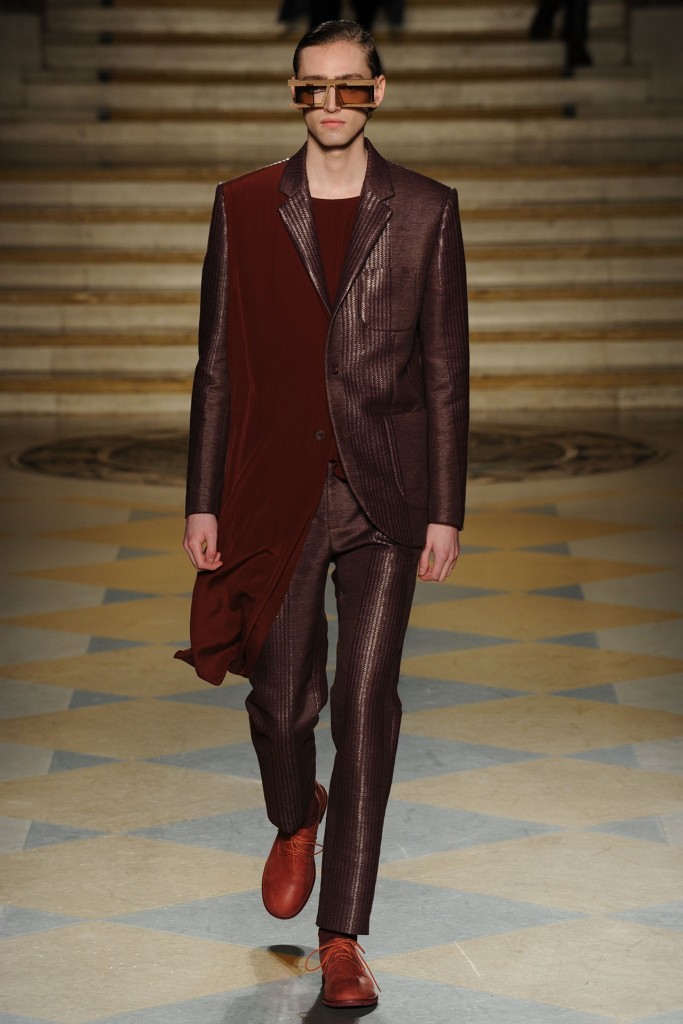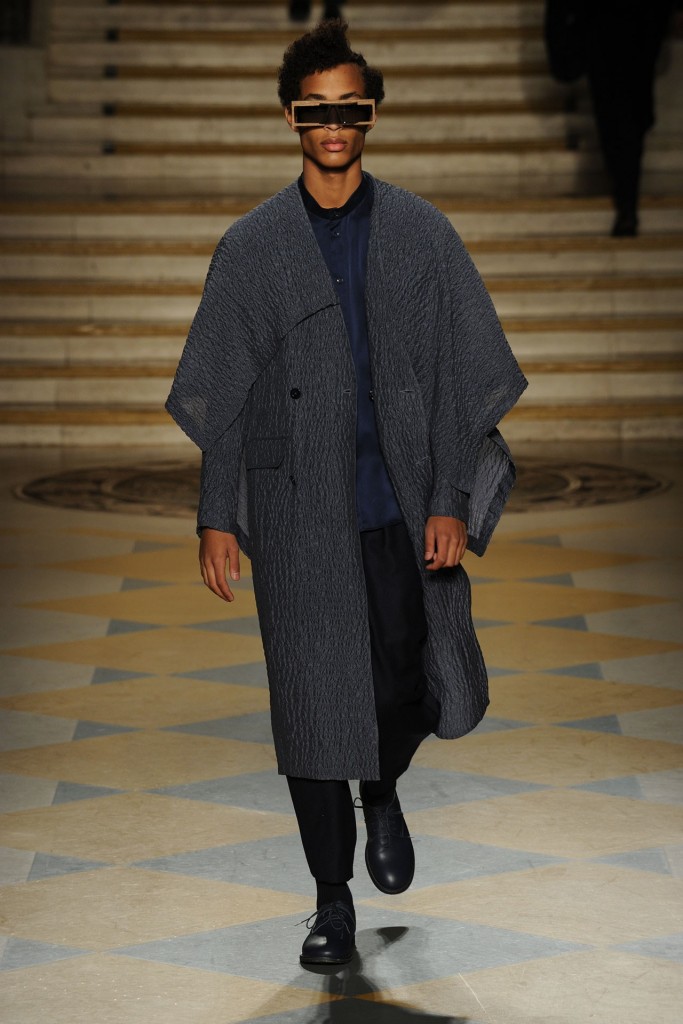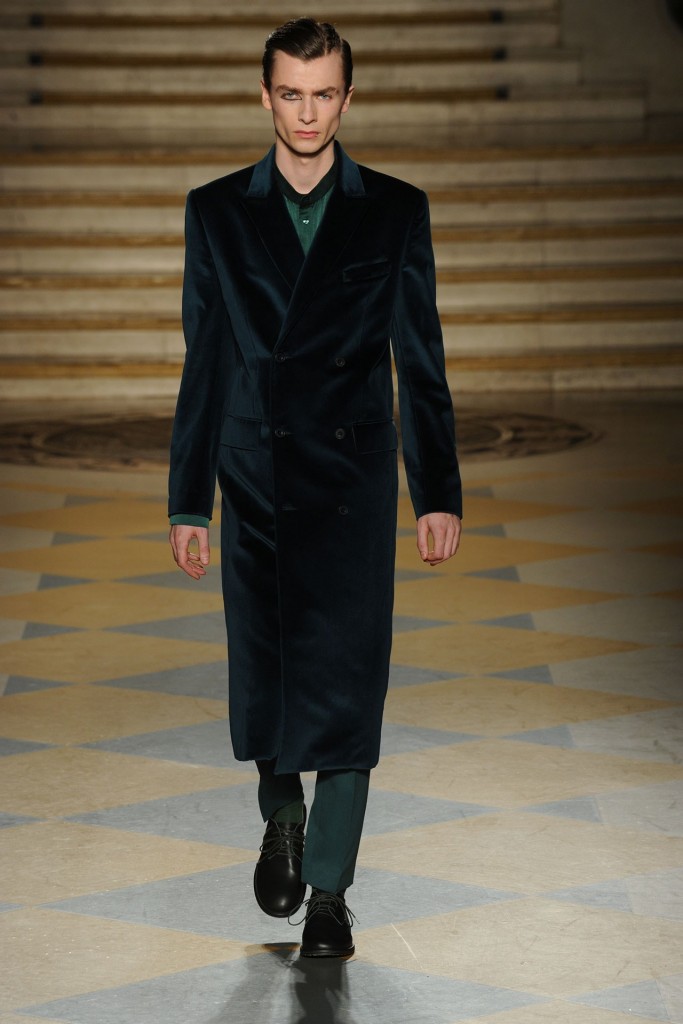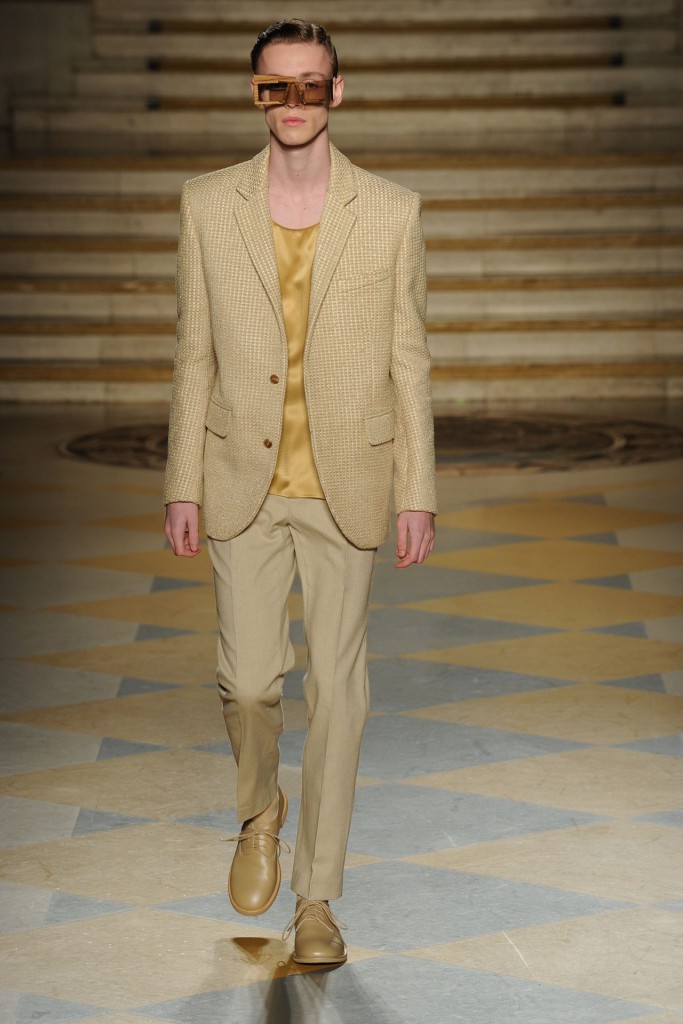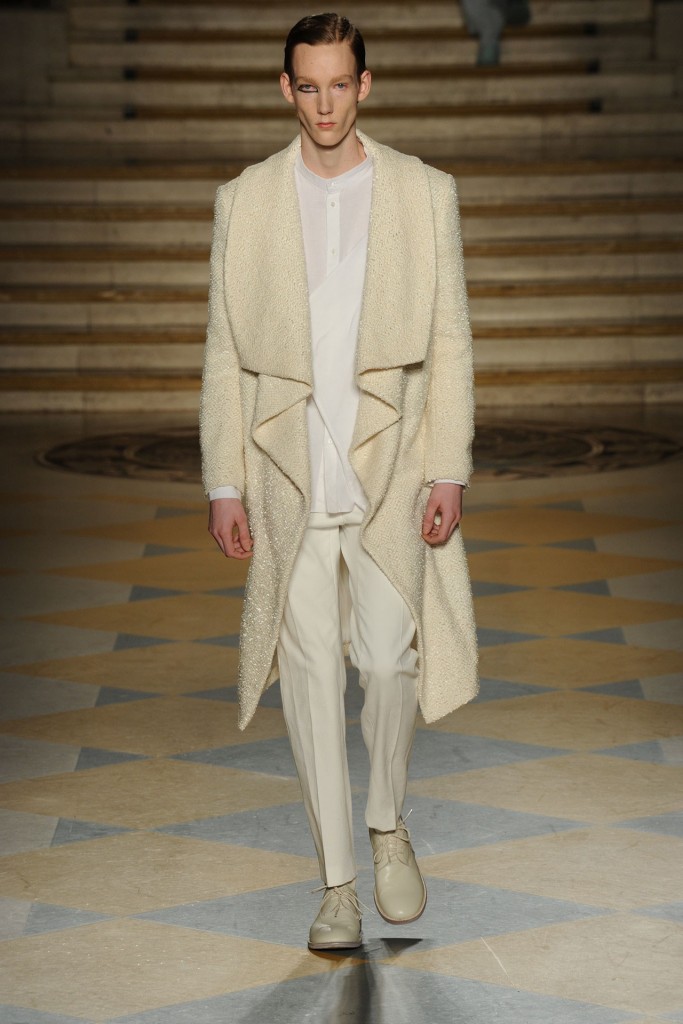 Pakholee
Scrutinising the idea of minimalism and what it means for a piece to be truly perceived as 'minimalist', Pakholee removed elements of clothes that weren't genuinely necessary to push the concept further. Sheer suiting, leather and denim jackets and trench coats all had elements removed creating flesh showing panels within conventional clothing.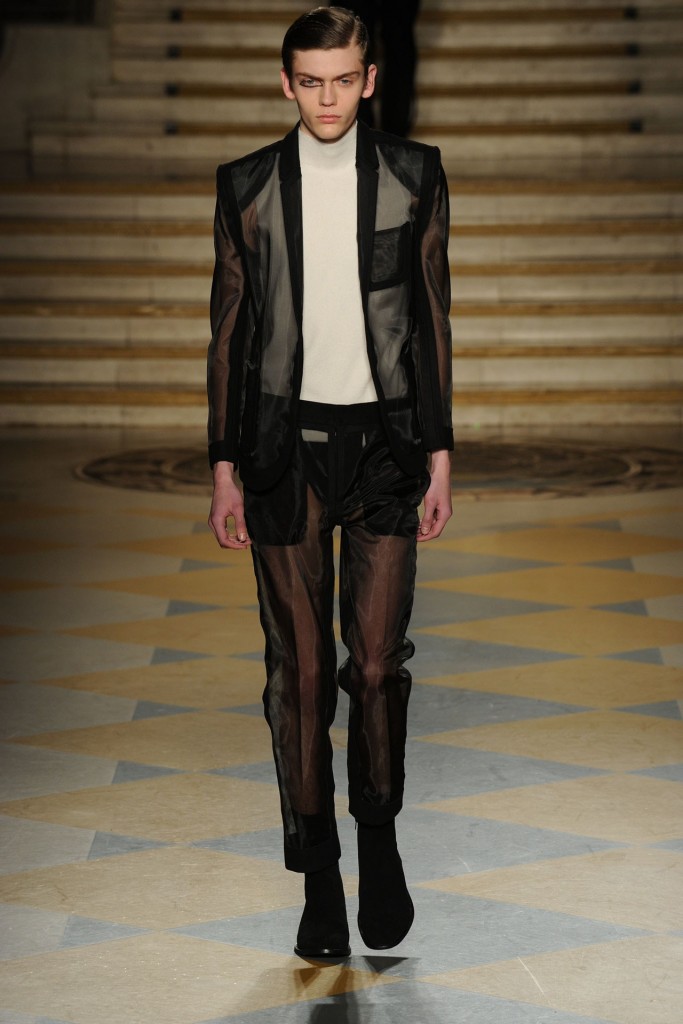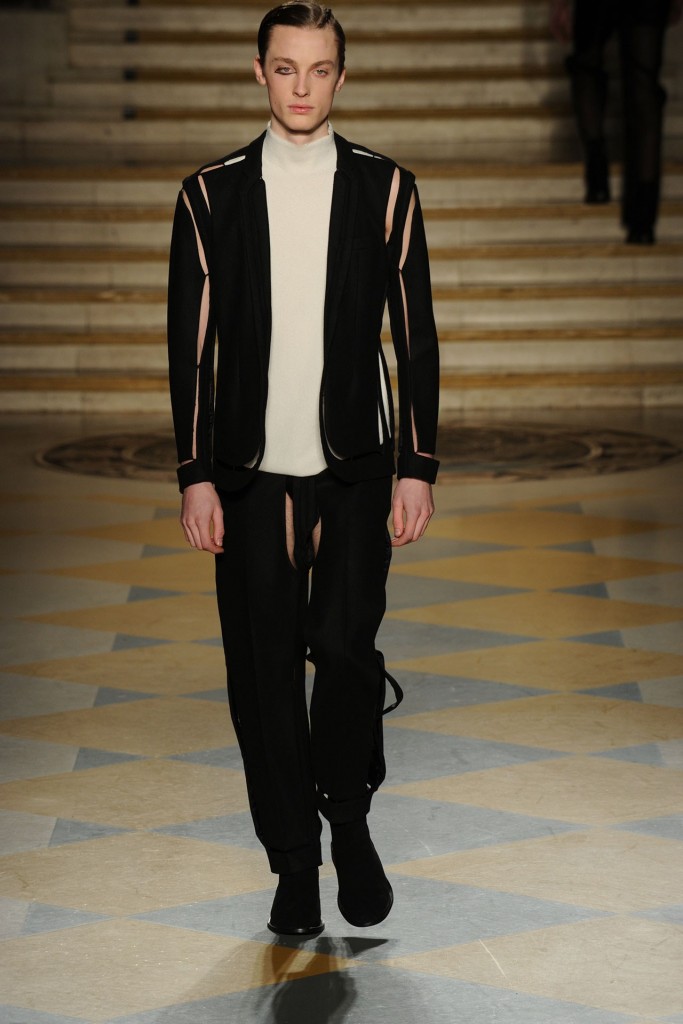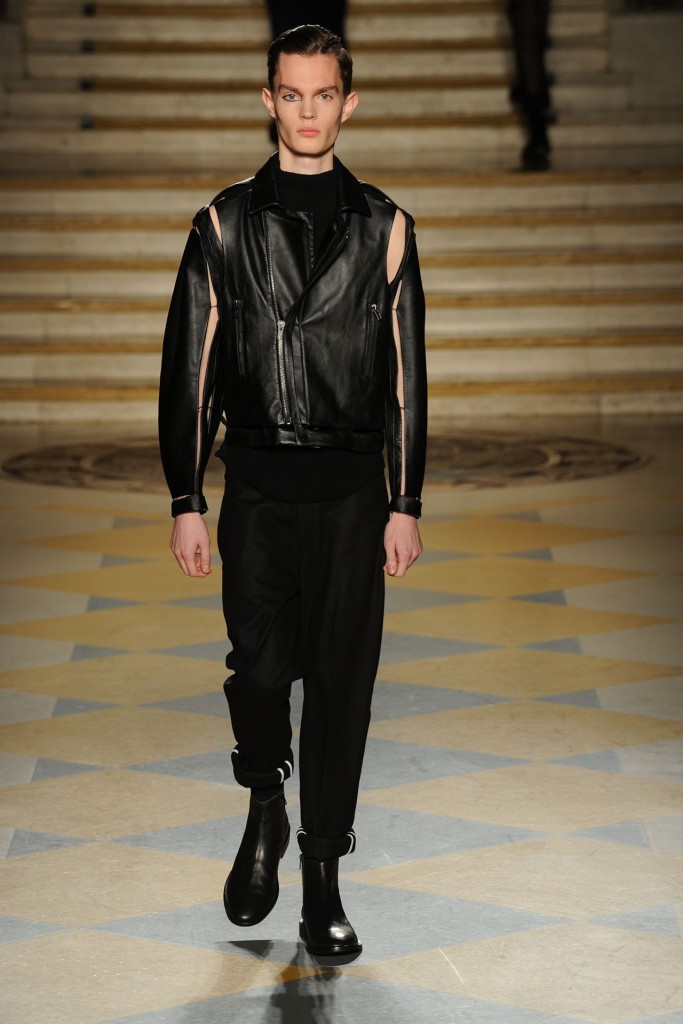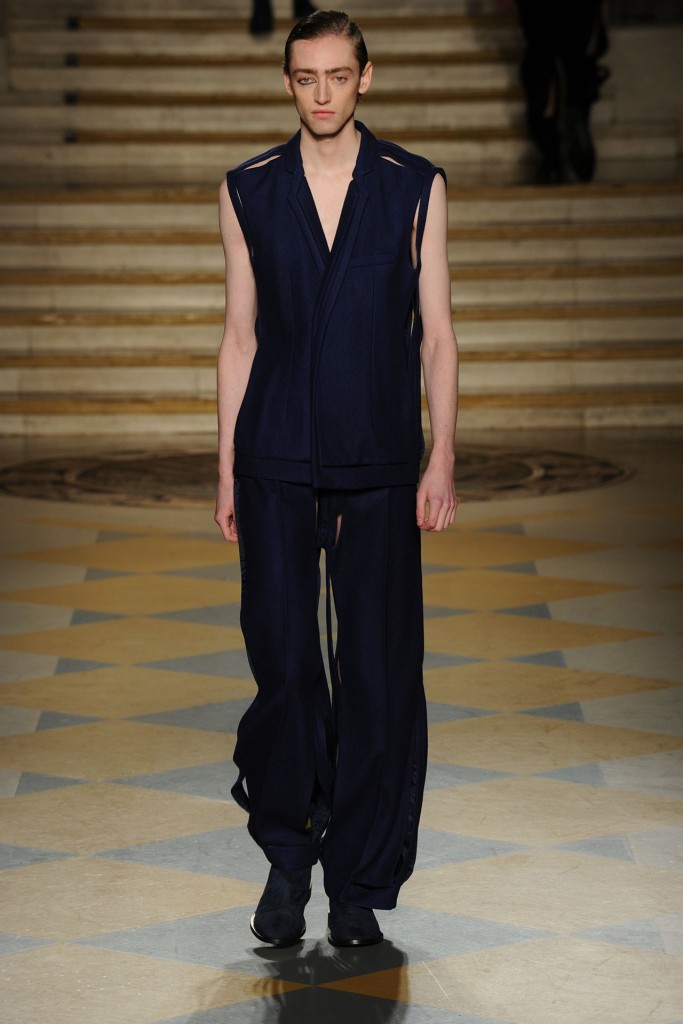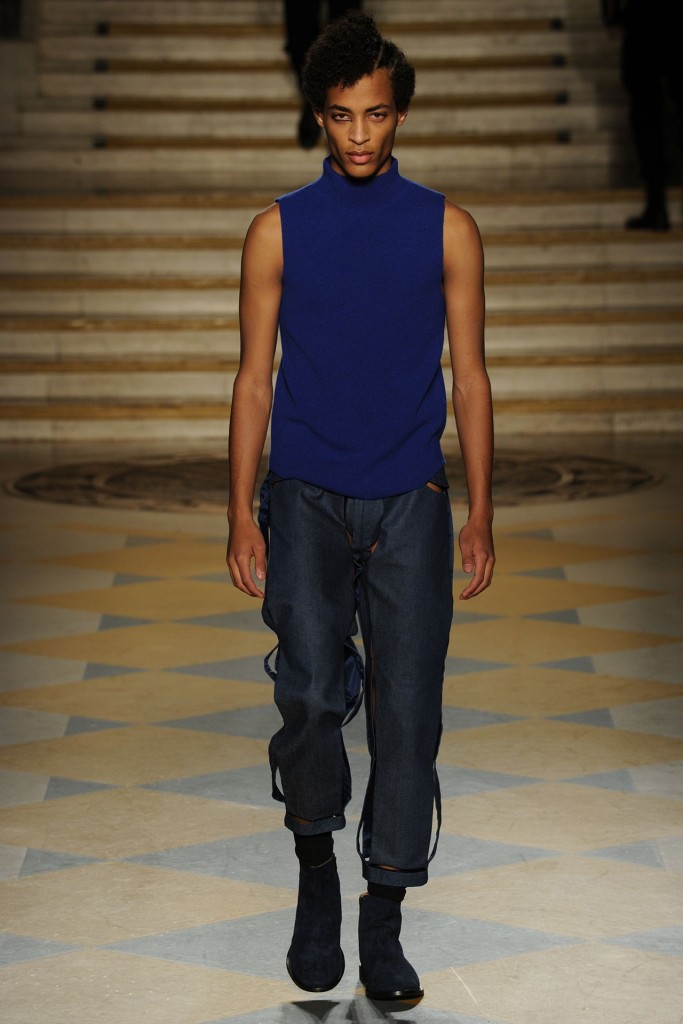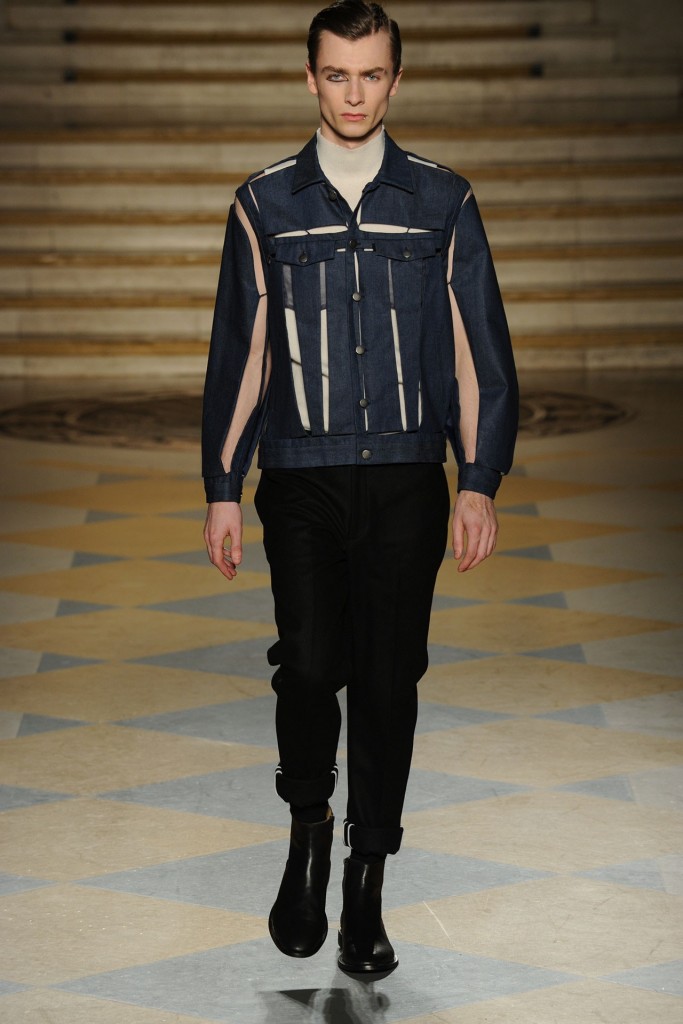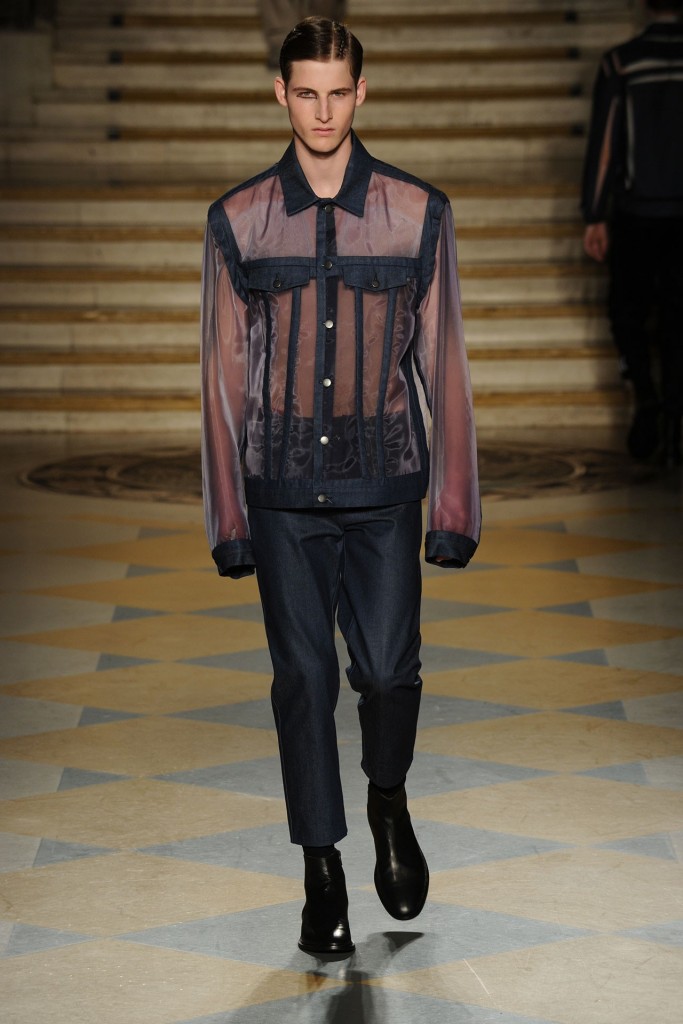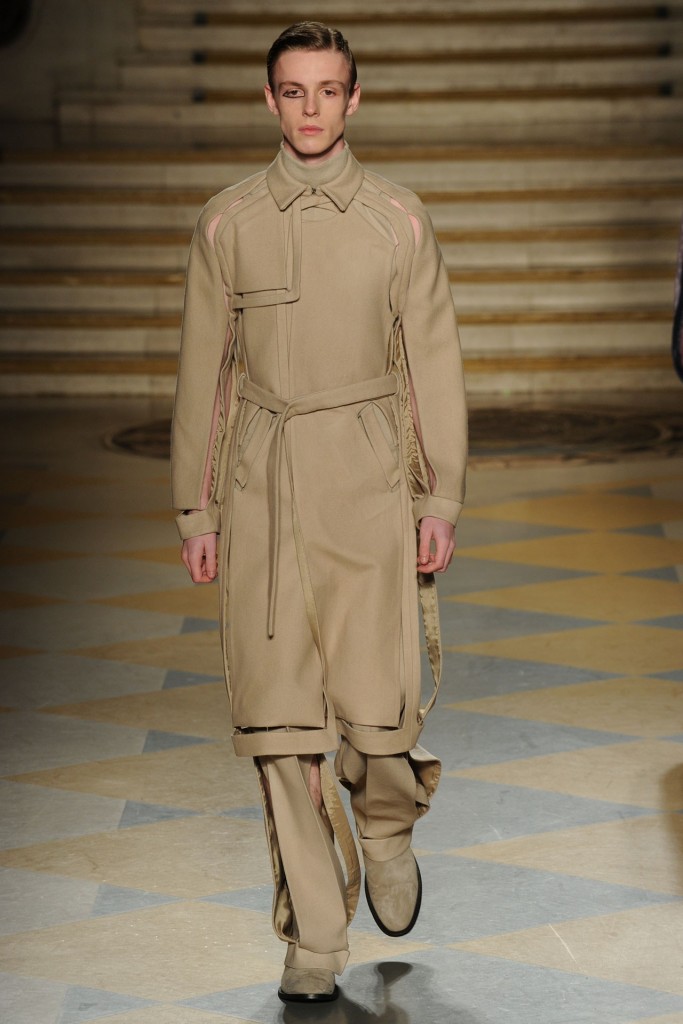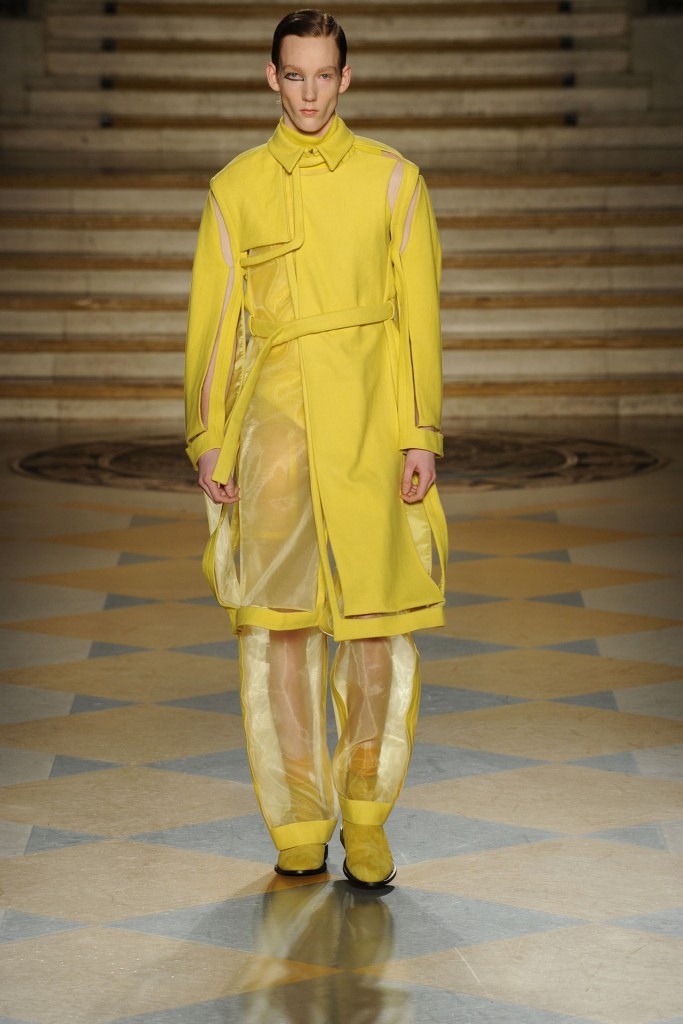 Peng Chen
Experimenting with a 'one size fits all' method, Peng Chen explored the idea of making both slim and larger men appear of the same size. Difficult pattern cutting techniques allowed this budding designer present a selection of oversized padded jackets and printed jumpsuits complimented by a selection of unique headpieces.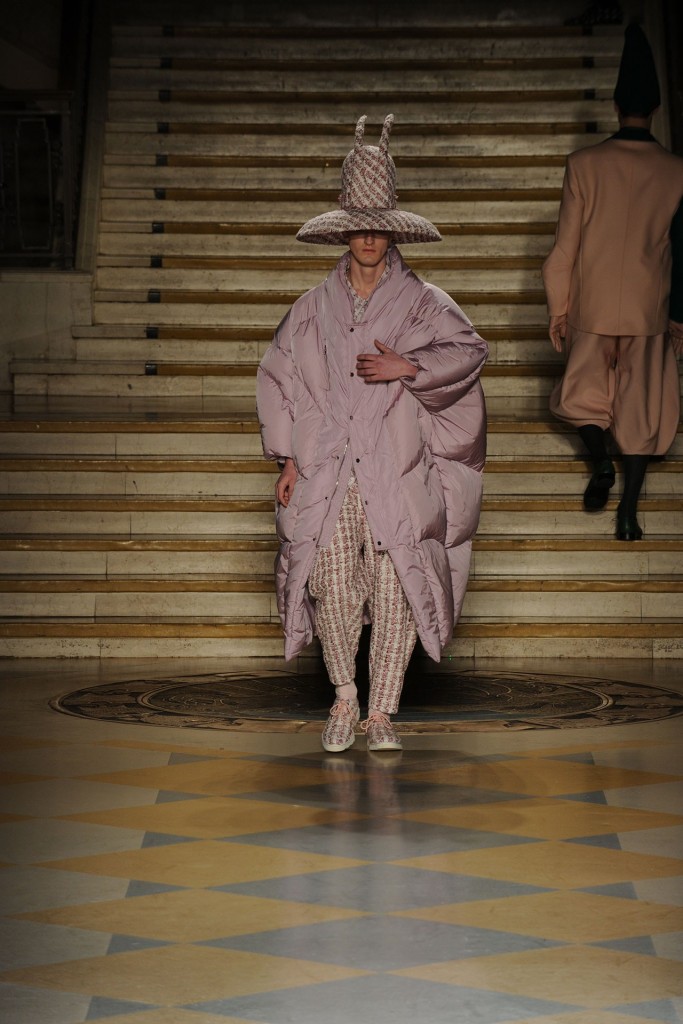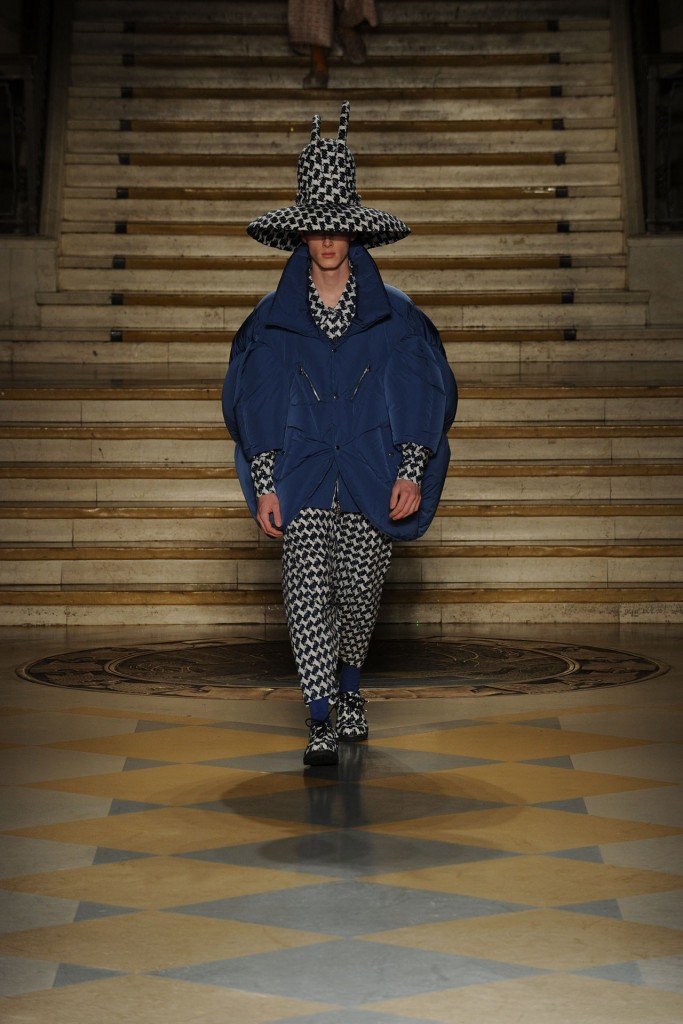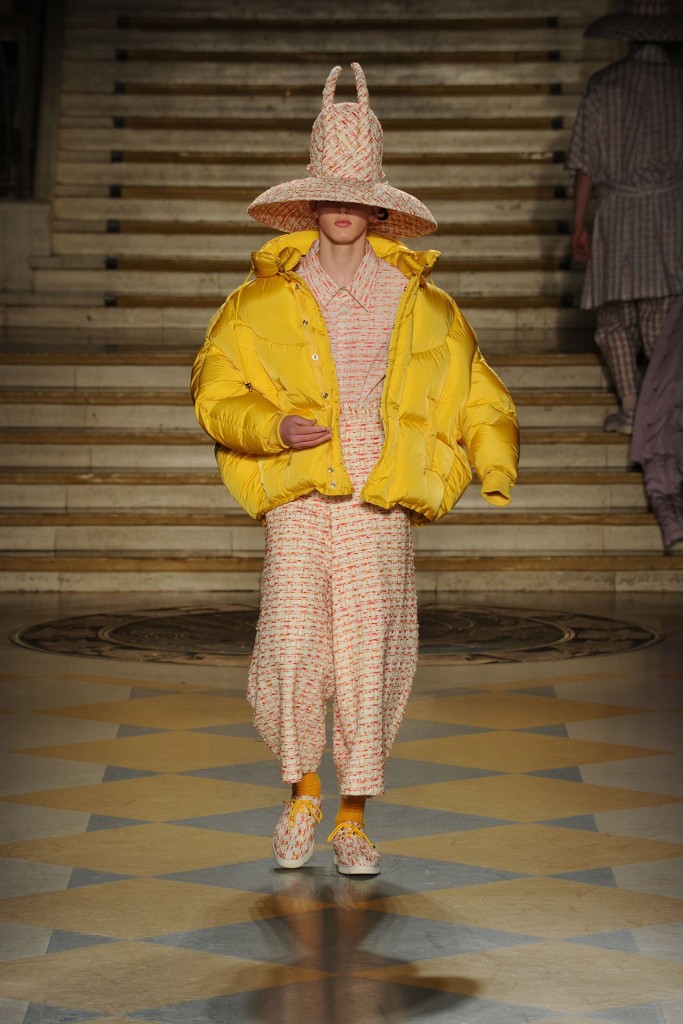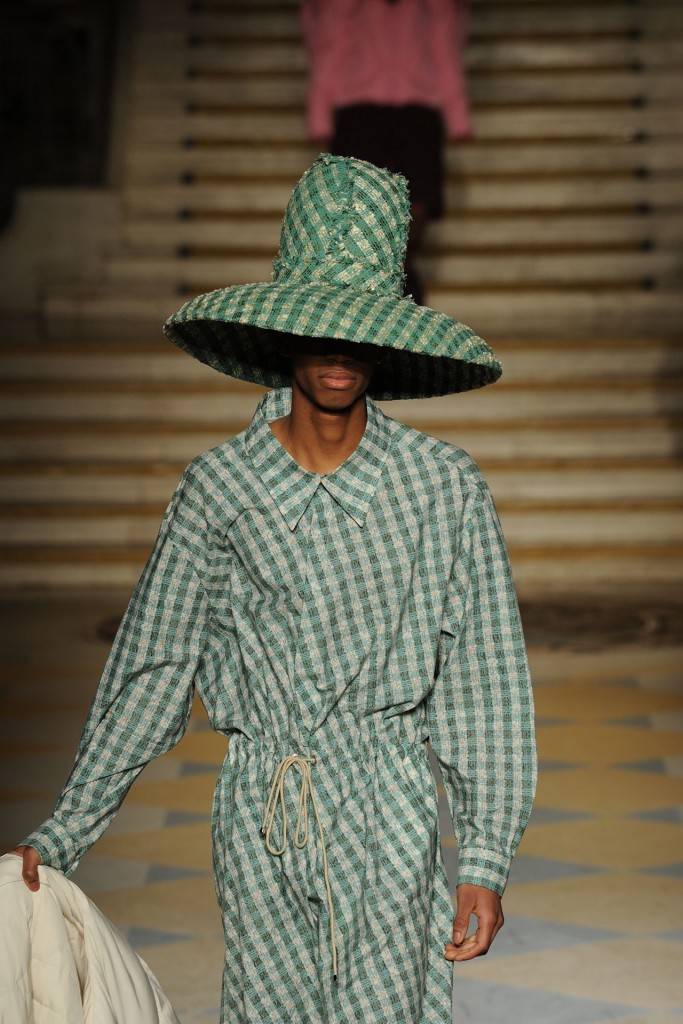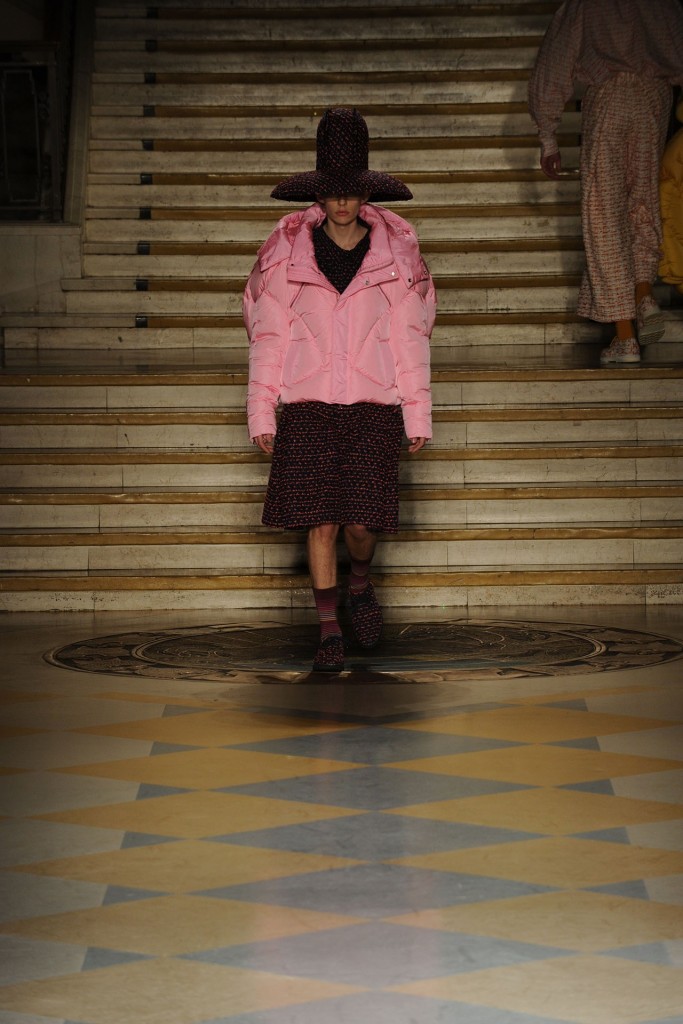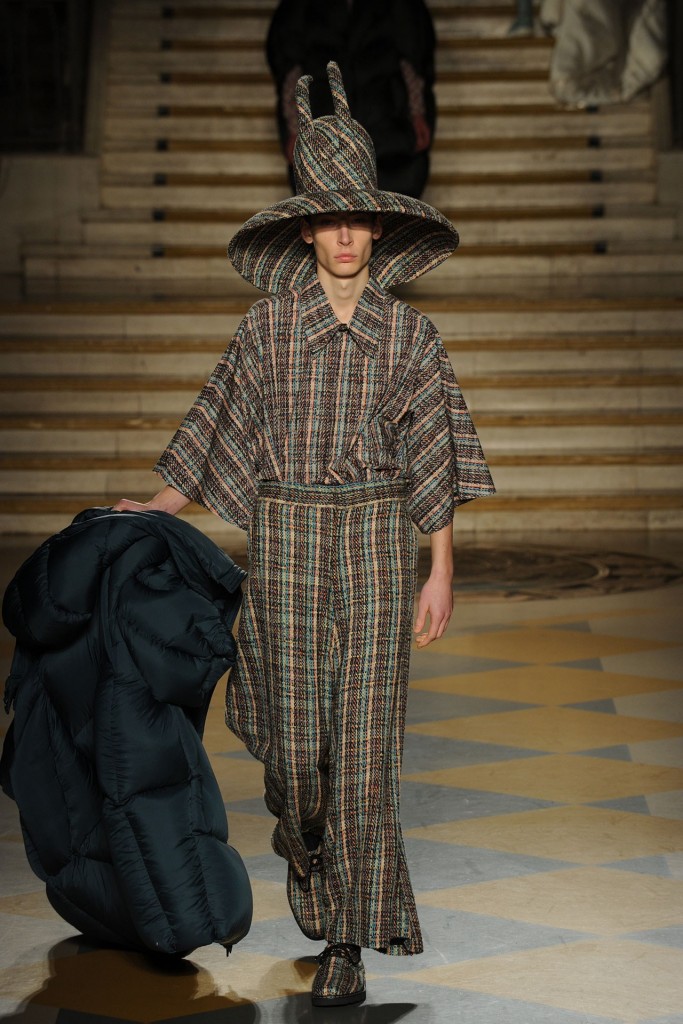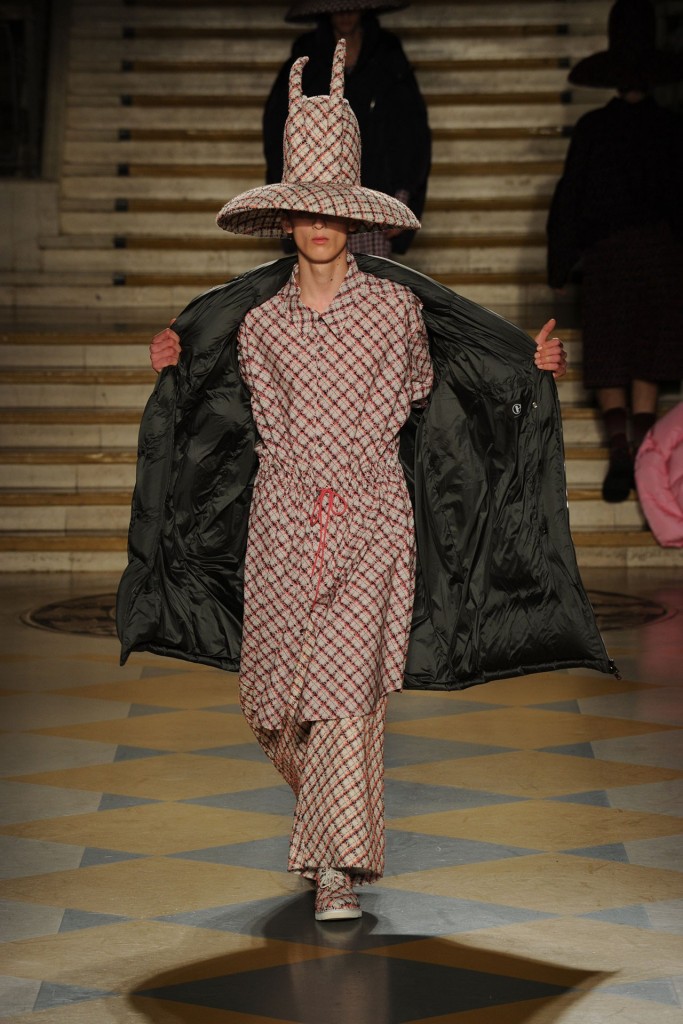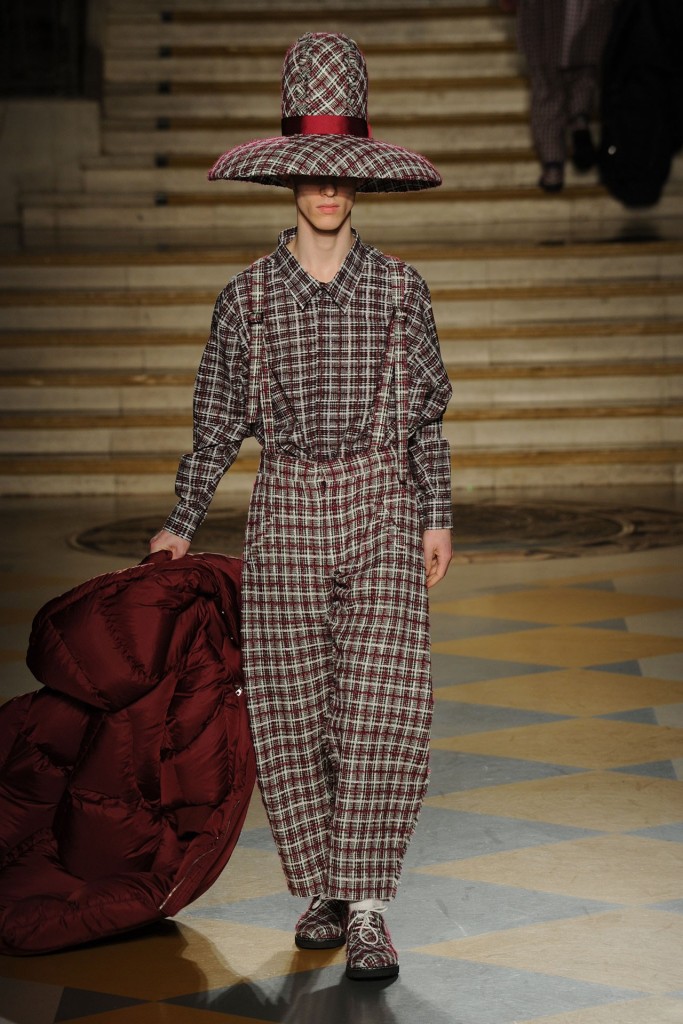 Victor Pao
Victor Pao found inspiration in birds of paradise alongside the states of the human mind – conscious, unconscious and subconscious. Allowing a certain amount of imperfections as evidence of the design process, Pao showcased a colourful collection of shirts, jackets and trousers all sporting frayed edges.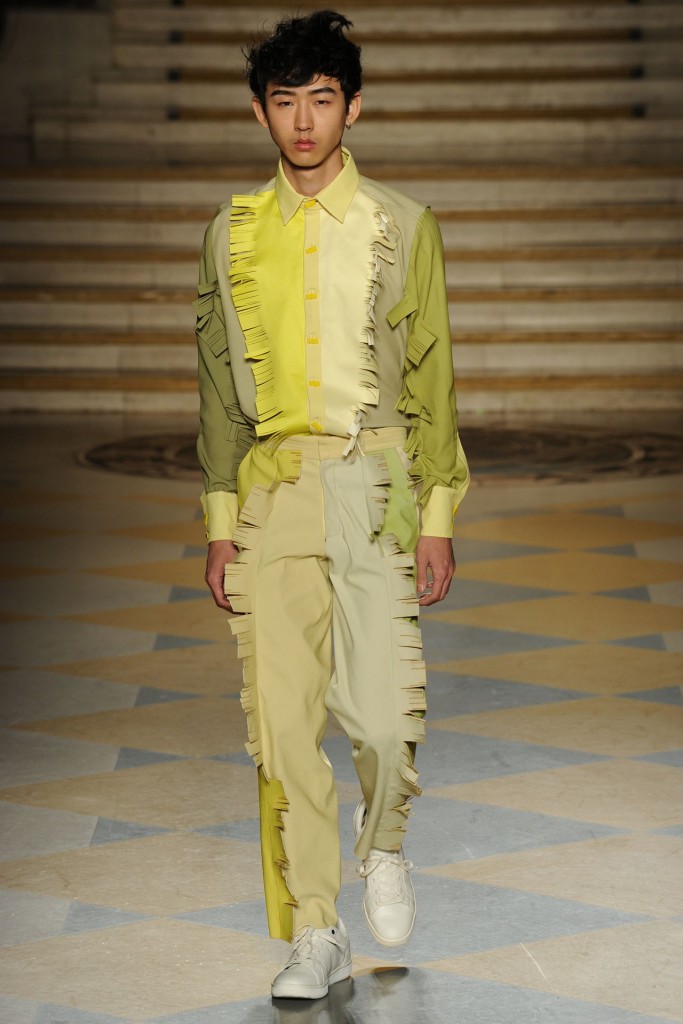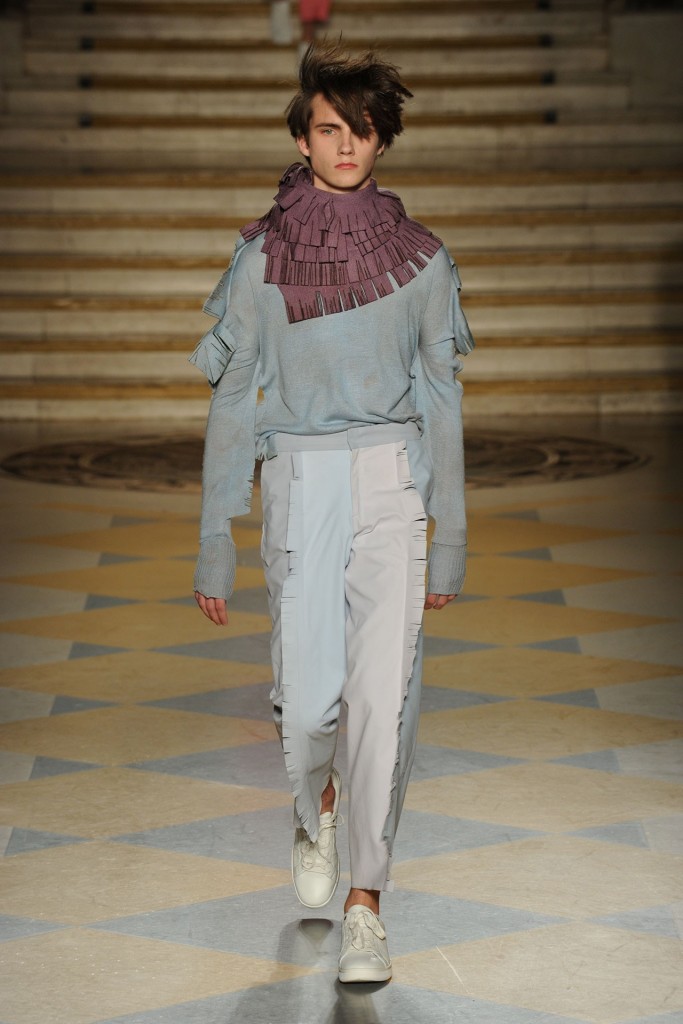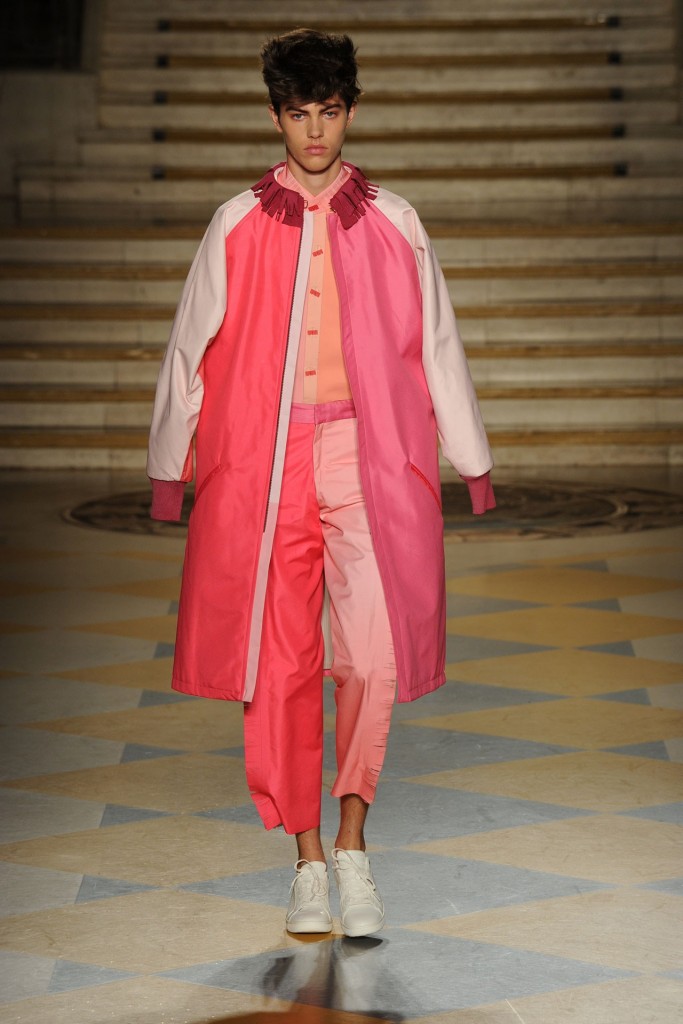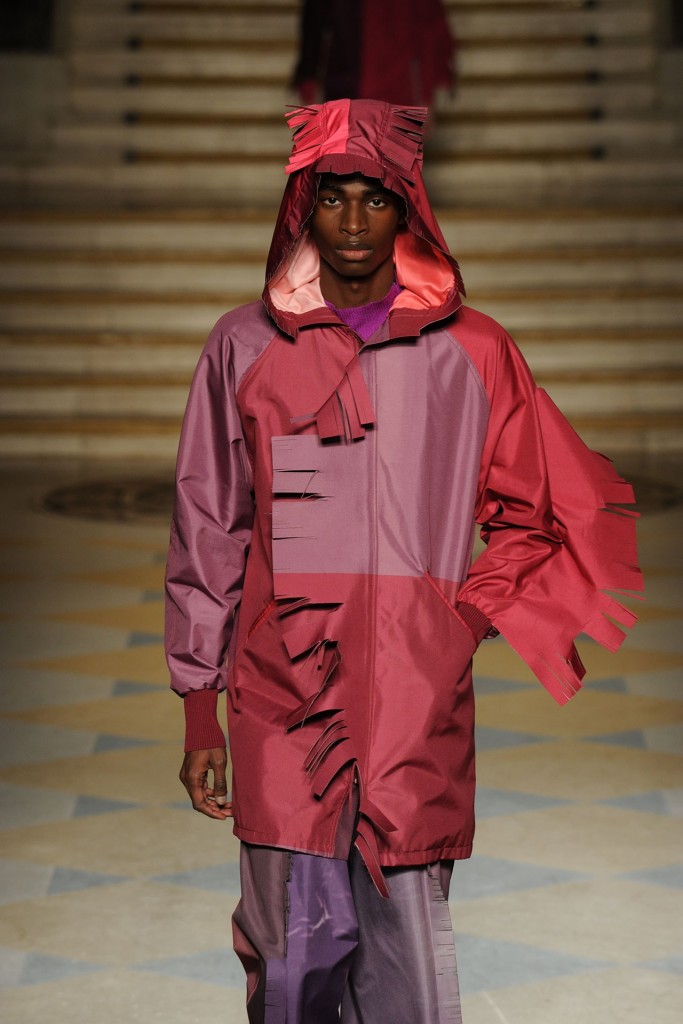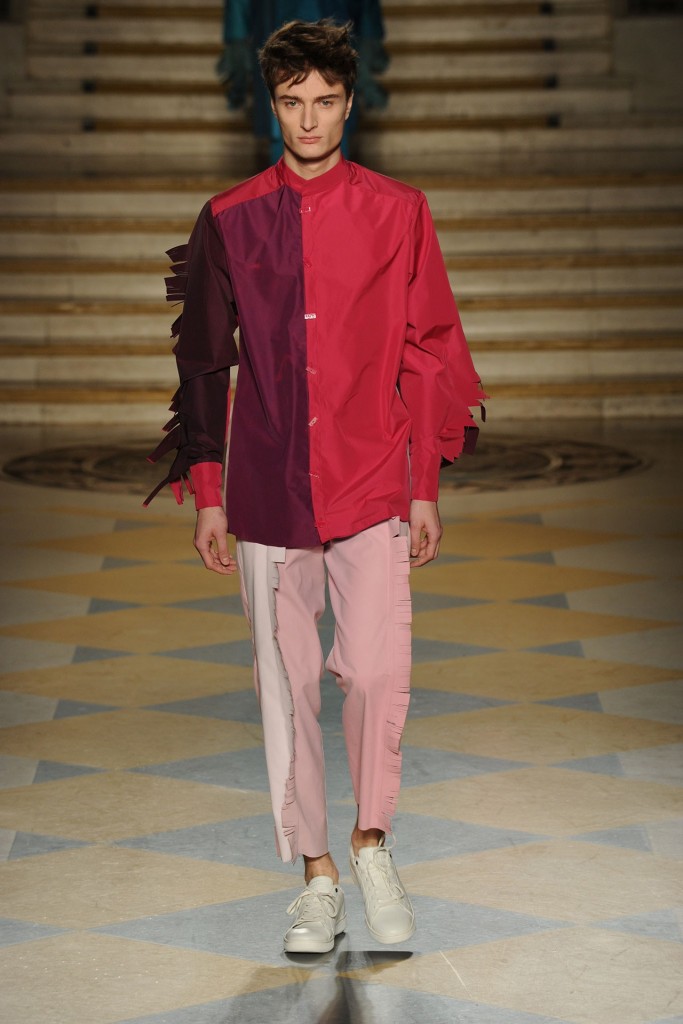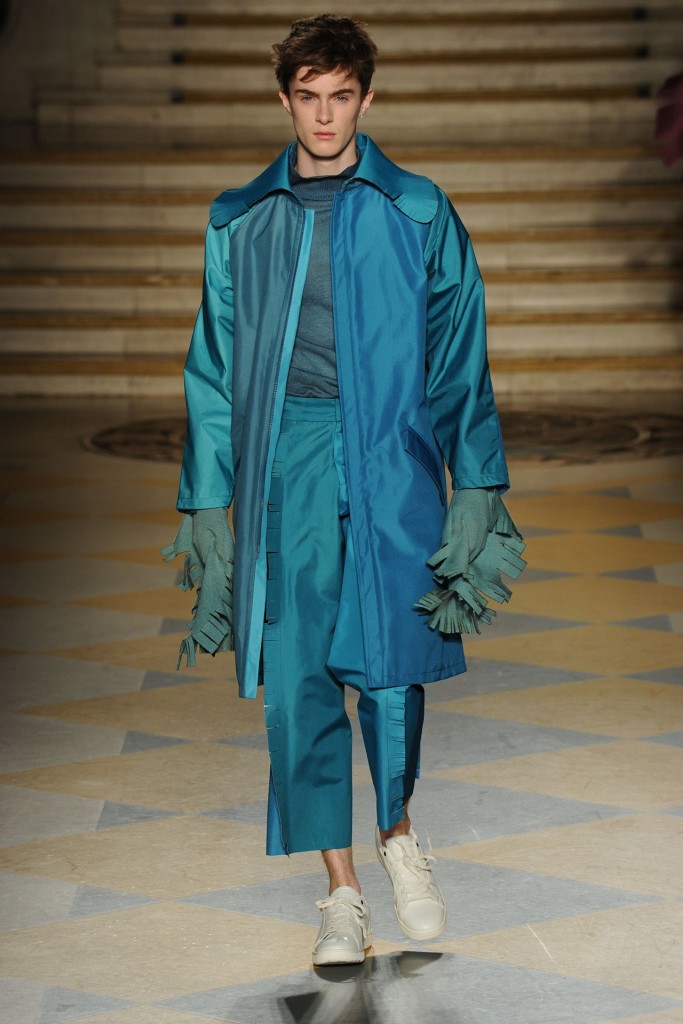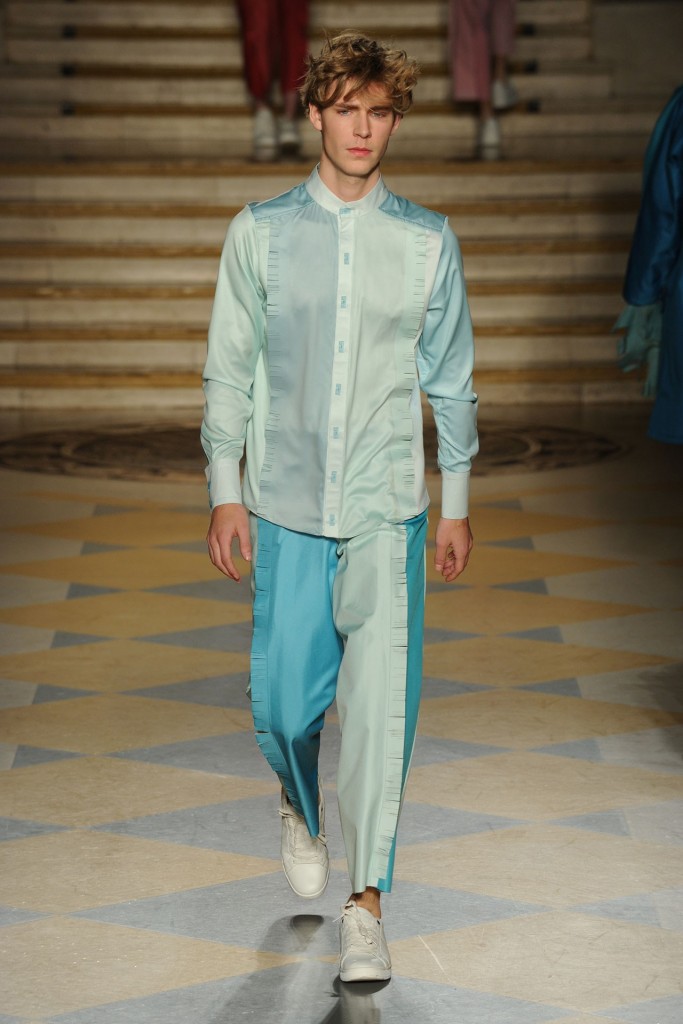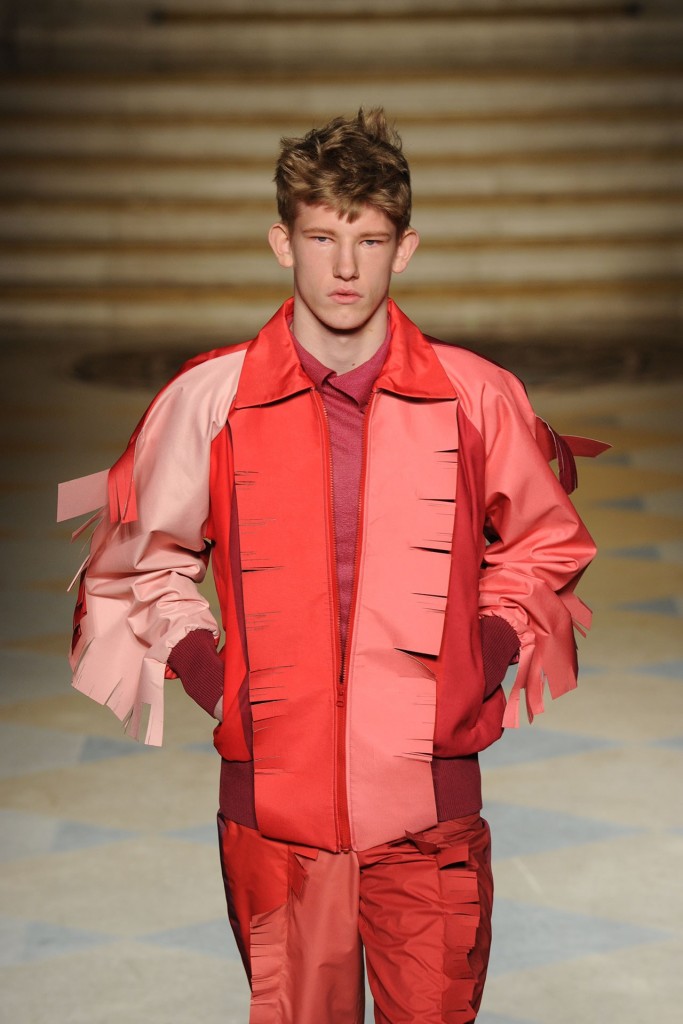 Xiao Zhou Su
Referencing ideas from Matisse and other artists, Xiao Zhou Su created a colourful collection fusing the ideas of avant-garde and classical tailoring. Bold color-blocked suiting in abstract shapes and patterns completed this vivacious collection.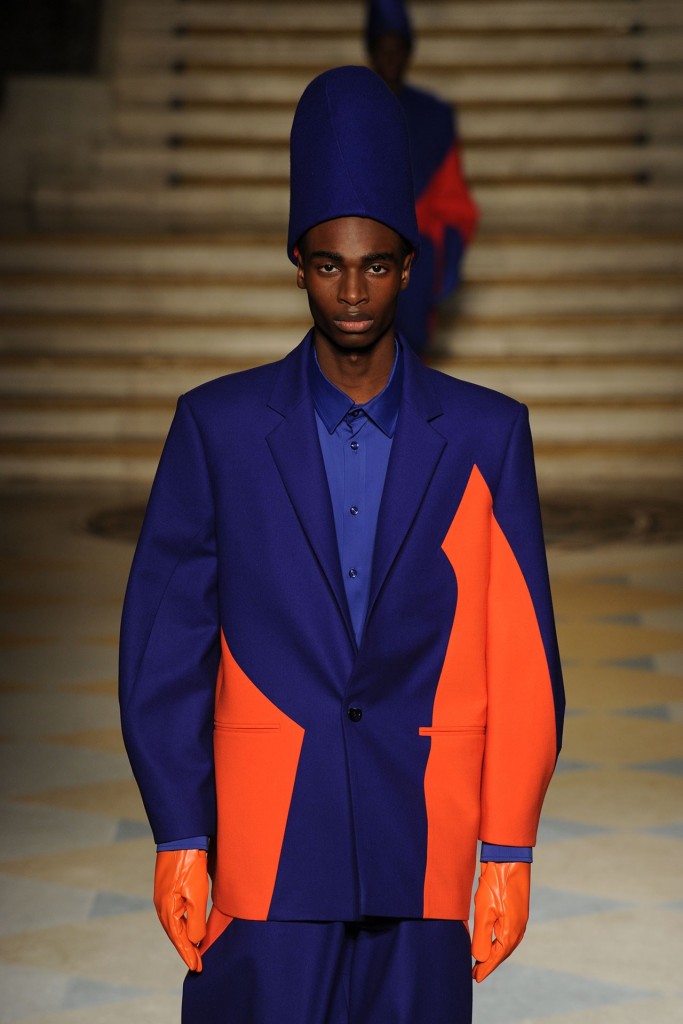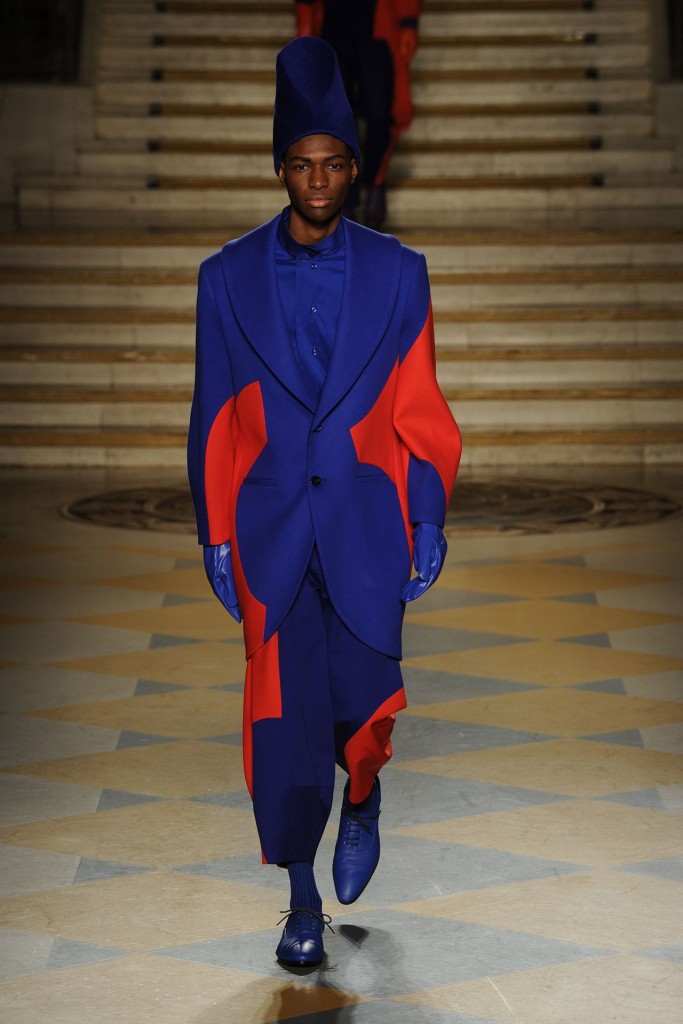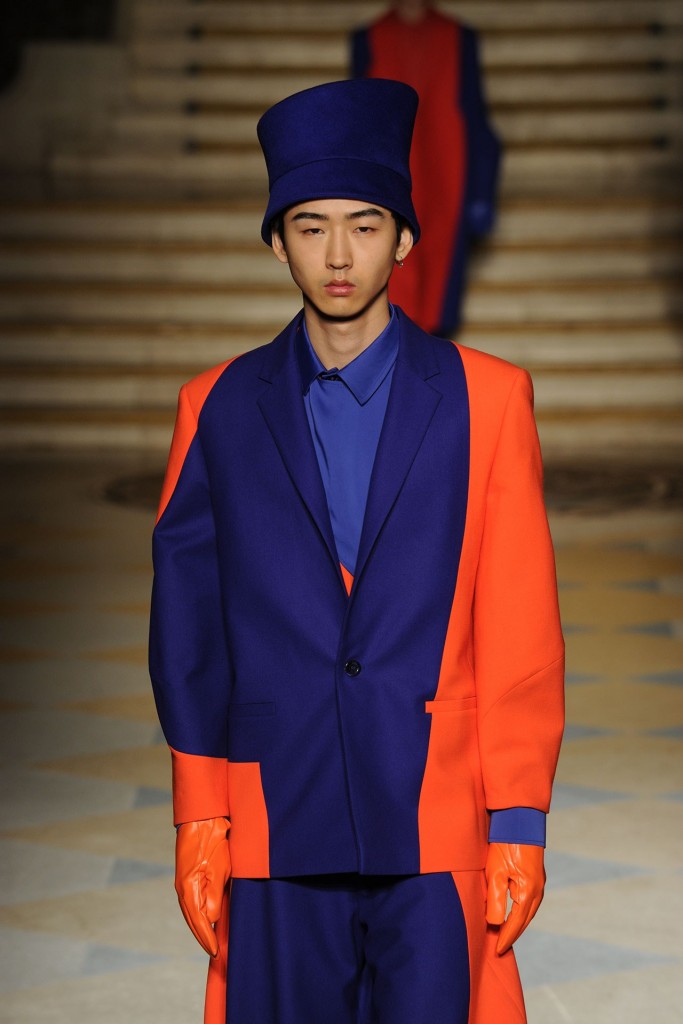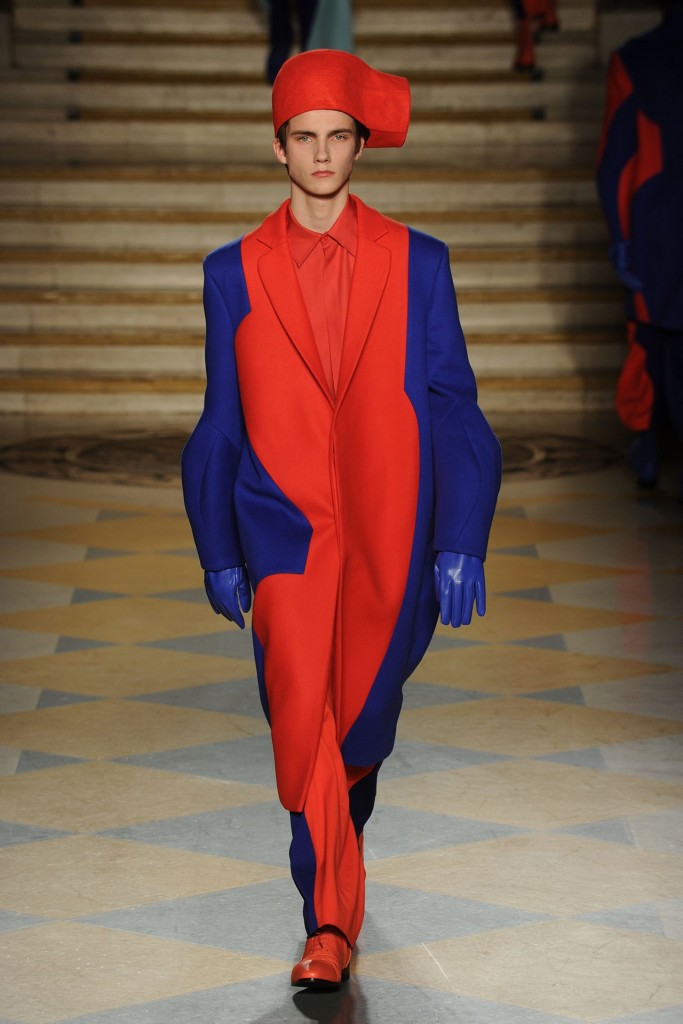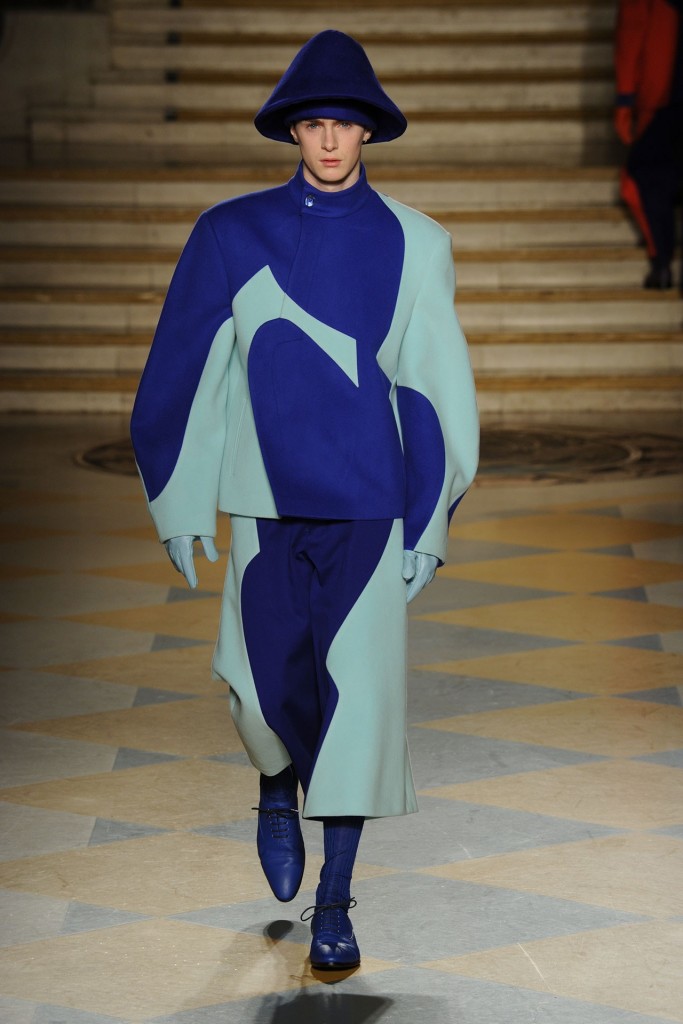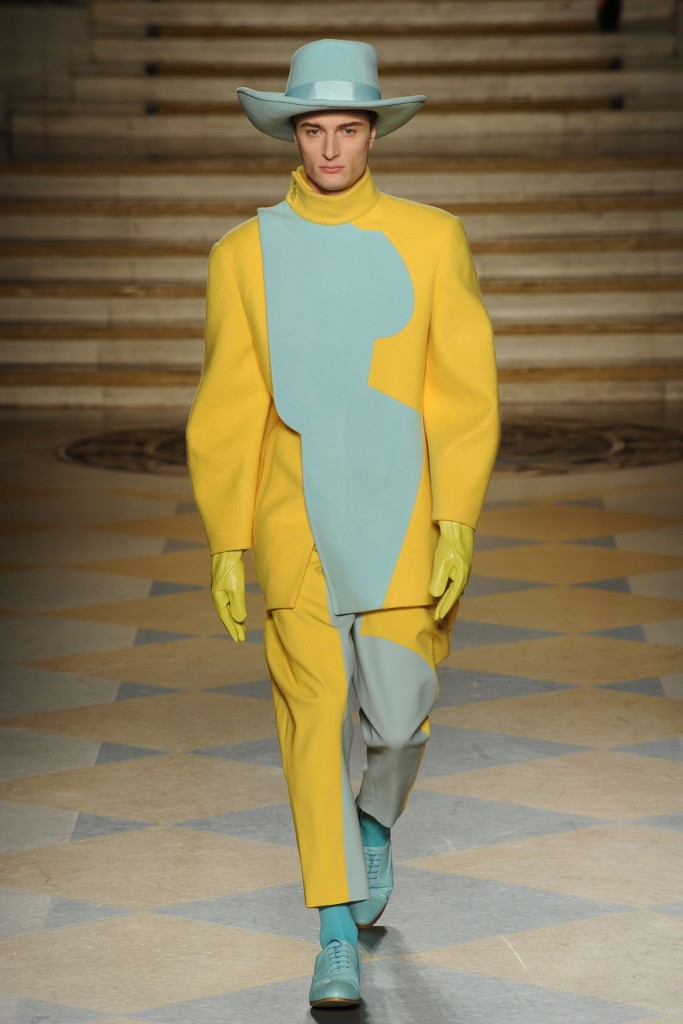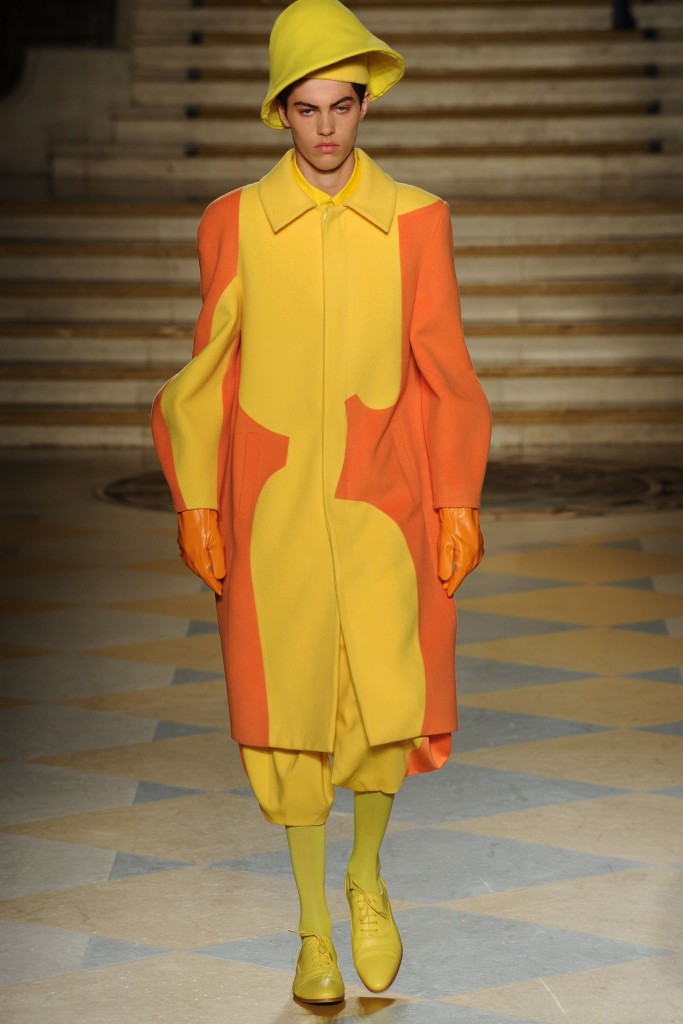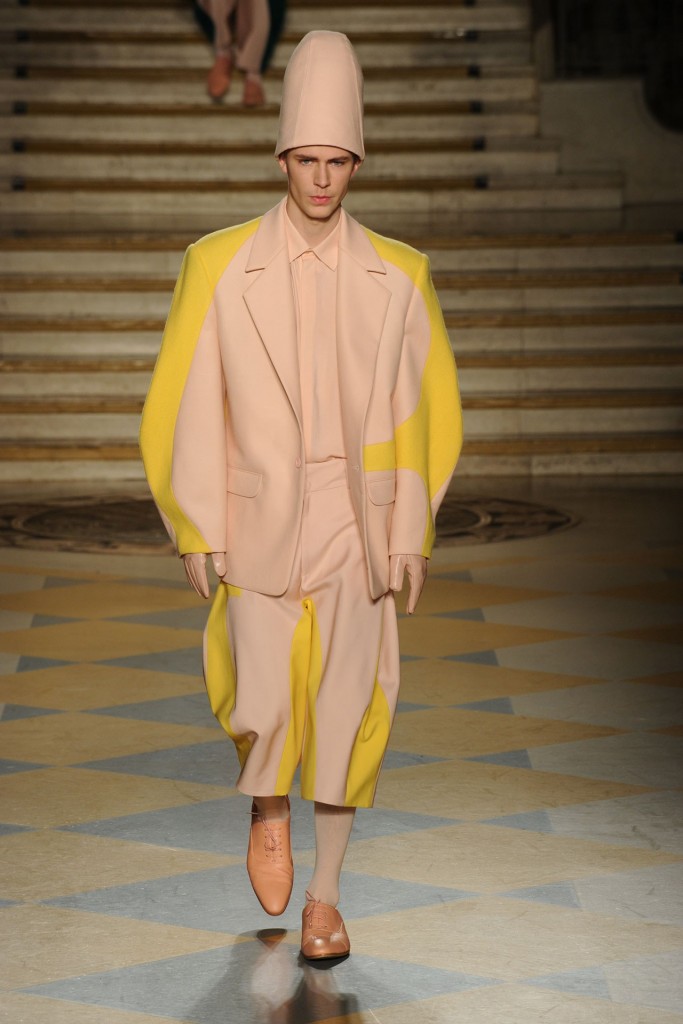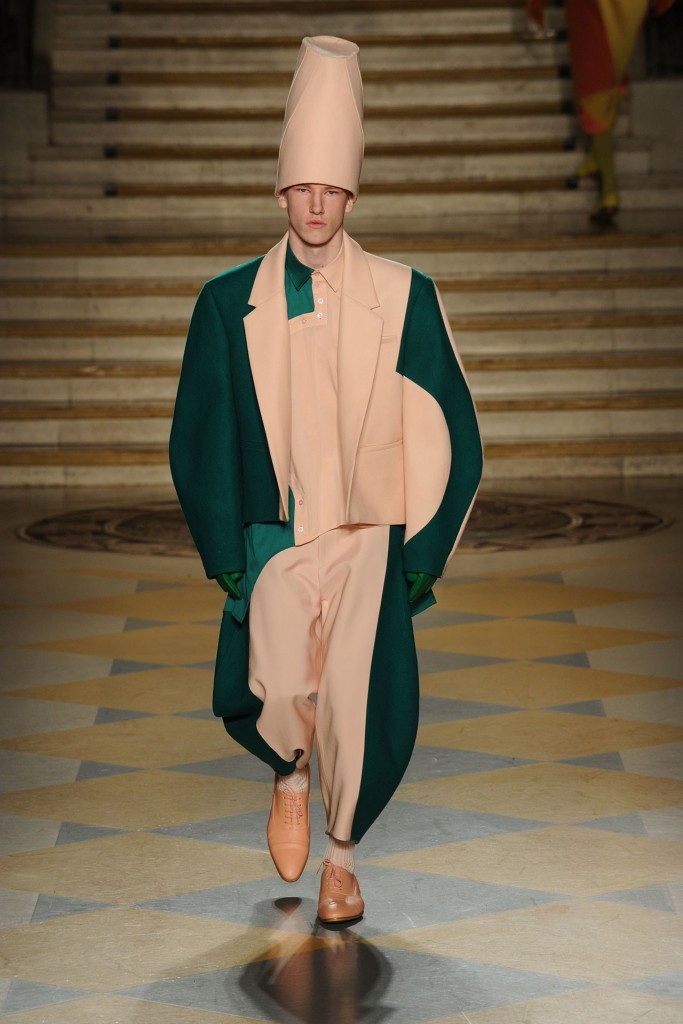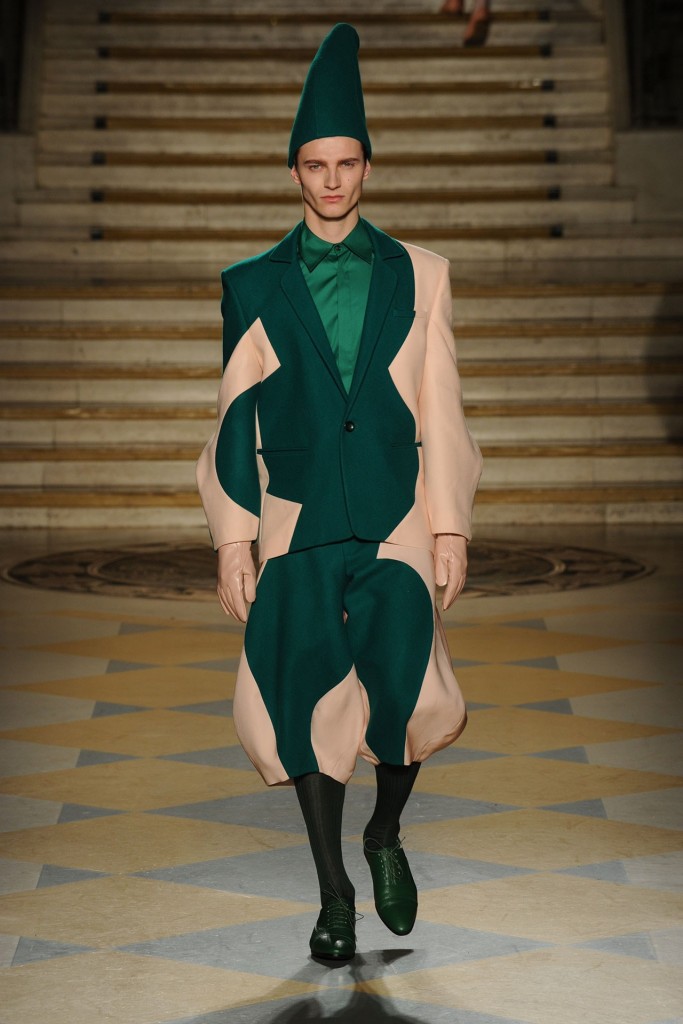 Ziqing Zhou
Examining the ideas of traditional menswear from a modern perspective was the basis of Ziqing's work. Understanding that change to 'normal menswear' can't happen overnight, her collection probes the usual elements of tailoring by extending and removing certain elements of pieces and redesigning the suit to serve the 'host'.