Ones to Watch: PAUSE caught up with new model Montell Martin in Paris.
Select model Montell Martin has only been modelling for two months and in his first season he walked the runway for the likes of Alexander McQueen & Coach at London Collections men. Definitely not an easy feat for a newbie but he's proved his worth once more in Paris by walking for the likes of Louis Vuitton, Maison Martin Margiela, Raf Simons and OFF WHITE. We caught up with the model of the moment for a quick chat.
How has it been walking the runway for some of the biggest brands in Paris :
It's been good. It's been calm. I got into all the big shows I wanted to which is very good for me as I wasn't expecting to get this much especially it being my first season here.
OFF WHITE was your first show out here, how was the experience :
OFF WHITE was so cool, the clothes were cool, the people were cool and the casting director Samuel is so cool. Virgil is cool as well obviously. Some of the models from London like Sol Goss were doing it so it was cool as I didn't really know anyone and they made me feel comfortable. So yeah, OFF WHITE was banging.
You've done some big shows out here in Paris, which one was your favourite and why:
Raf Simons was probably my favourite one because that was probably my favourite look. Also the set was like a maze, so you had to follow along this black line and also had to walk slowly. Walking slowly at first got me nervous but then it started to get me gassed because I was like yeah, I'm strolling slowly in my banging Raf Simons outfit and everyone's watching me. Raf Simons was probably the best, yeah.
How do you think Paris has received you being that it's only your first season here:
I think they've loved me personally, I love them too. It's just mad, I didn't think everything would go like this but I think Paris has taken a liking to me. The casting directors and stylists all seem to like me. It seems good.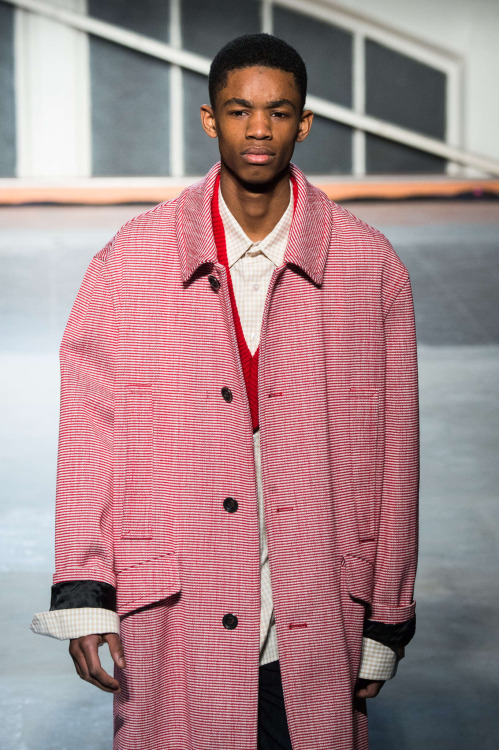 Where are you looking to take things with regards to modelling :
Hopefully I can bag a campaign. That would be good. Hopefully I can get bigger.