Amsterdam's exhilarating festival welcomes Lil Wayne, Dave, 67 and Siobhan Bell.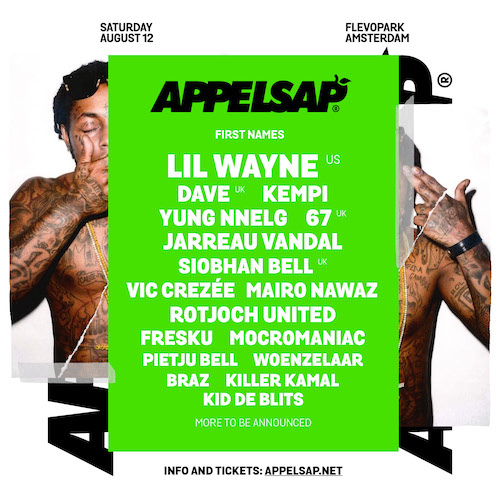 Lil Wayne will headline at the Dutch festival this summer, along with UK talent Dave, Siobhan Bell and 67, plus a host of Dutch selectors, rappers and artists who'll represent the local movement. Appelsap continues the theme of gathering the best in hip-hop, bass, soul, R&B grime, rap, future-thinking electronica and everything between.
The anticipated festival will take place on 12th August 2017 at Flevopark and will also include local heroes such as Jarreau Vanda, Yung Nnelg, Vic Crezee and Kempi. Apart from the fresh music, there will also be international cuisine and activities for kids (who can get for free under 12).
Appelsap has previously booked names like Kendrick Lamar, Disclosure, Skepta, Stormzy, Travi$ Scott, Lunice, Flatbush Zombies, Rashad & Spinn, French Montana, Danny Brown, Fat Joe, Hudson to name a few, and are well known for returning guests.
"This party is dedicated to all the teachers that told us we'd never amount to nothing."- Team Appelsap.
Buy tickets here. and check out the video.
Follow Appelslap on Twitter @AppelslapX for more updates.