Talks Africa, Leg Over & How Afrobeats is about to takeover the world
From a promoter to a music artist
Mr. Eazi, your local African artist who locates from Lagos, Accra, and London. He discusses what really pushes African music to the mainstream, the true meaning behind his track Leg Over and how he went from a business entrepreneur to a music artist, but still uses his entrepreneurial skills towards his music.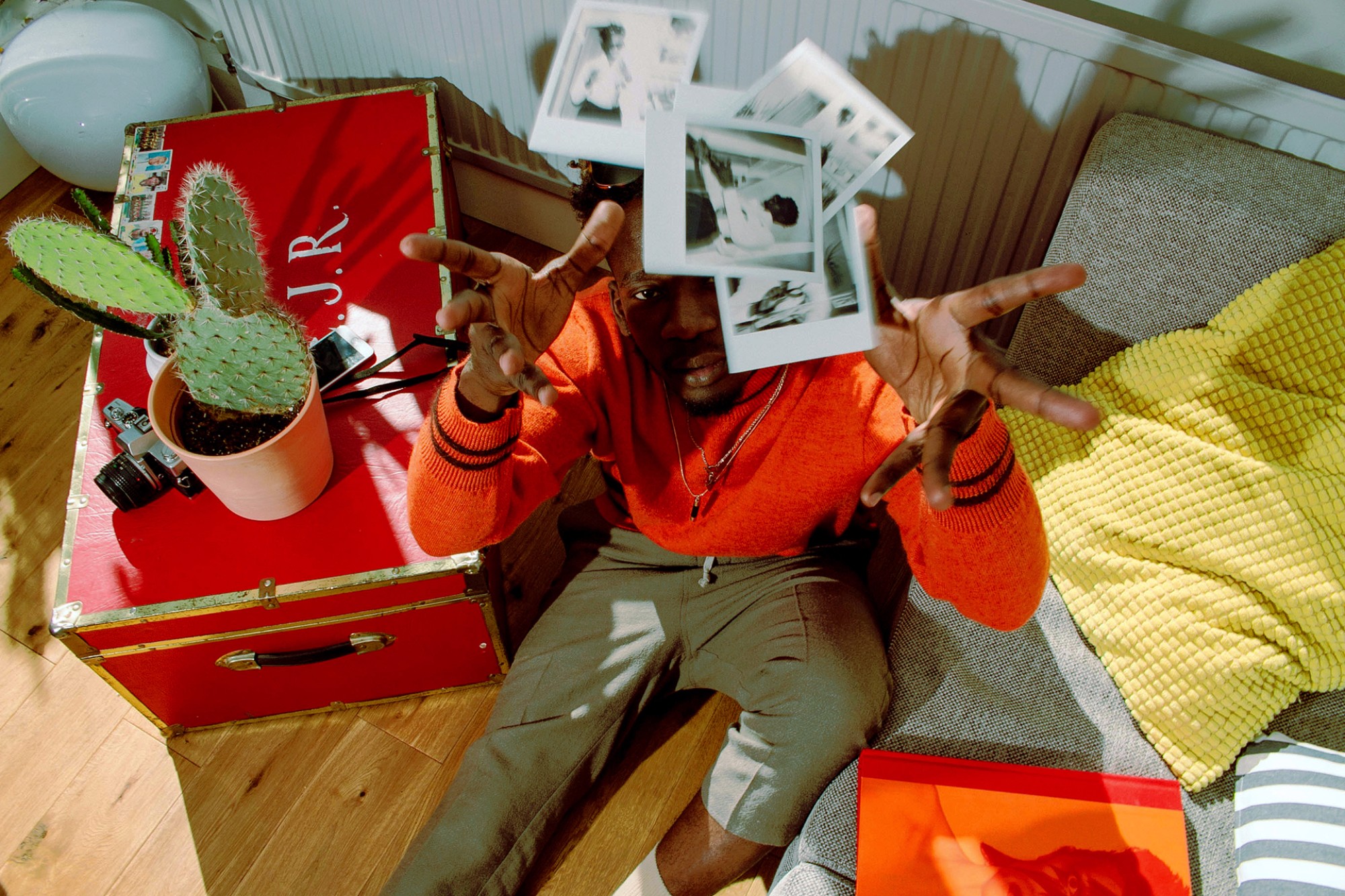 Chains: Artists' Own, Sunglasses: Gucci @ Flannels, Jumper: Marni @ Browns Fashion, Trousers: Rick Owens @ Browns Fashion, Socks: Uniqlo, Slides: Valentino @ Flannels
From what I can see, you like London a lot. You've actually shot a few music videos here. why London?
I started to be a full-time musician here, I feel like there is a passion.
You started your music career here, what do you mean by that?
The thing is, July last year I decided that I would do music full time.  After I did like 5 shows in March and then I came back in July and performed in at the O2 Forum in Kentish Town and that just made me feel like I'm onto something.
So it's only last year until you realised now is the time?
I checked my Soundcloud and I saw that I was getting heat from Soundcloud, then I put out my music online regardless. Most of my sales were coming from London and that inspired me. I did Ghana Party in the Park like 5 days before Kentish Town, so to have that number of people come out for you in one city that just made me feel that this was the sign I need.
You currently live in Nigeria, right?
I shuffle between London, Accra, and Lagos.
Let's take it back before you started to realise that you could take this seriously, you were doing Music before right?
Music for me was just my hobby.
What was it then, were people back home not taking you seriously?
No, I didn't even take myself seriously. You see some of my early music, my first mixtape I put out in maybe 2013/2014 you can't even see my face. If you check my image there, you can't even see my face. I just put a cartoon, that's how I fell in love with animation because I wanted to hide my face. I always wanted to be an entrepreneur, then ultimately be a billionaire. So I thought music was not serious. I didn't want my hobby to collide with my business. Me at 21/20 sitting with CEO's that were International, they could just look you up and see you singing somewhere, they wouldn't take you seriously.
When you did you start officially doing music?
The first time I recorded in a studio was 2011 and that was because I used to be a promoter, I was a party boy in Ghana. I used to bring all of the artists from Sarkodie to Wande Coal, and Davido to Burna Boy… Sean Tizzle. So whenever artists came around, they wanted to record somewhere or local artists wanted to record with them and I would help to organise a studio. From there one day I was looking for a new hobby because I started going to the clubs, spending money, popping bottles. I started recording and I became obsessed with going to the studio, there was a guy called Kizu that would give me free studio time and that's how come I had so much music.
How did you get involved with Juls, was he the first producer you worked with?
The first producer I ever worked with was Karma Keys, then I worked with Peewee, Klu. Klu made my first hit, the song that made people really take me seriously was "Pipi Dance," a viral song. It started getting some heat and then Klu just compiled all the songs we did in the studio and gave it to me and said "This is your mixtape" and then I released "About to Blow" mixtape.
The song "Skin Tight", that was produced by Juls, right?
Yeah, I made "Skin Tight" with a producer in Ghana and then I still felt with all my tracks, 90% of the time I make the sketches with an engineer and then I ship it off to different producers to see what they come up with until I hear what I want. "Skin Tight" probably went through to two different producers before it got to Juls.
I feel like AfroBeats has finally gained its' recognition in London and all over recently. Do you think social media has helped bring afrobeats to the mainstream?
Yeah definitely, and the dancers! I feel the most key drivers of Afrobeats is the dancers because dancer's do videos, post it on YouTube – but nobody pays them. If you think back, a lot of people forget that Fuse ODG did three UK Top 10s and that's not a joke for AfroBeats. Since Fuse, no-one has done that. 
It's crazy because people that never listened to Afrobeats are listening to it now.
I might have to disagree with you because numbers don't lie and the numbers aren't saying that. If you look at the UK's Top 100 records, there are no AfroBeats records there. It's just perception really. There is an awareness, but the awareness has really converted into buying records. If not, what is the biggest African record right now? It hasn't sold more than a record from over here. Let's not kid ourselves. There is still a long way to go. There's an excitement about the genre, so hopefully, in the next year, we will see more African music in the chart.
How do you find African culture when you're abroad, do you feel that it is diluted or do you think it is still the same?
It's a mix of everything, you know? I feel like your environment affects you, it seeps in. I don't want to call it diluted, but there is a different interpretation of what African Culture is. People abroad are more excited when they see me. Because when you see something every day like when you have a girlfriend and you see her every day, yeah you are going to love her and appreciate her, but when she travels for 3 months and if you really love her, then 3 months later you feel excited. It's a similar feeling, there's a sense of appreciation.  The more the diaspora of Africa grows stronger and bolder, the more the music and art, in general, will grow.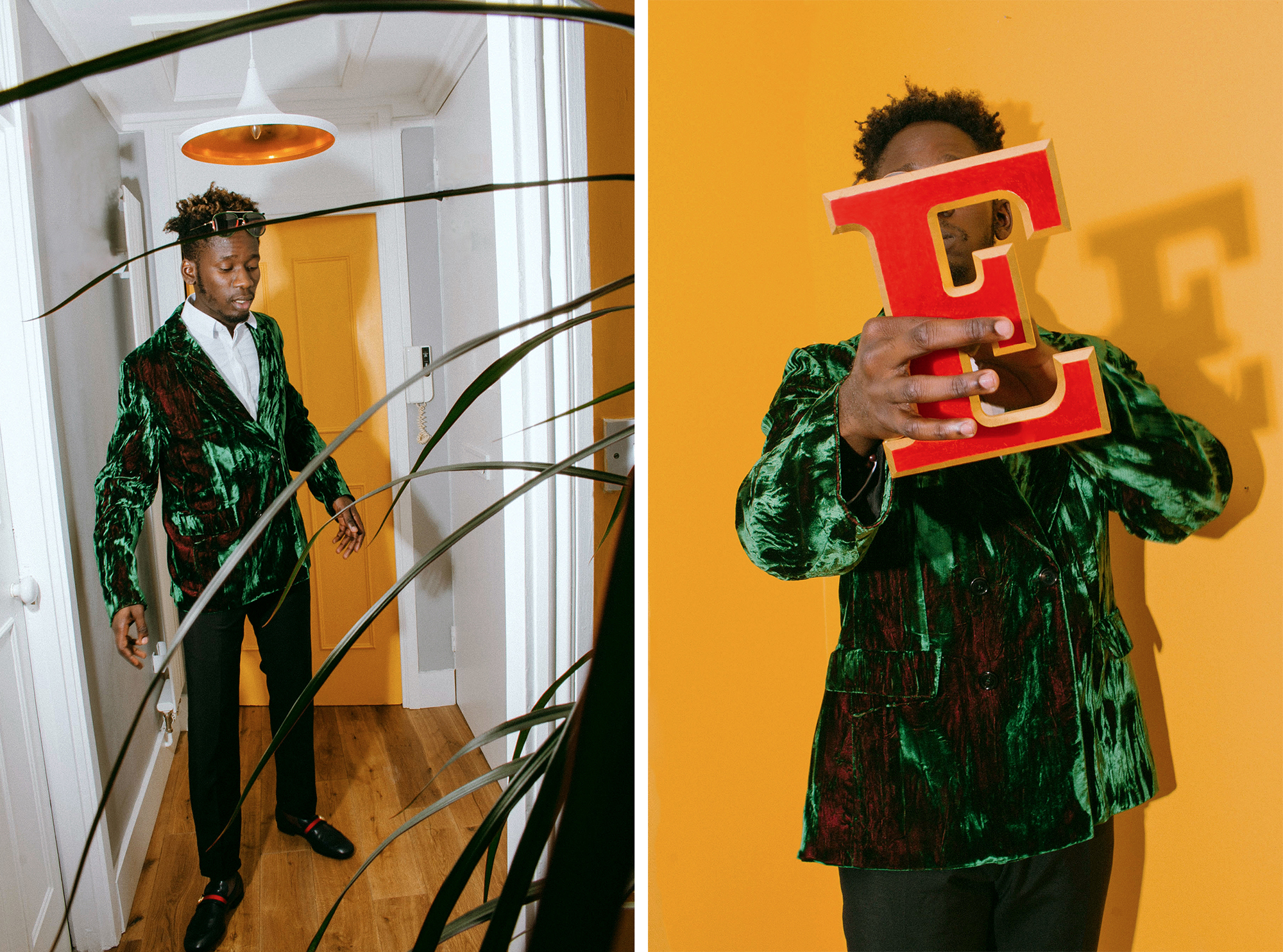 Sunglasses: Gucci @ Flannels, Blazer: ANN DEMEULEMEESTER @ Browns Fashion, Shirt: Bukki Ldn, Trousers: Reiss, Shoes: Gucci @ Flannels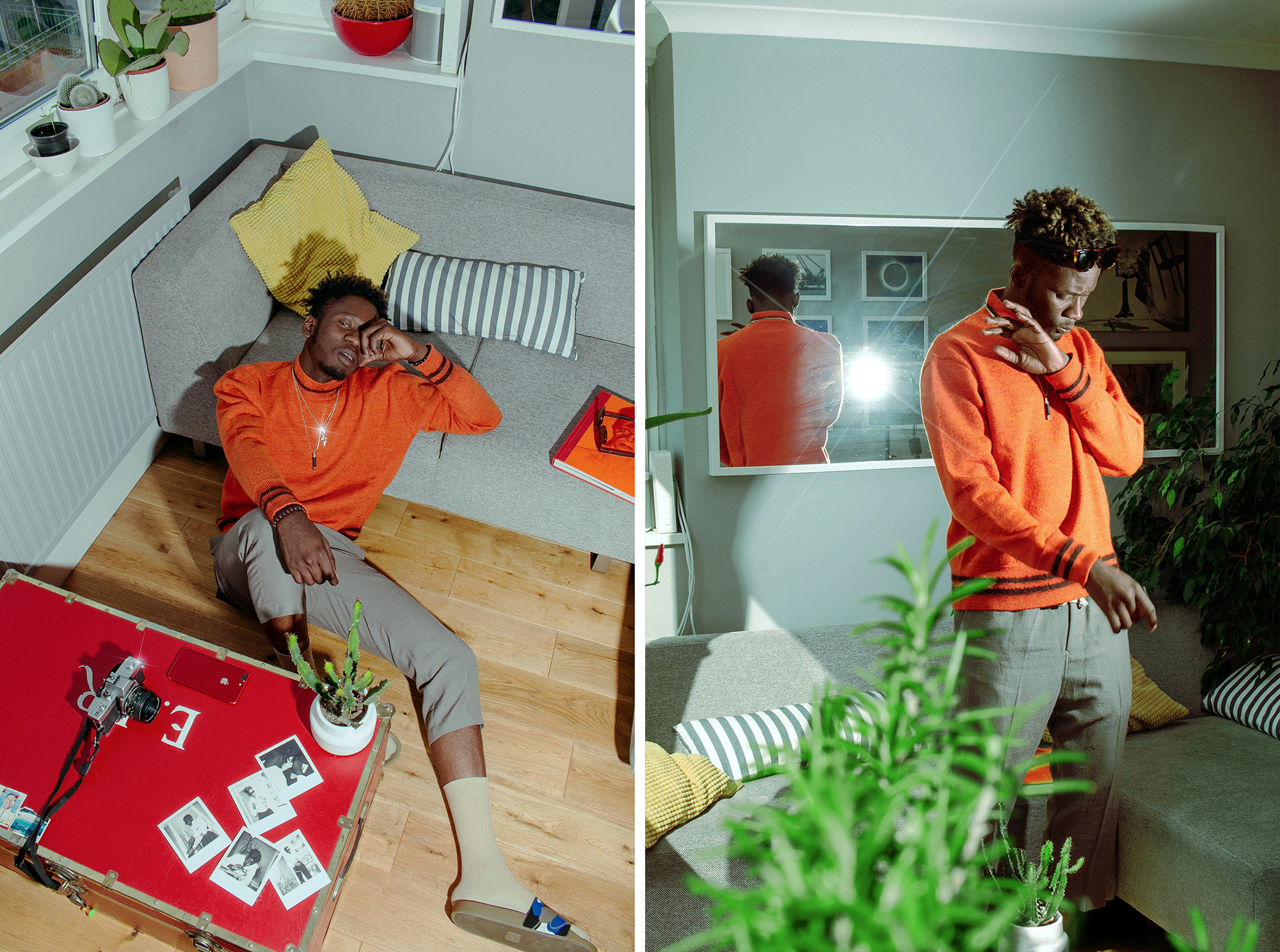 Chains: Artists' Own, Sunglasses: Gucci @ Flannels, Jumper: Marni @ Browns Fashion, Trousers: Rick Owens @ Browns Fashion, Socks: Uniqlo, Slides: Valentino @ Flannels
How would you describe your music in one word?
Vibes.
Where did the name "Mr Eazi" come from?
From university and being a promoter, I always found myself stopping people from fighting and I would be like "Take it easy, take it easy". In fact, people are always shocked how I can perform on stage because I am so calm. Ideally, I would love to sit down, haha.
What's the meaning behind "Leg Over" and how do you do the dance?
Leg Over is actually a football move, people call it the "Step Over" but in Africa, we call it the "Leg Over". If you want to dribble somebody, one move you can do is a "Step Over", you can mover your leg (foot) over left and right… It distorts your opening. In the song, we use "Leg Over" to say dribble. My girlfriend is dribbling me, she is playing me. That is what "Leg Over" is about; it is an emotional song about me saying what my girlfriend is doing wrong and how she is doing me wrong and she is playing me. She is about to give me the game over and break up with me because of the guy that's sending her money from London. It's a classic story that happens every time; a girl has a foreign lover from a different country doing nice things for her and she is full of promise for this guy.

Which designers are you favouring at the moment?
To be honest, I've not really been designer focused.
Okay, so what's your favourite sports brand?
I like sports brands like Adidas, Puma… My favourite trainer whilst growing up was the "Adidas Shell Toes". Even like a year ago I had like 50 Shell Toes, because I wanted every colour, every design, I saw the ones that had the metallic top and I got those ones as well. It was so cool back in the day.
You are on the Apple: "Next Up Artist's", how does it feel to be the first AfroBeats Artist featured?
It's another blessing, it's humbling. They love amazing artists, doing amazing things. There's a lot of hard working artists dropping dope records that are working harder than myself and seeing that, is just humbling. But if anything, it just makes me realise that whatever I am doing, I am doing right. There are sometimes where you might doubt yourself, but times you doubt yourself maybe when I get to the session and I'm not feeling something, everyone else is screaming and saying "That's sick!".

Who would you like to collaborate with next?
Everybody to be honest. I don't want to be boxed to a specific genre, and surprisingly whilst a lot of African Artist's right now are trying to do a lot of things in Hip Hop and R&B artists, I'd rather do a lot of things with like Dance, Pop, Electronic music. Like for Dance I have already started working with artists like Riton, I would like to do something with Jax Jones and Example. I would also love to do something with the The Chainsmokers, Yeah, the list is endless.

Which is your favourite song that you've created so far?
My favourite song that I have created… I think I'd have to check my phone, by seeing which one is the most played by myself on my playlist, that's how I'd know. I think it would be "Bankulize" and maybe because it is one of my first records.
What advice would you give to another artist from another country that is trying to break out their own country?
I'd say you would have to start from home, charity begins at home. Gather a fan base so you can tell a story, having a story helps, no matter how much money you have, the world likes to buy stories which is why the film industry is so big.
And what's your story?
My story is an Entrepreneur who wanted to be a billionaire that started a couple of businesses and whilst looking for capital to fund those businesses, music found him. He found out that he could start making money from it. I thought music could give me the capital and the influence, and one day I can do whatever business I wish to move onto. Music has always been there from the beginning, but not something I wanted to earn from. The only thing other than music I saw myself doing, was being a promoter or hosting events and that is what I was doing back at university to get that extra cash.
What thrills you as an entrepreneurial music artist?
It might surprise you that, what thrills me the most is not the stage performance, but how I can create something and see it come into profit. How I can have an idea for a song or a show and watch it happen, that's the entrepreneur in me. Sometimes for entrepreneurs, we are not really motivated by the amount of money made but we are motivated by the prospect of making the profit and creating something and it is the same thing. I am motivated by the prospect of creating a song, music videos, a concept, and an idea. Once I've seen it happen, I'm onto the next one, I'm thinking of something bigger which can challenge me and push me. Just like now, I'm obsessed: I've done it in Nigeria, I've done it in Ghana, I've done a lot of work in Africa, I want to spread this globally because it will push me to the next one. It is about the money but it's not the money, and that's why that I've not been signed. If I was 100% about raising money, I would have taken a record deal.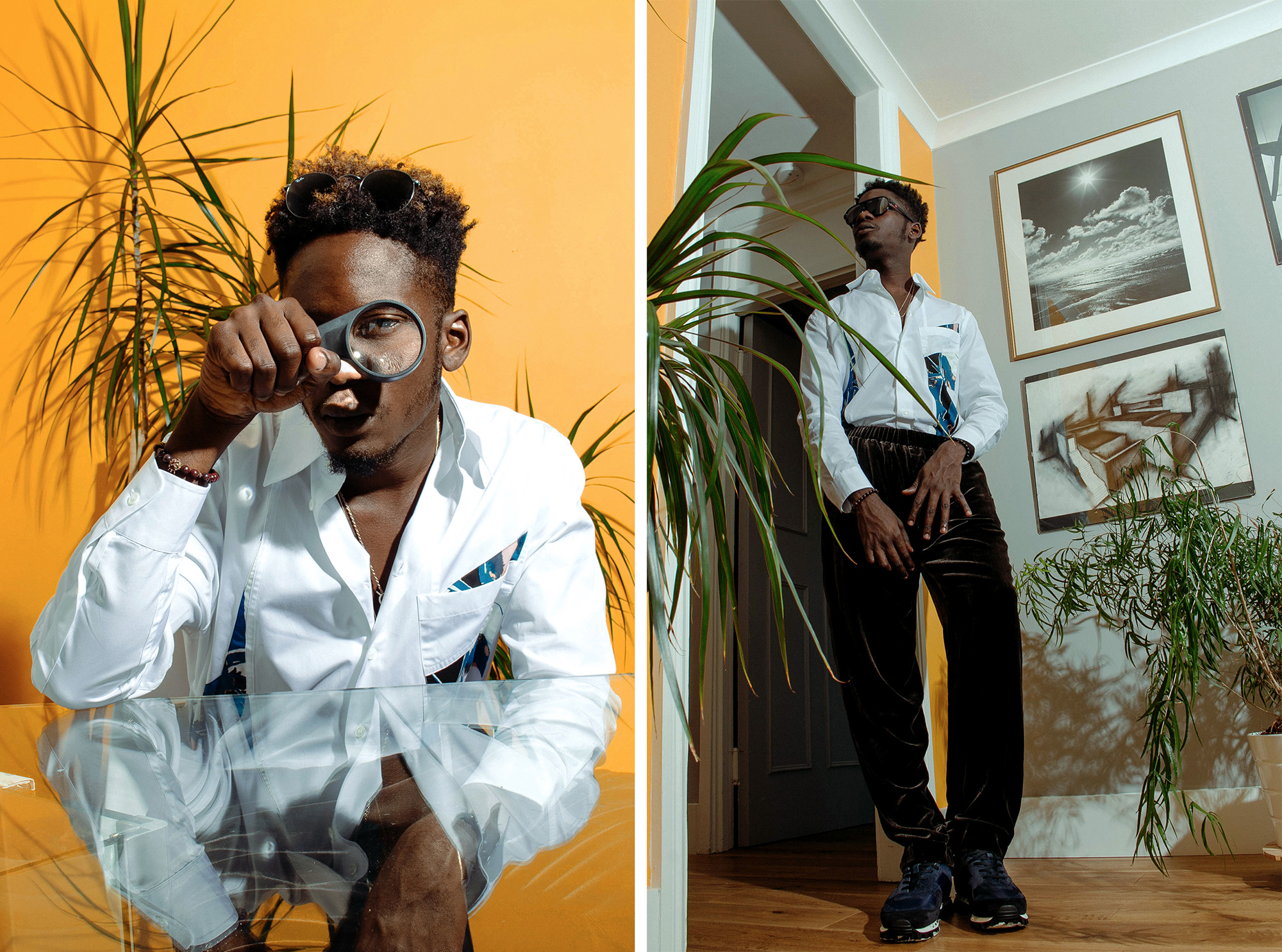 Sunglasses: Gucci @ Flannels, Chains: Artists' Own, Shirt: Marni @ Browns Fashion, Trousers: Edward Crutchley @ Browns Fashion, Trainers: Valentino @ Flannels