Talks career, inspiration and future
 Moved to L.A. to pursue his dreams
The young creative that is Jaxon Rose doesn't spend too much time in one place, although he lives in Los Angeles, California, Jaxon is always on the road developing his talents and abilities which can be found in a number of areas. Specifically, Jaxon has found meteoric success within the music and entertainment industry as well as the fashion scene. In fact, after dropping '4MY' in 2016 and putting himself on the map, Rose has regularly provided more and more hits and now looks to offer his large fan base more collaborative ventures as well as TV appearances.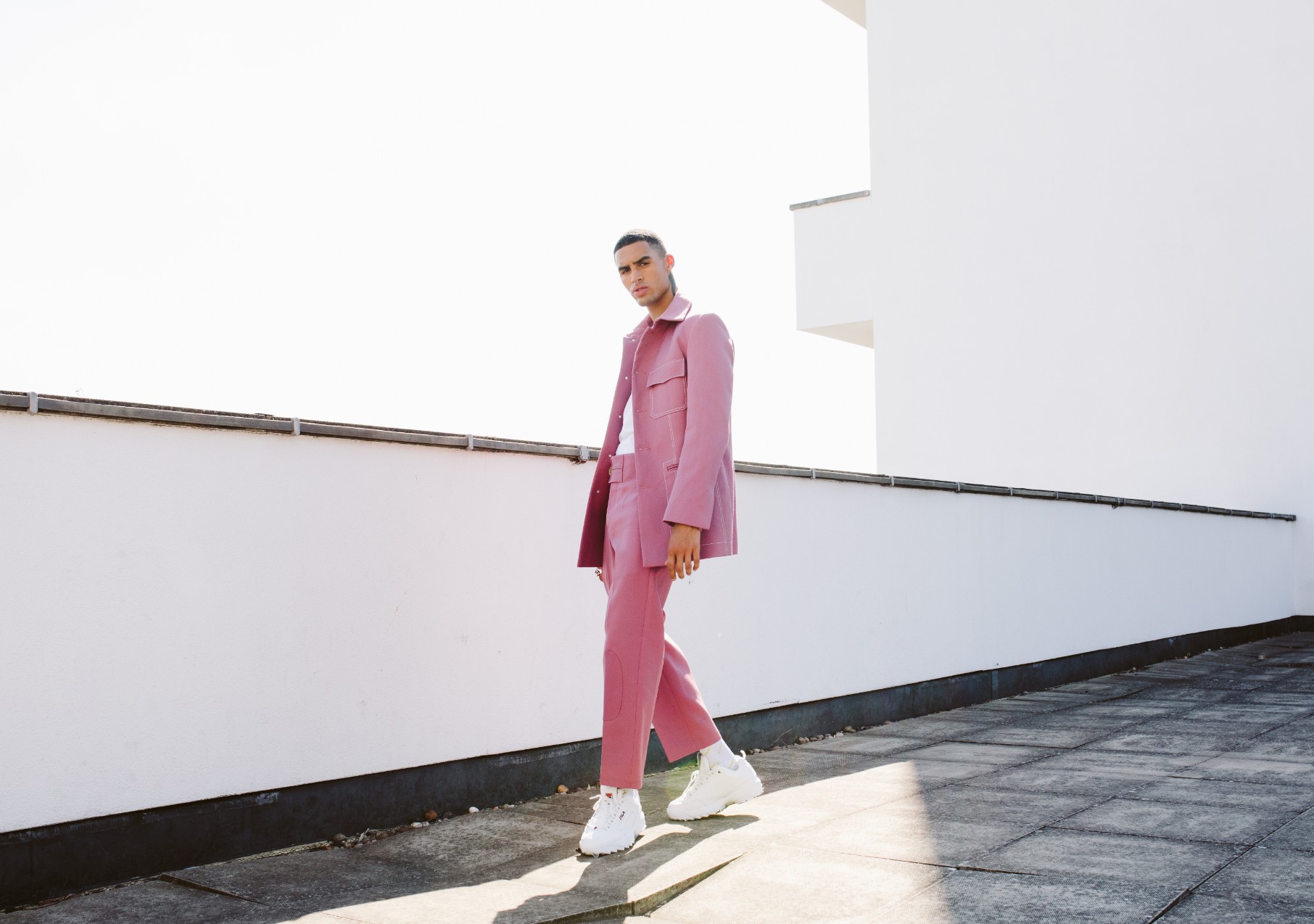 Full Look: Pronounce, Top: Models Own, Trainers: Fila @ Schuh
Who is Jaxon Rose?
A musician and model who was born in Auckland New Zealand but moved to the Houston Texas when he was 8. Then at 18, he moved to L.A. to pursue a music career.
What brought you from LA to London, and why?
I fly out to London about once or twice a month for modelling work.
How would you compare London and LA?
I love both cities, however, London is one of my favourite places to visit. I love the day to day life and friends I've made out here.
How did you get into Modelling?
One day I woke up and decided I didn't want to work a job, I asked my friend whose mother was an agent and signed on Sunday, on Monday I walked into Wilhelmina on Monday and signed with them.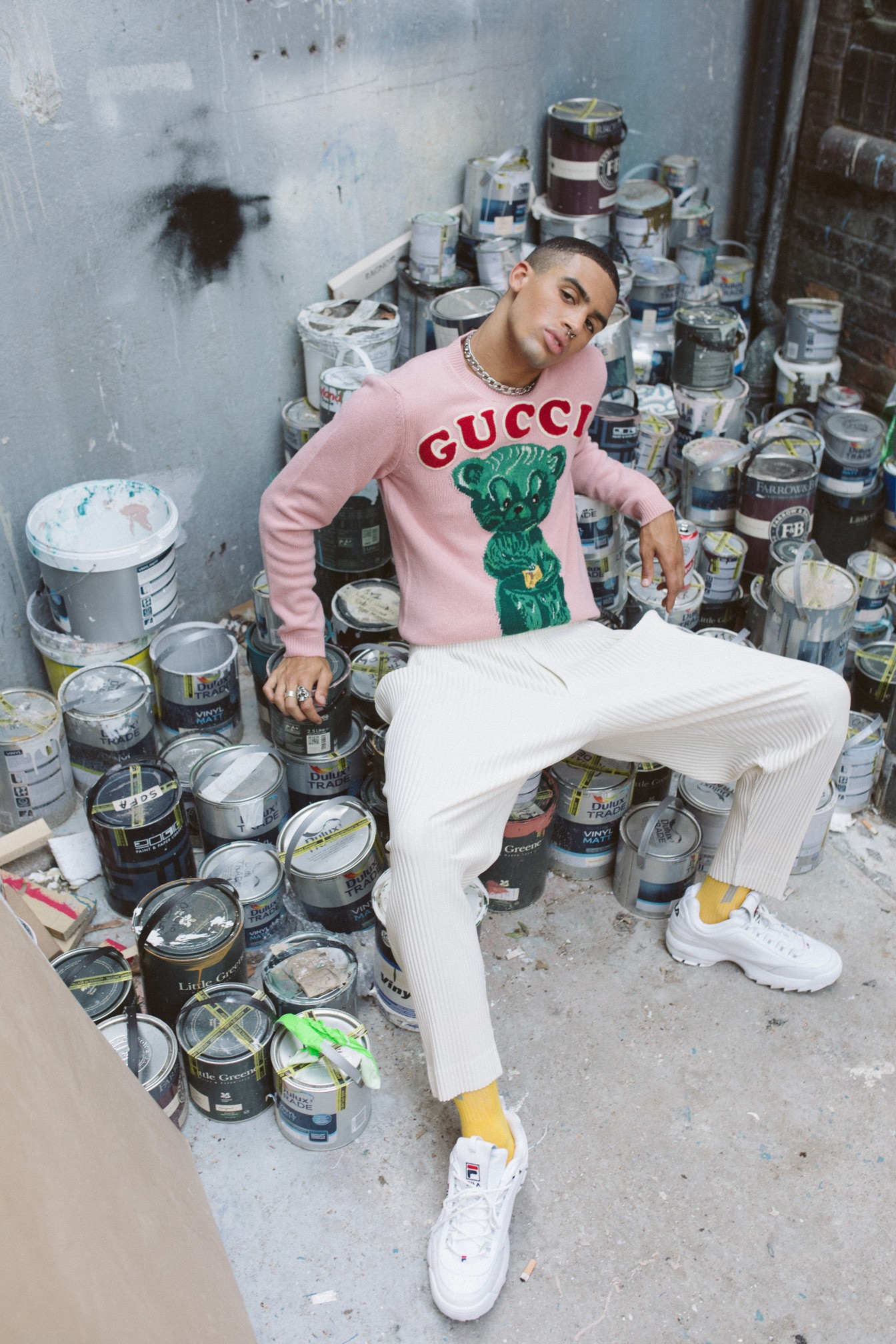 Chain: ASOS, Knitwear: Gucci @ Mr Porter, Trousers: Issey Miyake, Socks: Tourne De Transmission, Trainers: Fila @ Schuh
Is this something you plan to do alongside your Music Career?
"I feel like music and modeling fit hand in hand, as an artist I have to influence and be in front of the camera. Modeling just makes it all easier."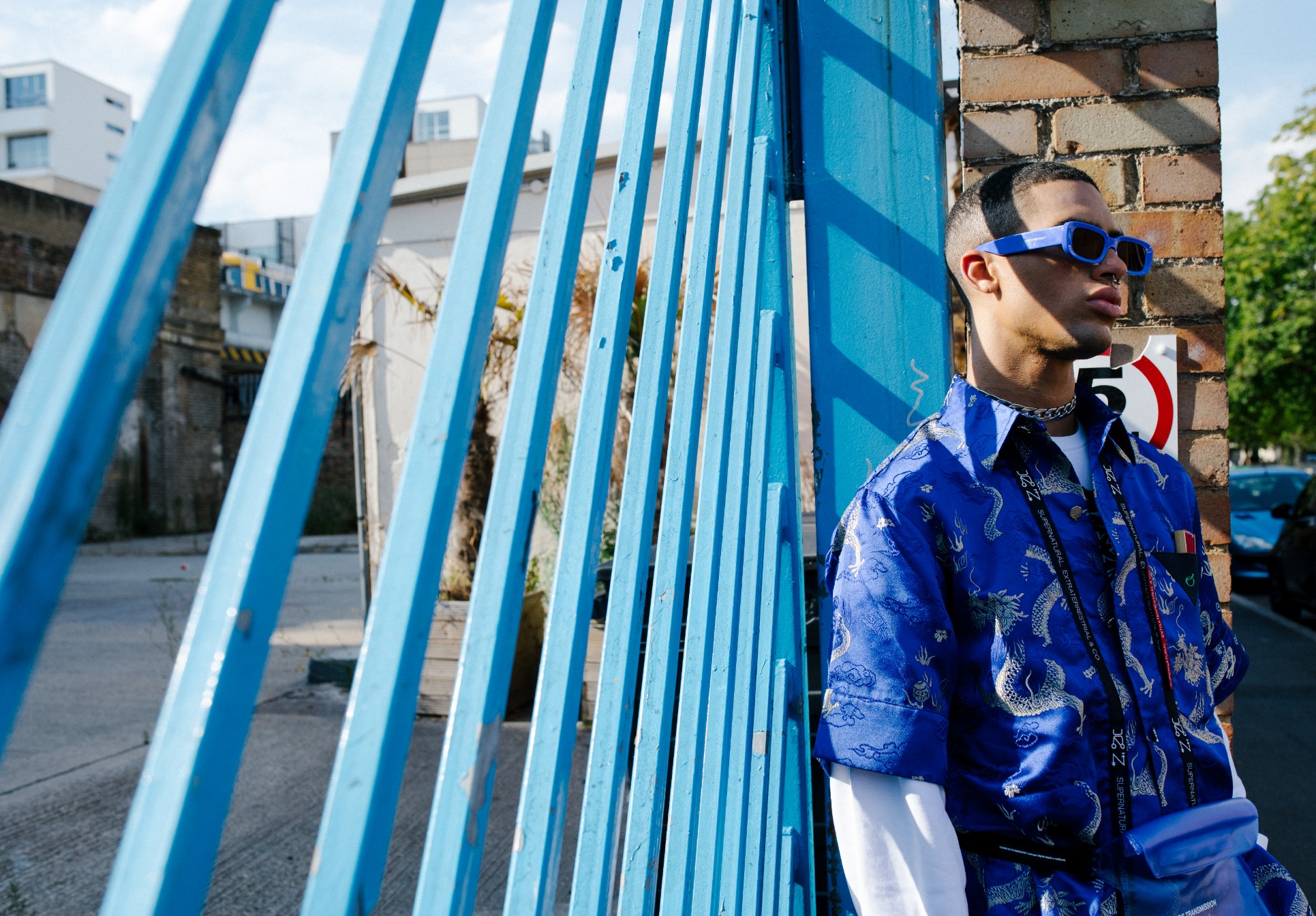 Sunglasses: Off White @ Mr Porter, Shirt: Xander Zhou, Jumper: Stylist's own, Trousers: Tourne De Transmission, Trainers: Coach
Does your music influence your sense of style?
100%, I love Lenny Kravitz, Chris Brown, Gary Clark Jr, Prince. I've always felt like a rockstar so I just dress how I feel.
How do you balance music and modelling?
Modelling usually works like a regular job, so after 5 pm it's all music time.
What is your favourite era in both fashion and music?
I really enjoy 90-2000 music as well as the fashion from that era. It just embodies the soul of my youth. Plus everyone dresses fucking weird now haha!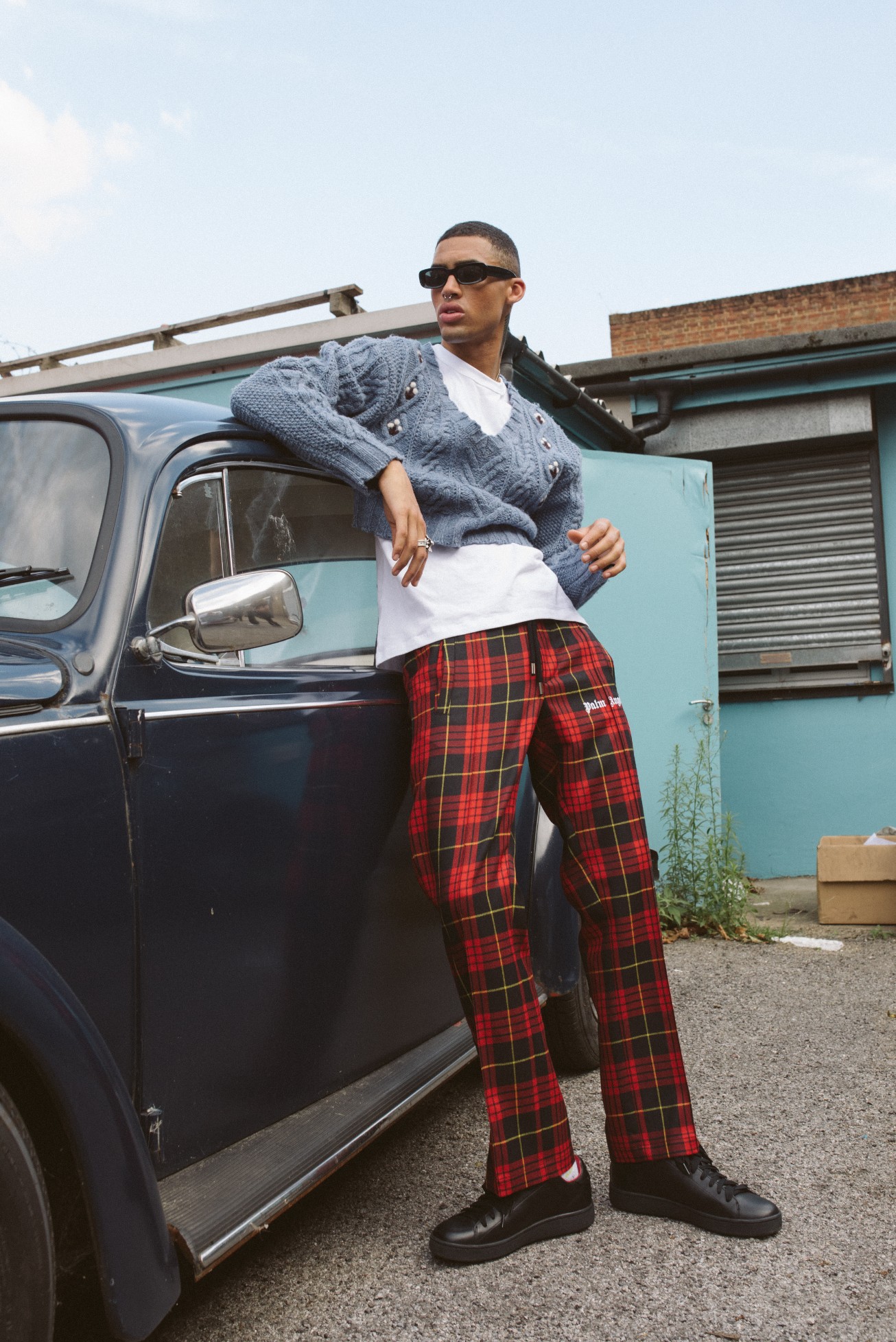 Sunglasses: Stylist's Own, Knitwear: Pronounce, Top: Models Own, Trousers: Palm Angels @ Mr Porter, Trainers: Coach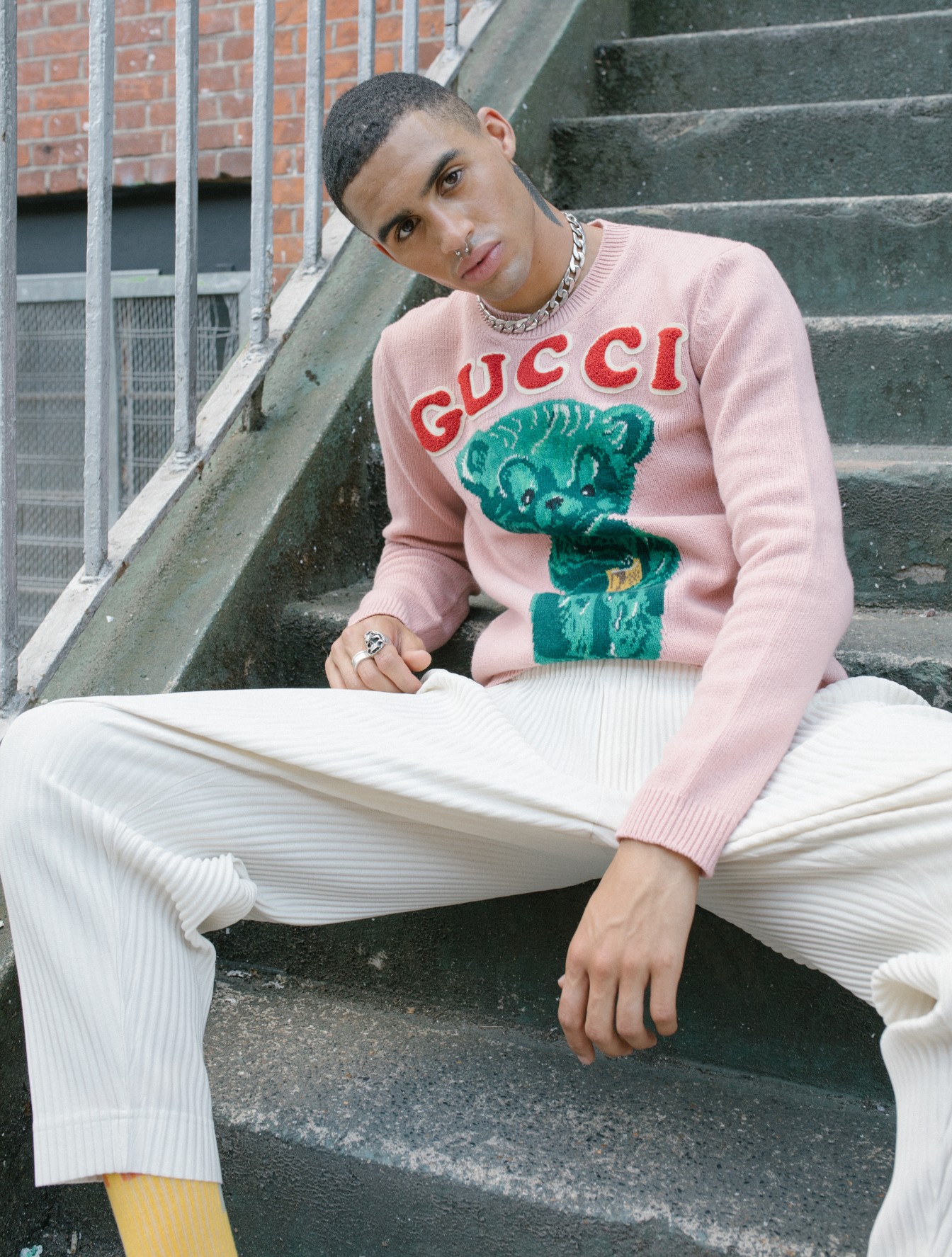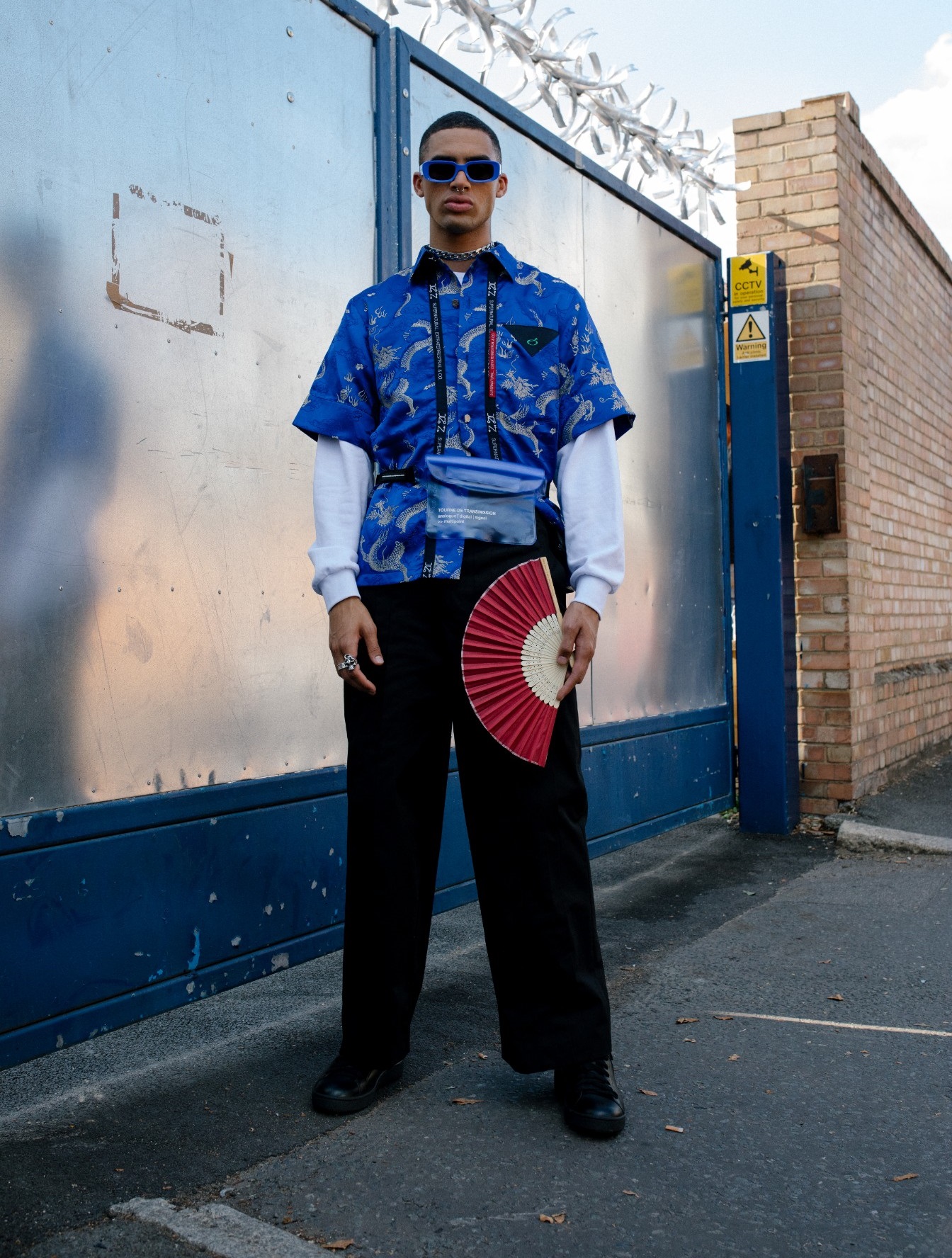 Who is your style Icon from the last decade and why?
Lenny Kravitz. He is undoubtedly himself, every day, even as fashion trends switch he wears what he wants and cultivates a new lane for himself that people follow as well.
Name a brand that you think everyone should look out for?
I don't really keep up with brands. They're just a name to me. I wear what I think looks cool
You're booked on a last minute job taking you from LA to Europe, name the first 5 things that you would reach for when packing your bag.
Laptop, Nintendo switch, guitar, face moisturizer, phone.
Describe your style in one word.
Jaxon
Describe an everyday look for you?
I have two modes, comfy classic, or rockstar… no in-between. Even on my comfy days, I look good.
Where can we expect to see you in 5 years?
Top of the charts, back in their hearts, and with a YSL campaign!