Diversity, Drive and Debauchery.
On November 29th, Danish-based Designer Henrik Vibskov opened his first pop-up store in Paris, allowing visitors to finally buy his clothes in the city where he has been showing his collection continuously for over 30 seasons.
We spoke to the designer for a quick catch up.
Seeing your SS18′ show in Copenhagen after your long summer in Japan, it's such a treat to see how you adopted this theme into the AW18′ collection. 
Where did most of your inspiration come from?
I was in Japan doing all kind of things and then at this 21st-century museum there was a statue of a little guy was trying to measure the clouds so I thoughts that's very nice – measurements.
So we just went all in on measurements figuring out how we as mankind and humans are measuring, it is insane how we like to measure everything. Our educational life but also business-wise, and the body images as well, everything is measured and scaled.
You said that you used old garments from the older assortment in this AW18′ collection.
Yes we did, and we restructured the cuts and some of the garments and we folded up the patterns differently, so basically we used wrong measurements and moulded them into the systems, but we were asking ourselves maybe if the body size would be different then the cuts would fit different too.
In SS18′ you used only models from Denmark and Sweden and a few from London. Do you cast differently when you do your shows in Paris?
Yes, I cast in a better way I would say. I don't know, more differences and skin-colour and attitude and things like that.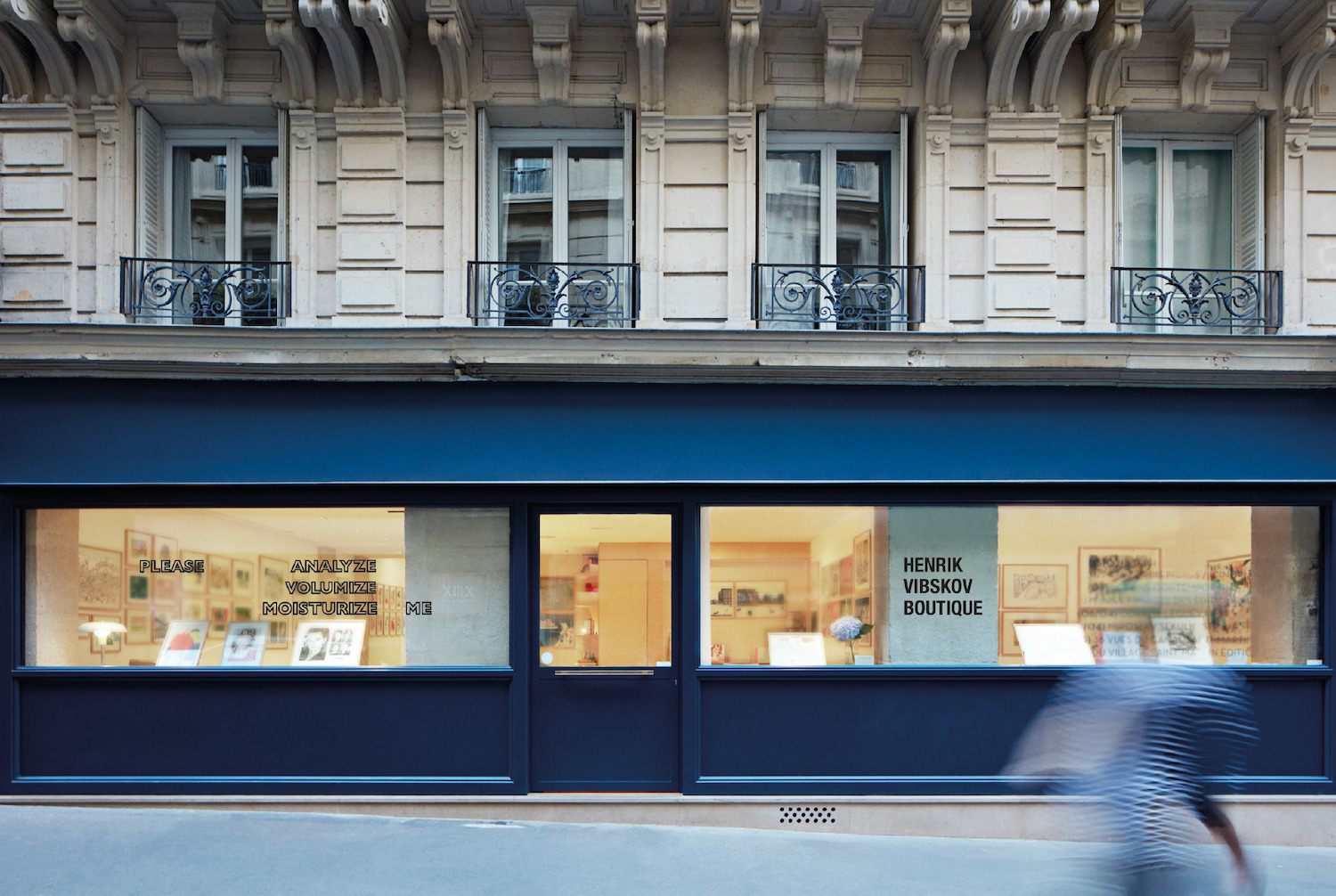 Do you like diversity?
Yes, I do, and we prefer to work with street castings. In Copenhagen, we find models all look a bit similar to each other and I that's what is really difficult in Copenhagen and Scandinavia in general. I don't need these pretty boys, hahaha. Paris is not as tricky to find the right look for our brand.
Three words that describe the fashion house Henrik Vibskov?
I like when things are technologically advanced, colourful and pattern cutting, especially because not many designers do pattern cutting nowadays. You see a lot of computer stuff, so we have to state that we still do all our cuttings still in paper. I hope that our customers can feel the human touch in our clothes.
If your brand would be a song which one would it be?
A mix out of Donald Byrd, maybe.
Beer or Gin Tonic?
I could do both, today we served Gin but I probably end up drinking white wine in the end.
What keeps you going? I mean you are multi-talented and work not only in fashion but also a musician and architect. So what is your drive?
This is a good question. I guess I just like to play and try different things out. It is about passion and lust and being entertained by myself. I love when all kind of people come together and dance and as you saw in the last show we had complete naked models performing under the elastic fabric. Did anyone see?
I did 😉 hahaha
Was it too much?  We were not sure but then said hey it's either all or nothing.
Visit the temporary mono-label retail concept is located at 13 Rue Taylor, 10th Arrondissement, Paris until January 10th 2019.