Talking music, everyday essentials and his favourite brands.
Murkage Dave Changed My Life
With his debut Album "Murkage Dave Changed My Life" out now, the promoter-turned-artist returns to East London to talk origins, ambitions, performing with JaeKay and his favourite brands right now. PAUSE sat down with Murkage Dave for a catch up.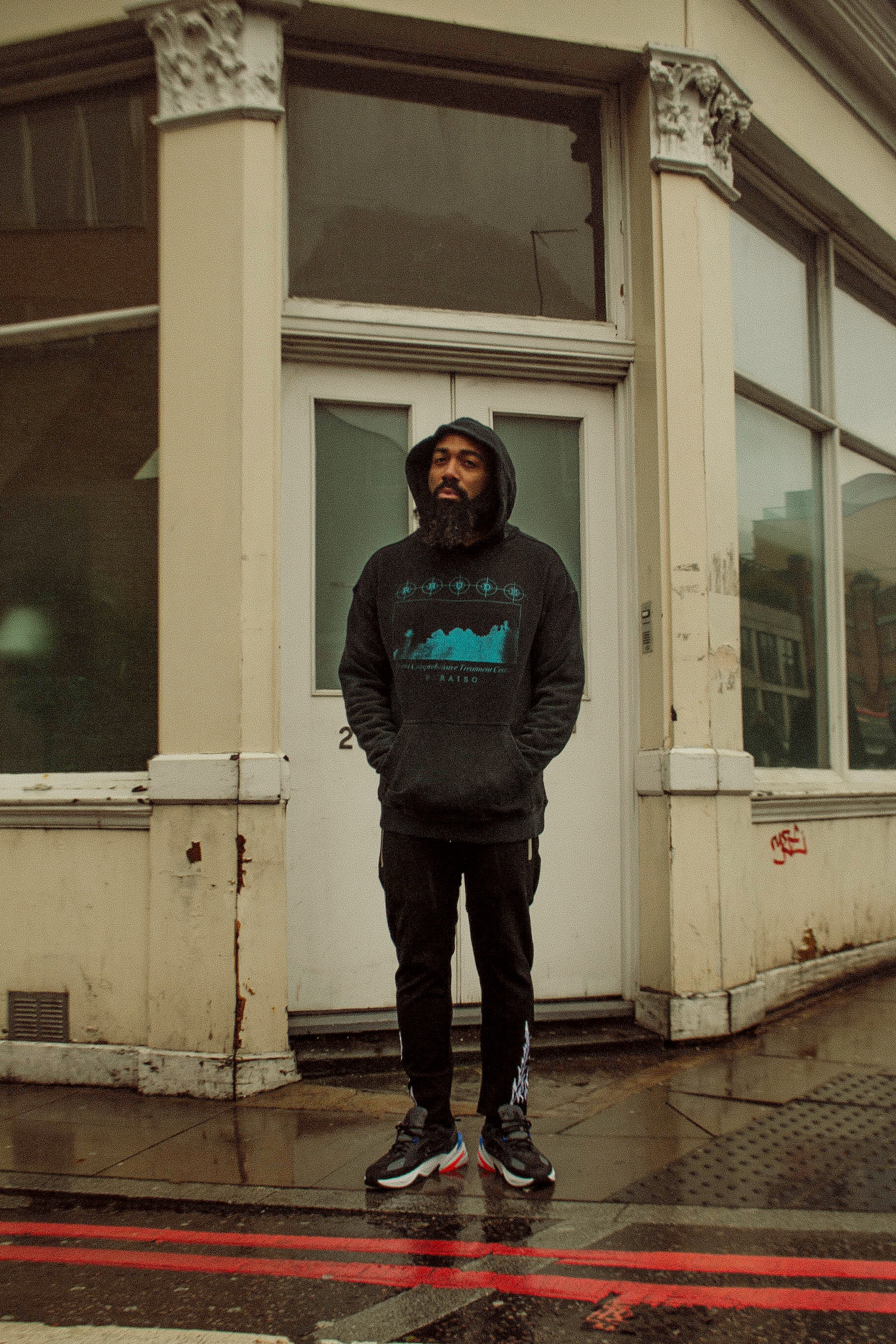 Jumper & Trousers: Rhude @ Mr Porter, Trainers: Nike @ Schuh
Murkage Dave, explain the concept behind the name.
It's not really a concept it's a story that happened by accident, I lived in Manchester for a while and I ran a rave that was originally called "Monday Murkage" then it was called the "Murkage Club" and people started calling me Dave Murkage. It was around the time that dubstep was blowing up and indie music was dying.
Venues were panicking thinking that they needed to get on board with it and there'd be like "Call Dave Murkage" and I just flipped it around. Total accident! It's a bit of a stupid name really…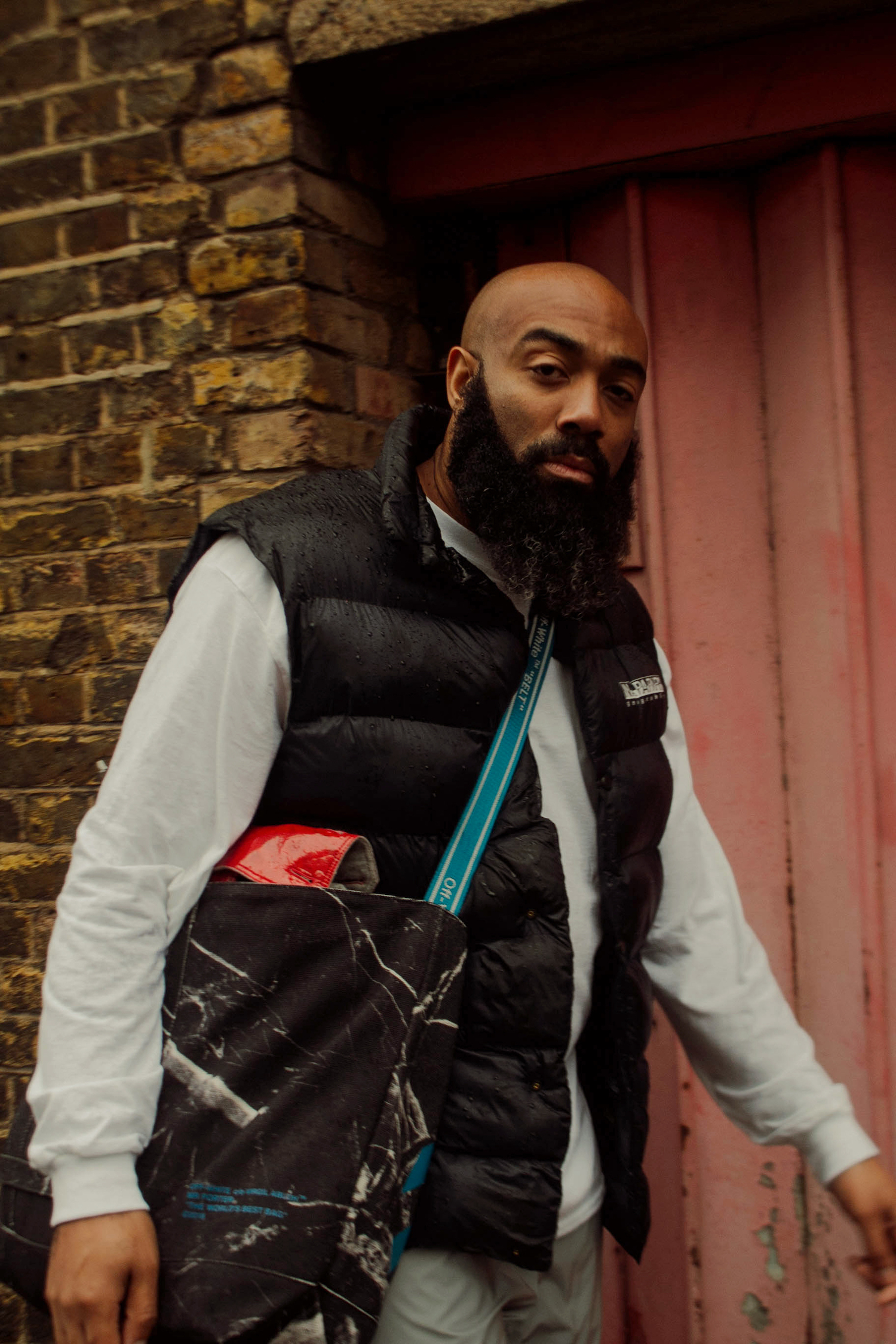 Explain to me your journey, how did you come from throwing Murkage raves to becoming Murkage Dave?
From when I was like super young and stuff I was always singing and I actually ended up doing the raves because my song was remixed by a UK garage outfit. DJ EZ picked up for a while I on one of them pure Garage compilations. Basically, that's why I ended up doing the raves, I wanted to create something for me and my friends to play and perform.
I did get a little lost on the way and ended up getting quite deep in as a promoter but my first love is always music. Through being involved in the raves I got back into experimenting with music.
Performing with Stormzy and Jaykae, how has that changed your life?
I didn't perform with Stormzy, but last year he came out on Jaykae's show! I've performed with Jaykae a lot. That was cool because I feel like that record was on the radio a lot and it helped people understand my vibe. When we perform we look at each other and are like "Bro, this is so much fun."
I feel like at that point my stuff wasn't really connecting, but working with him let me know that what I was doing was good and I just needed to keep going.
Are there any arenas that you aspire to perform in, and why?
Of course, yeah! My goal really is to kind of, not change and talk about the same things and be the same that I am now. Take it to the biggest level I can. I really want to set a path for people within the culture to feel comfortable to be introspective, vulnerable and talk about their problems. In a similar way, I remember when Giggs was doing his thing,  a lot of the artists didn't have careers – he showed everyone that you can come with authentic street content and win.
I feel like I want to open a new path for what I'm doing. I get a lot of messages from people who make music and they're like "you make me feel like the stuff I'm doing has got value." Everybody is out here killing something or fucking something, but I think there's a lot of other stories to be told you know.
English Culture appears to be at the pinnacle of your craft, is that intentional?
It's not that it's intentional, I guess it's just a product of who I am. I'm a city kid, I was born in East London, I lived in Manchester, when I was 18 I moved to Manchester for quite a few years. I'm back in East London, I've spent time in Birmingham, I've spent time in Bristol. My parents weren't born here and stuff but I was, and I guess in London everything is crashing into everything you've got people from here from there, this culture, this different scene or whatever and I guess it's not really deliberate but I'd say I don't really have an identity and a part of me making music and making the album that I did is trying to find that identity and it's been kind of interesting.
I was backstage at the JayKae show and it was cool to see how many Emcees came up to me, man I've been listening to for years came up to me and said that they like my album or that they listened to it or that they've taken things from it like "You're saying things I want to say but I can't say record." So it's been really good for that as well, it's kind of showed me that I don't have to pretend to be anybody else and I don't have to be a tough guy or pretend to be some kind of sexy guy, I can basically be myself and actually, man are going to respect me for it so I guess it's a constant journey.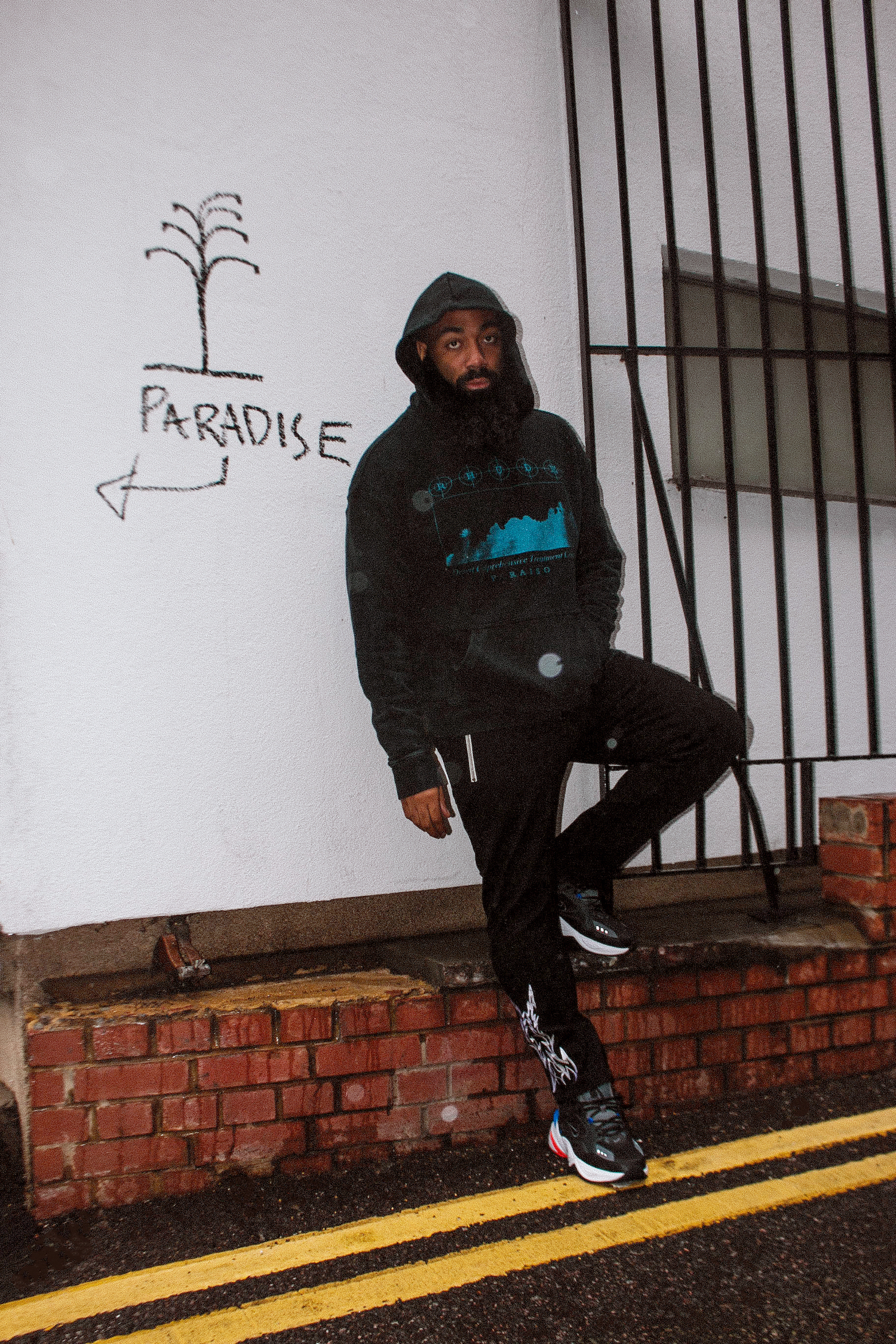 Name 5 places in London that would "See Man Smile".
That's a good question actually. It's closed down now but VISIONS Nightclub. I was a resident DJ there when i moved back to London and I used to really enjoy and have some great times there so definitely Visions. Leytonstone, combing back to the Wanstead flats in Leytonstone, going back there. I incorporated the two towers from the Wanstead flats in some of the artwork from my single "Put you on my shoulders" which is also on the album because I used to ride my bike there and trying to get off with girls when I like was 14 or whatever, so anytime I go past it, my mum and dad still live on that street and Knarks who I work with on music lives around the corner so I've been back around there quite a lot lately, and I have a lot of fond memories from like riding my bike there and stuff.
So it's Visions, Wanstead Flats. I would say my studio, what I like about my studio, I used to have a space of Hackney Road but they've knocked the whole place down now but I used to enjoy being there even though it was pretty horrible and I never had any equipment in my studio but it's nice to just hide away and put off, maybe catch a bit of a high and just write. There was no equipment so I'd just write on voice notes, so I'm always happy. I feel like no matter what's going on in life if I go to the studio and I write, even if I don't come up with something I just feel better.
So we've got three. Maybe someplace I like to eat, basically, there's a place, it's basically like Nandos but it's not, but basically my group chat with my boys is called "GoonBible" like "LadBible" but we're goons init so "GoonBible" and we do a thing called GoonBible Nandos once every month or once every 6 weeks we link up and talk shit, but we can talk about our problems as well, and that was the was inspiration for my song "Niggas Need Eachother".
So I'd say GoonBible Nandos, we tend to go to the Spitalfields one actually. So I've done somewhere I can make music, somewhere I eat food, used to live and visions. I guess that the last one is a toss up, I like going back to Stratford Mall, it's fallen to shit now that Westfield is there but I got a lot of fond memories from there because I used to work in the JD Sports.
JD was the first time where I'd see emcees come in and buy trainers so I just kind of an experience, but also I feel like Stratford Mall because it was the first place I learnt how to talk to or chat up girls, I used to sing to girls when I was like 14 or whatever and you'd literally try and talk to a girl and you'd have like 30 seconds before you were going to get air, so it was kind of learning how to talk and being a cheesy guy really so just those memories.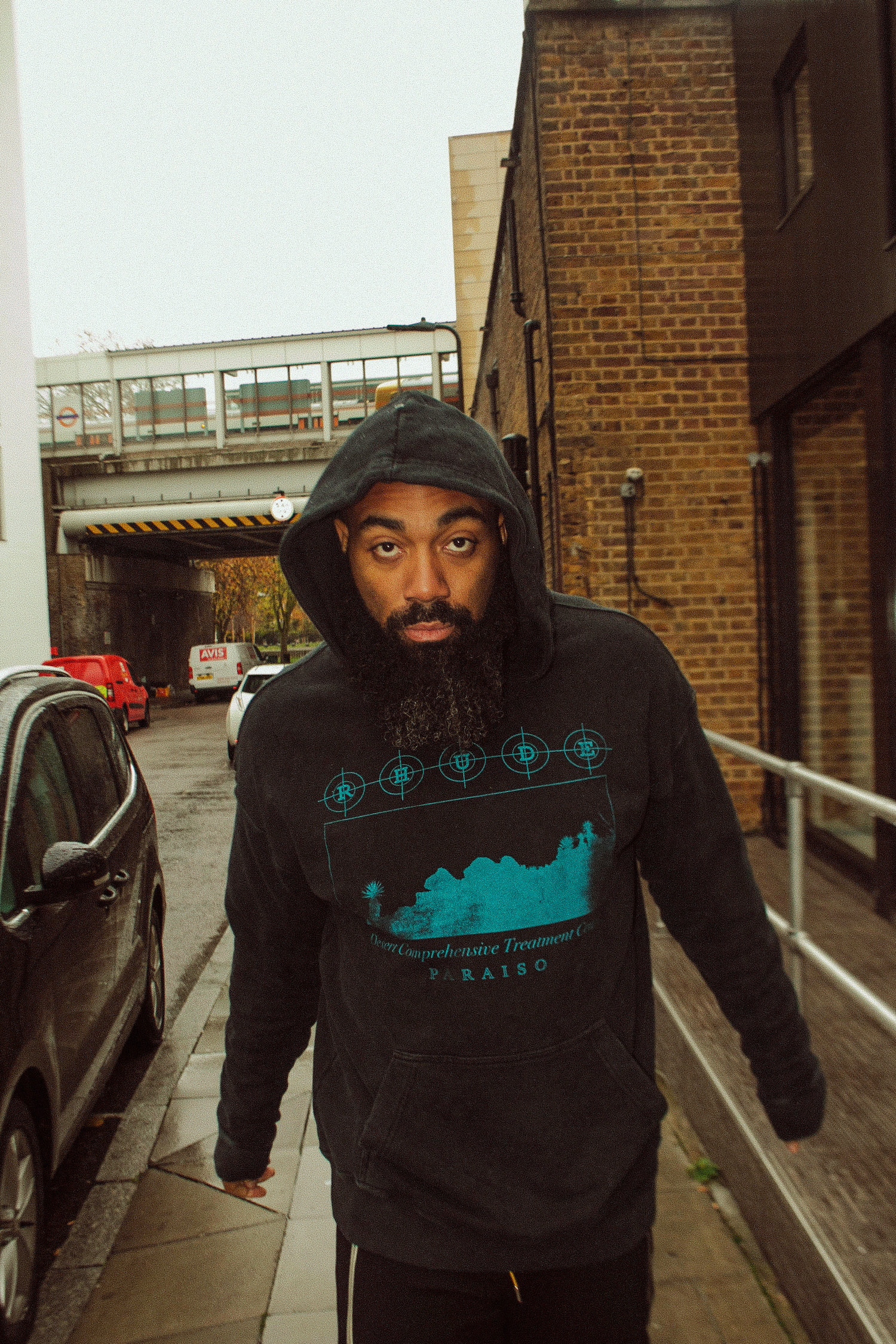 Name 5 items that are tied to you on a daily basis.
My Blood Brothers side bag, I never go anywhere really without that becauase I need to keep the essentials on me. You know, i've got to have my phone in there, my portable charger, got my keys, my wallet, my weed and whatever I've got with me that day, it's in that side bag so I always have that on me. I have my laptop on me more time because I just write all my songs on my laptop, the taskbar of my laptop is just text edits, you can't even see the icons it's so small and it's just all different songs to the point that now I've started even losing songs because I can't save them all.
Obviously, this is like a cliche but I roll with my phone because I really enjoy speaking with the people that enjoy my music, the people that like my music have a really good energy man, for the most part, they're pretty cool. I can have conversations with them and have banter, or sometimes they ask me about their problems and stuff like that so I keep my phone on me.
Yeah, social media can be addictive but it's like really helpful for me, I can sit there and get a message out like I've got to announce my tour today and I can sit here and do that.
I've finished it now but for a long time I was rolling with Wiley's Autobiography, that book is sick man especially being from East. I think it's interesting because I was always on the other side of, when they talk about what they were doing, those were guys that I was always looking up to, all the bad boys in the area, I was not really one of those guys. I was a nice kid, from a shit area but I was kind lucky because my parents had their heads screwed on a bit but it's interesting because he's talking about all the areas that I grew up in and I was moving around as well but I was looking at these guys like, almost like idolising these guys you know and he's telling all the stories and some of the stories are mad, the beefs that they were getting into.
I think the book inspired me a lot, I was reading that book while I was making my album and It just inspired, just the pure creativity, getting into madness but always working on music at the same it just kind of inspired me to just keep it loose and just live my life and then write. Not think about anything else. That's the side bag, the laptop, the phone, Wiley's autobiography.
To be fair, I've usually got some kind of weed on me, I guess that counts but I don't smoke. I've actually never even smoke a cigarette in my life, so I've never smoked a spliff, I've never smoked a cigarette. At the moment I had edibles on me, so sweets, I have this weed syrup that looks like lean, people think it's lean because purple or pink and sometimes I've got weed and I've got like a vapouriser or whatever. I don't get high every single day, just If I fancy a vibe or if I'm writing a song I just catch a wave and it helps me focus and not be thinking about other nonsense.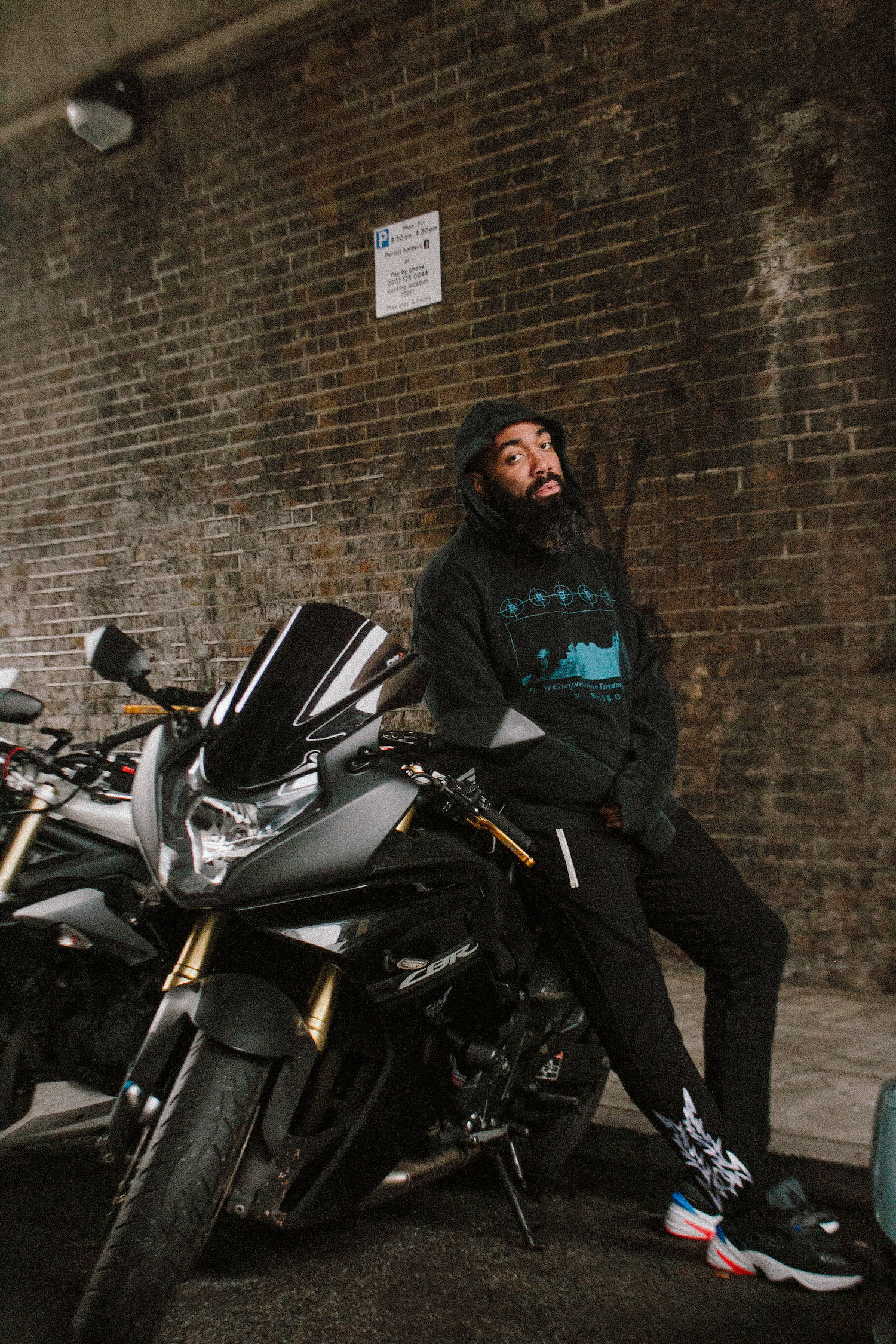 You've got a last minute booking to perform in LA, and you've got an hour to pack and head to the airport. What are the first 3 things you reach for?
To be honest, I feel like I keep plugging Blood Brother but there's a Blood Brother Kagool thing, there's one that I roll with all the time so if it was a festival and I didn't know what the weather will be saying I'd roll with that because you can wear it was a jacket and if it's tipping it down, zip it up and no piece of rain is going to touch you, so I'd probably roll with that, that Kagool.
You have to make sure that your footwear is correct, depending on where it was it, I could draw for a pair of Dr.Martens, I like Dr.Martens when they're beat up and they're old so maybe an old pair, if it was a muddy festival or maybe a pair of Reebok classics or something.
Maybe Reebok workouts, and then I'd have to have the sidebag again because it comes everywhere with me and I'd say if I'm going abroad and I need to take my passport, I always have my sidebag on me. I don't know how men coped before it was socially acceptable to have a sidebag because otherwise, your pockets were just full of bullshit.
Who are your preferred brands of the moment, and why?
I just wear shit that I get given for free, mainly. But I wear a lot of True Religion because I feel like they've really upped their level lately. It's funny because I think in different worlds True Religion means a different thing, to me it's just something that drug dealers used to wear and I remember Jim Jones from the Diplomats was wearing it and that's how I remember it so it kind of has that nostalgic feel for me, but also I really like the stuff that they're putting out now so I wear a lot of it, and it's good quality stuff.
I wear a lot of Reebok, they're owned by adidas now but the design of it still feels British. Reebok Classics were the shoes I could afford when I was working at JD's, I got a bit of discount and I could afford Classics, I couldn't afford AirMax but I could always afford one-pair of Classics so I just stick to that.
Obviously, I wear other brands, I wear Nike but I do look Reebok, and I've bigged up Blood Brother, I really like Blood Brother's stuff. They've stopped making stuff now but I really like Agi & Sam, I know both of them but Agi was my boy, we were both in Manchester around the same time so we used to hang out a lot, and we had such a different upbringing but we could both relate to each other. I wear a lot of Agi & Sam coats because they're so sick, I've been a bit lucky with that, he's hooked me up. It's a bit of shame that they're not really active but I've got a lot of time for them.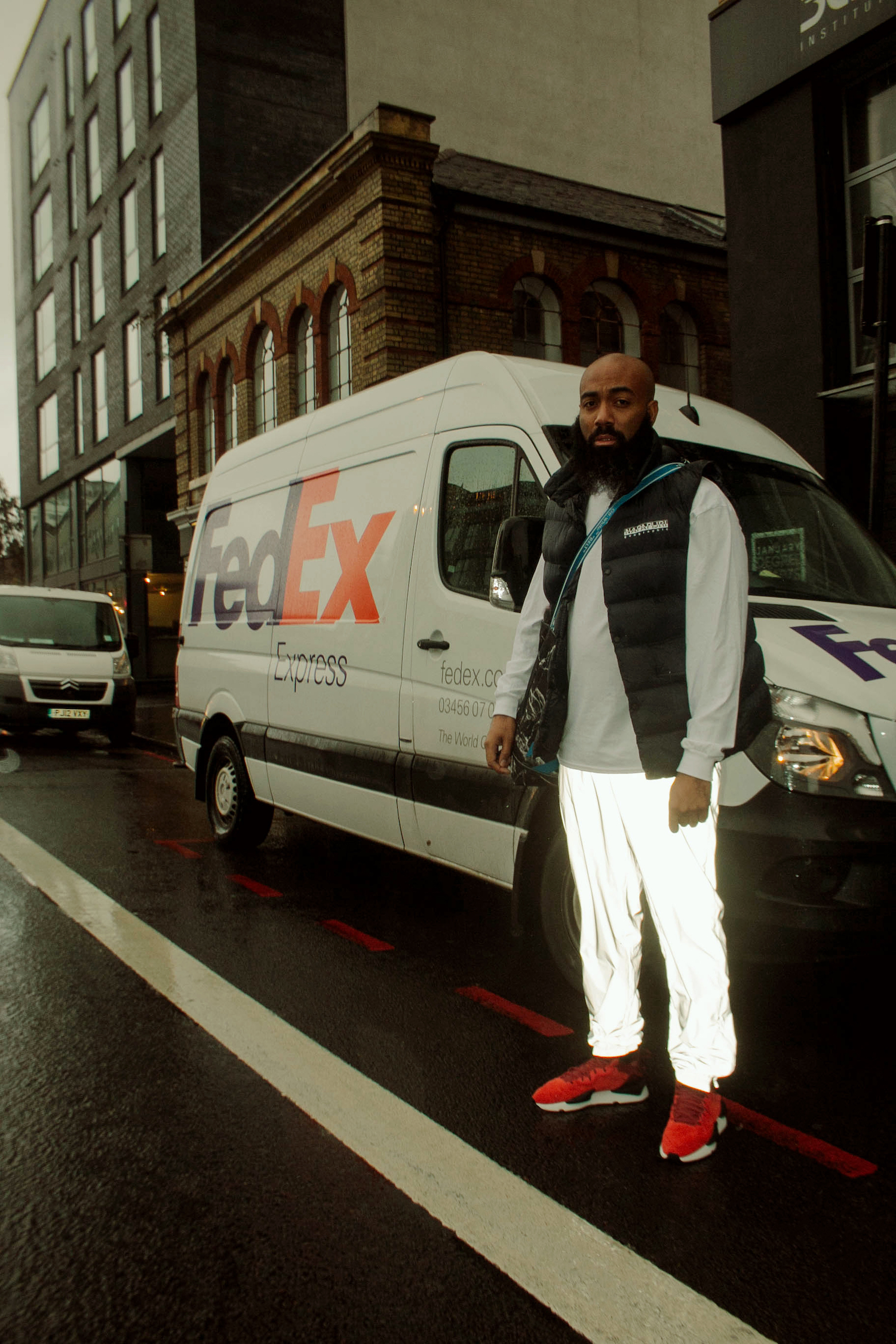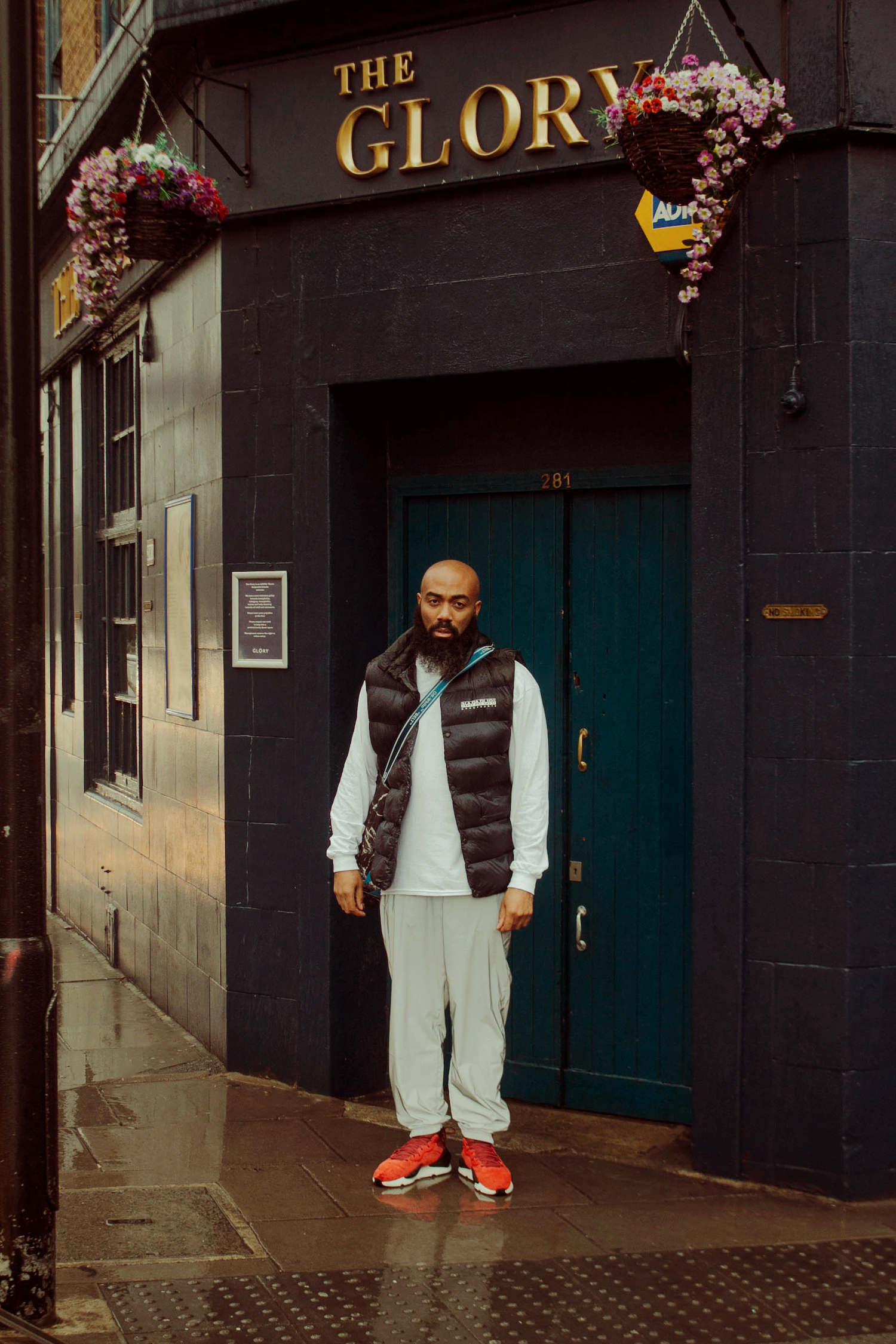 Behind The Scenes (Digital)
Behind The Scenes (35mm)