Shearling Jackets Explained
One of the more noticeable fashion trends that has re-emerged in recent times is shearling with shearling jackets being a popular choice amongst both men and women. Therefore, it is worth taking a closer look at this bold and highly stylish fashion trend and how they can be worn.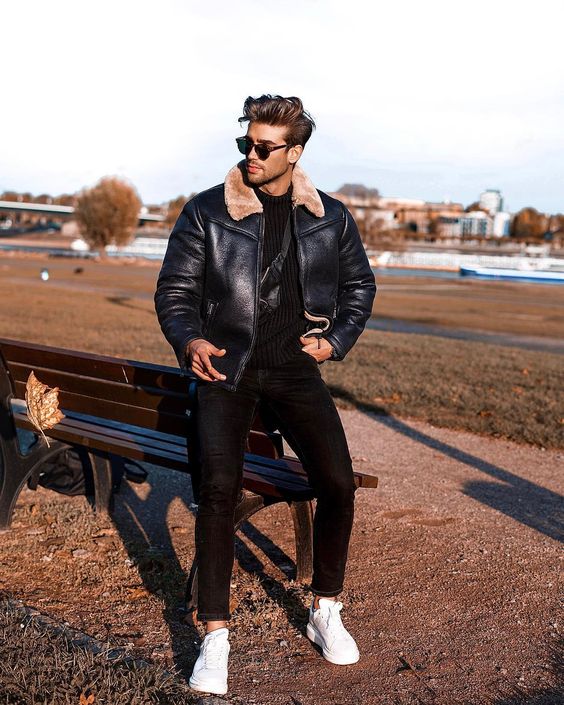 What Type of Jacket is it?
A shearling jacket is a jacket which uses sheepskin or pelt with a short under-layer of wool still attached. This makes these jackets incredibly warm yet also highly stylish and fashionable. It is no surprise that they have had a long and interesting history with many prominent names making it an iconic, rugged and highly stylish piece over the years.
History
Sheepskin has been used throughout history to provide warmth but it is during World War II that they first gained popularity. This was due to aircrews using heavyweight sheepskin bombers to keep them warm even during the middle of winter. From here, shearling jackets soon entered the mainstream with influential names like Marlon Brando and James Dean making them an in-demand style.
Shearling has been used in many different ways since then, such as Ugg boots, but not all variations have been successful and it has also dipped in popularity at times. This is not the case now as these jackets have entered the mainstream with a number of different styles available to both men and women.
How to Wear It?
First, it is important that you buy 100% real shearling like the jackets available from Belstaff. Fake shearling is not breathable and both looks and feels cheap so if you want to stay warm and look your best then real is the only way to go.
The classic look is tan but you can find shearling dyed in a wide range of colours if you want something slightly alternative. There are many different ways that you can wear the jacket, but as such an eye-catching piece you will find that a simple t-shirt and jeans combo will look fantastic. Jewel tones can work particularly well in terms of what to wear underneath but it really can be worn with anything and even fancier, more formal outfits if required.
Finally, make sure that you care for your shearling jacket and it will last you a lifetime. You can maintain it by spraying it with a water-repellant spray before heading out and letting it air dry if it gets wet (high heat will destroy the fur).
The shearling jacket is a rugged, durable, stylish and iconic piece which is hugely popular right now and it is easy to see why. It is a great investment to make as a jacket that will last you a lifetime, never go out of fashion and be worn no matter what the occasion.