With more time on our hands for self-care, skincare and all-around wellness than ever before; we've listed some of our top picks to step up your 'me time' routine during lockdown.
Zoetic – Melon CBD Oil
Jumping right on the CBD bandwagon, research shows the hemp-plant derived product can regulate stress, mood, pain and sleep, amongst other things. Zoetic's CBD Oil offers up a tasty, organic, 0.00% THC way to trial the CBD experience in a variety of flavours such as melon, peppermint & blood orange.
DermaTx – Clarify Microdermabrasion Cream
Serving up an at-home alternative to the well-known professional skin treatment, DermaTx Clarify Microdermabrasion Cream packs professional grade corundum crystals alongside ingredients like salicylic acid, vitamin A and tea tree oil to deliver deep cleansing like no other. Look good, feel good right?
POLLEN – CBD Gummies
Offering up an alternative CBD entry point to the aforementioned oil drops, POLLEN CBD Gummies bestow all the benefits of CBD in a unique range of health-inspiring flavours like Pear & Turmeric, Berry & Peppercorn and Banana & Cinnamon.
Oio – Sleep Tight Night Oil
Oils offer a potent way to pack skincare super ingredients into your routine, with an overnight option being the best way to avoid excessive shine during the day. Oio Sleep Tight Night Oil packs retinol, baobab, pomegranate & others to tighten, nourish and enhance skin texture.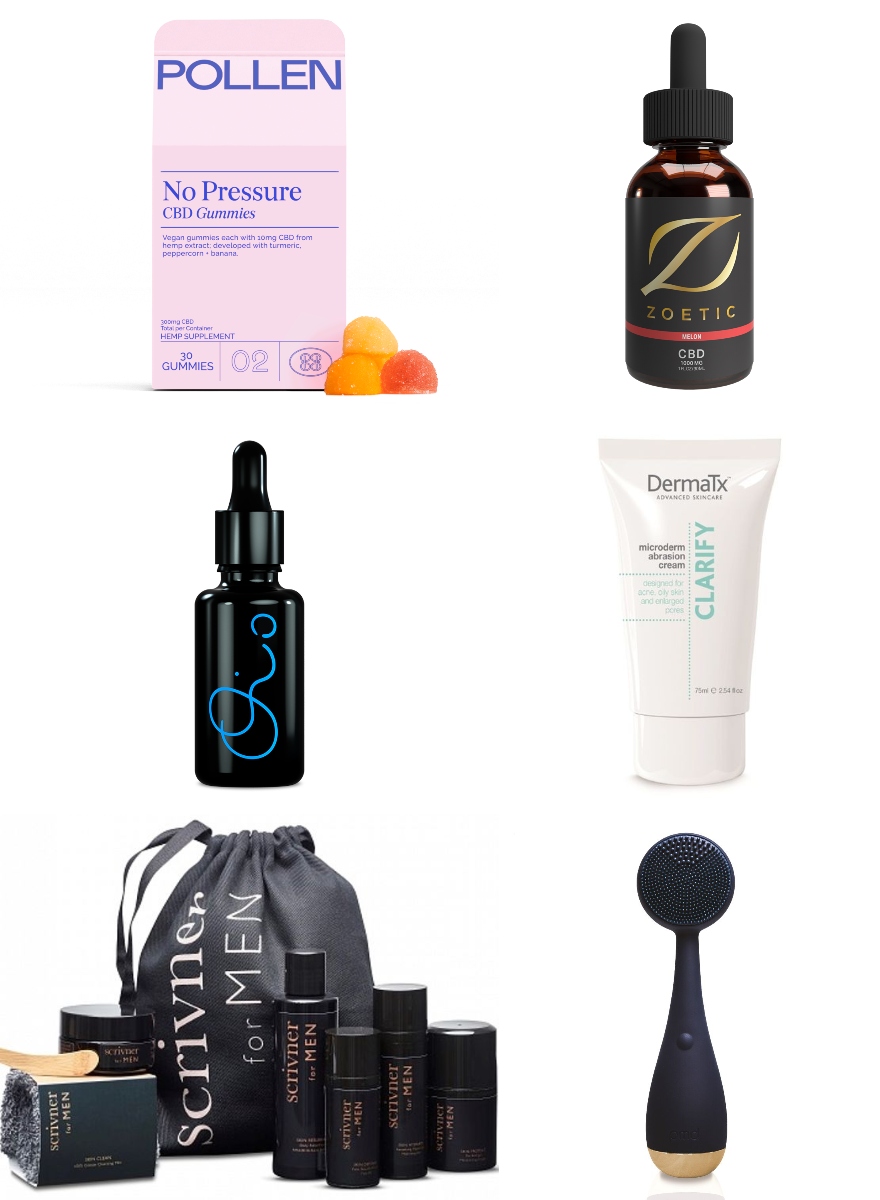 DermaTx Clarify Microdermabrasion Cream
OIO Sleep Tight Night Oil
Scrivner for Men 5 Step Skin Strategy
Scrivner for Men – 5 Step Skin Strategy
A worthy contender for those looking to take their skincare a little more seriously, Scrivner for Men – 5 Step Skin Strategy range delivers a routine reboot in the shape of a pre/post-shave balm, acid exfoliating cleanser, hyaluronic hydrating gel, enriching face oil and an oat & argan face cream – all in one pretty pouch. Level up.
PMD Clean
The PMD Clean serves as a smart cleansing device to be used within your daily skincare routine. Offering deep cleansing with 7,000 vibrations per minute, the tech-packed number claims to reduce puffiness and improve elasticity – good enough for me.