Those who own snowmobiles often like to modify them for a more custom feel. Some riders choose to modify in ways that change the look, while other people want to give their sled a boost in power. Below are seven popular ways people choose to deck out their snowmobiles and customize them to their liking.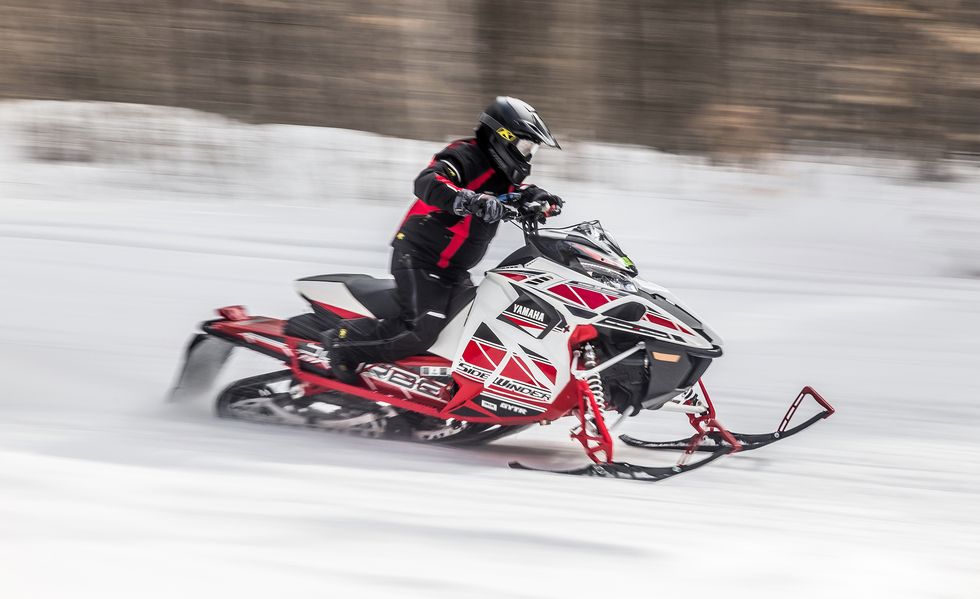 PHOTO CREDIT(S): SNOW AND DRIVER/ MARC URBANO

Decals to Personalize the Look of the Snowmobile
Those who want their snowmobile to have a custom look can order graphic decals. For a great resource on these, try shopping at Senge Graphics. They sell graphics for dirt bikes, snowmobiles, ATVs, and more.
The graphics are available in kits so the entire snowmobile can be decked out and personalized. The decal will fit over the vehicle's nose and is made to include an ultra-high gloss with a thick protective coating. Should people be concerned that the decals will fade? The decals from the website above are scratch-resistant, 22 millimeters thick, and are made to resist fading for up to eight years.
Running Boards are a Great Upgrade
One of the most common ways people modify and personalize their snowmobiles is with running boards. The reason people often choose to start here because the running boards that come standard aren't as good as the ones that can be purchased separately. While riding the snowmobile, snow can build up in this area and create a slipping hazard.
New running boards can be installed that offer extra traction, which means extra safety. There are two main styles of aftermarket running boards for snowmobiles: tubular style and insert style. The insert style boards can be more affordable but may end up being a little tricky to install. Consider having each version installed by a professional.
Consider Upgrading the Can
Those wanting a response enhancer could upgrade their snowmobile can. While they don't improve horsepower, they can give the snowmobile a little extra zip. When purchasing this, make sure to avoid used and refurbished options. Also, keep in mind that an aftermarket can make a snowmobile sound louder, so check out how the can will affect the noise before making purchasing one of these.
Modifying with a Turbo or Big Bore
Those wanting an impressive boost in speed should consider modifying their snowmobile with a turbo or a big bore kit. Keep in mind that the tradeoff is that more gas will be used by the vehicle. Also, these items will need to be installed by professionals, and modifying a snowmobile with one of these can void the manufacturer's warranty.
Modify a Snowmobile with Venting
Want to extend the life of the drive belt? Consider upgrading the venting on the snowmobile. This modification helps the mobile run cooler, and it can be personalized with screen printing.
What does this part of the vehicle do? The snowmobile vent allows heat to escape from the engine. On top of that, it also deflects snow, and the venting piece can also reduce some of the engine sounds.
Protect the Snowmobile with a Wrap
Some people modify their snowmobile with wraps and powder coating. Why would someone want a wrap? Wraps can help preserve the stock plastic that came with the vehicle. Many people use wraps and powder coating because they know that they will want to resell their snowmobile one day. These items can leave the plastic on the vehicle looking as fresh and new as it did on day one.
Handlebar Risers and Cable Extensions
Two modifications that go hand in hand are handlebar risers and cable extensions. People who are taller commonly modify their snowmobiles using these two items, as they raise the handlebars and make the ride more comfortable for taller people. On the opposite end of the spectrum are people who modify their mobile by lowering the handlebars. Either way, the bars need to be at a height the rider finds comfortable.
Safety Should Always Be a Priority
Ready to jump in and modify that snowmobile? Always make sure any modifications made do not change the safety features of the mobile. When possible, have professional mechanics install parts. Remember that some modifications, such as installing a turbo boost, can void the vehicle warranty.
As with all vehicles, be sure to have the snowmobile regularly maintained and inspected for safety. By doing so, riders can keep their customized mobile running smoothly and ride easy knowing that the safety features are still in place. Regular maintenance also helps extend the snowmobile's life and can fix minor problems before they become major issues.