"This show is for my people."
Following on from the brand's launch at the Ritz in Paris, Reuben Selby came home to present his second collection in London. Titled "Clash", the designer explored his relationship with the city, bringing along the people he has met on the journey to creating this show.
Shown during London fashion week, as one of the few physical presentations on the schedule, the set consisted of large recycled cardboard sculptures and passageways, that had a likeness to the visual language of London. With the designer's girlfriend Masie Williams performing her debut live DJ set during the show, it concluded with rapper Headie One performing to guests, which included names such as Mahalia, Romeo Beckham and Flohio.
Delving into his Filipino roots for this season, the 39-look collection brought together a variety of inspirations, from traditional dress to Brutalism to martial arts, representing the mix of cultures that make the capital city. These topics came together into clothing where a range of references morphed into a cohesive clashing of motifs. Frilled neckpieces reminiscent of a Victorian jabot were shown alongside more sculptural looks that had a likeness to body armour.
Something that is core to how the brand operates is acting in an environmentally conscious manner. It is an approach that Selby describes as a constraint, but a necessary one. For this collection, 95% of the clothing was created using deadstock fabrics from The Fabric House, the remaining materials being cactus leather from Adriano Di Marti and FLWRDWN wadding from Pangaia.
See the Reuben Selby Spring/Summer 2022 collection below along with an interview with the designer.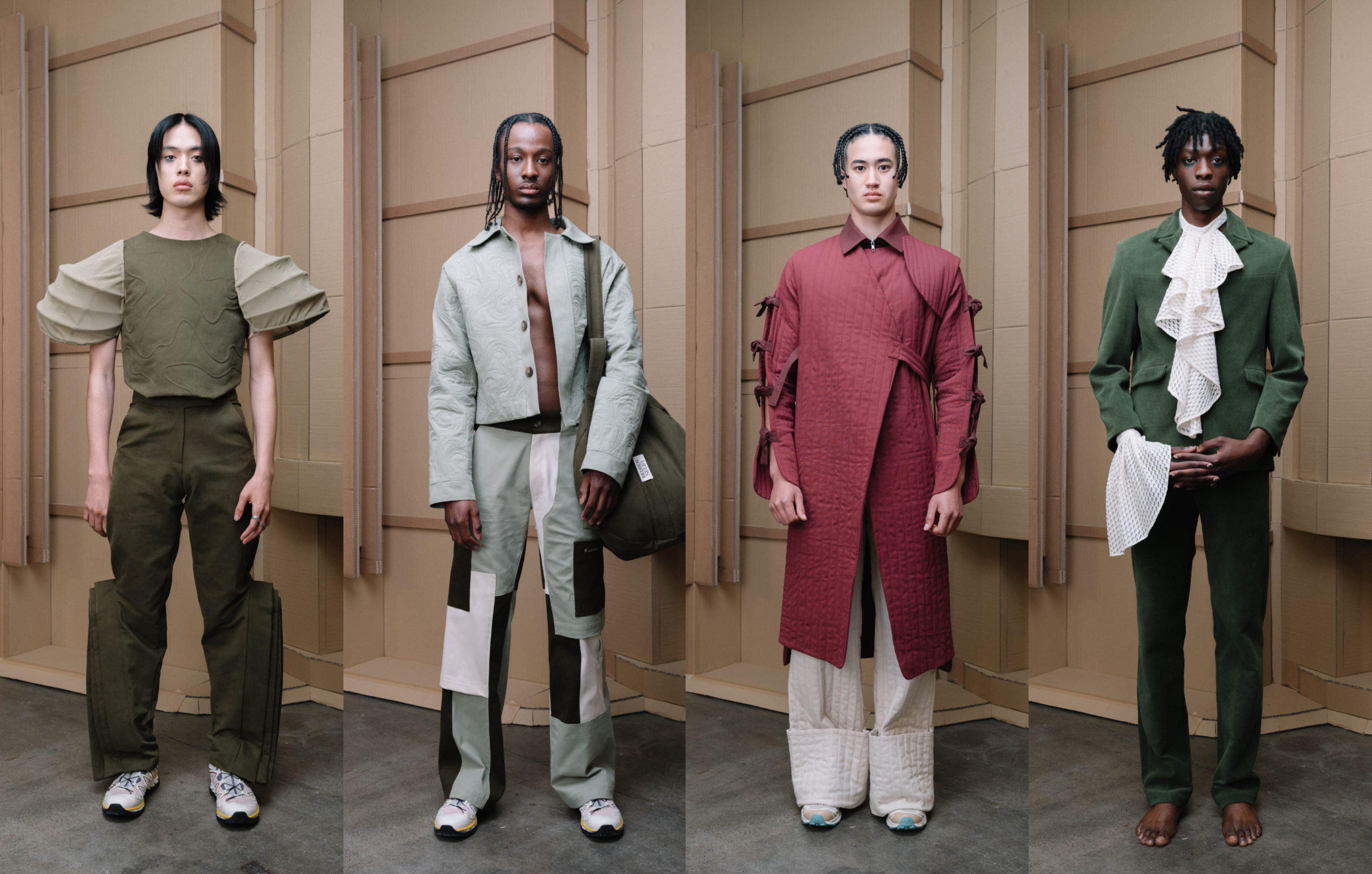 The new collection is called Clash, can you tell me a bit about it and the meaning behind the name?
With all of our shows, they always start from a feeling that we want to recreate and there was this sound in my head of steel clashing. That feeling is something which I really wanted to recreate because it's quite an unsettling sound, it's so raw and it's so honest. From there, it's filtered into every creative decision that's been made around the collection. Going into the more interpersonal side, I wanted to reconnect with London and the people and the romanticism that I might have lost from being here for so long and getting so used to everything. It's been a process of rediscovering the beauty of the clashes that happen in London, diversity not just in the community but also the visual landscape, like the architecture. So much of this collection is inspired by brutalist architecture and that is very in keeping with creating an empowering feeling. I think there's so much more to be shown from London's youth. Knowing so many people in London and having collaborated with so many creatives is amazing, but I think that it's rare that you get to see people really shine and come together and work together in a very collaborative way. That's why I really wanted to bring it to London and work with people that I've known my whole life. There's a lot of collaborations, I'm collaborating with an artist called Alexander James, who is a London born and bred painter, and he's painting on the clothes and doing whatever he wants to. That's just because it feels natural. It feels natural to work with these people. 
Could you speak a bit more about the collaborations and how you made those connections?
We kind of collaborate across everything. For example, even the creative team, that's a collaboration. Harry Lambert's styling again, I met him in London years ago and he was someone that gave me a shot when there was no reason to. As well-known as he is, it was an easy decision for him to come on board, even though we've only ever done one collection. It's getting those people involved that have known me personally and know that there's something there that I have to give and that's why they're joining the vision. Harry is a perfect fit because the way that he views masculinity and presents people is very fluid and in keeping with the brand. We're collaborating with Faculty who I worked with on my last show, they're a beauty brand but they lean more into the male representation of beauty and what it means to express as a man. Also PLAYLAB, they're the masterminds behind the set and that whole visual. I feel very privileged to like work with a team like that because there's no reason for them to do this other than believing in what we're creating together. Maisie (Williams), my girlfriend, she's learnt to mix in about 2 months, she's DJing live. That's a big part of the brand, that collaboration; we push each other as far as we can. We've also got Headie One performing at the end. That is just the representation of the brand, it's so in tune with what London is. Everyone involved in this show is from completely different backgrounds but there's this mutual respect and excitement around what that brings. When you put a load of creative people from completely different parts of the world and completely different backgrounds and experiences together that creates things that are exciting. 
When you're talking about collaborators, a couple of times you mentioned their view of masculinity. How do you place gender within the brand? 
We view clothes as what they are. At the end of the day, it is something that is material, it doesn't come with any associations when you start with a roll of fabric. That is the realm we're given, and we can be creative with that in any way that we want to. There is not any bias in whether a piece is better for a female or a male. We sit in the grey area where it's not necessarily hyper masculine, nor is it super feminine. But, at the same time, there has to be an appreciation of the individual and what they identify as and that's a constant in the dialogue when we're creating. Especially when casting, it comes back to comfort. I could feel comfortable wearing a dress or something that people would deem as like womenswear but that's just not how I view it, I just see it as clothing, as a form to express myself. It means that we don't necessarily have boundaries but, at the same time, we're not going to say that some things don't fit better on different body types than others. It's having an appreciation for the human form and its diversity and also respecting the individual and how they want to present themselves. The last thing we would want is to make somebody feel uncomfortable which is the antithesis of what the brand wants to be.
Compared to when you showed in Paris, what is the energy like when doing it in London? 
This show, we're so on top of everything and that's from what we've learned from the last show. But it's completely different and that's what I wanted it to be like, I wanted this show to be grounded in realism. Everything you see is very real, it's very truthful. You're probably going to look at it and see a reflection. With Paris, there's this romanticism around everything and it's amazing but I wanted to connect with my community before I go away and start doing things that are me getting lost in my imagination. This show is for my people, for everyone that I've worked with over the years. That's the brand, we're not creating for ourselves, we're doing it for people who find something in the art we create. 
Something that was mentioned in the press release was your Filipino roots and how they inform the clothes.
It's funny how that is associated with this feeling of collision, and it is very clear that's what it means to be mixed race, half Asian, half white. It a dialogue that you're always trying to get understanding out of, and I think that the version that we're showing is not the version that is completely true in its roots. If you're Filipino, you won't look at this collection and think 'they've taken this traditional thing which they saw on the rice fields and they've recreated it', that's not what it is. It's the way I've viewed it. I've only got to see glimpses of that culture from when I've visited, and you're caught up in that romanticism and that's not what I wanted to create. I wanted to create something which is more real about the dialogue and what it means to have an immigrant mother come to the UK and lose so much of her identity and culture and how other people view that. My mum walking down the street wearing a colourful straw hat in a completely white town in Sussex, what does that mean? People are scared of that, even though that's so authentic and true to that individual. It's trying to reframe how we should look at that, how that shouldn't be something that is scary. When someone's different, people want to label them so they can comprehend what's going on whereas they shouldn't be trying to put people in boxes.
PHOTO CREDIT: Reuben Selby