Speaking on his musical and personal journeys.
"I try to write in a vague sort of way so that you create your own story to my vibes."
Hailing from Abuja, Nigeria, Tay Iwar has been hailed as a frontrunner in his self-described style of 'Afro-fusion'. The artist mixes a distinctly African musical palette with more Americanised RnB, pop and, more recently, even drill to create a true fusion that cleverly remains sounding organic.
A true musician, he is someone who feels comfortable in the studio as he can engineer, produce, song write and seemingly do everything from the conception to the release of a song. It is a skill he developed from a young age, with his parents having enrolled him in classical music lessons, which he resented initially, and through making music since the age of fourteen. Now aged 24, the fact that the artist was sharing his music through BBM before the streaming revolution took over the industry is indicative of how long his love affair with the art form has been.
One of many artists flying the flag for Nigeria and bridging the gap with its diaspora, he has found himself rubbing shoulders and appeared on songs with the likes of Wizkid, Odunsi (The Engine) and Santi. He is a member of the new crop of African musicians who are quickly gaining worldwide recognition.
Our Music Contributing Writer, Gracey Mae, caught up with the artist to discuss his journey to creating music, doing a TEDx talk and his poor yoga skills. See the full interview below.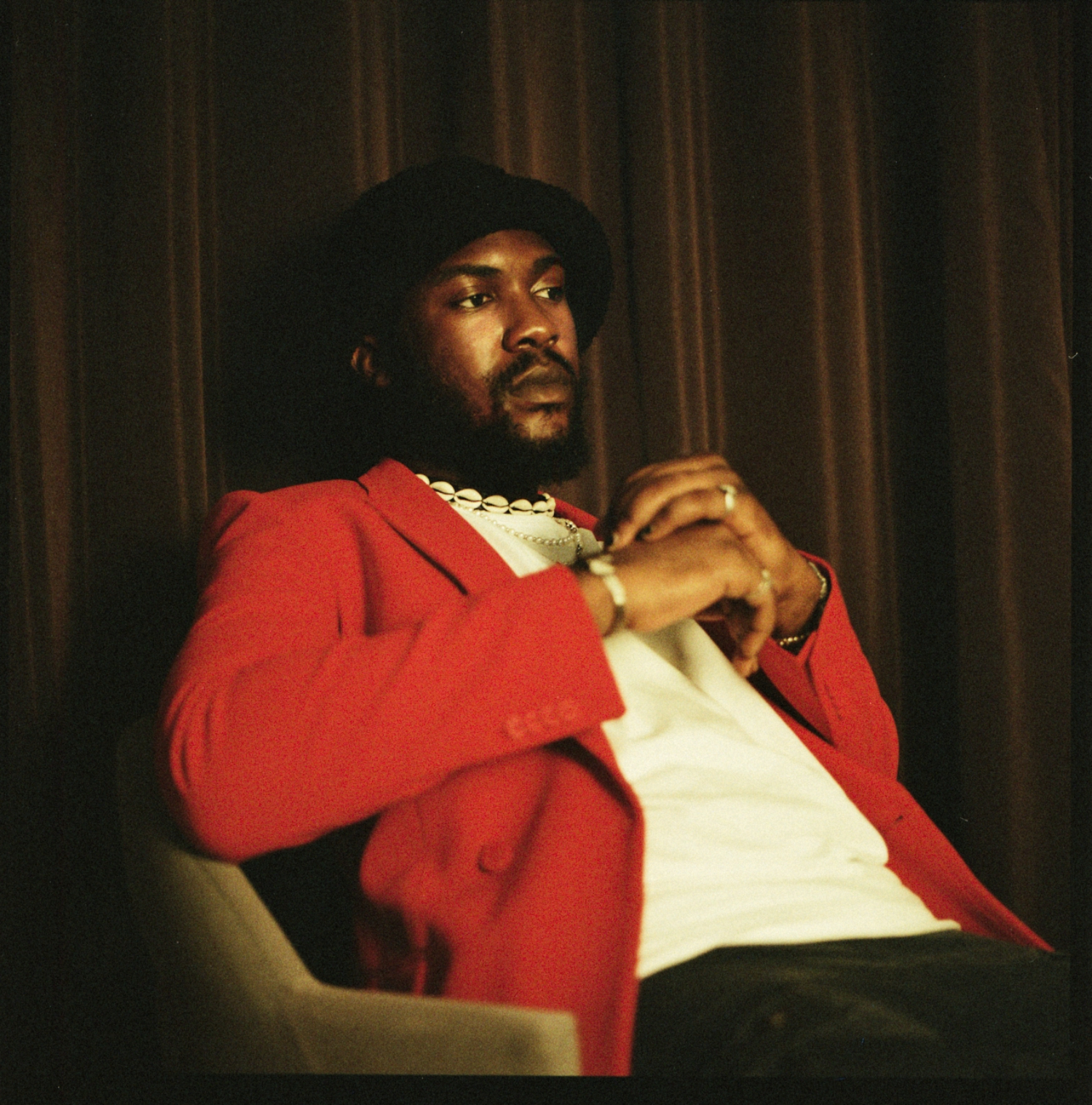 Hi Tay, welcome to Pause Magazine. How are you?
I'm good. I'm just living, you know, trying to explore new things daily.
Love that. Congratulations on your latest project Love & Isolation; you're given us like Afro Pop and Afro R&B. What does that phrase mean?
The way I make music, I don't necessarily love to attach so much meaning to names and my music because I feel like the meaning will come from the audience. You tell me what it feels to you. People just pick different things when they hear music and then relate it to themselves. Also, the way I write, I try to write in a vague sort of way so that you create your own story to my vibes.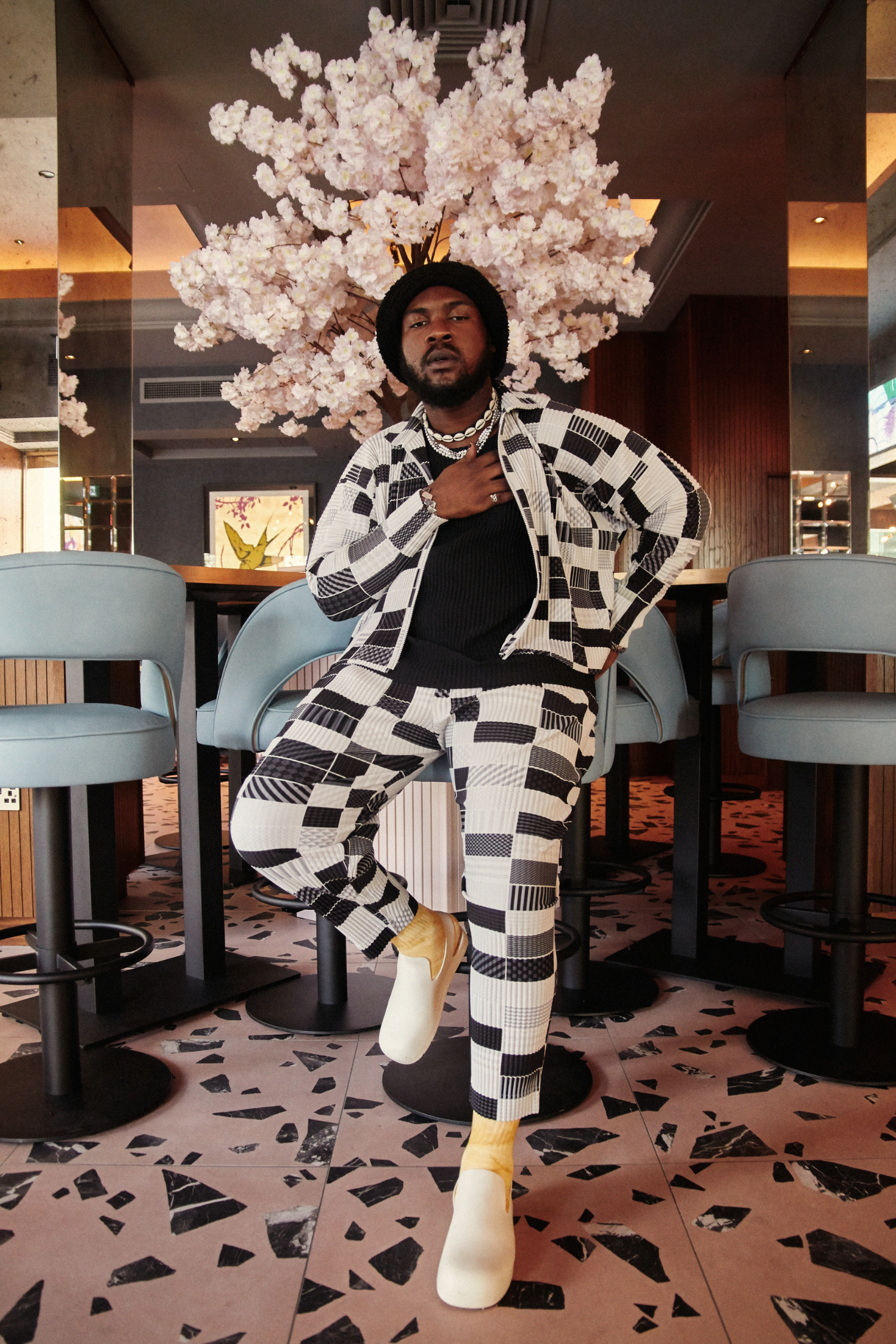 Full outfit: Homme Plissé Issey Miyake, Socks: Too Many Socks, Shoes: Bottega Veneta
For me, it meant being in my feelings, whilst also being in a panoramic, a Panasonic, a Pandemic! Let's talk about sports. This is random but you play any sports?
No.
Do you do any type of exercise?
Oh, yeah. With sports, I used to play sports in high school but then I tore my ligaments and that really ended it for me.
The famous knee injury story! Got it.
I mean, it's not like I couldn't play. I just lost interest after that. I was like, "Man, this is an injury and I was just trying to have fun so I'm not gonna do that".
So you don't do Yoga then?
Oh, no, I do.
That's where I was going with this… it's the first song on the project!
I do… it's very light. And very amateurish. I'm not flexible like that but I try to do some wellness and some self-care but sports? I wouldn't say I'm a sports man.
Full outfit: Homme Plissé Issey Miyake, Socks: Too Many Socks, Shoes: Clarks
Full outfit: Homme Plissé Issey Miyake, Socks: Too Many Socks, Shoes: Clarks
On this track, you got to work with the legendary, iconic Asa. Tell us about that whole experience.
It was such a beautiful experience. Yoga is the oldest song on the project. By far, actually! I had this idea for this project about four years ago but it had a different name…just a whole different thing. I knew the vibe that I wanted which is why I don't like explaining it because people were expecting me to say the isolation part is about the pandemic but really, isolation is nothing new to me. It just so happened that people experienced real isolation for the first time during this pandemic. For four years I knew I wanted Asa on it. I just kept the song because I couldn't meet her, I couldn't reach her. So I said, "You know what? I'm just gonna keep this song as long as I can" because it was literally made for her. Then I met her after so many trials and a lot of people deceiving me! I played the song to her and she loved it.
It was one of the easiest experiences; I thought it would be hard since she's a big artist, and at the time, I didn't have the WizKid thing. I just thought she would just give me advice but she actually recorded and sent it through in about a week or something – that changed my life. Just that action! I stayed listening to that song for like, two weeks straight. I just couldn't believe she was on the song. Also, I had performed at her show, like three years prior, which was another point because I had the song by the time I was performing at that show. It was just beautiful to see that I could be patient and still get what I want. I'm happy that I waited to get that verse.
Patience pays! Since you're a singer-songwriter, producer, sound engineer, do you prefer working on your own or with others?
I don't think I have a preference. I think I'm just used to working with myself because of my situation. When I started producing, I was a very shy guy and I couldn't really socialise with other people. I didn't really have those skills. I had to kind of just do everything myself because I didn't know how to approach other people or even where to find producers and all of that. When I started, there weren't so many people in Abuja, producing themselves – that was a very new thing.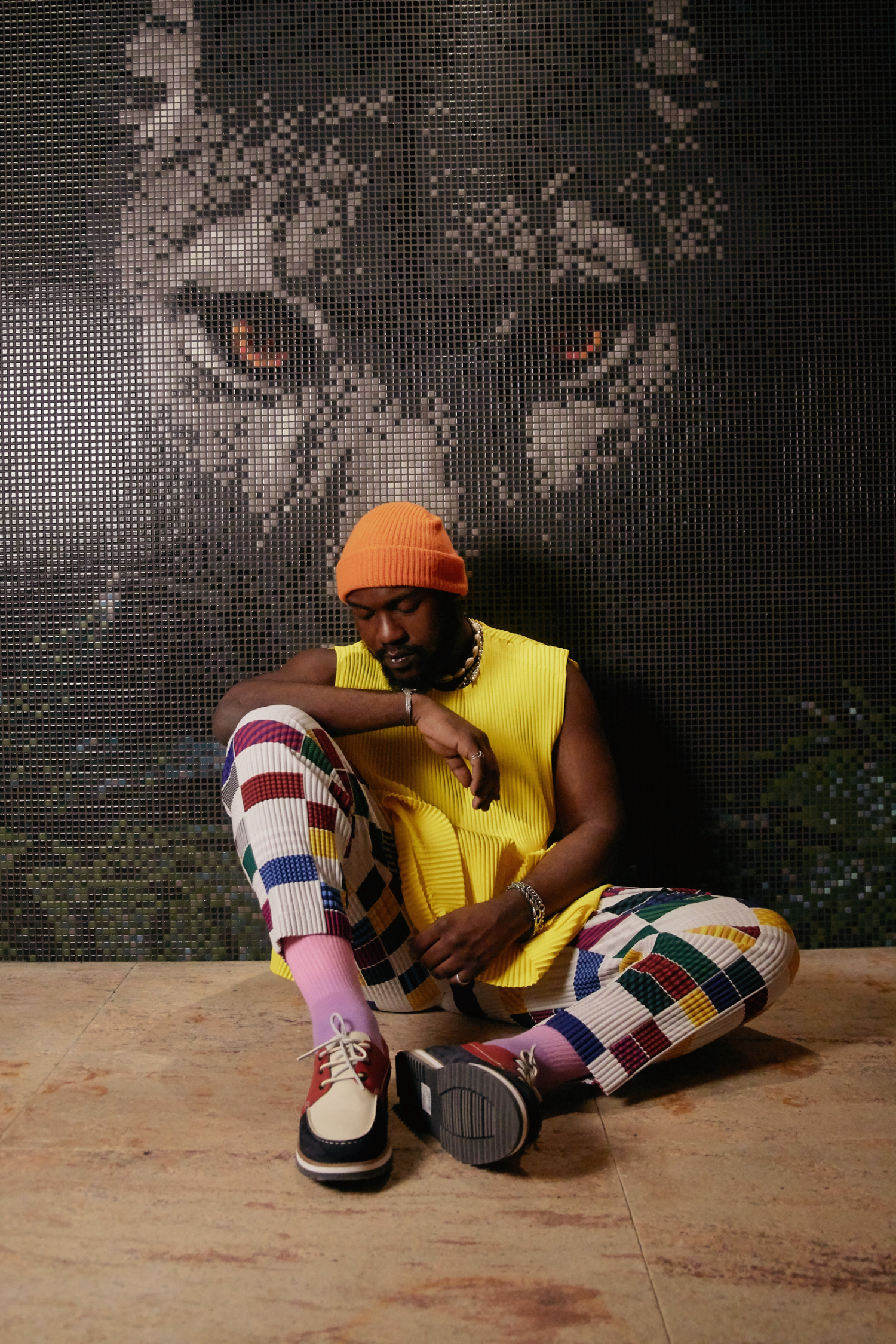 Full outfit: Homme Plissé Issey Miyake, Socks: Too Many Socks, Shoes: Clarks
Talking about self-production, let's go back to Passport, your first album! You dropped it at 16 years old. Rumour has it that it was just gonna be a beat tape, but you had a conversation with your brother. How did that go?
It was very quick conversation, it wasn't even something deep. It was just me telling him that I'm doing this project and I just wanted to put beats on it to use it as my producer portfolio or something. He just looked at me and was like, "Well you sing so just sing on them." And for some reason, before that point, I hadn't thought of that. The reason I was doing a beat tape was to attract other musicians so that I could collaborate with them. Essentially, my brother actually stopped me from collaborating and it worked out. I sang on the beats for Passport and I tapped into a different side of myself that I didn't really know about at that time. I mean, I knew I could sing but I didn't know I could be a musician. I thought I could just be a producer.
Shout out to your brother. You're a proper musician though, aren't you; how many instruments do you play?
I play three: guitar, piano and the drum machine. A lot of people don't consider the drum machine as a valid instrument, but I think they're just uninformed.
And you're setting the record straight here? Got it! Your dad got you and your siblings into playing instruments, right?
Yeah, I would say both of parents did, my mom and my dad. It was a joint effort, but he was really the one riding the wave because he could play an instrument already. He was already playing the saxophone, so he was really passionate about getting us to learn an instrument. My mother actually learnt the piano back then. It wasn't like, "Oh, this is what you should do for the rest of your life," it was just like, "Music is good, and everyone should know about instruments." I think they were quite surprised when I was like, "I want to be a musician." Before that I was taking medicine, economics and law. Music was a very big shift so everyone was surprised. It took some convincing but, eventually, my parents were like, "You know what? This makes sense."
Full outfit: Onitsuka Tiger
Full outfit: Onitsuka Tiger
If I say the words "Hulk Share" to you, what does that mean?
Wow. You're going on some Nardwuar shit here! Hulk Share was the first platform I ever dropped music on. How did you know that? That time, I think the reach of my promo was just my friends and their friends if they shared it. We started there with BlackBerry Messenger! You would broadcast your song to everyone and hope that they add you and listen to music and sometimes it worked. It got me known in secondary schools in Abuja because that was during the BBM craze so it slid right in; the timing was right. Hulk Share is a special place for me. It was before SoundCloud, before everything.
Let's fast forward then. How did you end up being on a TEDx talk?
I forgot about that. What did I even say? I was in audio engineering school at the time in Dubai. I had just released a song called Elysium. Then I got this mail from someone at the TEDx team, saying that they wanted to do a TEDx in Port Harcourt and they got enquiries about me. I found that completely random. This is weird! I just took it as maybe the organiser is a fan. Then I get there, and it turns out that there are people that love and listen to my music besides the organiser! Like, actual people that came from their houses to the TEDx to watch me talk and that was eye-opening, because I didn't know that I had that reach. That was a beautiful experience. It really surprised me at the time because I didn't have a hit song or big collabs or anything, that was still the very early stage.
That was the beginning of your cult following. You touched on Dubai, that's where you first met Santi right?
Yeah, I had known him online for a while. I knew him as OzzyB from when he used to rap! Whilst I was studying out there, I just did a search, "Who else is here?" It was literally just me. I don't have any family out there. So, I said, "Let me search: who else is in the scene and is in Dubai?" and I realised he was there; Santi and Tomi Thomas actually. They came to where I was staying, and I was like, "Oh, man! You guys are so dope. You guys are here. Let's make some music!" And we did. I don't think any of the songs came out, the ones I did with Santi and Tomi. I believe they stayed over the first night and we were making music for like two days straight. We would just freestyle and have jam sessions. That experience was beautiful.
Do you know what is beautiful? True Love! Tell us how you got to work with Wizkid, Juls and Projexx on this mega jam.
Beautiful experience, again! I used to say it was random but these days, I feel like it wasn't necessarily random. It was building up to happen and it's just beautiful how it happened because the song wasn't made for him. There was no extra pressure of, "Oh, Wizkid wants you to make a song for him." We made the song for Juls' album and Wiz heard it and was like, "This is for me!" It was just seamless. It connected with him, without him even knowing me. The music did it. He called me and we spoke, and he said, "This song is amazing. I want it on my album…I'm gonna do a verse on it!" It was seamless and beautiful. No pressure, none of that. It was also a last-minute addition to his album. I remember him saying he wants to put it on, and I was wondering, "I thought by now the album would be done because it was coming out really soon," but he's a big star so I guess they slid it in.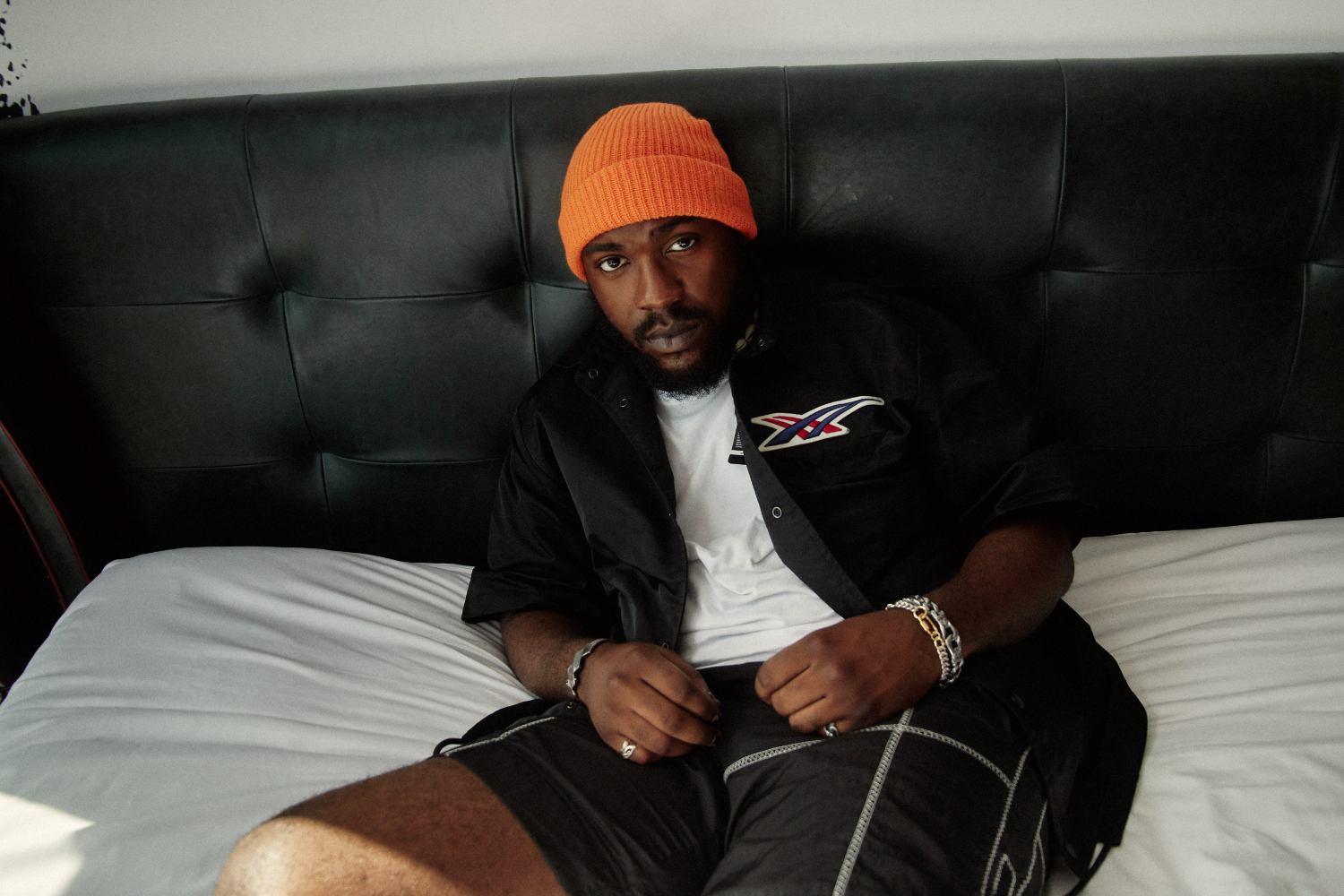 Full outfit: Onitsuka Tiger
Jacket: Daks, Vest: Daks, Trousers: boohooMAN, Shoes: Bottega Veneta 
He's a star and your star sign is Gemini. I hear you getting into astrology helped you with finding your identity. Care to share?
For me, it wasn't so much about the astrology; it was more about finding myself and it was just one of the things I discovered upon trying to understand myself. You try and look at where you're from: your birthplace, your tribe (for Nigerians) and your home. I figured, "Why not add my star sign as well?" to see what those traits mean. Upon diving deeper into all of that, I realized human beings are not linear. All those traits are shared with everyone because we're all humans in the end and we experience similar things in different ways.
Do you feel like you found yourself?
I feel like that's a never-ending journey. That's what I go from that because, again, life is not linear so finding yourself is constant. Who you are now in this environment, will it be the same person in two years with more everything or less everything? You're still refining yourself.
True! There's so many shades and tones to each of us. One dimension I did not expect from you – this calm serene being – was producing Drill Music! Talk us through this.
Wait. How did you find out about that? That's very recent. First things firsts, I'm a musician so I always look for new music in different styles. I'm interested in so many different types of music. With drill, I just felt like I saw a need. It's a new style so there's so much to be done. There's so much addition and fusing that can be done so I thought, "Let me make some drill beats that Tay would use." I did a song with Shaé Universe and it's banging. It's a different type of drill – it's more soulful. I found drill can be quite aggressive, and that's the main reason a lot of people can't relate to it because some people are just not aggressive but they like the beats. I figured, "Let's see what drill from the other perspective could be," and that's what I've been working on but it's so recent, I'm surprised you know about it. It's been like two to three weeks or something.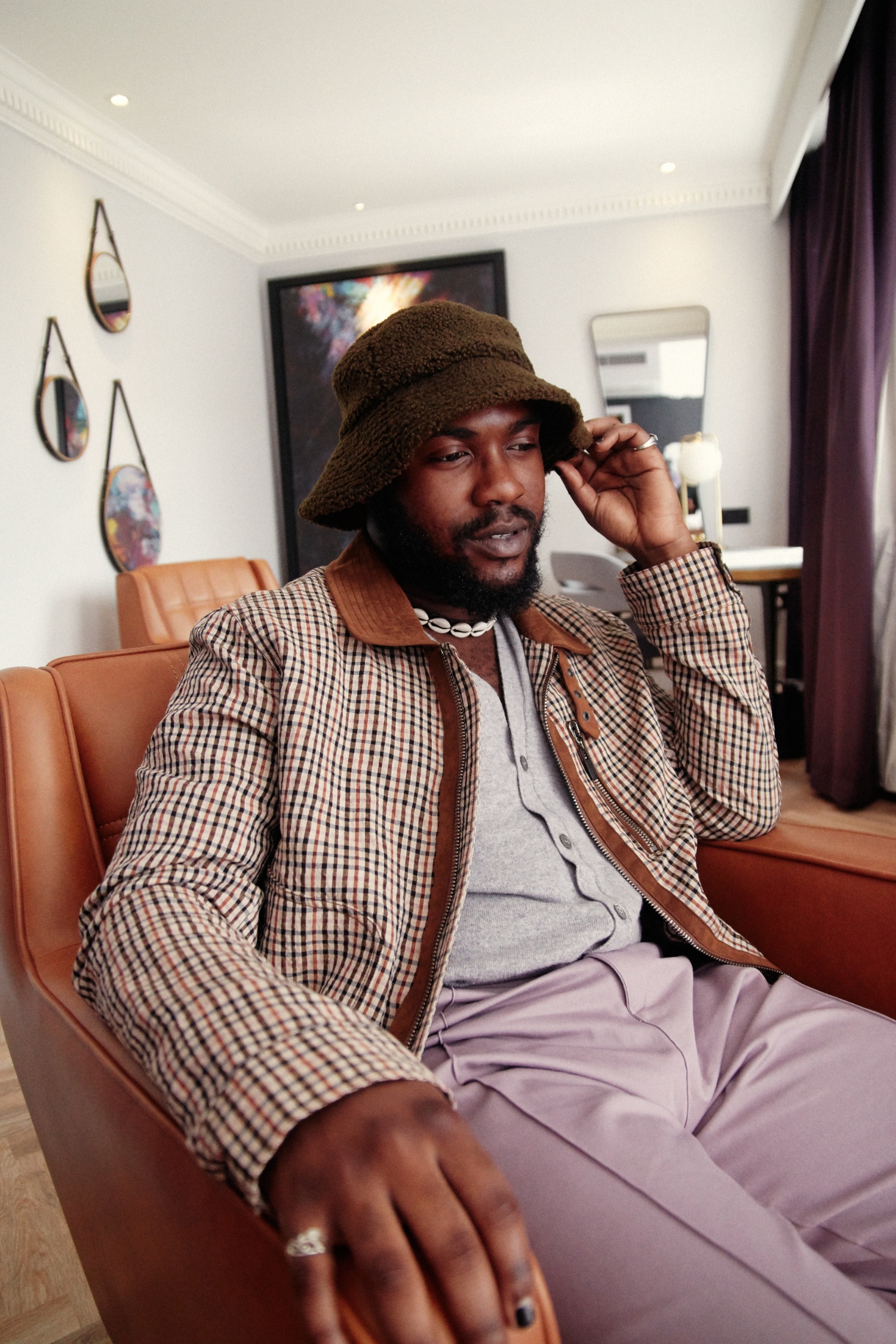 Jacket: Daks, Vest: Daks, Trousers: boohooMAN, Shoes: Bottega Veneta 
Aside from Drill, what else can we expect for the rest of 2021?
I'm working on shows and videos and possibly some merch. I don't want to give too much away! Possibly more stuff from Gold.
Yes – it's the content we deserve. London loves you by the way and I hear you love us too…
My most iconic performance was actually Somerset House; that was Soulection as well. That was a beautiful show. The crowd was lit. 4000 people, all gassed. Beautiful! London Soulection energy is different. Their crowd is a different type of crowd. That's one thing I noticed.
Any parting words for your friends, your family, your following?
Just keep at it because there's no point in not. Whatever you're doing that you love, keep at it.