Hosted by American musician Doja Cat, the 2021 MTV Music Video Awards was held on September 13 in Brooklyn, New York at the Barclays Center. Marking the channel's 40th anniversary, the grande occasion included performances from artists such as Ed Sheeran, Lil Nas X and Shawn Mendes while Justin Bieber, Olivia Rodrigo and Travis Scott all picked up awards.
See some of the outfits rocked on the red carpet below.
Jack Harlow
Fresh from being in London, where he performed at Wireless, chilled with several UK rappers and was even spotted rapping along to Giggs in his car, Jack Harlow returned to America to attend the award festival.
The artist performed his single "Industry Baby" along with Lil Nas X at the event dressed in all-black while dancers filled the stage during the high-energy performance. However, on the red carpet, Harlow opted for a more colourful approach.
The Louisville rapper was rocking a green leather suit along with a black turtleneck which had come from the Tommy Hilfiger archives. This was paired with black boots, in keeping with the colour scheme, along with a chunky silver ring that he sported on his right hand.
Lil Nas X
Performing together with Harlow in a pair of pink tracksuit bottoms, Lil Nas X kept to the same colour scheme for his red carpet look as the artist won three awards including Music Video of the year.
Taking to the stage to receive his award, Nas said "First I wanna say thank you to the gay agenda," and continued to chant, "Let's go gay agenda!" A monumental and undoubtedly iconic moment in the ceremonies history, the fight for LGBT rights is a topic the artist has been outspoken on over the years, especially since the homophobic backlash he received from the video for Industry Baby which he performed during the show.
Picking up his award, the 22-year-old musician was sporting an ice-pink two-piece from Alexander Mcqueen which included a leather biker jacket and trousers. He then paired this with a pair of Maison Margiela Tabi boots, which feature a signature split-toe design.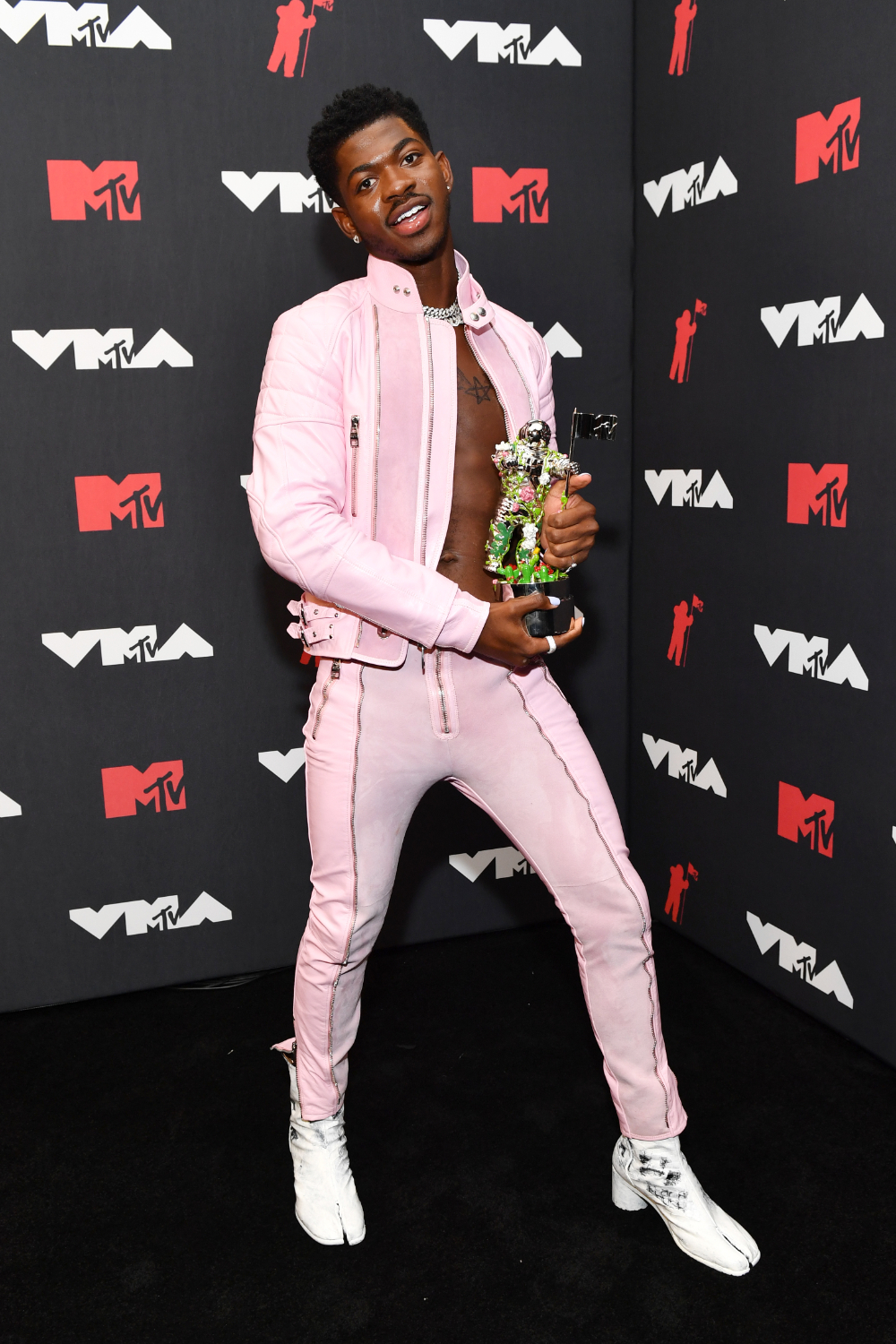 PHOTO CREDIT: Alexander McQueen
Machine Gun Kelly and Megan Fox
Another artist who performed, Machine Gun Kelly and Travis Barker took to the stage to play their song Papercuts at the event. However, he also hit headlines after a heated argument between him and Connor McGregor on the red carpet led to the MMA fighter trying to swing a punch at the musician. Along with winning the award for Alternative Video of the year, it is safe to say that it was an eventful awards show for the 31-year-old artist.
Stood arm-in-arm with his girlfriend Megan Fox, he was rocking an all-red outfit that consisted of a blazer, trousers and top all created in the same shiny, striped fabric paired with black shoes. Meanwhile, Fox was wearing a sheer dress from Mugler with silver detailing and shoes from Jimmy Choo.
Travis Scott
One of the winners from this year's VMAs, Travis Scott picked up the award for the best Hip-Hop video of the year for his song Franchise after being nominated for the award three years in a row.
With Kylie Jenner supporting from home as she was is pregnant with their second child, she was posted an image sporting an all-black look which co-ordinates with Scott's monochrome outfit.
The American musician was wearing a button-up shirt layered above a t-shirt and paired with slim trousers to create a smart-casual look. Wearing chunky black leather boots on foot, he accessorised with a number of necklaces that added contrast from the black-hued outfit.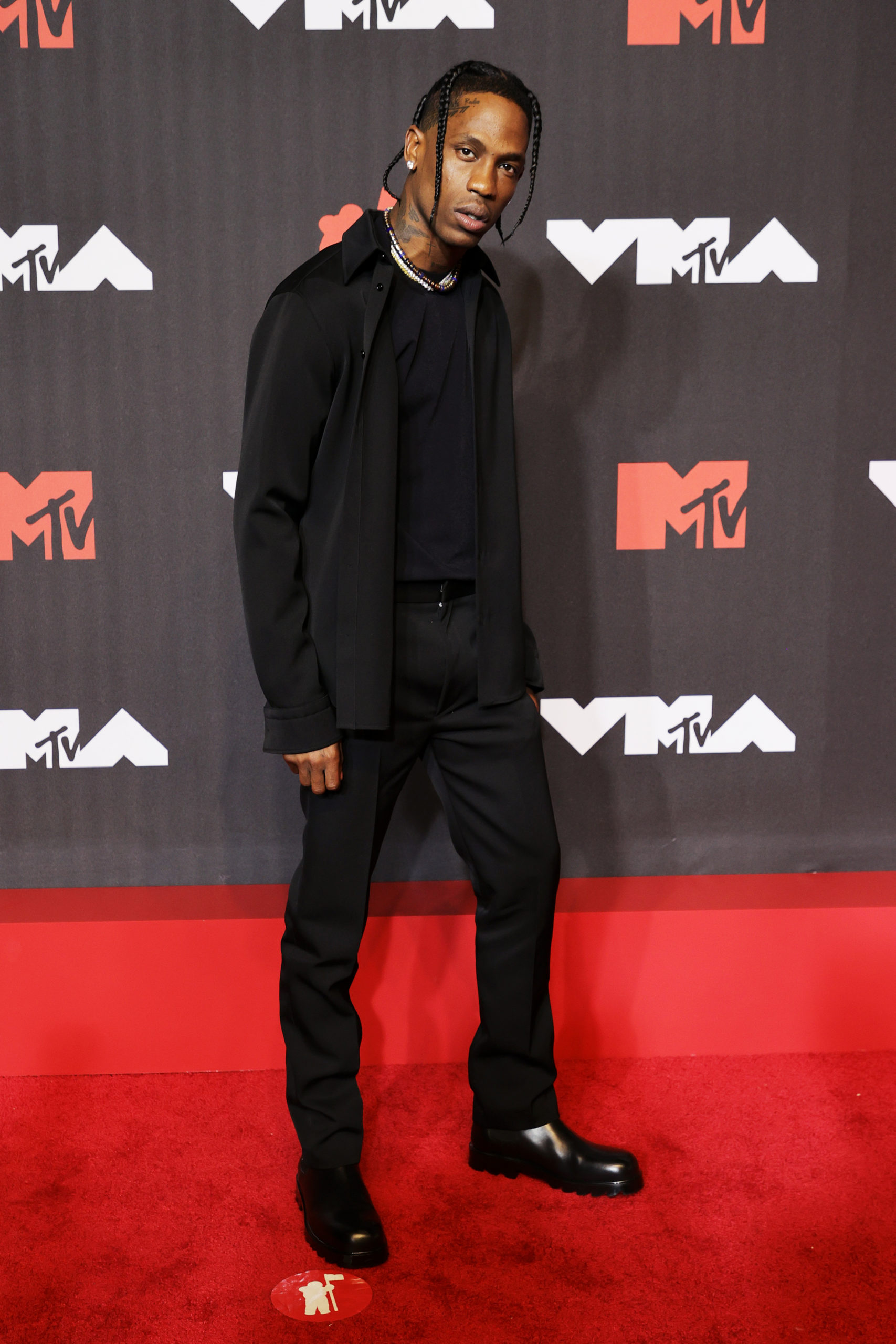 PHOTO CREDIT: Bottega Veneta
Busta Rhymes
An artist who has been in the industry for a long time and has won a total of 16 VMA Awards, Busta Rhymes hit the stage at the Barclays Center in Brooklyn to perform a medley of his hit songs from over the years.
Matching with Machine Gun Kelly by also rocking an all-red outfit, the 49-year-old rapper was rocking all leathers. Starting with a red leather bucket hat, he paired this with a biker jacket and slim trousers. The musician then finished his look with a pair of white and red Alexander Mcqueen sneakers and a range of jewellery which included bulky rings, a watch and four necklaces.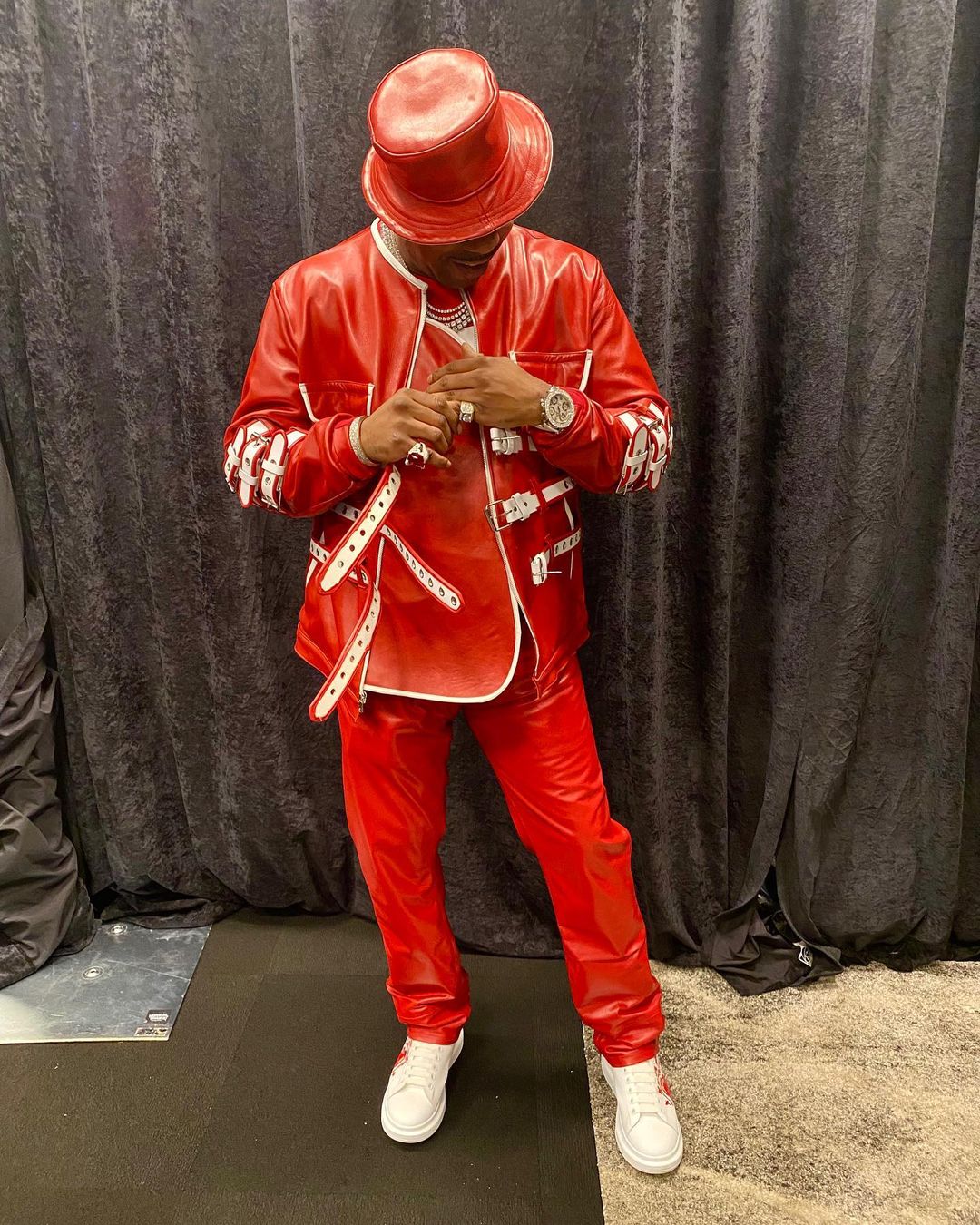 PHOTO CREDIT: @bustarhymes