Synonymous with the word Amampiano, Major League DJz are flying the flag for this summer's hottest genre.
From South Africa to The World.
Celebrated as the ambassadors of African Dance Music, Major league DJs are the torchbearers of the African genre that has swept the summer. Birthed in the townships of Gauteng, and now ringing off on the sound systems of some of the most prestigious venues in London, New York, Dubai and Amsterdam, AmaPiano is the infectious genre that no one saw coming but everyone now wants a part of.
Heavily influenced by its predecessor Gqom and the 90s sound of Kwaito, this spiritual, deeply Afro-infused style which takes from Deep House, Jazz and Dance music has transcended from the shores of South Africa to Hills of Hollywood, thanks to forerunners like twin brothers Banele and Bandile Mbere, aka Major League DJs.
Before introducing Africa's most influential sound to the masses, the Mbere twins kicked off their musical careers hosting parties for the likes of 50 Cent, Akon, and Fat Joe. Soon enough, they'd stop booking DJ's and would play their own sets next to famous disc jockeys such as DJ Fresh and Euphonik aka Themba. A fixture in South Africa's music scene, Major League are renowned for their high energy live performances, and it would be these very performances that would see them naturally graduate to present AmaPiano's genre-mashing sound to the mainstream.
Now the hottest thing on the map, Major League DJs and their AmaPiano Balcony Mixes have become synonymous with the genre. A platform that has not only birthed new artists but also personalities like the incredible Uncle Vinny who can often be seen in the background hitting his signature dance moves.
Now with hits like Dinaledi, Le Plane E'landile and their latest release 'Government' featuring Ke Star hit maker Focalistic, Major League are a large cog in the vehicle that's taking underground rhythmic styles like AmaPiano to the fore front of mainstream media. Influencing global tastemakers over the globe, I caught up with Banele and Bandile to talk about all things AmaPiano, culture, fashion and why there should be no such thing as 'AfroPiano.'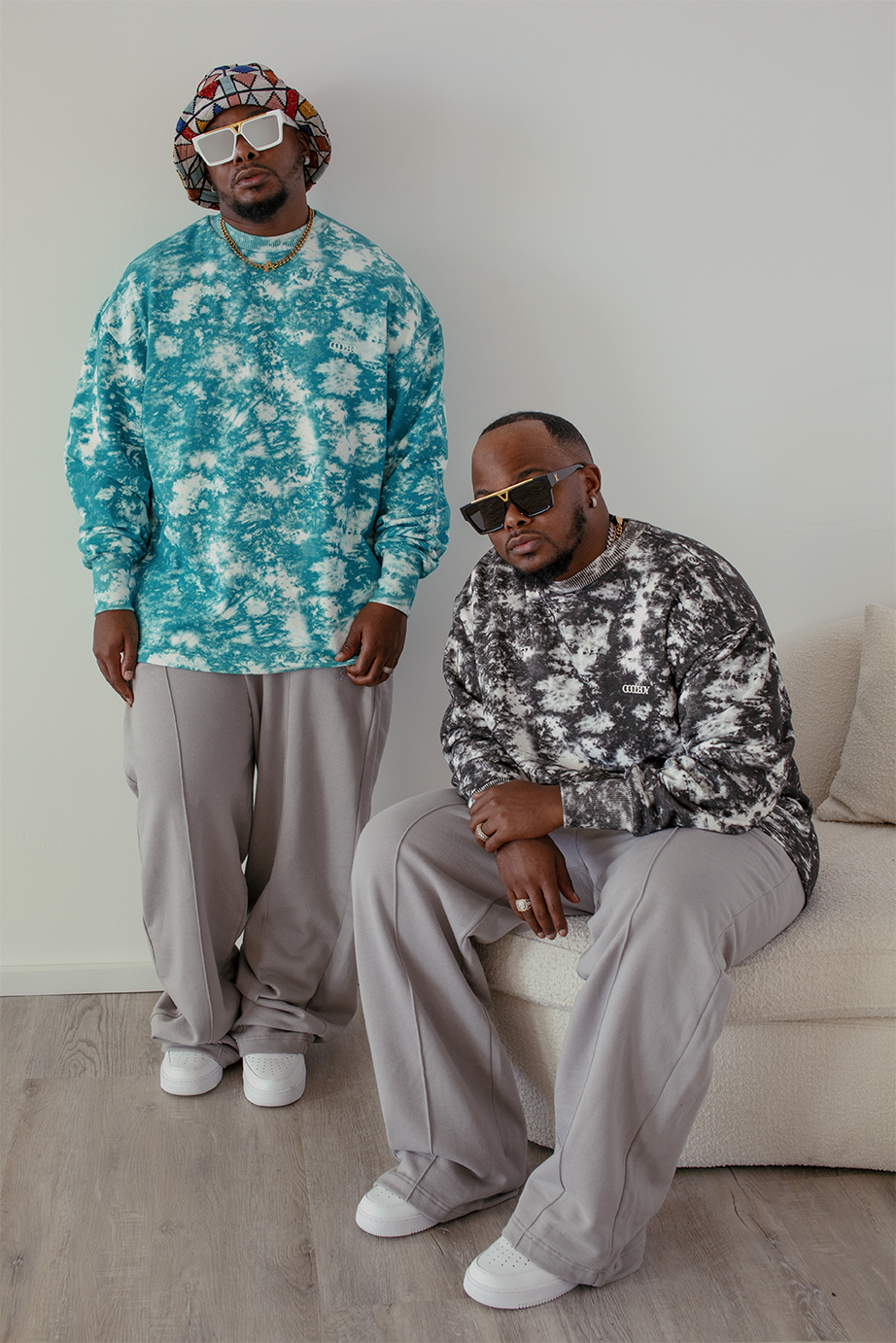 Trousers: Daily Paper, Top: Artists Own, Hat: Artists own
Major League, Now that you've finally made it to London, how's life? How's everything?
Life is tough, I think it's not easy for anybody, getting used to the new normal. Shit is different than it used to be.
Things have definitely changed. Although this isn't your first time in London, how does it feel to return as the ambassador of the sound of the summer?
It's mad dope, AmaPiano is pretty big. It's growing every day. It's a genre that can definitely take over and play in different spaces like the Afrobeat market and the dance market. So I think it would be amazing for the world to experience and see where it takes them, and what story it can tell them.
Does that come with any pressure for you guys? As people are now looking at you as 'THE' Amapiano guys.
We really don't think too much about the pressure. We just think the story has to be told in a proper way and not try and change it into something it's not. We're more scared of that than anything else.
I'm sure, but we'll get to that as we go. You've been in London for a couple of weeks now, not counting the time you spent quarantining. You've been all over the city, on podcasts, shooting a version of your famous Balcony Mix here – what has been the most enjoyable part – what do you guys like about London?
The weather is definitely not the one but the people are amazing and the reception from everyone has been dope. Everybody is welcoming and they're keen to get the 'Piano thing going you know, making the sound international you know. Everyone is willing to build, and that is the best thing ever. It's good energy, and that's what we need to know. Even if we weren't trying to build anything, but as human beings in general – good energy is always the best energy.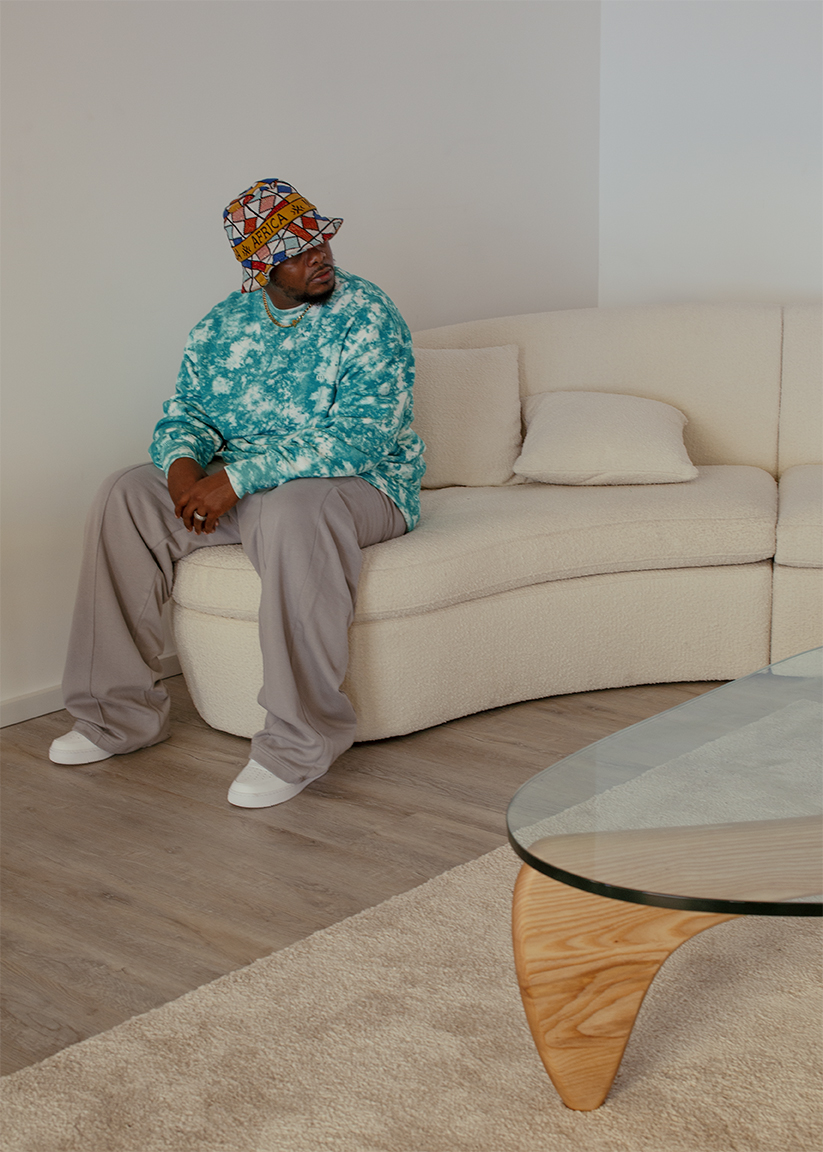 Trousers: Daily Paper, Top: Artists Own, Hat: Artists own
There's a big South African and Zimbabwean community here too.
Yeah, it's crazy. I think it's one of the biggest from Southern Africa hey?
I think so, and you see it more as you travel throughout the country. You guys were born in America before moving to South Africa. Being from Zimbabwe myself, I know personally that we take a lot of influence from the Hip-Hop scene in America and the Grime scene here. Do you think, as Africans, we're at the point where African artists are starting to influence other countries?
We're at that stage now. We have a genre that can influence every market and through the music we've done that, but also through fashion we've done that. Right now, for example, the label MaXhosa is huge and does good numbers with crazy sales all over the world, South African artists or the entertainment business is blooming. For example, there was a stage when Brenda Fassie was the biggest thing on the continent, there was a stage when Yvonne Chakaka was the biggest thing on the continent and there was a stage when Hugh Masekela was the biggest thing on the continent, I think it chops and changes. If we stay true to ourselves we'll be the biggest thing.
Trousers: Daily Paper, Top: Artists Own, Hat: Artists own
Vest: Jévon, Durag: Jévon, Glasses: Shvde
And we've already seen it a few times when we've had genres like Kwaito, Gqom or South African Hip-Hop
And the base of AmaPiano is Kwaito
What do you think it is about AmaPiano compared to Kwaito or Gqom that's made it stick with the masses? I mean our biggest export is music or maybe DJ's, but other genres have come and gone so what is it about this moment that has made AmaPiano the thing?
You know what, Piano is so different because while Kwaito is the basis of AmaPiano, AmaPiano is influenced by so many different things. It can be influenced by deep house, it can be influenced by Afrotech or Afrobeats and it can be influenced by the drumline from the Bay Hip-Hop in America, like remember when Drake did that song the Motto, that drumline. There's a lot of influences in the genre that you can pick. And it's not just one specific sound like Gqom which has to sound one-way, you can sound different and still be AmaPiano because of the certain Log Drums and all that. So there's a lot of influence and it can change to different things, so that's why I think it has longevity, and we said in the beginning when people in South Africa were saying the genre will die like Gqom, and we were like 'no, you guys have no idea.'
And because of the influences, whatever way we go, we can penetrate that space – let's say tomorrow dancehall is the biggest thing, we can have dancehall influenced by AmaPiano because it fits into every space. Just like Afrobeats can fit into Trap Soul and can fit into any Hip-Hop beat because Afrobeats is not about the beat, but the melody.
That takes us perfectly to the debate that has been going on online. And we've been having this debate here in the U.K as in South Africa too about AmaPiano and AfroPiano – and artists outside of the genre being influenced to make their variation or interpretation of the genre. What's Major League take on that?
No, they mustn't change it to AfroPiano. We've never done that, we've never said PainoBeats, we've never said AfroDancehall – so don't change the name. It's AmaPiano.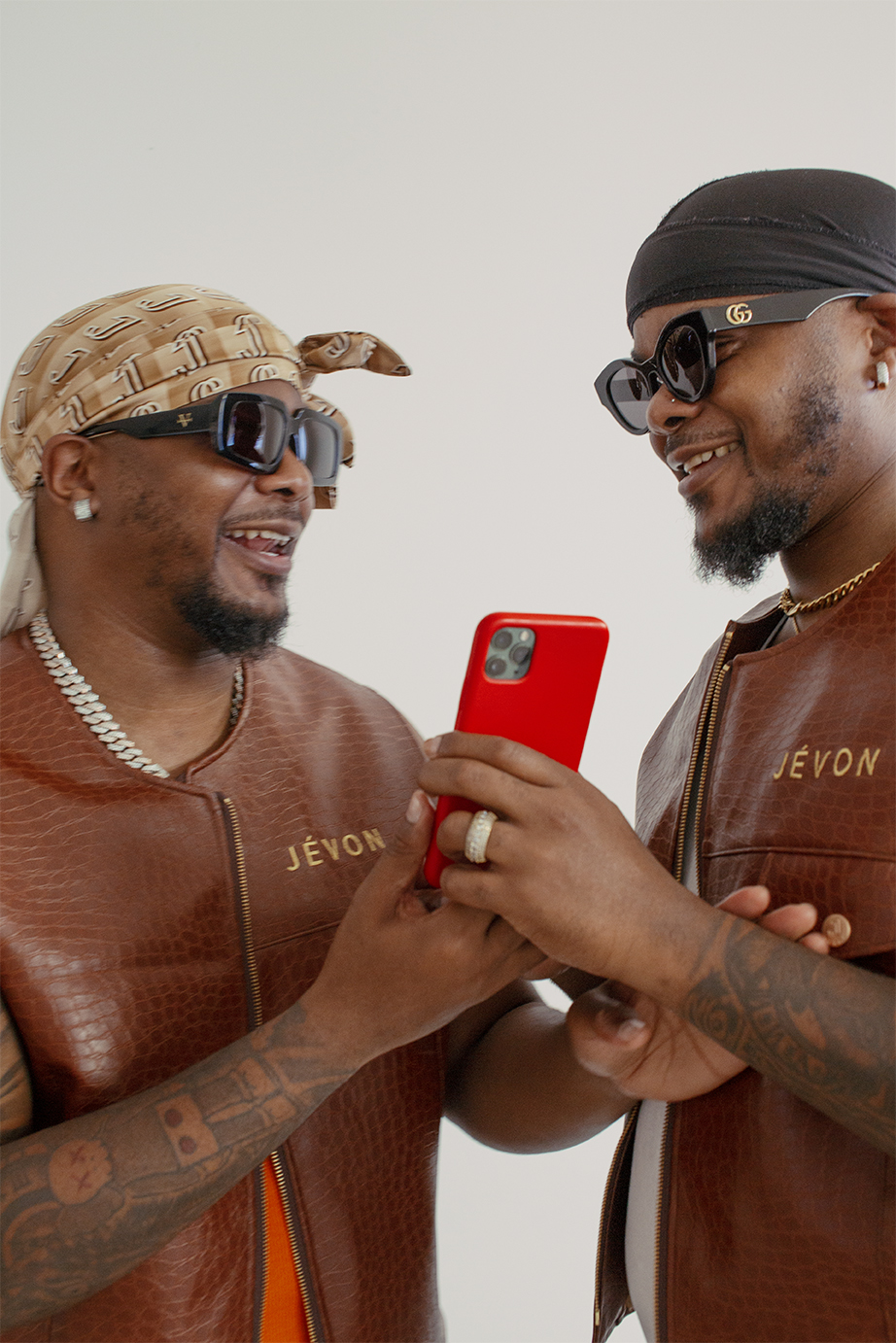 Vest: Jévon, Durag: Jévon, Glasses: Shvde
What do you think about the influx of artists from other genres jumping onto the sound? We've recently seen Jorga Smith release what she said was an AmaPiano track.
We think it's dope, and it's growing the genre. But as we said, they shouldn't change the narrative and they shouldn't change the name or how it was made and the culture. Allow the music to do what it was supposed to do. AmaPiano grew not only with the sound but with the culture, the vibe, the type of dances and that's why it's trending.
So many people look up to Fela Kuti but no one has said it's Afro-whatever. It was African Jazz music that Hugh Masakela and others were doing. No one changed the name, we never changed it and we respected it as that, so that's what it is.
I think that's always going to be an ongoing conversation
Yeah, it's always going to be ongoing because there will always be people who want to change things to suit their narrative so they can make money off of it, which sucks if you think about it.
And we've seen it before, where Southern African artists maybe don't get the credit they deserve for building certain genres. Maybe because we don't really have the same kind of presence or size as other African nations.
One hundred per cent. We are far down there sometimes.
As the genre evolves, which we've already seen starting with tracks like Kokota to what artists like Aymos and Mas Musiq are making now, what do you think will be next for the sound? Especially in regards to experimenting and evolution.
It's already started. The more we're travelling the more we'll be exposed to different sounds and different genres and how we mix the sounds. As Piano artists, we need to travel more so that we can filter into what is really going on in the dance scene, and understand what is happening so that we can start playing with different sounds that relate to different markets.
Vest: Jévon, Durag: Jévon, Glasses: Shvde
Vest: Jévon, Durag: Jévon, Glasses: Shvde
And we've seen that with artists like Black Coffee – who transcended being an Afro House DJ to playing all over the world for diverse crowds. Will 'Piano get to that point? Will it rock Ibiza clubs?
We think it can.
No doubt it will. Switching gears slightly. South Africa and the music industry, in general, suffered a heavy loss recently with the untimely passing of Killa Kau, Mpura and Khaya. What impact will their legacies have on upcoming artists, and the AmaPiano scene in general?
The impact is hectic because we knew all the guys personally, very personally. AmaPiano was a genre that gave a lot of artists opportunities, previously a lot of artists didn't have opportunities because with Hip-Hop it's either you're hot or not. AmaPiano gave them a chance to play around and experiment in different ways. These are artists that have come out of that, artists that have really proved themselves. Mpura was an amazing artist and did a lot, a lot of big songs in the past 6 months. Killer Kau was also very dope, actually, Themba also known as Euphonik, is the one that actually gave South Africa Killer Kau and he went into a different space – and the contribution he brought to the game has been amazing. Khaya was a guy who was just about the culture and how to push the culture. He was also a DJ but he was very much about the culture; how we as young people should lead this culture. Most of these guys were Hip-Hop guys that changed to be AmaPiano guys and I don't think the AmaPiano pioneers knew how to lead the genre the way that it has been led. Hip Hop artists and Urban guys are the ones that put on AmaPiano and took it to the level it's at. This is a big loss for the country.
And the fact that it's young people that are dying, it's just sad. We've already had a lot of people dying due to covid and now young people are dying when their careers are just about to blow up.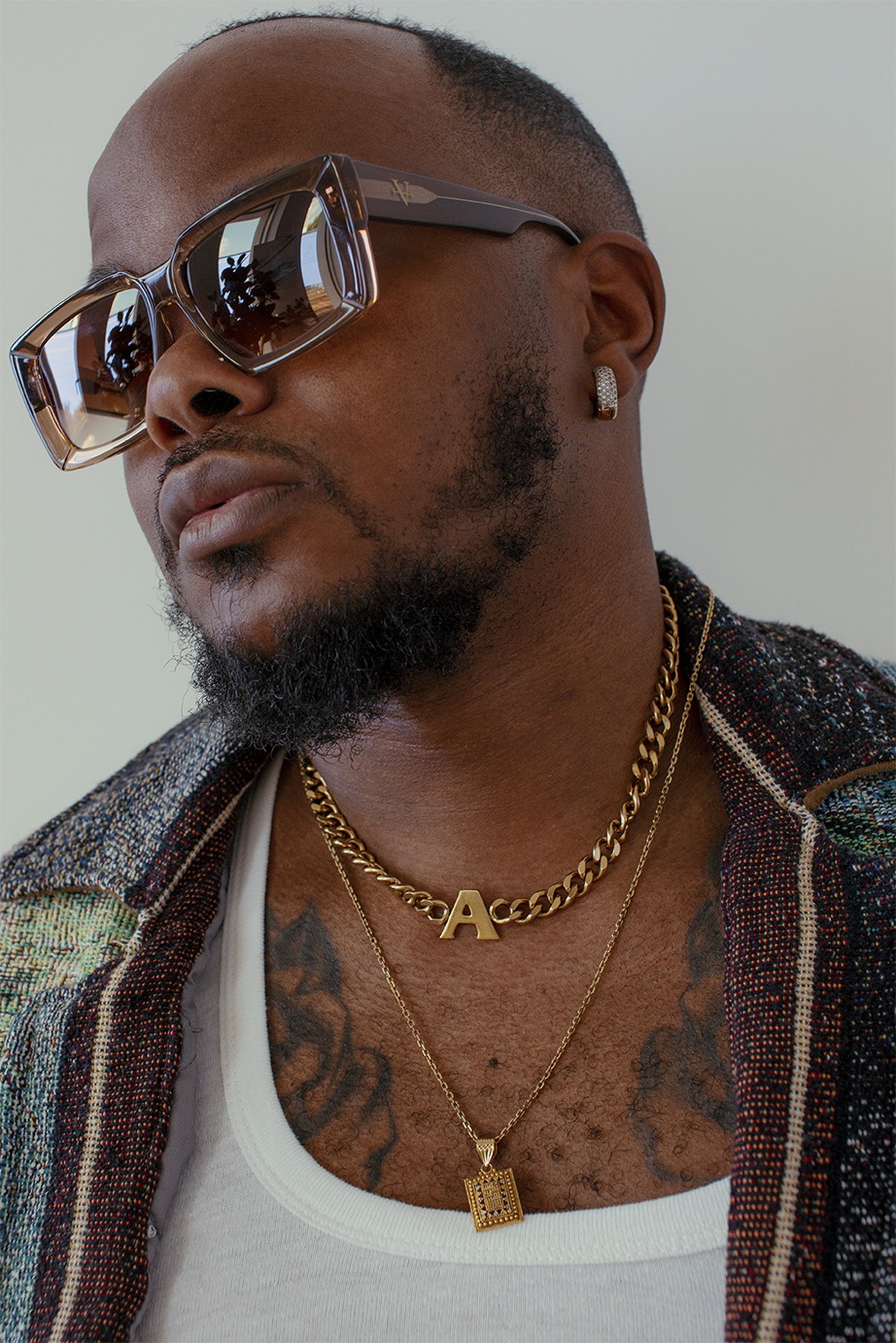 Coat: Purple Hill, Glasses: Shvde
That's a thing that we've seen a lot, when someone is just at the cusp of their big moment or making it and something unfortunate just seems to happen.
We were in a similar car accident in December but we didn't die, thank the Lord. But that was also bad.
Hopefully, we start to see less and less of these events, and condolences to the families and friends of all those involved. Getting back to the music, your balcony mixes have been synonymous with the genre and have done a lot to push the genre and introduce listeners to new artists and songs. Obviously, this isn't a new concept, but why do you think it's been so successful for you?
We were really thinking about how to push the AmaPiano movement, how we push the music and how we show the culture outside of South Africa, and so we started the Balcony Mix. We actually started before lockdown, we were thinking of how we push the culture and how we elevate. We were getting bored of the same, we wanted to try new things and then, after a few months, it started blowing up.
Lockdown helped because everyone was home, everyone was watching in different places, different people from different parts of the world. And we started seeing it from the comments on YouTube that this thing was going to be live.
Did you foresee that happening when you started putting them out or did it come as a surprise?
We saw it happening. The numbers were growing every week, from 300 to 350 then 500, 700. Then we did the second season, with the back-to-backs, and boom – 1,500, 2,000, 4,000 and growing – and we're only talking about the live views. All the views always come after we have streamed live. We're in Season 3 now, but even now we're thinking about what we're going to do for Season 4.
For Season 4 we'll probably go back to driving around the world and doing it in mind-blowing spaces, crazy spaces. Game-changing stuff. Like 'yo, these guys are doing it at the White House next to the President,' but that's where we want to take it to, so people can say 'Yo! AmaPiano made it to the White House.' We want to do mind-blowing shit.
For the Balcony Mixes, how much does a crowd matter to you, if at all?
Ah, we don't need it. It's dope but for us, it's about what's happening on the camera for the people.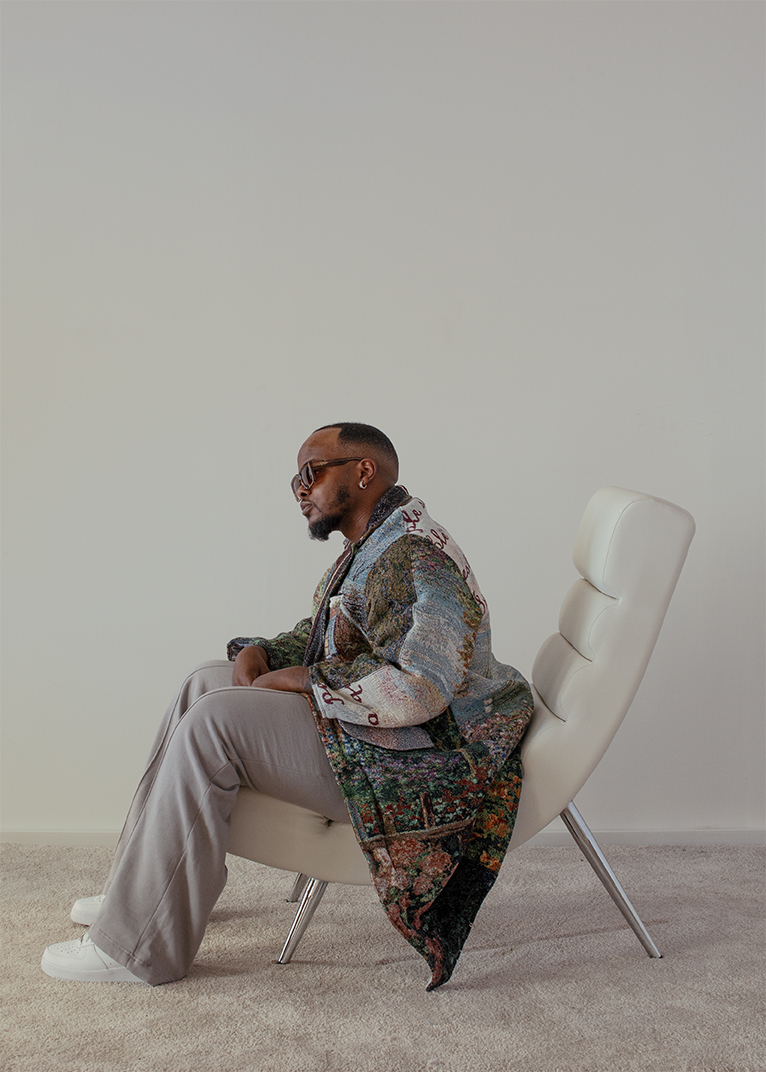 Coat: Purple Hill, Glasses: Shvde
Jacket: Arctic Army, Shorts: Gosse au Coeur
One of the big hits that have come for you Balcony Mixes has been Uncle Vinny.
There's a lot of them! There are so many people that have come out of that Balcony Mix. It's a platform that's bigger than us, we just lead it, but it's put on a lot of culture kids like Uncle Vinny.
And what is it about those kids that makes them so enthralling, would you say? And what does it mean for you to be able to put on people like Uncle Vinny and others, especially with the lack of opportunities for youth in South Africa?
For us, we get happy about it because this platform that we created from home is actually doing its thing and is bigger than us. At the end of the day, you guys watch the mixes but there are so many other people who see these guys and will say 'oh I like that kid' and offer them something. You take what you like and Vinny was one of those guys where everybody was like 'I like that kid, I'm going to take him.' It's an opportunity where we can bring these young guys together, and be like 'here's an opportunity – if you make it, you make it.'
Do you know many kids hit me up every day just to be on the Balcony Mix. It's mind-blowing. Dancers, girls, everything.
I guess everyone wants to have their shot at fame. We've got to talk about fashion. Fashion and music are that couple that cannot be separated. For you guys as DJ's, how much do your wardrobe and fashion play a factor in what you do?
It's super important. For us, it's culture, fashion and music – and these things work hand in hand. You've got to understand that sometimes you can be the freshest guy and your album might be okay but the whole culture will be pushing your album because you support them on the culture side. Like I would support someone based on culture, maybe their album isn't really my thing but based on their fashion and culture, I'll support. Culture is very important and I think that's where a lot of people lose it. Culture can actually save a lot of careers because culture always supports it.
For example, Hip-Hop is the biggest thing for artists because they have a culture behind it.
But then what do you think happens when someone moves away from the hip-hop perceived culture in music, say someone like Sjava who will go to the B.E.T Awards in his traditional garb?
That's South African culture. There was actually a Hip Hop vs Maskandi soccer game yesterday and he was playing on the Hip-Hop side. He knows how to play it safe. Culture is the glue that keeps it all together. That's how we present the package.
When it comes to fashion, clearly, you guys are into designer pieces?
Exactly, when you're connected to the culture side the fashion comes with it. Because you know what the culture likes and what they want to see.
I know this personally, but for someone who isn't up to speed – how big are the streetwear and fashion scenes in South Africa?
Streetwear is quite big, but luxury fashion is still growing. I don't think a lot of people have the money to afford it but it's all big. AmaPiano draws a lot of inspiration from Hip-Hop culture so you know a lot of AmaPiano artists will wear Gucci in South Africa. Also being tapped into that scene makes you accessible because when you're talking to someone who dresses the way you dress, it's easier to speak to him.
Do you think that being tapped into luxury brands like Gucci and others helps South African artists be able to relate to the Western scene? Because we've evolved from the Pantsula style worn by artists like Tkzee – Dickies two-piece with the Converse All Star Chuck Taylor to what we see guys like Kabza and Maphorisa wearing now?
Yes, it happens. And it's something people don't think about a lot. It's harder to relate. That's why we're saying people like ASAP Rocky, their careers are supported by their fashion. They don't have to drop music every year, same as Riky Rick. You have to understand that culture, it builds you. So when you drop something you'll have support from the fashion people too, even Kanye.
Is that the route you guys see for yourselves, venturing into fashion?
We can play in that route, we think it's possible. It's just how you do it, what you're going to be selling. We were speaking about it today because it's a great space to be in. Kanye West just dropped his GAP jacket and he did like forty thousand orders in one night and they've never seen that at GAP. Online, and that was pre-order. It's so crazy.
Hoodie: Goose au Coeur, Trousers: Gosse au Coeur, Glasses: Gnocchi Jeans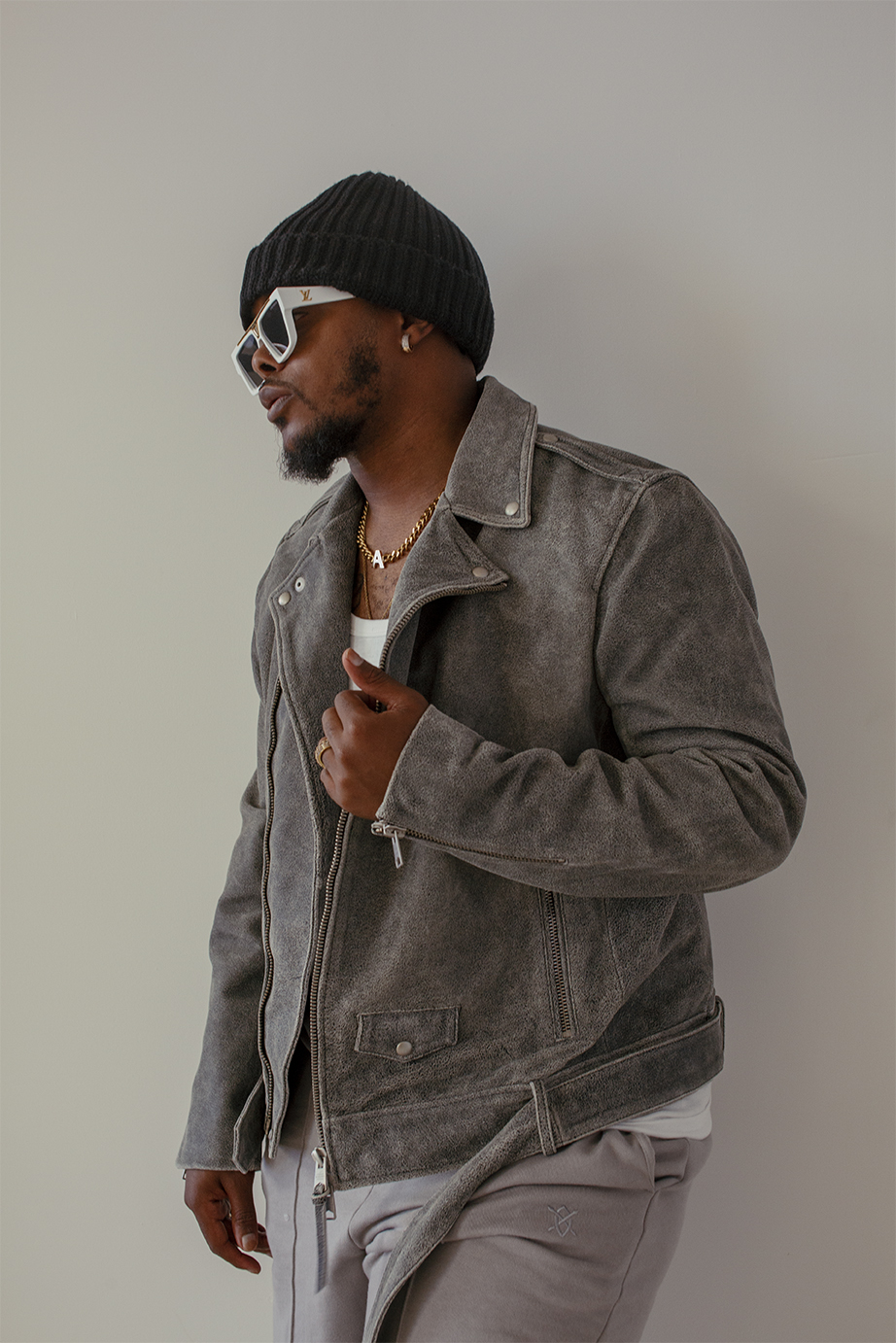 Jacket: All Saints, Shorts: Daily Paper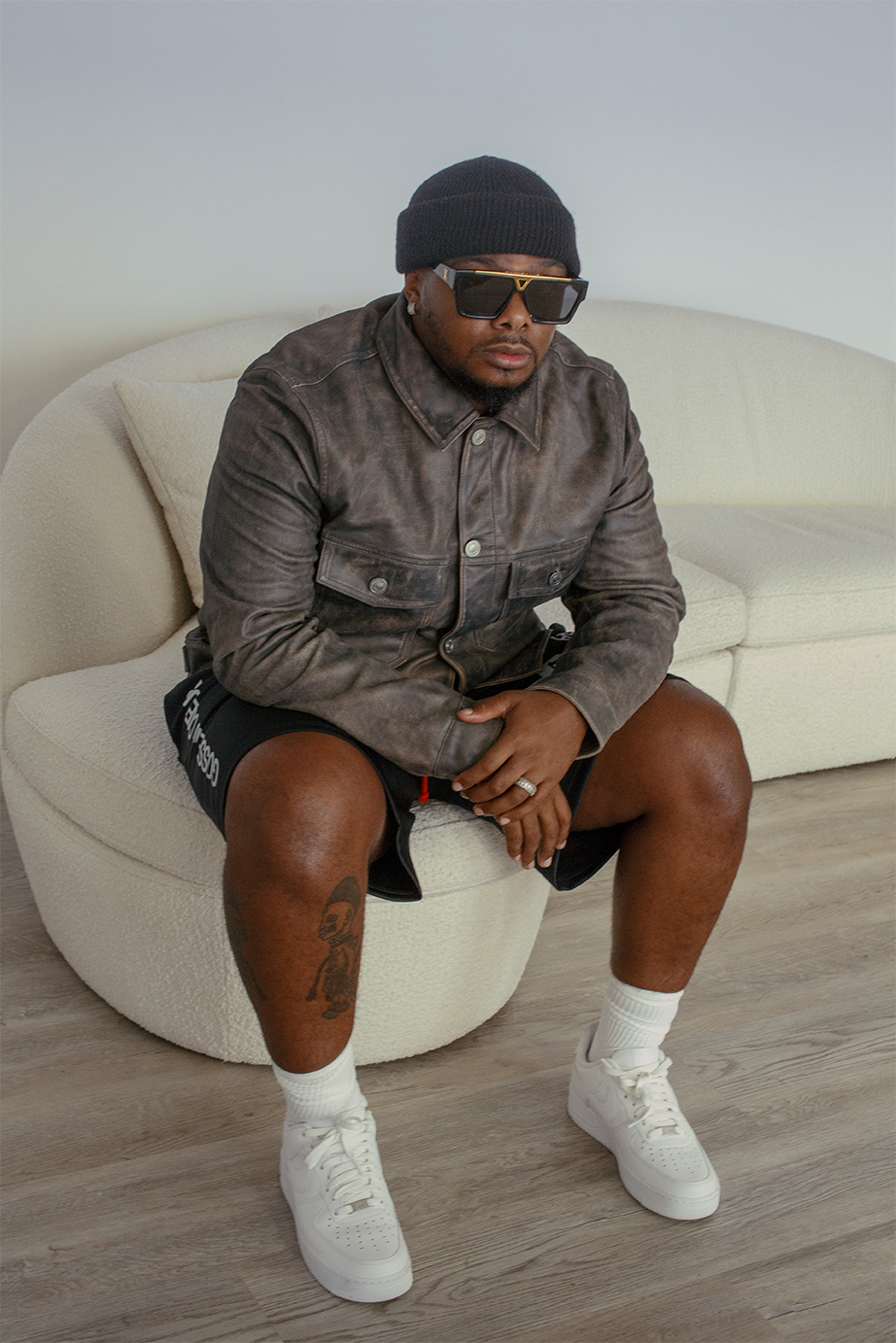 Jacket: All Saints, Shorts: Gosse au Coeur
Would you guys see yourself collaborating with an established South African clothing brand? Say MaXhosa or someone of the same vein, like we've seen with Virgil Abloh and Black Coffee.
Yeah, we're actually working on stuff with them right now but Covid has been messing us up. We were supposed to do a Balcony Mix at London Fashion Week, Japan and others.
Which would have been a really good space for you guys. So we'll look forward to seeing what comes out from that collab. Outside of the South African brands, what brands are you guys heavily invested in right now?
Definitely Bottega Veneta but it's expensive. Dior, Prada and Louis Vuitton are definitely up there.
Do you enjoy Louis Vuttion more now that Virgil is at the helm?
One hundred per cent. It hits the street culture directly. It may be a little expensive but it's hitting the street culture. Even with the Louis sneakers, he understands what he needs to do.
So heading towards the end of our time together, what's next for you guys? I know you've got plenty of travelling coming up
From now, we're just gonna be about the world. We're on a journey to take AmaPiano to the world, we probably won't see South Africa until December. That's the mission now. And from next year there'll be festivals where AmaPiano Dj's are, you'll have shows with AmaPiano Dj's and not just in London. We'll be bringing that vibe.
And we need all the Africans' support. We'll need everyone's support.
And before you leave the U.K, I know you've already been in the studio quite a lot but are there any artists you want to collaborate with while you're here?
Ed Sheeran and Stormzy, that's all. On a Piano track, just five, six words – we'll cut it, loop it then we're done here. We'll tell the U.K we're coming back then we'll go to America and drop it from there. And when we come back here they'll be like shit, that's crazy stuff.
Ed Sheeran, we just need a sixteen, just sixteen.