The rap veteran speaks on the future of Ghanaian music, remaining independent and his dedicated fanbase.
King Sark to the Nations.
When you hear "You know say, money no be problem", you already know what time it is. With over 10 plus years on his belt, the rapper-extraordinaire, Sarkodie, has shown that he is going for the icon status and nobody can stop him. From Tema to the world, King Sark has proven without a doubt why you'll find his name amongst the top/best rappers in Africa. You can't talk about the international rise of African music and not mention Sarkodie, flying the Ghanaian flag proudly across the globe.
Sark has shown time and time again that he creates his own trends and dances to the beat of his own drum. Only a couple of weeks after the release of his 6th studio album, titled 'No pressure', it is already filling our airwaves and we can't get enough. The flow god's latest album introduces us to the grown, calm and secure-in-the-game man he has evolved into, and he cannot be moved.
We got the chance to speak to the rap veteran about the rise of Ghanaian music, his 10-year career span, Sark Nation fans and his latest business moves.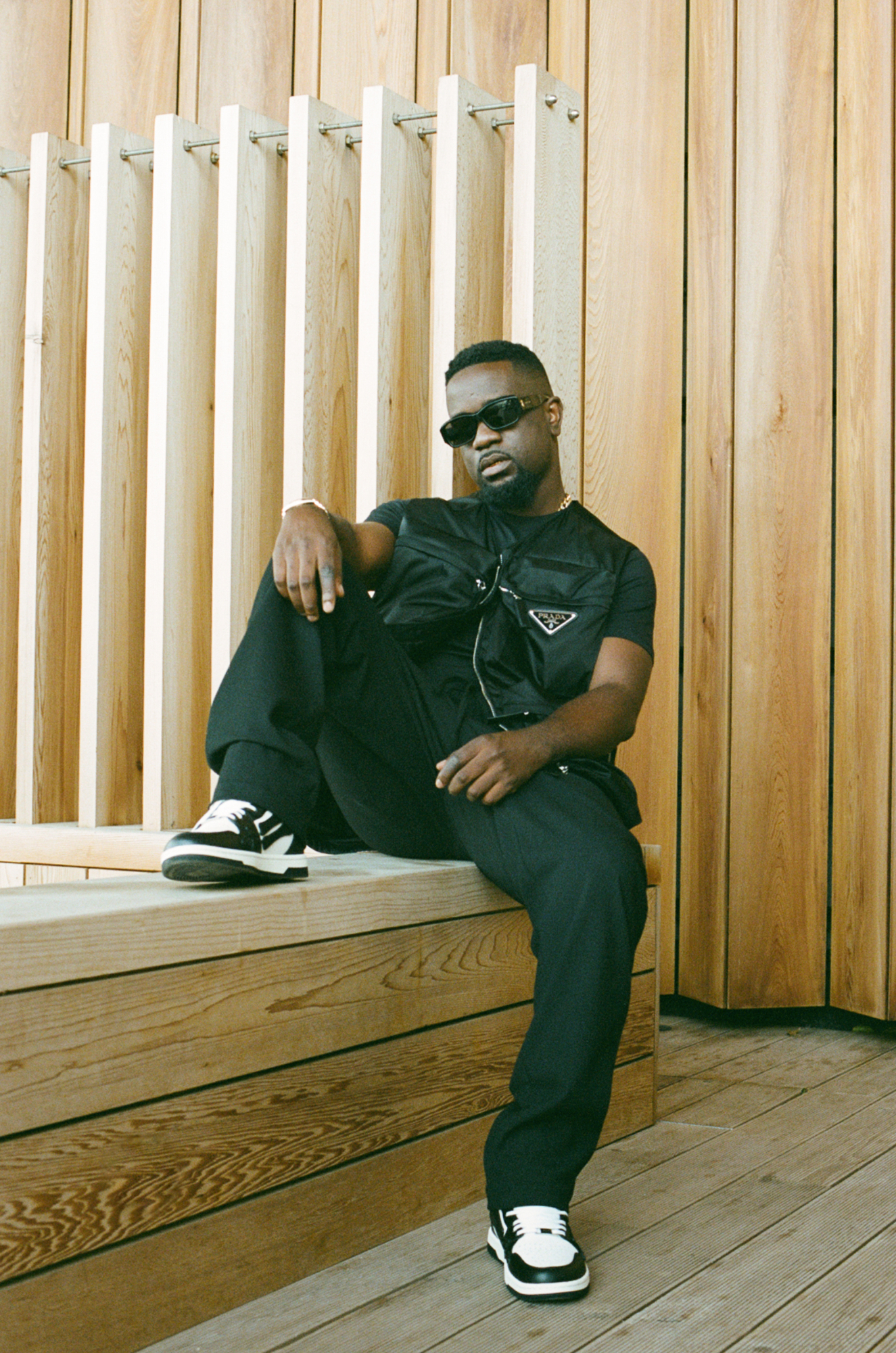 vest: Prada, trainers: Amiri, t-shirt: All Saints, trousers: Sunflower.
So, first of all, welcome. Thank you so much for joining us with your presence online. It's very exciting times, I'm a big Sarkodie fan and you are somebody who has been on my bucket list to interview for a very long time. Firstly, happy belated birthday, how did you celebrate?
It was actually a funny one because on my birthday I was booked for a wedding. I ushered myself into the day in the club with my fans. That was great, then on the day I couldn't spend it with family. I had to go and work.
 I mean, the work doesn't stop. The vibes continue every single day. So, in this new age, what is that one thing that you're wishing for yourself.
Obviously, I need life. I have a lot planned, and I definitely want to have enough time to be able to accomplish or execute those. I pray for life, the wisdom needed to be able to sail through, so definitely to have enough time to do what I want to do.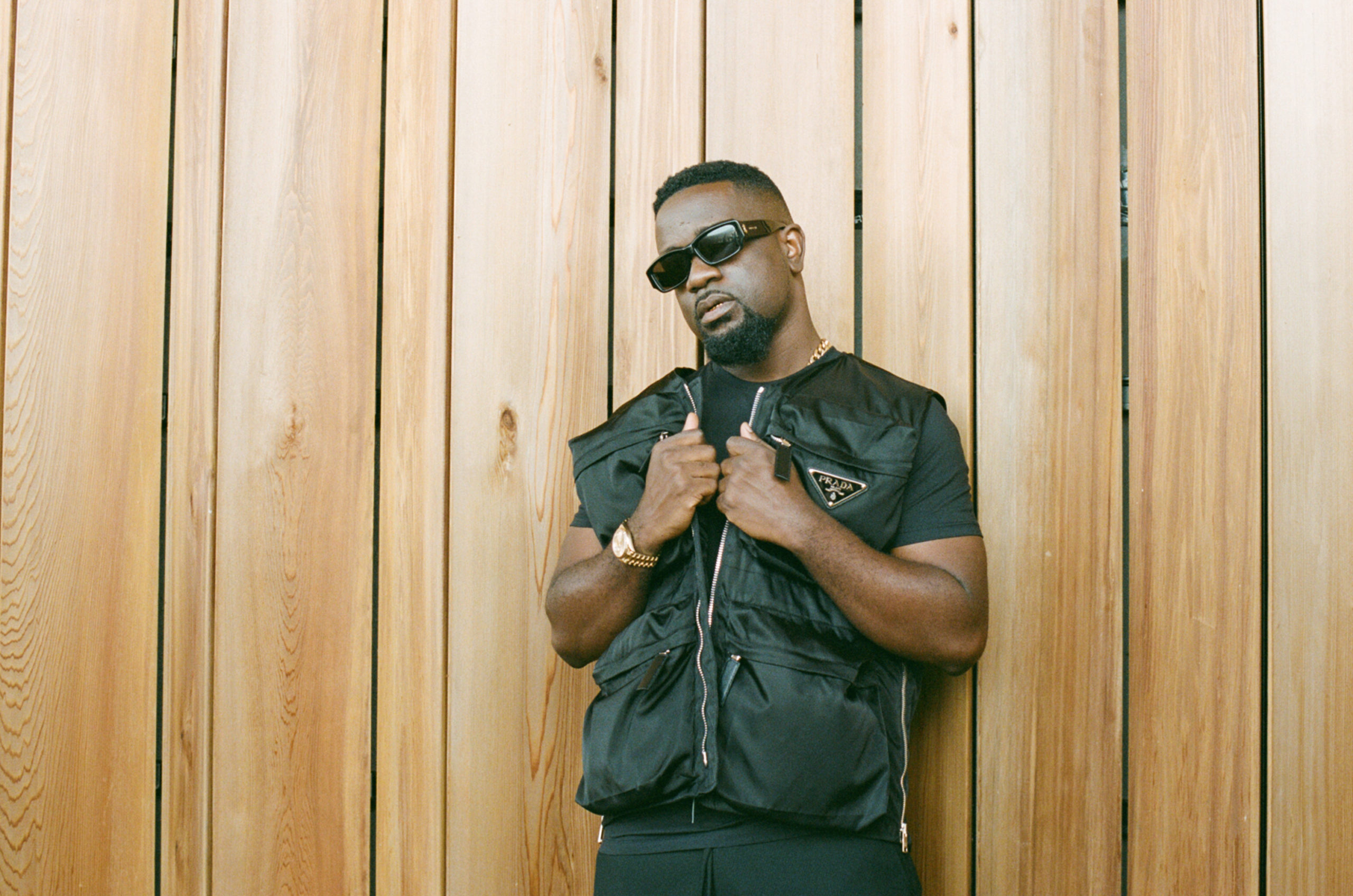 vest: Prada, trainers: Amiri, t-shirt: All Saints, trousers: Sunflower.
We're going to have to take it back. I'm from Ghana myself, and for me, I have watched your journey. Your career spans over 15 years and we don't really see that many musicians who are able to relate to different generations and are also able to evolve with the sound of the time. Have you been able to look back through your career and reflect on your growth and journey?
Yes, I've had time to reflect and look at myself just like a son would do or somebody who would want to look at me from the outside. I also do so to myself. I take myself out and look at my whole career, how I started and where it's going. Sometimes you get emotional because of the journey. You didn't know this is how far you're going to go. You didn't know how long it was going to take. And that's also the beauty of life, you can't figure out the next step, but you definitely know as a person you don't give up. So, you're destined for greatness and you're going to move a step forward. But yeah, I sometimes take time to look at my whole career. It's a proud thing to say that I'm still here and not just being here, but being relevant. People care about the music, but I always give it up to the fan base that I have. I think I have one of the strongest fan bases and that's what every artist is looking for, and that has kept me going for this long.
vest: Prada, trainers: Amiri, t-shirt: All Saints, trousers: Sunflower.
jacket and trousers: A-COLD-WALL, t-shirt: ASOS, sneakers: Nike Dunk
We definitely have to address your fanbase because I think on Twitter there's nobody that can say anything about Sarkodie without the Sark Nation fan base coming to defend you on any matter. You don't even have to say anything, there's a whole Sark Nation feed. How have you been able to cultivate such a fan base? It's like how Beyonce has the Bees, I would say Sark has the nation.
It wasn't intentional. It's not like I had a plan trying to cultivate a fan base. People just gravitate towards you naturally. People like not only just the music, they like you as a person, they follow you and want to be like you, they want to look like you, they want to talk like you do, they want to succeed. We have different types of artists; different unique artists falls in that category. Few people get that. I'm blessed to be one of the few people to have that type of effect on the consumers. It was never planned, it wasn't like I had to sit down and say I'm going to build Sark Nation, it was never like that. Also, I think one good opportunity was the fact that I wasn't able to have a record deal since I started, I was always used to doing crowdsourcing. I never had a foundation that was giving me money and putting me on billboards and putting me on TV and putting me on rotation on the radio. I had to do crowdsourcing, which most artists want to skip, but when you skip that, you come out, with no story built, so nobody has any idea who you are but they love your music and that is not the best way to follow a story. I was automatically forced to build the story.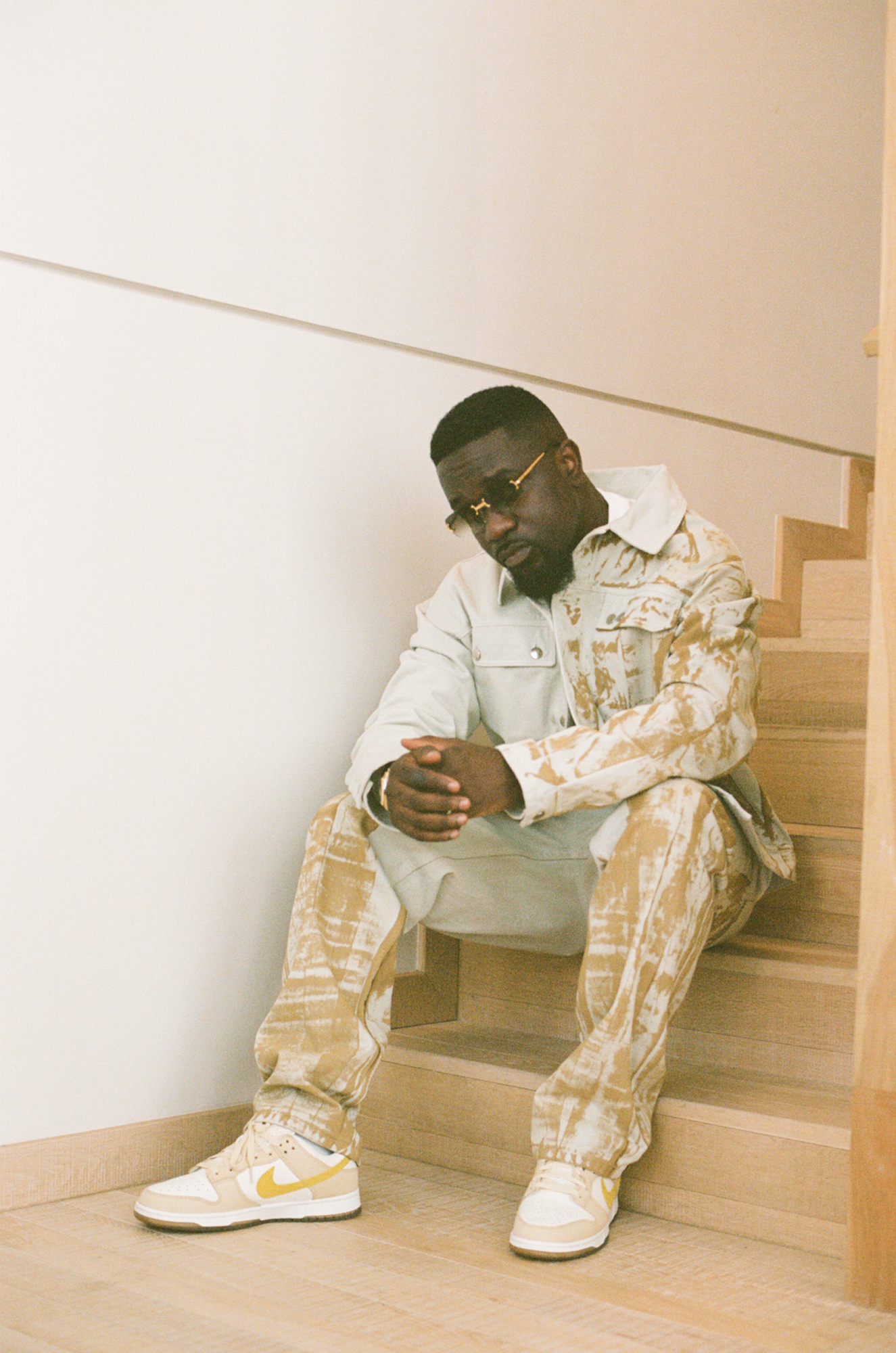 jacket and trousers: A-COLD-WALL, t-shirt: ASOS, sneakers: Nike Dunk
The questions are always: is Sark signed? How is he able to do all of this without a label backing? Maybe he is signed undercover and he's not saying anything. But, for me, it's one thing I've admired because a lot of independent artists don't get to the level that you're at. I don't know if maybe if you are signed, you haven't said anything yet, maybe today you might give us that exclusive but for somebody who's been independent for so long, have you been able to keep yourself afloat and keep yourself seen without being seen at the same time?
Yes, that is one difficult thing, for an artist and for every human being. Because if you want to take responsibility for yourself, it's like living with your mom and dad, you want to move out, but you know you have to pay the rent, pay bills, pay everything and you have to be responsible. That's the same thing when it comes to the music industry. Honestly, in the beginning, I wanted to get signed, I think every artist has been programmed to want to be signed because you want to reach higher heights and having the mechanism behind you is very necessary. If you have a label put in big bucks into your projects it's way easier, you just have to see what you want and you have a label to back you. There's also a downside to that, everything has an advantage and a disadvantage. If somebody is taking care of you, there's always something you have to give up. That is one side of it, and if you want to go independent, it is also a disadvantage because you can end up doing too much. Combine the art and creating the music with dealing with the business side, it's not too good, because sometimes it creeps into the creativity. When you hear stuff that only the label is supposed to hear, it messes up your state of mind. So now you can't create. The good side of having a label is that they take those pressures, all you have to do is just create, just do great music. You don't need to deal with the back and forth that comes with it. I wish I could have had that in the beginning, but I've been so independent now that I figured a way to stay afloat and know how to keep up with the fanbase. The only thing is you have to be disciplined, you can want to be independent but not want everything that comes with you being independent. You have to take on the burden of what a label, would have done. You have to do everything yourself. It is just discipline and taking time to tick out the boxes that you have to tick because you know you don't have any backing. As a fan, I'm pretty sure in your head you have an artist that you want me to work with, right?
jacket and trousers: A-COLD-WALL, t-shirt: ASOS, sneakers: Nike Dunk
jacket and trousers: Palm Angels, sneakers: Supreme X Nike Air Force 1
Possibly.
Because I've not done it yet, there is still that interest in who Sarkodie is working with. But if I had done a lot in the past, you wouldn't really care at this point. Personally, I think I was naturally born a manager, I've always wanted to be in charge, it's a natural thing for me. I wanted to get signed, unfortunately, people didn't really mess with the music at the time because I was doing typical rap music and commercial, business-minded people want something that they think is making sense. I didn't have a choice.
I completely agree, those are words of wisdom. I think a lot of people, especially artists, who will read this, this is the wisdom that they need to have. Right now, we are in a generation where everybody wants success very quickly, I just want a hit. But with your legacy, and I will call it a legacy due to the fact that you've been 15 years deep in the game, do you feel like fans have too many expectations on artists where they kind of drown them?
This is a perfect scenario to chip in on why I created No Pressure. Fans, you can't blame them because fans are literally people who love you to the core. They want to see you do this and that and it's up to you as a leader because if you're doing music, you're leading people somewhere. You dictate the pace, but you make sure you head towards what they want. My family will call me a very stubborn person because I still stick to what the plan is. I get what my fans are saying, and I know they want me to go international, but there is a pace to it. It is something the artist feels.
Fanbases can definitely put a lot of stress on artists and a lot of artists have fallen off, not because they are not good anymore, it's just expectations and they feel like they are not living up to expectations. On the real, I've talked to a lot of people and they are like, "Sarkodie is the only artist that doesn't have low moments." Trust me, I have them on a regular basis, I just have a way that I sail through it. There are times, but I have to get my mind back to being able to keep doing this for this long. So, yes, it's very true that fans can get to you, but it's also up to you to allow them to do so. That is why the album is titled No Pressure. I want to be able to create freely, create the music I like, it could be a slow jam, that could be the next biggest thing in Ghana. But then if you tell me that because you feel like this person is doing this type of music, that's what I'm supposed to do, then I miss out on a big opportunity. The sounds on the new project, If I had pressure on me, some of the songs I wouldn't have done them. So, if I'm listening too much to what the fans think they want, trust me, there's no way I'll do it. I need to diffuse the pressure to be able to create music.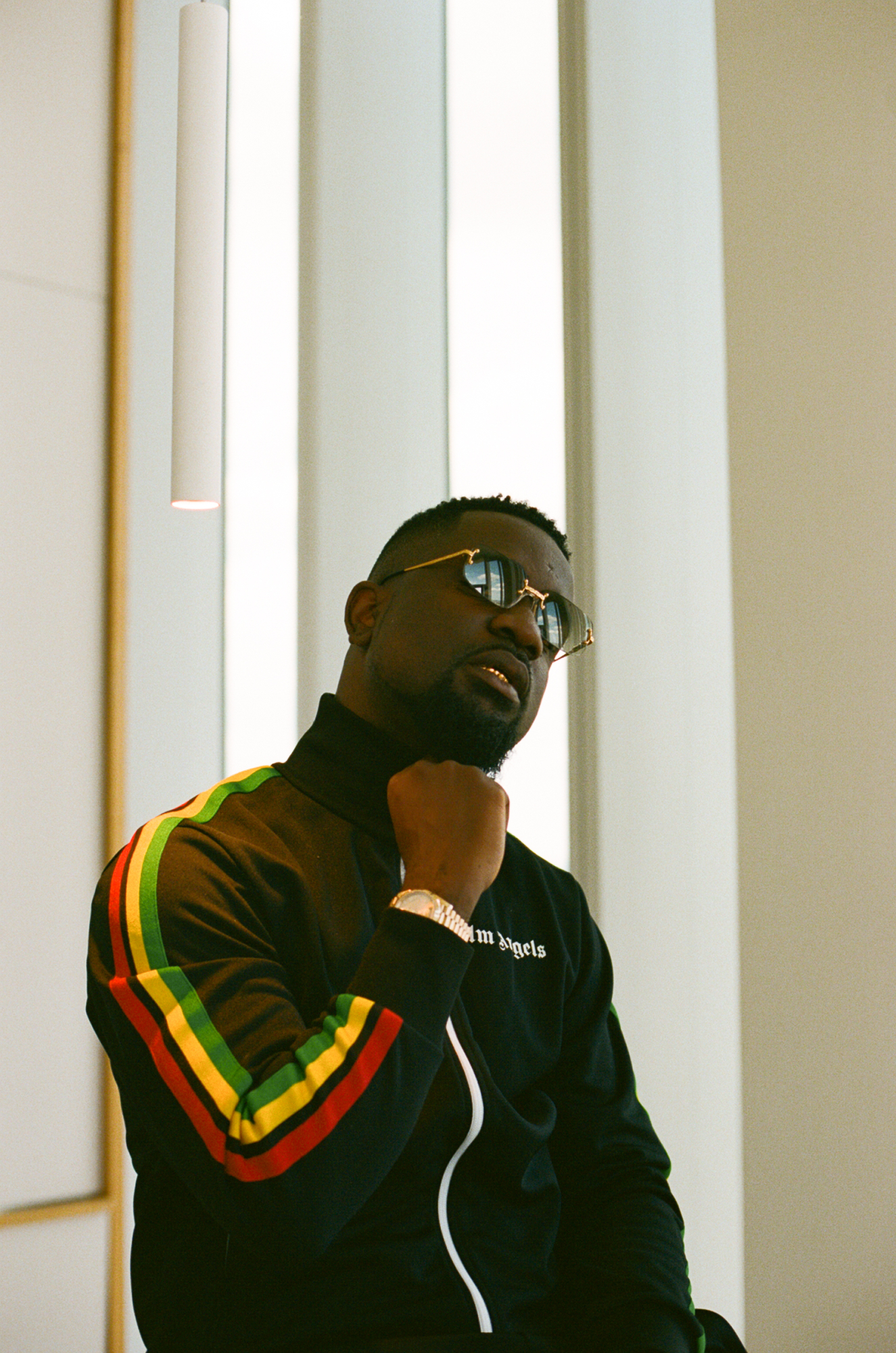 jacket and trousers: Palm Angels, sneakers: Supreme X Nike Air Force 1
One thing I've realised is that you've managed to cater to every demographic, you've been able to channel through different age groups and even genres. There's not one Sark album where every song sounds the same. And I think that shows somebody who doesn't really allow anyone to dictate their creativity. Let's talk about the album, 'No Fugazi' that's my jam, I'm also loving' Coachella' and 'Round 2' ft Giggs. What inspired you to create such an album like 'No Pressure'?
When covid hit, I was in the States, I was going to do promotion for Black Love and covid came from nowhere. I got stuck in Jersey for four months. I was getting frustrated; I couldn't believe that you could lock an airport for even two days. I used to pay for an apartment for every week, thinking that next week the airports would be opened. Soon weeks turned into months. Then after I think a month, I was like, 'man, I need to just accept it. I might not be going back to Ghana anytime soon.' There are some things that I can't do without, and a haircut is one. I tried to get through to a lot of barbers but they had issues with coming down. It was very scary in the beginning, nobody wanted to take that risk, but I think one of the barbers actually needed the money because he was also stuck in the house. So, he called and I went and had a shape up. I felt like myself because I really can't do without touching up. I started talking to producers, they sent me productions and I started writing. In the beginning, I wasn't necessarily doing an album, I don't record albums, I record music and if I feel like I'm in a certain zone, I realise it as soon as I'm five or six songs deep, then I'm like, 'nah, it's happening, that time is coming.' I never know what I'm going to make, I think one album that I intentionally made was 'Mary' because it was my grandma and I had music, so I had to plan that, that was different. Any other album is a state of mind I made at a point. I was just getting these beats from different producers recording, I had a studio close to the apartment, I'd step out, record and then come back, and then when I had the chance to come back to Ghana, I did some songs as well. Then I realised I had a whole body of work and I put it together. It was a lot of music but I made sure that I had the two sounds that suited the project. That's how I come up with No Pressure.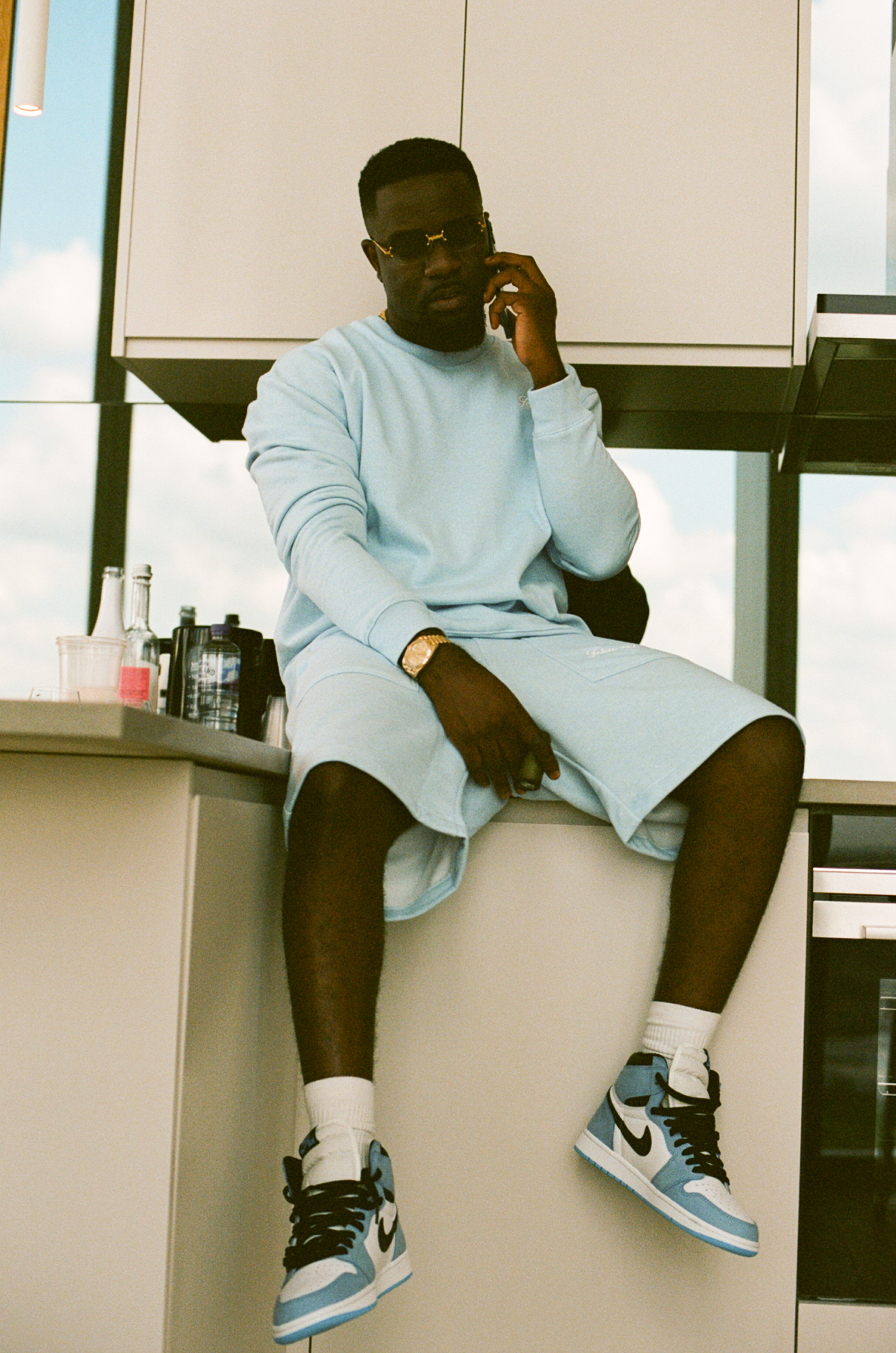 Jumper and Shorts: Jehu Cal, Sneakers: Nike Air Jordan 1
Jumper and Shorts: Jehu Cal, Sneakers: Nike Air Jordan 1
Listening to the album, you are obviously one person who carries Ghana on their back. I have to give you that, because a lot of the time we don't see artists who are willing to put other artists on, especially from their country. It's special to hear Kwesi Arthur, Bisa Kdei and King Promise featured. How important was it for you to have people from Ghana featured on the album?
I think we consciously have to make promoting where you are from an agenda because when the country thrives, I thrive. That's where the numbers are. The more we have a lot of media people who are Ghanaian, the easier it gets for me when I want to do something. We need more people in the media who are from Ghana like yourself, who have the same desire to want to put people on. That's how I see it. The more we have a lot of artists who are A-list and global, we can have a full concert in the U.K., we can invade. We need a whole team; it has to be a sound invasion. That's the motive, and also, I think naturally, I like to see people win. It brings me joy when I see young artists transition from the streets to getting awards. Kwesi Arthur, he's from Tema, we are from the same community, community nine, that's where I was born and bred, he doesn't live far from my mom. This is a kid born and raised in Tema and look at what he is doing now. That's what gets me excited, he was there, had nothing and now he's a superstar walking on the BET stage. It's so satisfying. My motive is to get the whole industry out there so that we take over together. It makes a country strong when you are super patriotic and that's one thing I picked up from a lot of countries. Countries that are very strong are so into themselves. That's what I believe we're supposed to do. I want to preach that to Ghanaians in general, you don't have to be a part of the media or involved in the music industry. You just have to be into the whole Ghana agenda.
I believe that the Ghana industry itself has some dope talent but there's some sort of disconnect on our side internationally, when it comes to how we support and push the artist from back home. The Ghana sound inspires a lot of artists and when I listened to the 'No Pressure' album, it kind of shows the fact that we are able to adapt, but also bring some sort of Ghana swag to the table. Currently, what is your take on the Ghanaian music industry? Who is catching your eye? What can those who are all over the globe and are fans of the sound do to help leverage Ghana's music scene?
It's all about the agenda, if you're intentionally trying to push something, you have to make it an agenda. If you don't make it an agenda, then there is no point. As you said, there is a lot of great talent, I believe in that. I did a writing camp for unknown artists and I was blown away. One of the underground artists is on the album. It will take time, when we started coming together afrobeat became afrobeat. I can't do it by myself, it won't work. We all have a part to play. Any time you sit in your car, blast some azonto music, play some Stonebwoy and play it out so loud and be so confident with it. If you're having a party go into the Ghanaian playlist, have fun listening to it and the more we get into it that's how we're going to get everybody on board. We need to set that environment that makes people enjoy what we are doing and when that happens you will have a lot of good talent from Ghana who you see will meet the standards. There's a lot of people in Ghana who have given up because there wasn't any attention on what they were doing. We should set the premise for artists to want to come in and that starts from us. We the artists, need to do our bit and the media as well. What you're doing right now is necessary, keep it up, get all the young artists and put them on the platforms.
Jumper and Shorts: Jehu Cal, Sneakers: Nike Air Jordan 1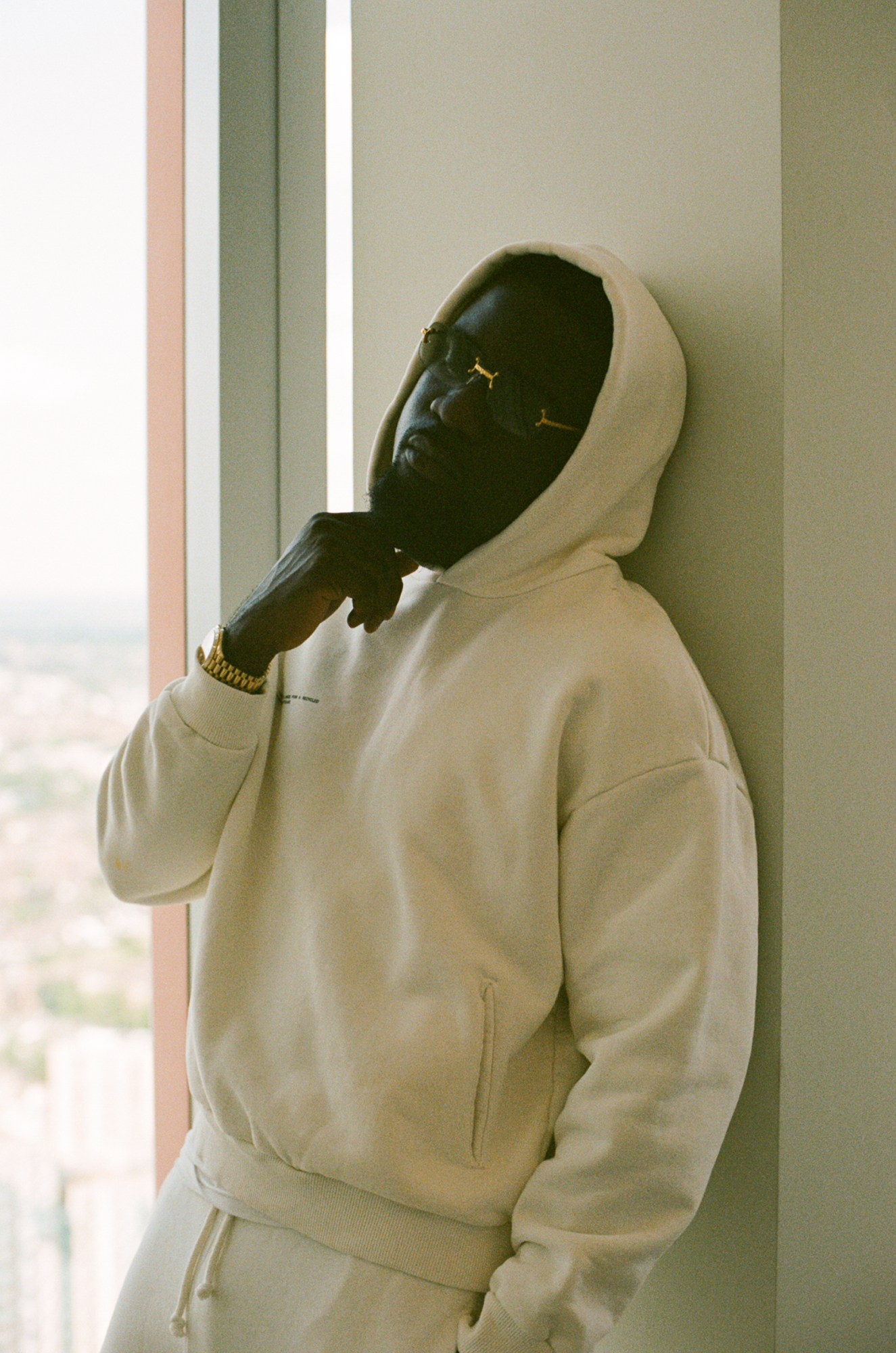 Jumper and Shorts: Pangaia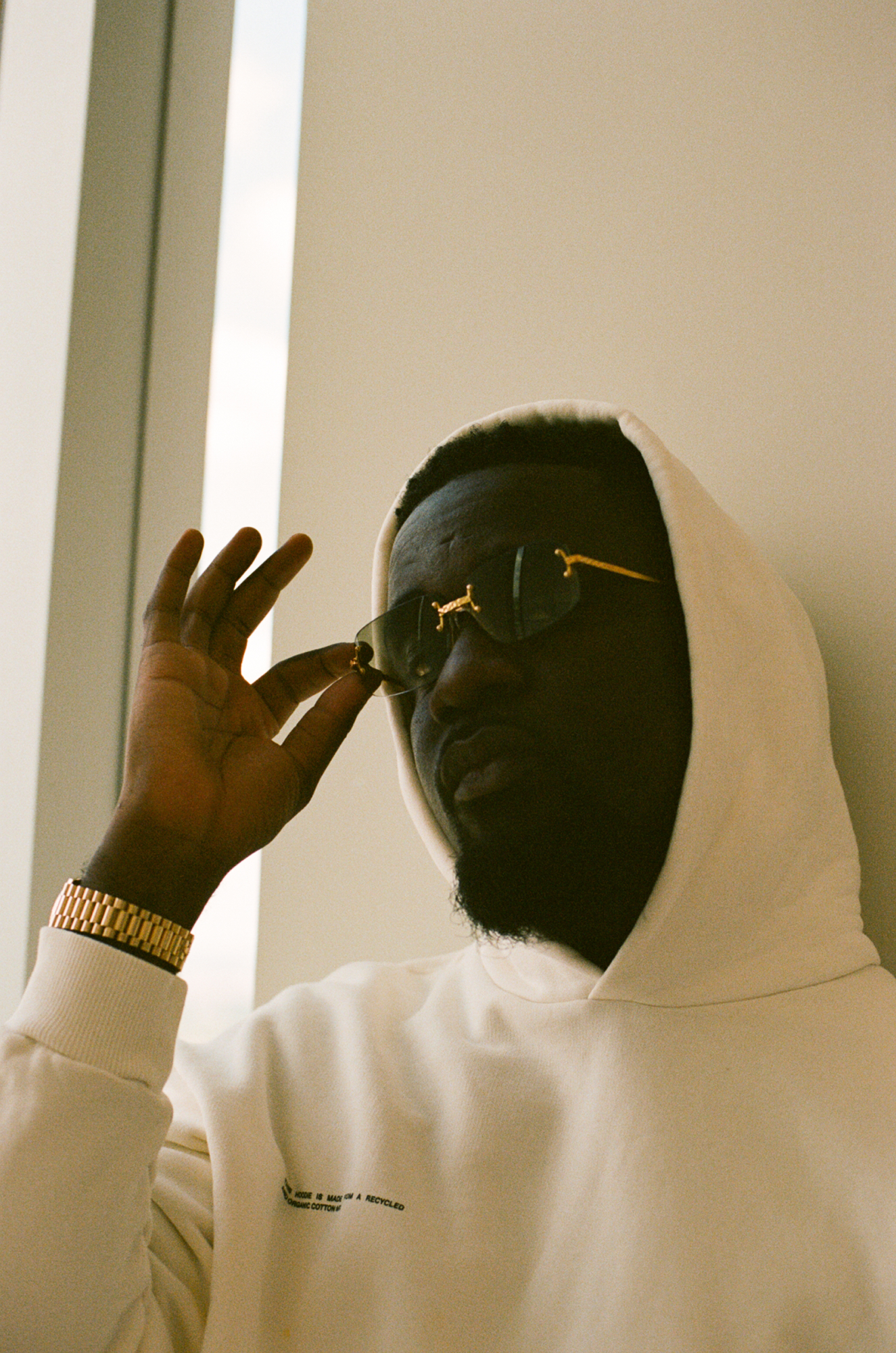 Jumper and Shorts: Pangaia
 We can't stop, I'm not going to stop until I see that happen, I had to ask that question for myself to see how we could push the agenda. Thank you for sharing your wisdom. Now you are in this New Age, a new album, what else is new? I know you're a family man now. How has that changed the content of your music?
 I've always been a family-oriented person, I started with my sisters, my brother, I've always been into that. It keeps me grounded. When I got lost in a world it brings me back. I've always been into family. They crept into the creativity, the music. I can say things in my music and now my daughter asks me why I say certain things in my songs. So, yes, these little things just keep you in check and you know that it's not just you living, everything I'm doing, they will have to live with that. Music is still exciting to me, I can never stop. I want to be able to impact the industry. That's my new high that's what gets me excited. In ten years, I should be able to be proud, making an impact globally.
I'm looking forward to it. I really do hope that the Ghana industry is able to embrace and take on every single thing that you're saying and that those of us who are in the diaspora in the UK actually take on board and push the agenda that you're saying to make sure that the scene is heard. Thank you so much for spending time with us.
No, thank you guys for the support and keep streaming the 'No Pressure' Album. Thank you.