Despite their long and rich history, the success of floral prints in the fashion industry still blooms today, right? This is more so why you might have spotted some trendy floral clothing designs from the SS22 fashion show. In case you missed the moments, here's some fashion news you could use.
Let's take a brief look at some floral trends that stole the show in the recent 2022 fashion event.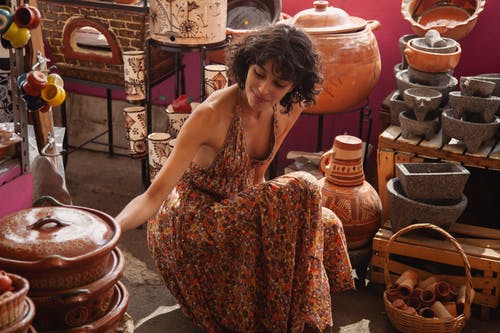 Why Floral Outfits are Famous
Floral prints are as timeless as they are flattering. This is perhaps because they remind the wearer as well as onlookers of flowers, which we all associate with beauty and glamour. The prints are classic and alluring, and they depict a desirable feminine appeal.
From stunning evening gowns to flirty mini-dresses and cocktail dresses, floral print is an excellent option for anyone looking to add a unique touch to their style, especially during spring. What's more, flowers and floral prints are almost always photogenic.
If the options in your closet are a bit limiting, you could always order flower delivery from the Bouqs and pair your petals with a plain outfit for that picture-perfect floral look you're after. This is not to mention the numerous benefits of flowers, from uplifting one's mood to warding off stress, enhancing creativity, and triggering happiness.
Top 3 Floral Trends of 2022 Fashion
Apart from clothing, floral styles can be seen on any part of an outfit these days, from the shoes to accessories such as handbags, hair decorations, and pretty much more. Below are some notable mentions that graced the most recent fashion show in 2022.
1. Floral Dresses and One-Piece Outfits
Especially in spring and summer, you can never go wrong rocking a fancy floral dress. Want to rock celebrity-style looks? No worries!
A one-piece outfit that consists of a long-sleeved top and a skirt or a wrap dress is another great option. If the London fashion week's early presentations in September 2021 are anything to go by, one thing is certain…
Offerings from the likes of Simone Rocha and Emilia Wickstead, among other designers, could have stolen the show if the event wasn't canceled in the first place. Inspired by Dutch Diva Mathilde Willink, Bora Aksu's floral dress collection also took the limelight.
2. The Flower Eden
Floral patterns and graphics will never cease to be classics in every spring or summer season. In the most recent Paris Fashion Week, Maria Chiuri stepped out in a Dior outfit whose fringes featured 3-D daisies. Offerings from Lanvin, Versace, Marni, and Valentino also lavished the show on occasional moments.
3. Wu's Stunning Designs
Innovative designer Jason Wu also had a lot to bring to the table during the recently held SS22 Paris event. His most conspicuous presentations featured delicate floral prints, despite collaborating with renowned fabric artist and natural dye specialist Cara Piazza.
Some pieces actually featured real flowers placed on the fabric. This is not to forget Wu's 2021 floral dress collections that took center stage in the NY Fashion Week.
Did you know? Especially in women's closets, the history of floral patterns dates many centuries back, perhaps as far back as the sixteenth century! Pinpointing the exact origin of floral fabrics has remained to be a baffling task to fashion experts, but some sources indicated they entered Europe from Persia, whereas others are thought to have come from India around the 1800s.
All the same, these are just a slight few of the many floral trends 2022 is likely to borrow from the 2022 fashion show.