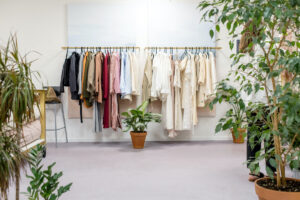 While there is a single day that formally marks the start of spring, the feeling of spring is reasonably variable. Spring may cram all four seasons into one day for people who have experienced them all – it might be warm in the afternoon but have rained around lunch and been below freezing earlier in the morning. As a result, dressing for the season needs some guesswork. Regardless of the irregularity, you may still prep your clothing.
Here are some style essentials you shouldn't miss in your wardrobe so that you are ready and looking stylish, whichever day.
Denim jacket
The denim jacket is a wardrobe essential, having been around since the early twentieth century and having innumerable cultural connections to its credit.
Despite being an all-season must-have, there are three essential washes to watch out for in the coming months. Whether acid-washed, tattered, or over-dyed, wear the denim jacket to dress down or smarten up. But avoid the Canadian tuxedo.
Overshirt
Only an overshirt may give a casual outfit a rough, rustic feel. Designed for tough-as-nails guys like railroad engineers, miners, and loggers, you can anticipate a long-lasting fabric that is exactly the ideal weight to keep you warm without feeling bulky.
The practical item is ideal for coping with fluctuating weather. The overshirt is the ideal hybrid style as the lines between seasons become more blurred. It's boxier dimensions and wide fit make it ideal for layering over a T-shirt or lightweight knitwear.
Sunglasses
Nothing beats a pair of sunnies for a face-based style update. Find a classic pair that matches your face shape, but also experiment with other materials and colors to nail the frame game.
Aside from the obvious practicality of wearing sunglasses in the sun, they are the ideal accessory to change any outfit. Retro-inspired tortoiseshell frames and colored lenses are a spring must-have. Shop for your ideal sunnies from Goodr.
Desert Boots
Whatever you name them, desert boots have been around for more than seven decades. This iconic and flexible essential has walked all over time and trends. The design is characterized by stylish suede or leather uppers and a hardwearing yet lightweight rubber-crepe sole, making them one of the most flexible footwear alternatives available.
The ultimate smart casual shoe desert boots blend beautifully with a pair of jeans and a neat white button-down. Desert boots may easily be converted into a more formal style when paired with chinos.
Hoodie
Hoodies have been at the heart of the sport and streetwear scenes for decades, but owing to superior fabric possibilities, they may now be more luxurious than casual. Choose a narrow profile to avoid seeming overly slouchy while maintaining the same throw-on-and-go charm.
When it comes to color, we advocate changing lanes for spring. Brighter tones and delicate pastel colors will keep you cool when the weather increases. Combine with a denim jacket or long-line coat for a casual but modern style.
Merino Woolen Jumper
Merino wool, a must-have for your closet when the temperature drops, is loved for its soft and insulating feel and its resistance to odor compared to synthetic fabrics if the weather unexpectedly warms up. A crew neck sweater, being a fine fabric, is perfect for softening the look of a suit or adding dimension to a layered weekend ensemble.
A basic crew neck sweater, like a white T-shirt, is one of those wardrobe classics that work perfectly whether you wear it layered over a mock-neck T-shirt, a short collared shirt, or even a roll neck.
Lightweight Raincoat/Mac
A mac has a more streamlined design, resulting in a sleek shell that's less bulky than classic overcoats and is ideal for remaining smart even in wet weather.
Practical, lightweight, and excellent for spring, the mac is an essential garment that looks just as fantastic paired with a formal outfit as it does with more relaxed ensembles – either way, you can't go wrong.
White Tee
An outfit is just as good as its weakest link, so start with the essentials. A white T-shirt is undeniably ageless and is the basis for any basic and smart casual ensemble.
There's nothing more traditional than a white T-shirt – it's ageless and simple to layer. It'll always look amazing with a jacket or a shirt – the wardrobe classic you can't live without.
White Sneakers

 
Minimalist trainers, one of the more recent additions to the menswear hall of fame, will be a great addition to any current off-duty collection. Look for a nice, wipe-clean pair in white leather that will go with slim-fit jeans and a fitted suit.
Spotless white trainers are the footwear of the season. They will make a spring wedding suit seem easy and work with jeans and chinos in a variety of color colors.
10.Blazer

 
An unstructured blazer never disappoints when adding comfort to a stylish appearance. It's a nice garment put over an Oxford shirt or T-shirt, cut from naturally breathable and lightweight materials like cotton and linen and left unlined to conform to the body.
These jackets have fewer layers of construction and are softer on the shoulder, resulting in a more relaxed fit. Consequently, they lend themselves to layering and offer additional wardrobe choices for both in and out of the workplace, making them a perfect smart casual alternative as summer approaches.
11.Chinos
There's always room for jeans in a man's closet, but when the weather warms up, it's time to lighten up with light chinos. Choose a classic neutral color like stone or navy for an ideal daily alternative.
The adaptability of chinos is what makes them such a year-round essential. It all comes down to how you wear and combine them. Wear a white Oxford shirt, unstructured jacket, and suede brogues to school, or leave the blazer at the office, roll up the pants, and you're pub-ready.
12.Umbrella
Rain is usually unpredictable at this time of year, but you know it's coming when you least expect it. Fortunately, dressing for showers does not have to cast a shadow on your style. When summer comes, a tiny folding umbrella that will fit neatly into a bag is a good option.