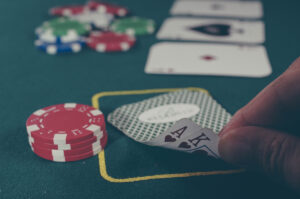 The online gambling industry's future depends on the success or failure of related sectors, including travel, property, and the arts. A casino is a good investment for any region that relies heavily on tourism since it will boost the local economy and attract even more visitors. Casinos and other gaming establishments provide enormous financial contributions to economies all around the globe.
The last decade has seen unprecedented growth in the online casino business, and this trend shows no signs of slowing down. The online gaming market changes and evolves as new technologies become available. In a recent survey by CasinoUSA, gambling sites now ensure they integrate safe banking methods and live dealer games, amongst other novel technologies, to enhance the experiences of their teeming players.
From simple dice and coin games to today's high-tech online casinos, where you can play slots and table games from anywhere globally, gambling has come a long way. However, as these sites have progressed, so too have elements by which they entice new customers to sign up and play for real money. These new elements include more sophisticated forms of advertising, such as targeted ads, gaming varieties, loyalty programs, and more alluring promotions and bonuses.
This article will expand more on these elements.
VIP Programs
After all, it is standard practice in many sectors to provide premium services or more expensive goods to those who can afford them. Airline companies, for instance, provide economy, business, and first-class categories, each of which offers a higher degree of service and amenities than the last. As an added perk, they have membership badges and loyalty programs where they may rack up points and win prizes.
The same applies to gambling establishments, whether virtual or physical. VIP program rewards are often monetary and non-monetary, making them something like a game. In addition to the ego boost from leveling up and winning a new badge or two, players may also receive bonuses for making deposits and free spins as they progress.
High-End Gaming Experiences
The ultimate goal for online casino operators is to provide an experience identical to a physical casino. When Amazon was initially established, one of its biggest challenges was trying to make online shopping seem like going to a brick-and-mortar store. Online casinos faced a similar challenge when trying to compete with their land-based counterparts.
Initially, there was no accurate method to simulate the atmosphere of a gambling site. That was before the emergence of live streaming. Live streaming casinos are the next best thing, transmitting real-time gameplay from actual gaming tables and croupiers to players' desktops, tablets, and smartphones. Live casinos of today successfully imitate the excitement and thrill of brick-and-mortar establishments, but they don't stop there. Online gambling sites are starting to include VR functionality.
Immersive Sound Design
Sound design is essential in today's film, television, and gaming industries. Sound design, which includes anything from music in the background to special effects, is a powerful tool for setting the mood for online casinos. When it comes to creating a fun and exciting environment for gamblers, sound design is crucial, just like visuals.
Online casino gamers may get the whole casino experience by listening to realistic sounds that mimic those in real casinos. Gamers enjoy memorable tunes, engaging sound effects, and professional audio design. A game's replay value is increased if it has enjoyable music that players like listening to while playing. The importance of good audio design in improving the gaming industry's overall user experience cannot be overstated.
Exclusive Promotions and Bonuses
The gambling business deeply understands consumer behaviors and preferences, and one key component is the distribution of freebies and incentives. The gambling business is well-versed in the psychology of its customers, and they know that no one wants to pass up a gift. The promise of free stuff and incentives keeps many people who may not otherwise visit casinos there.
Bonuses are popular among players because they give them the confidence to risk more on each wager. Online casinos recognize that high rollers who make significant deposits and frequent the casino are valuable customers, and as such, they provide them with special treatment in the form of deposit bonuses, free spins, and even more substantial perks such as dedicated account managers, increased banking limits, and invitations to private tournaments with substantial prizes.
Gaming Varieties
Every online casino offers at least a handful of high-quality gambling options, from traditional table games like poker to cutting-edge slot machines. Often, a game's aesthetics or feature set will decide when a player downloads it. Therefore, there is competition between online casinos to provide the most games possible to their customers.
Consequently, it stands to reason that a casino site offering 1,000 slot games will consistently outperform a rival offering just 500. That's why there are so many more poker variations available when you visit a poker website nowadays than just Texas Hold 'Em. Customers now want more than just the tried-and-true; they want thrilling alternatives.
Final Thoughts
In the past, players had to visit physical casinos to access their preferred games. But with the rise of the internet, casinos have flourished online, providing a vast selection of luxury elements to attract customers. These luxury elements and perks have served their purposes well as they have elevated the overall gaming experience, increased the satisfaction of current gamers, and attracted new ones.