Fashion and technology are two areas that are becoming more closely entwined over time, but it's been a gradual process rather than a sudden explosion, and that perhaps explains why it hasn't really grabbed the headlines like it should have done. What are key areas where emerging technology has changed the face of fashion that you need to know about?
The New Way of Buying Clothes
The idea of buying clothes without leaving home has been popular for some time now, with online shopping first appearing in the 1990s and quickly capturing our imagination. However, online clothes shopping has always come with the caveat that it's extremely difficult to choose the perfect size and fit without trying it on, so the emergence of technology that lets us digitally choose our clothes has been widely welcomed.
In fact, we can trace this sort of technology back to the digital fitting rooms used in physical retail premises. This market is expected to grow massively, to $14.87 million by 2029, but it isn´t yet clear which of the current solutions is going to be the biggest winner. This type of approach to trying on clothes has been initially used with augmented reality (AR), which means that customers visit a real-life store where they can very easily try on products without any fuss.
Having said that, the market is now geared towards digital-only clothing purchases, with Dress-X one of the big names leading the way in this respect. They promise to offer innovative and sustainable new designs that consumers can digitally try on by uploading their photos to the app. This start-up raised $2 million in its last funding round in 2021, but it won't have a free run at this huge market, with Amazon creating a blended reality mirror and other companies also working on their own versions of this technology.
All of this points towards us being able to buy clothes in a way that suits us better in the future. By creating a 3D model of our bodies and virtually putting clothes on it, it should be possible to buy more wisely, which will help to avoid issues such as having to return ill-fitting garments or throw them out. However, above all this seems like a process that will allow us to fit clothes shopping into our busy lifestyles more easily, and possibly make it more enjoyable at the same time.
Making a Better, More Sustainable Industry
It's no secret that the fashion industry currently has multiple problems that need to be resolved, such as the amount of waste that it generates annually and the adverse impact that it has on our planet. The idea of making this sector more sustainable and eco-friendly has been around for a long time but it could be that cutting-edge technology finally helps to make it happen.
Blockchain technology and machine learning are among the most interesting technologies that could be used in this way. For example, TextileGenesis is a company based in Hong Kong and India that uses the blockchain to make the fashion industry's supply chains transparent and trackable. This allows clothing manufacturers to see exactly where their materials are coming from.
The previous point could tie in with the use of biotechnology to create natural fibres from waste materials and used fabrics. Mycelium is a good example here, as it´s created in laboratories, has zero waste and is biodegradable. Therefore, fashion companies could order this sort of sustainable material and then use the blockchain ledger to guarantee that this is what they receive.
Turning to machine learning and artificial intelligence (AI), this is something that can be used with big data to forecast trends, allowing fashion companies to make the right amount of clothing and avoid excessive levels of waste. The production and logistics elements of fashion can also be boosted through AI, which is sure to become a huge subject in this industry just as it has elsewhere.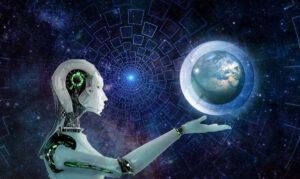 Source: Pixabay
Following in the Footsteps of Other Disrupted Industries
The fashion industry is arguably slightly behind others in terms of introducing these and other new technologies in a meaningful way, which is perhaps understandable due to the unique challenges faced by the fashion world. Yet, this gives us the advantage of seeing how other industries have been disrupted.
For example, the banking industry has already seen a huge shift towards mobile and online banking, with AI used to improve customer service and help banks to identify customer trends. This is expected to be one of the areas most affected by AI in the next few years, with numerous fintechs across the world looking to introduce new, smarter ways of handling our money.
The possibilities of new technology can also be seen in the casino industry, where this list of the latest new casino sites for 2023 reveals names such as Kwiff, HeySpin and Electric Spins. As well as the latest slots that include a variety of features, they also have table games where a human dealer is live-streamed onto the screen, with some using AR to complement the live action. With welcome offers such as free spins, it's becoming an increasingly popular way of playing.
In the same way, we can see industries such as healthcare, transport, marketing and cybersecurity all moving towards a future where cutting-edge technology helps in various ways. Each industry has its own challenges and opportunities, so we can expect this subject to continue to deliver interesting developments as well as more than a few surprises.