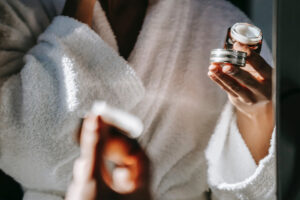 It can be tricky to balance and manage oily skin. Many products that promise to eliminate oily skin can actually cause excess oil production or can cause our skin to dry out completely.
Below, we look into the best products and skincare ingredients to use if you have oily skin, as well as what products you should avoid for optimum balance. 
What causes oily skin?
Oily skin is caused by excessive sebum, which is what the oil produced by our skin is called. Skin will naturally produce sebum to help lubricate the skin and prevent it from becoming dry. 
Sometimes, the skin can overproduce sebum, and this results in oily skin. When too much oil is produced, pores will widen and excess sebum can get stuck, which can cause blackheads and white spots. 
Excess sebum can be caused by a multitude of factors. Environmental stressors or skincare products you use can cause your skin to produce too much oil. Oily skin can also be caused by a hormone imbalance and sensitivity, as sebum production is controlled by hormones. 
How to tell if you have oily skin
You'll be able to tell if you have oily skin if your skin feels greasy a couple of hours after cleansing your face. This oiliness may then increase throughout the day. You may find that your makeup tends to slide off your face. 
You may also be more prone to blackheads and acne. Your pores around the oiler areas of your face could be enlarged.
What skincare products make oily skin worse?
Sometimes, skincare products that are designed for oily skin can make it worse. These will be products that contain harsh ingredients such as alcohol or sulphates that strip the skin of too much oil, causing it to respond by over-producing oil to make up for it. 
If you have oily skin, you may also benefit from avoiding skincare products that are particularly rich, such as thick creams or certain types of oils. These will just clog the pores and add to the greasy feeling on your skin. 
Products and tips to balance oily skin
Indulge in a clay mask
One of the best ways to help balance oily skin is with a purifying clay mask. Clay helps to draw impurities out of the skin and absorb excess oil. You should opt for a clay mask that also contains moisturising ingredients, such as glycerin, to balance hydration. 
You can use a clay mask once or twice a week to balance the skin. If you have combination skin, you can use the mask just on the oiler areas, such as your T-zone. 
Use a gentle cleanser
It may be tempting to use a cleanser that promises to remove all the oils from your skin. However, as we've mentioned, this will cause your skin to overproduce oil to keep it from drying out, meaning you'll still be left with oily skin. 
Instead, opt for a gentle jelly cleanser. The right jelly cleanser will remove the excess oils from your skin, while maintaining your skin's natural balance. It will help to unclog your pores and dissolve makeup. 
Look for a gentle jelly cleanser that contains ingredients like glycerin, to lock in moisture and prevent your skin from drying out or over-producing sebum. Avoid cleansers that foam and contain sulphates, as these will strip your skin. 
Don't forget the toner
Toner is a must if you have oily skin. The purpose of toner is to help rebalance the skin. Toner will help to remove any leftover impurities not removed by the cleanser and it will help to reduce the size of pores.
You should avoid using toners that contain alcohol, as these will be too harsh. Instead, look for an alcohol-free toner that can gently rebalance the pH levels in your skin while also adding hydration. Toners packed with antioxidants will help to strengthen the skin's barrier and leave it glowing. 
Use a light moisturiser
Even oily skin needs moisturiser. The right moisturiser will help to balance the skin, locking in moisture to avoid skin from drying out or from overproducing oils. 
Look for a lightweight moisturiser that contains gentle ingredients such as hyaluronic acid and glycerin to help lock in moisture and keep the skin looking dewy. Avoid rich and heavy moisturisers that contain mineral oils, as these can just clog pores and contribute to oiliness.  
Don't be afraid of face oils
While some skincare products with oil will be too heavy for oily skin, some will actually benefit oily complexions. Using a facial oil that contains fast-absorbing oils such as desert date oil and jojoba oil will help to nourish the skin and add in extra moisture that every complexion needs. 
Look for a facial oil that's packed with antioxidants to help nourish the skin and keep it protected from environmental stressors. You should also look for a facial oil that is labelled "non-comedogenic" as this means it won't clog your pores. 
Exfoliate regularly
Regular exfoliation is vital if you're prone to oily skin. Exfoliation will help to clear out pores, removing dead skin cells and excess sebum build-up. 
A cream exfoliator can use both chemical and physical exfoliants to help buff and renew the skin. Look for an exfoliator that also contains hydrating ingredients such as plant oils to help lock in moisture, and also gentle plant-based enzymes to slough away dead skin cells. You should avoid exfoliators that contain harsh chemical acids that can strip the skin.