Clara Martin constructs garments like no other.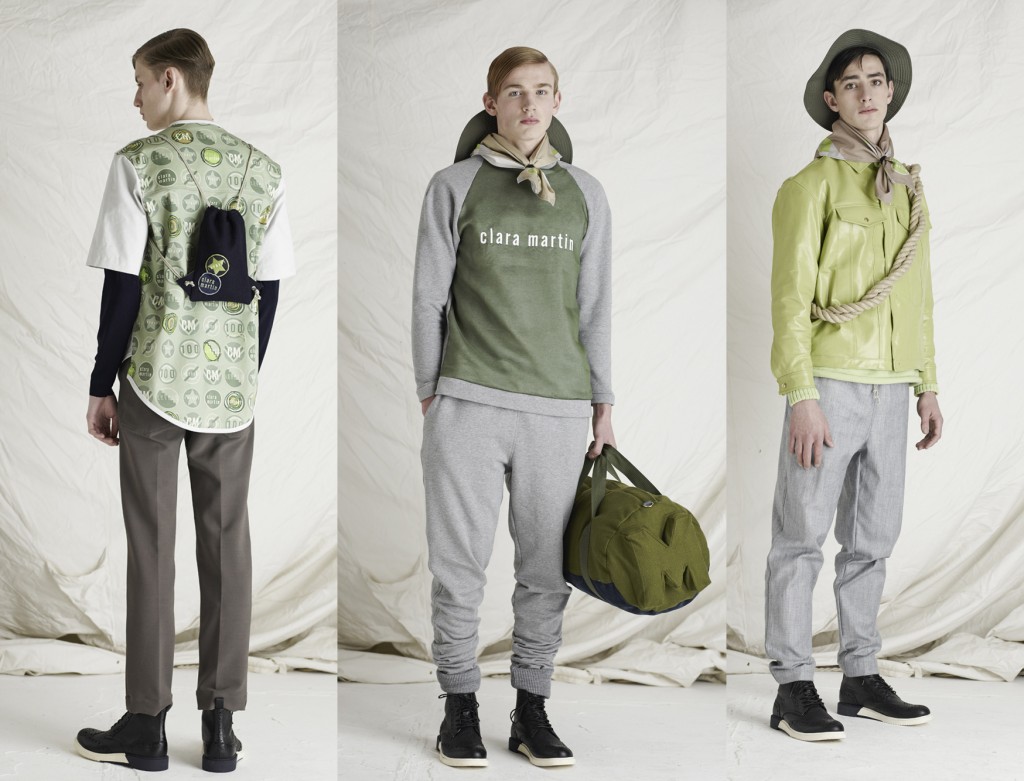 Clara Martin is the London based menswear designer who's concept heavy looks usually come to fruition via a string of experimentation. This season, she's stuck with her regular methods and gone down a familiar route that led her back to the idea of youth with the spotlight on boyhood in particular.
This Autumn/Winter 2015 see's a stronger focus on wearability and represents pieces that she think's you'll love. The concepts are still very evident and strong with the ideas stemming from boy scouts and the sometimes aesthetically odd outfit ensembles boys create in their youth. Though the idea of the boy scout is flowing throughout the collection, the essence has been turned on it's head to become a form of expression representative of culture in 2015.
Her use of material is appropriate, varied and interesting to summarise. Drawstring bags are made of jumbo ropes, full tracksuits come in silk organza and we're even offered patent leather jackets with utilitarian undertones. Colours keep in line with the theme in a varied shades of khaki, green, gray and navy. Suede bombers are teamed with neck tie's and rolled up relaxed sweatpants. Cropped cotton trousers are adorned with a repetitive badge like print whilst lime green knits are teamed with cut off indigo denim shorts. There's even some subtle tailoring somewhat in a really relaxed style.
The entire collection as designed and made in house. All embroidery took place at London Embroidery Studio and the lookbook was styled with shoes from Anthony Miles. Way Perry and Rhys Frampton we're behind this seasons lookbook and short fashion film adding to the sense of collaboration.
Check out the fashion film and her work over at her website.