Following on from our look at the NA DI STUDIO AW15 lookbook earlier this month, sildenafil we spoke to Na Di on her background in education and fashion, the latest collection and the inspiration behind it, as well as what drives her to create new and exciting garments for menswear.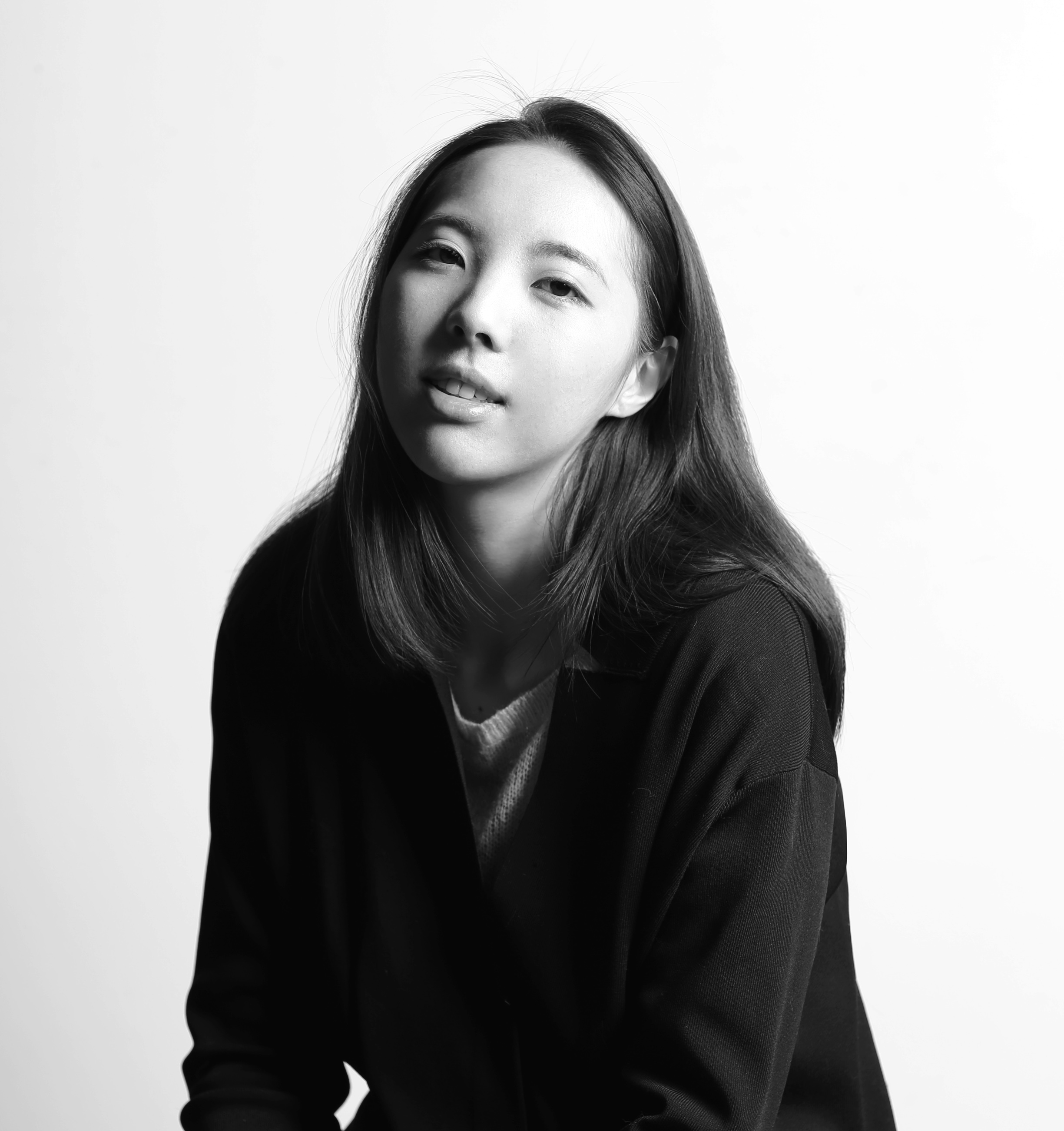 Tell us a little bit about the Na Di Studio story?
Na Di Studio is a men's lifestyle brand that specialises in menswear and accessories. We design, manufacture, and sell our products in worldwide. Chinese born designer, Na Di, trained at Central Saint Martins and completed her MA in menswear at London College of Fashion. Her graduate collection obtained outstanding feedback by the media and she launched her label directly after graduation. NA DI STUDIO was founded in 2013.
Influenced by her parent's Fine Arts background, Di naturally found her interest in the creative realm. Ever since Di first touched fashion design at the ripe age of 15, her interests have mainly been in menswear. She found various other qualities intriguing from men's personalities, hobbies, to the multiple classic lifestyles. She wants to design clothing for individuals who have a strong belief system and is dedicated to their goals. Na Di Studio aims to design for men who have and are interested in a high quality life style, the classic feel, and who aim to dress well.
What do you take inspiration from?
This collection was inspired by both classic and traditional style of gentleman's wears with contemporary elements. This is always NA DI STUDIO's philosophy of designs: a mixture between cultures, elements, and materials. I've always found inspiration from something classic. For AW15, I was not only inspired from the British gentleman style but also from academia. This includes university professor's aesthetic, mathematical symbols, and physics elements and graphics. At same time, I decided to use cartoon character's eyes as part of the designs in the new collection. I wanted to deliver my own sense of humour as always.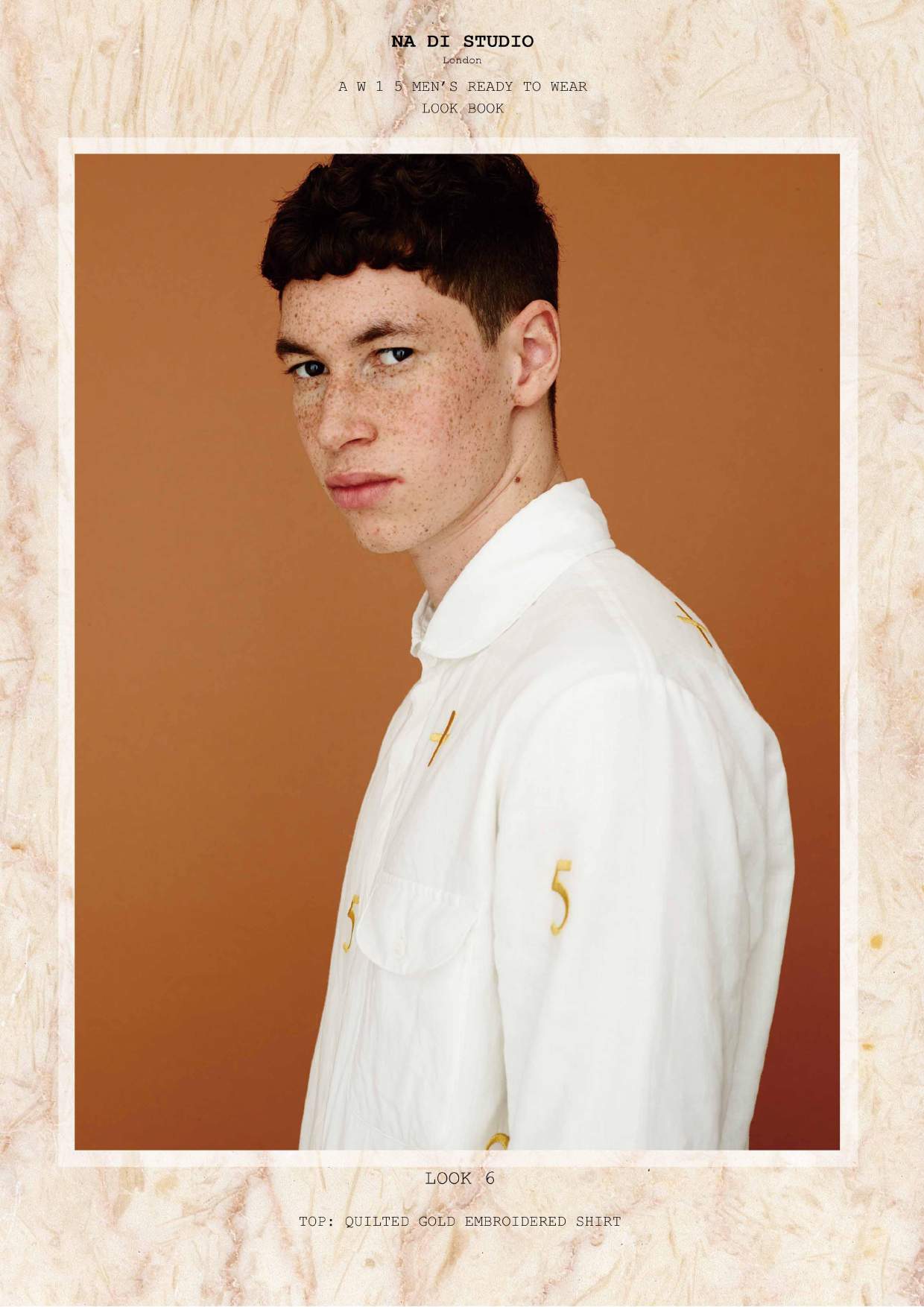 Do you feel studying at Central St Martin's and London College of Fashion influence your designs?
Yes, but not only because of these two colleges. I found the studying and living in London has not only influenced my design aesthetic but my life too.
When creating garments do you think of the ways in which it can be worn? i.e. the reversible knitwear jumpers for AW15?
Yes. I usually consider functionality, wearing methods, and comfort before designing. I believe these are essential considerations and are very important for a menswear designer.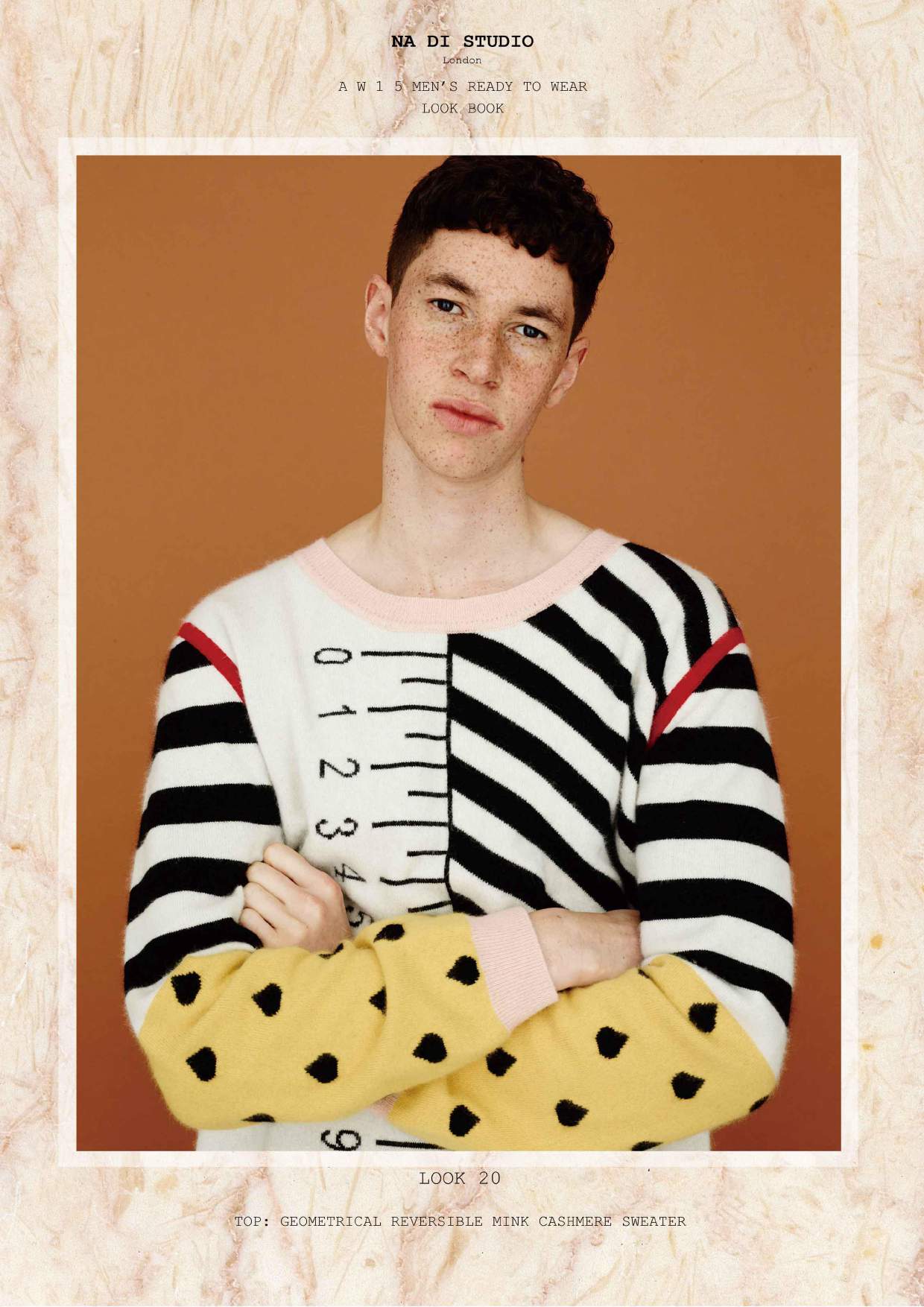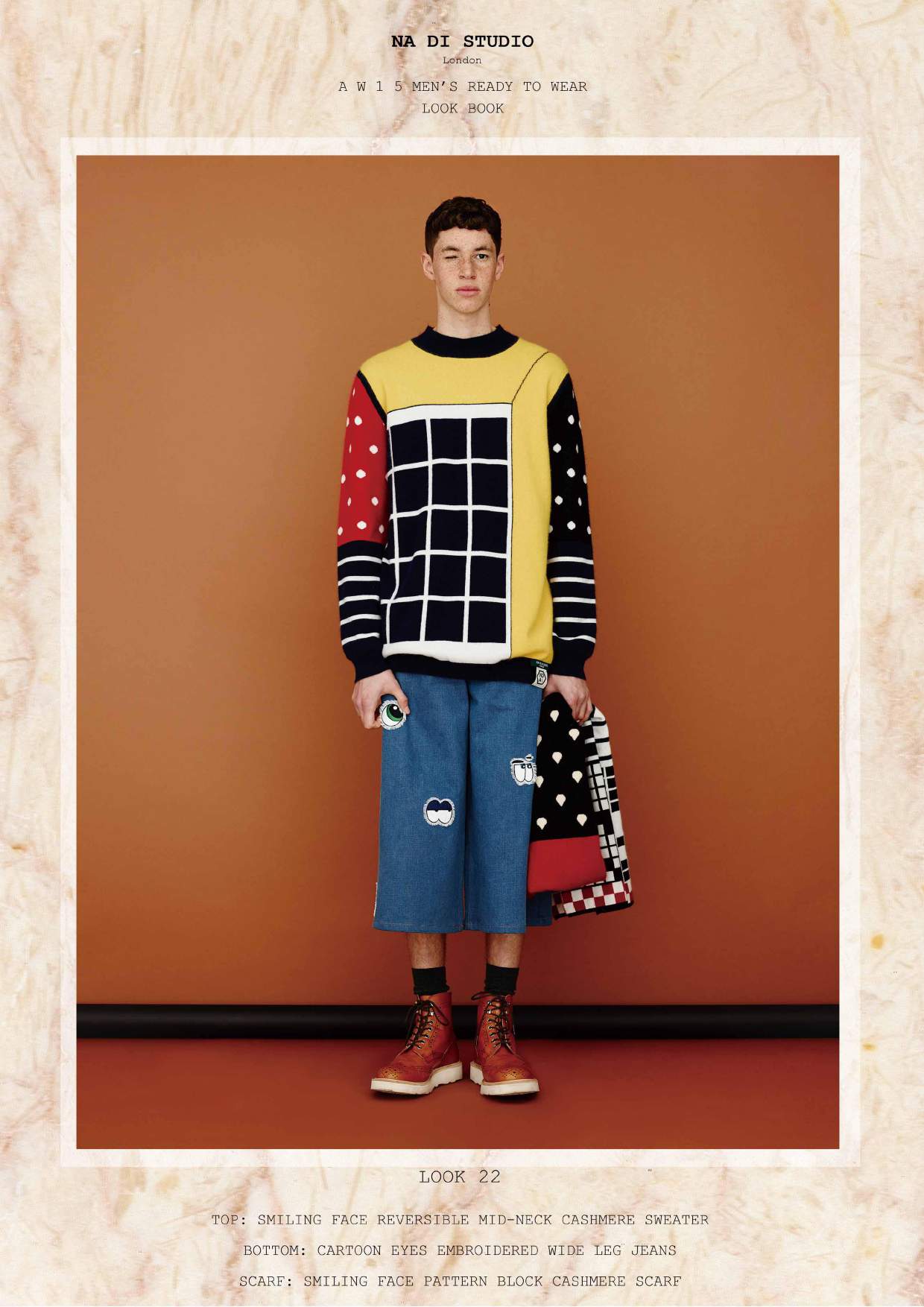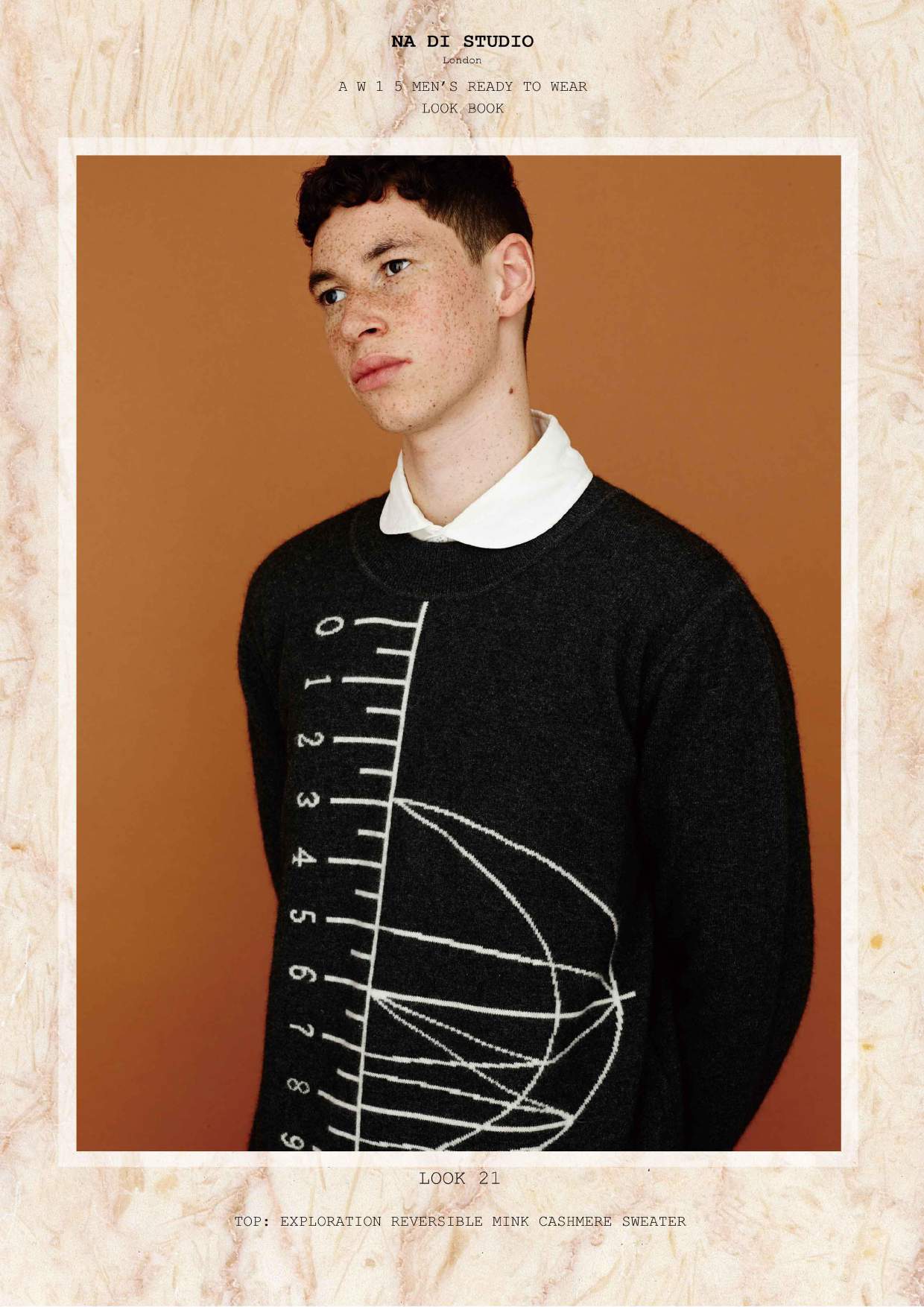 What makes your prints different? They are definitely bright and bold in this collection…
Print is one of signature skills that NA DI STUDIO enjoyed implementing. However, print is not the only technique I want to use every season. This is why, I turned to more embroidery and knitting instead of print. I've drawn all patterns, prints, and embroideries by hand and digitally. Often I combine both hand drawings and digital drawings into one pattern. I enjoy gathering many different elements into one pattern.
Your mixture of tailoring and streetwear is clear. Mixing up formal and informal wear has been done by quite a few brands over the past few months, what were your reasons for the blend?
Mixture of different cultures, elements, techniques, and materials into a piece or a collection is one of the most important design philosophies of NA DI STUDIO. The reasons for the blend are that I believe being stylish and creative for a young fashion menswear designer is really important. Not as important as to make sure the materials are of high quality, the designs are delicate, and the details are functional, and finishing are well-made etc.
This is now your 4th season and you seem to pushing yourself, working on new embroidery techniques…
Actually, I've used embroidery techniques since my first collection, but I keep developing different kind of embroideries every season. This collection, I used three main types of embroidery techniques, which included applique embroidery, flat embroidery, and imitated hand embroideries.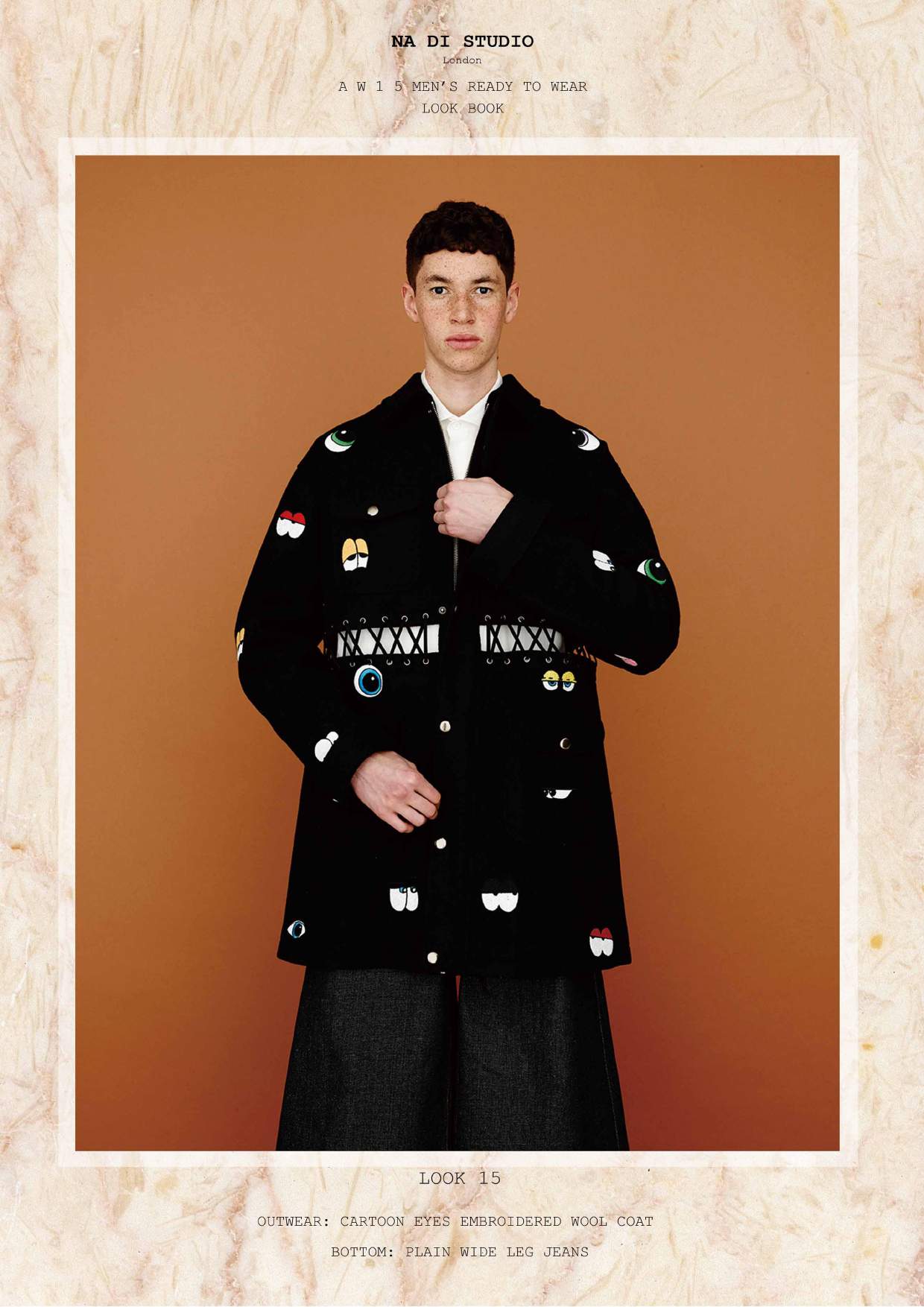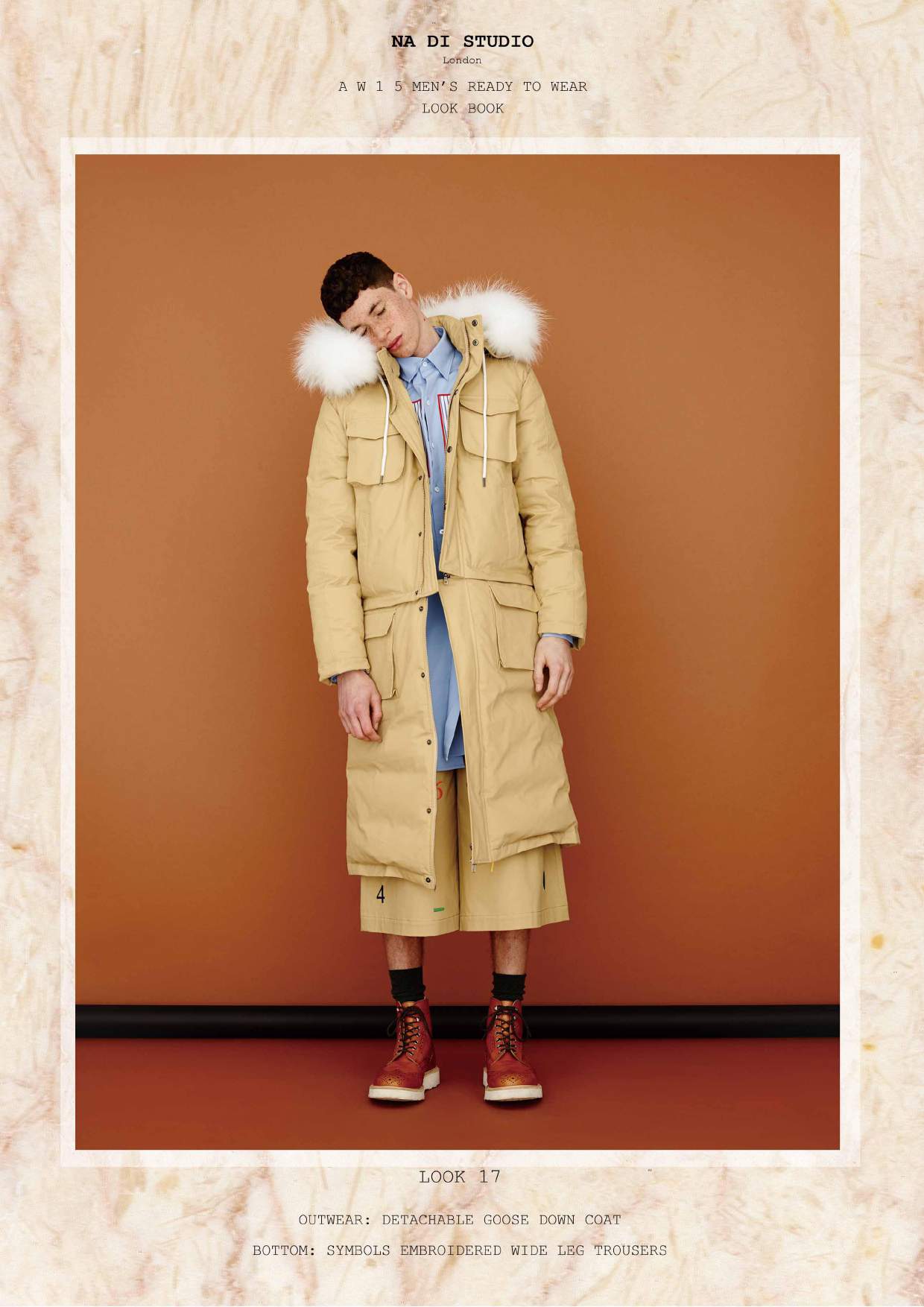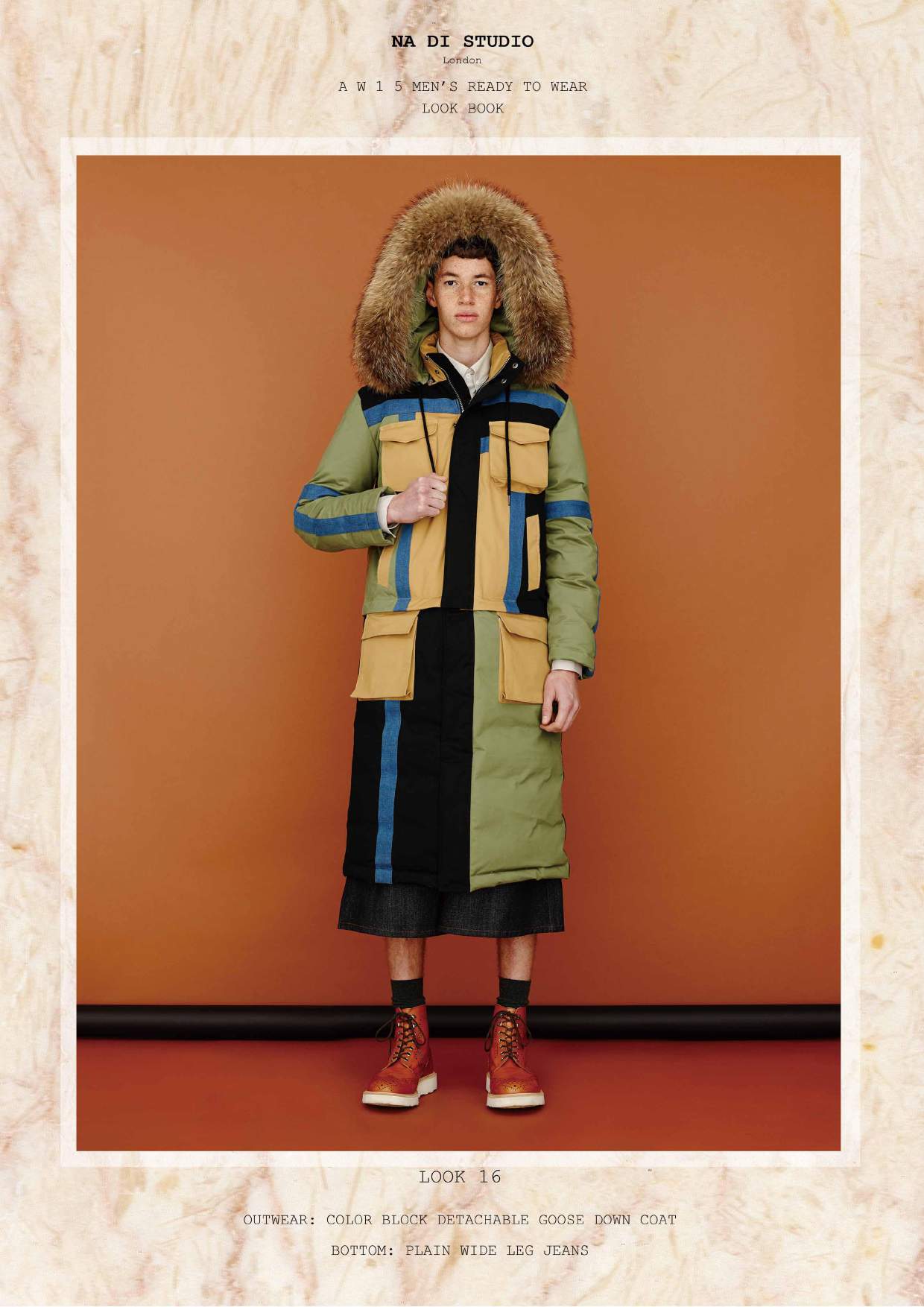 On what occasions would you say you would recommend wearing the collection?
I recommend wearing this collection for any occasion. Maybe not the whole look but mixing NA DI STUDIO with other classic style pieces. A pair of well-made craftsmanship's boots, a nice watch and gentleman style hats etc.
We love the blazers and how playful they are. What was the inspiration behind them?
There are three main types of blazers in this collection. As you can see they are casual jackets made by natural fabrics such as wool and linen but with fitted shapes. Every blazer has embroideries on them, from stationary tools to mathematical symbol. I've developed NA DI STUDIO's own style of blazers, which combines zipped leather sleeves with wool blazer.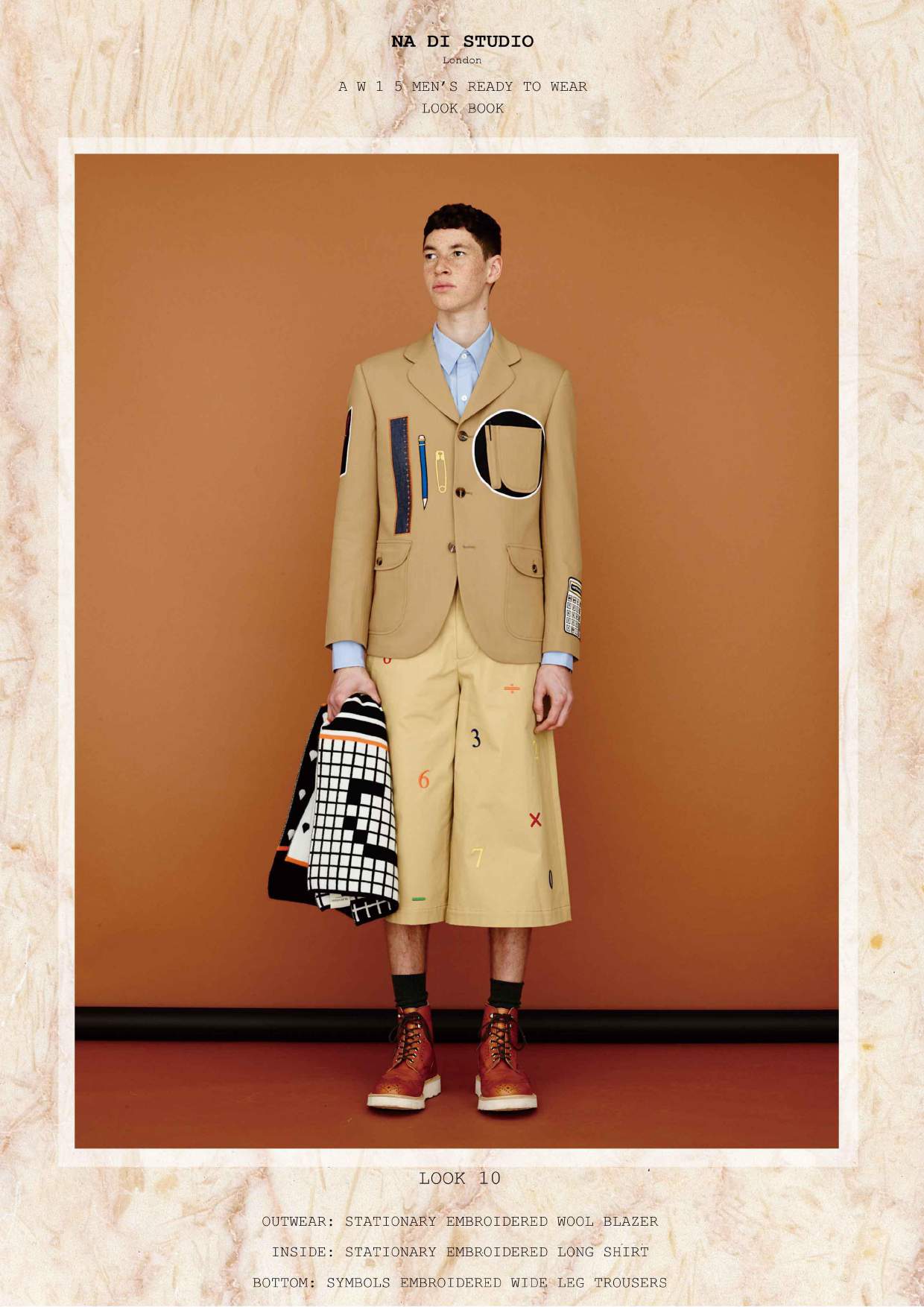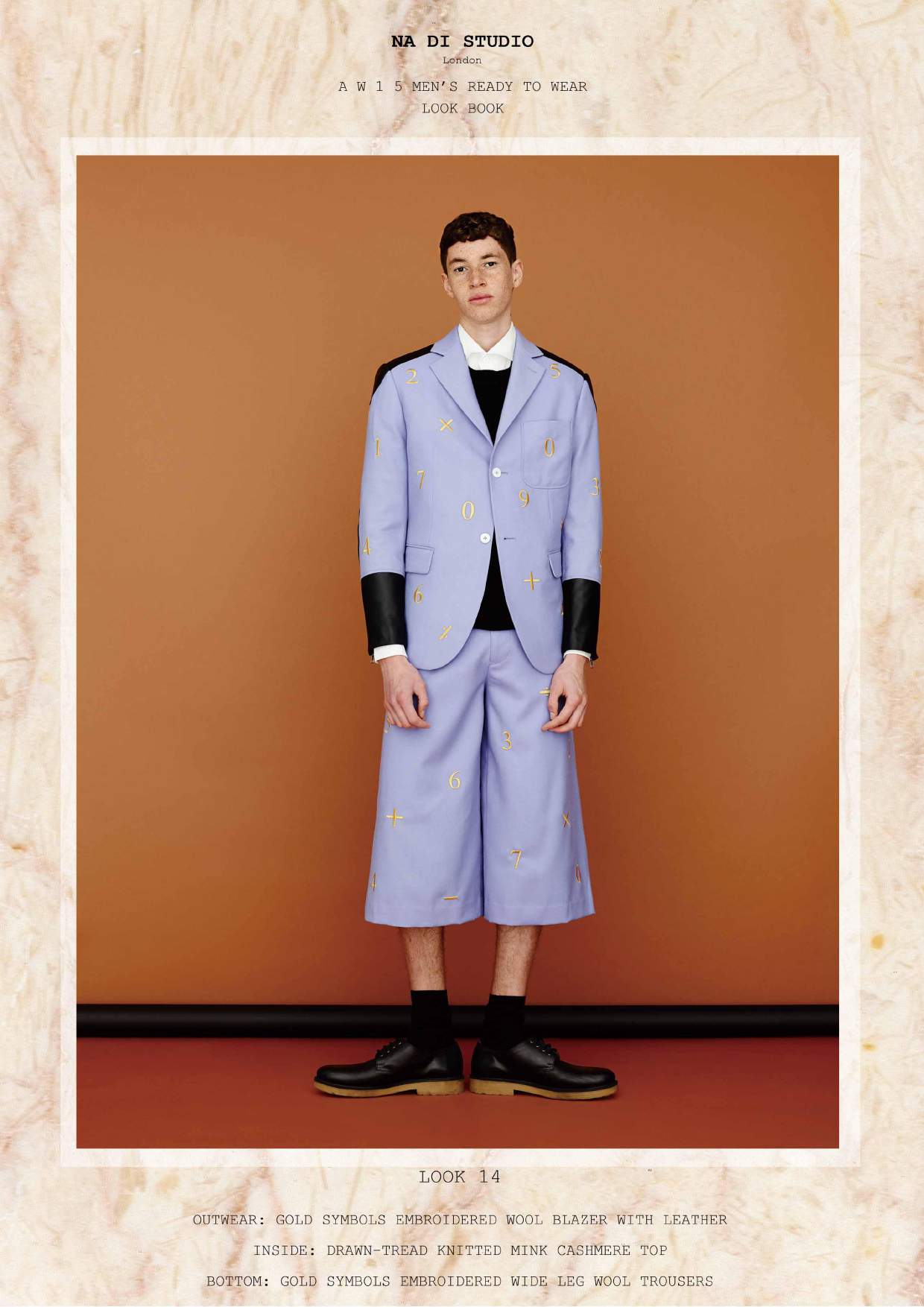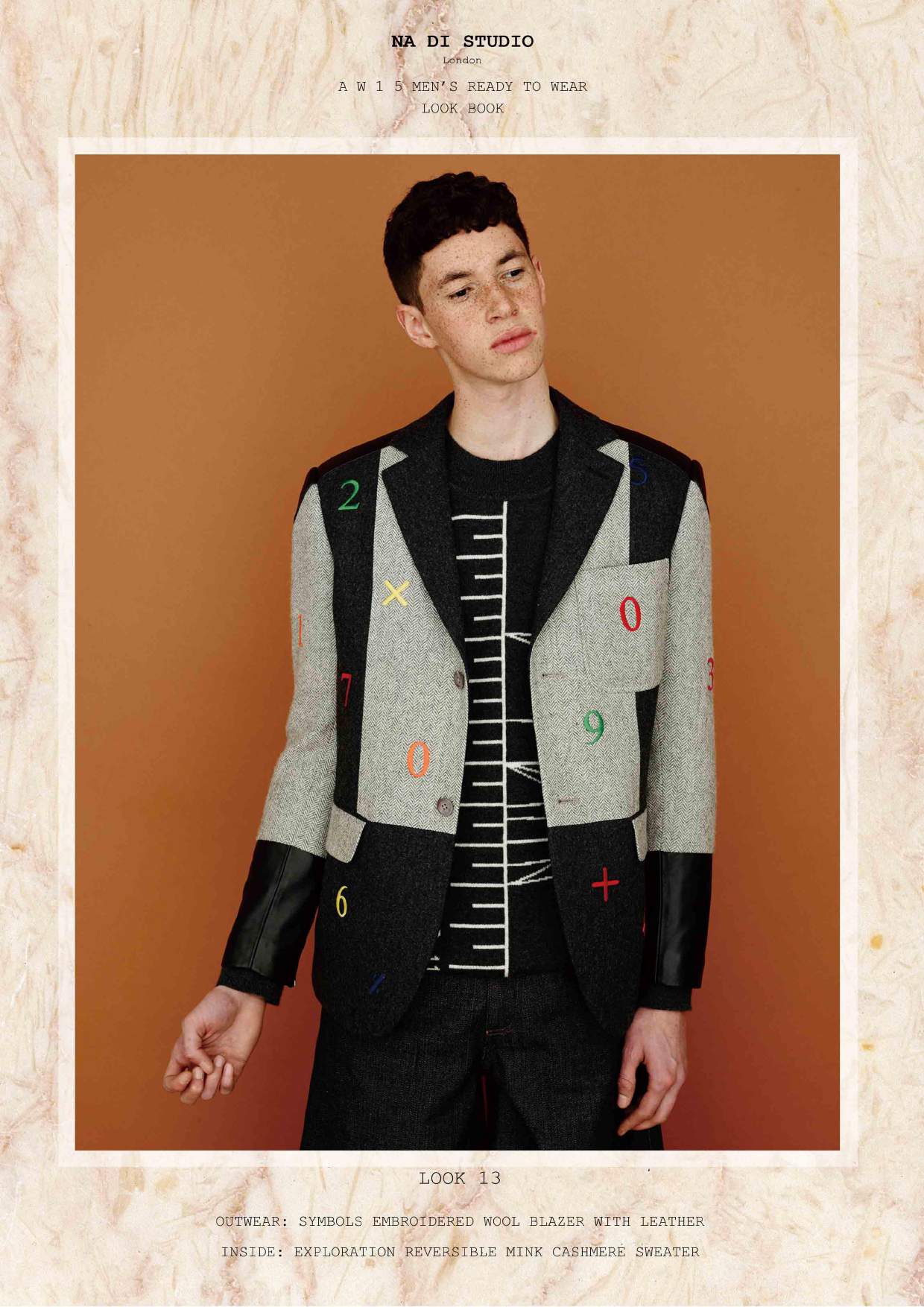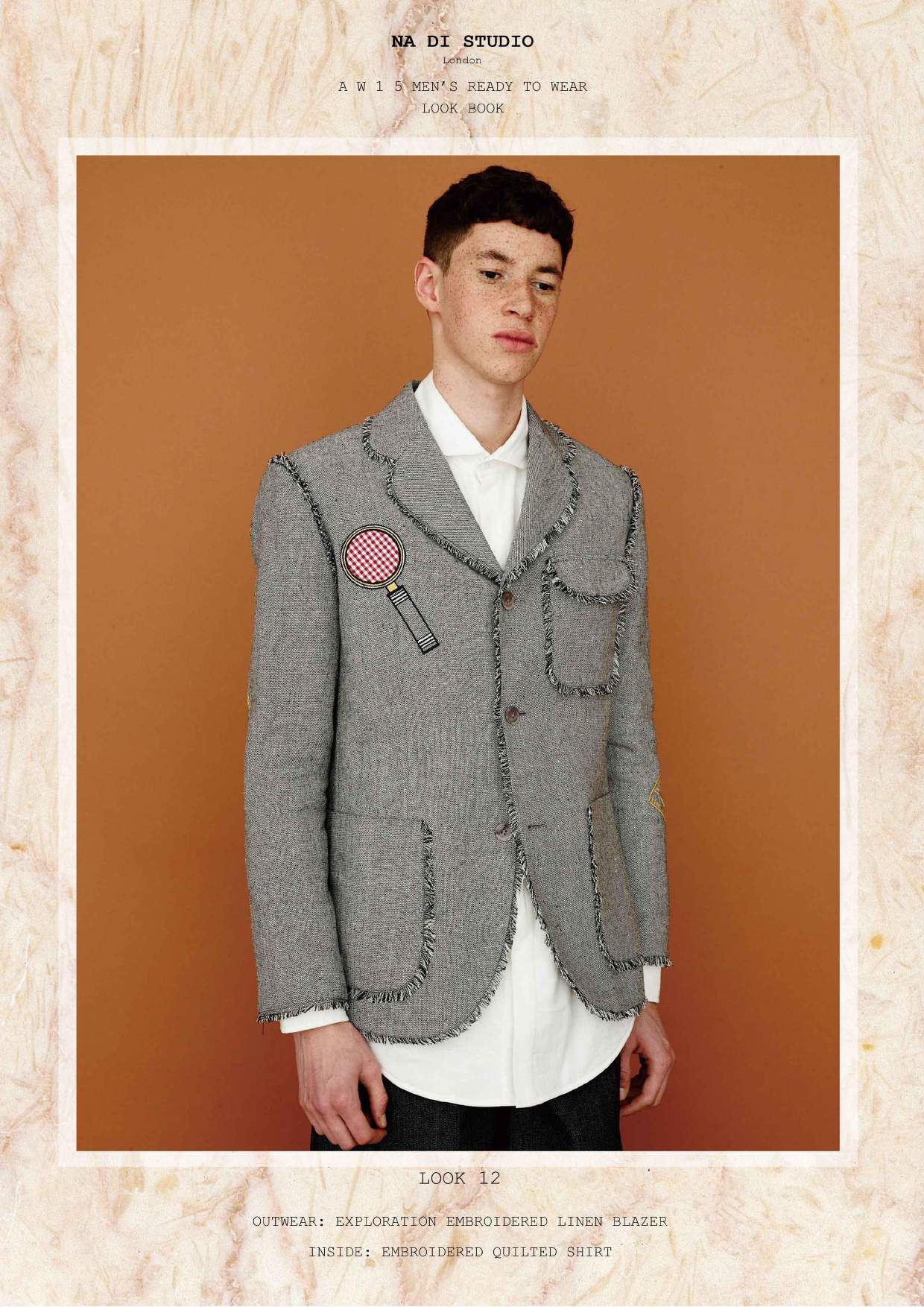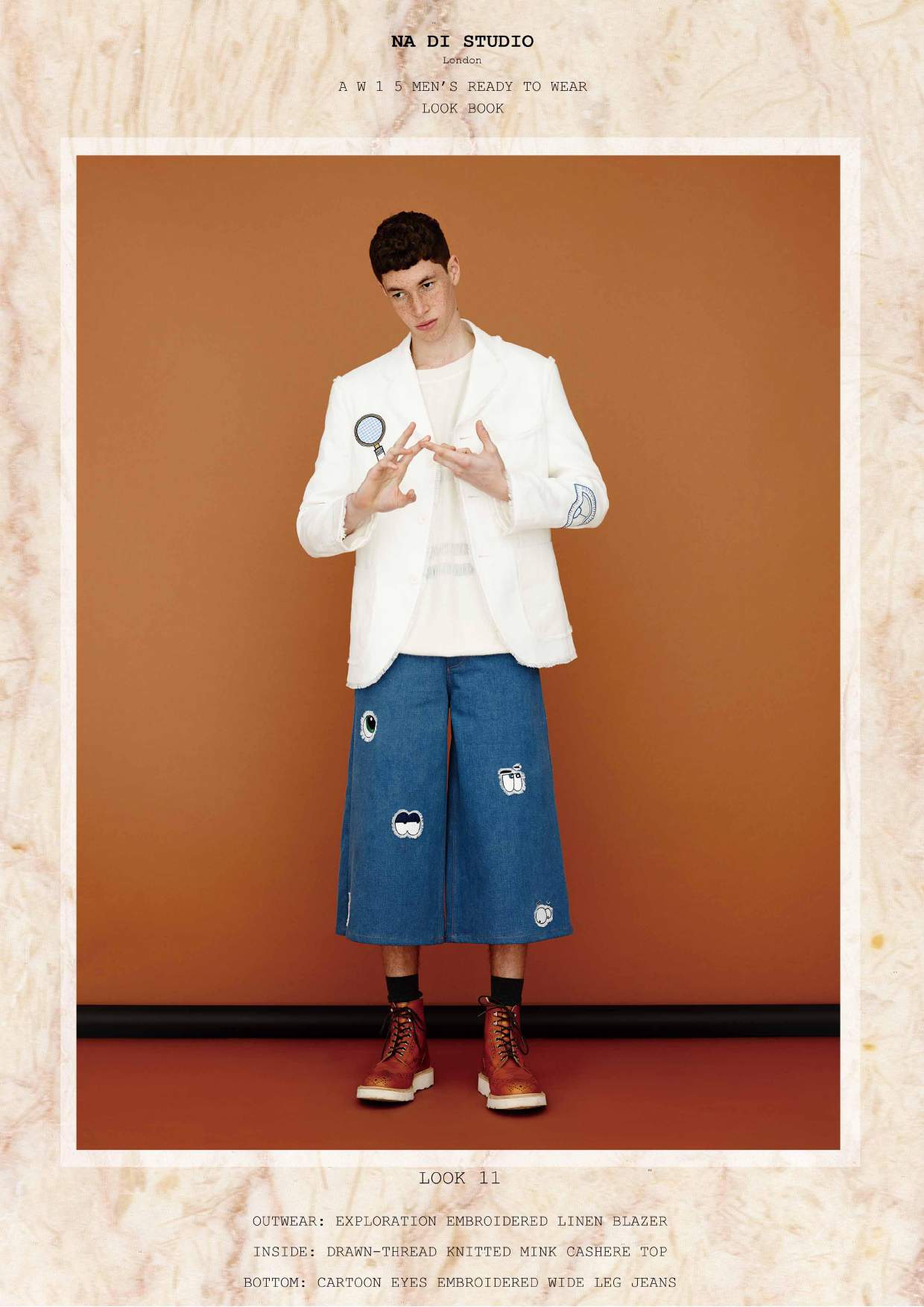 Have you enjoyed working on this collection?
Yes. I enjoyed it a lot. Although, I found the process of this collection to be quite difficult, I overcame all difficulties in the end which was really rewarding.
What's the next step and challenge for Na Di Studio?
The next challenge for NA DI STUDIO is to: read and understand more in depth the classic men's philosophy and lifestyle, study the history and cultures of men's clothes as well as understanding more and more about our customers needs.
You can see the full NA DI STUDIO AW15 lookbook here