PAUSE meets Ada + Nik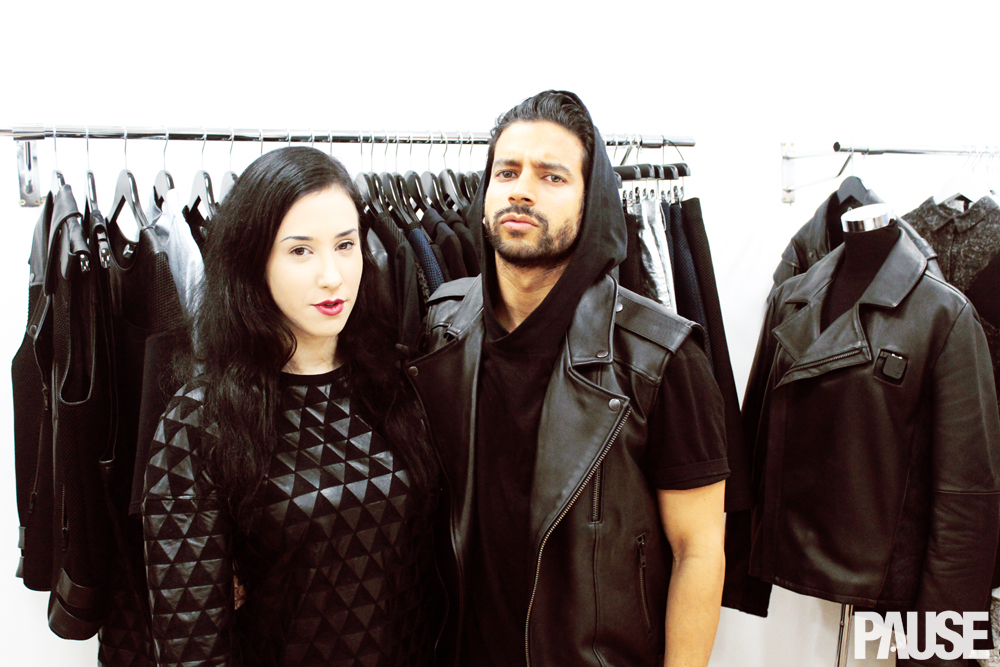 Ada + Nik is all about bringing monochrome to a more luxe level but with a punk and Greco-Roman vibe which is not only visually artistic but is undeniably cool. This up-and-coming and unique new London based menswear brand is also making their mark in the exciting London menswear fashion scene and showcased their latest Autumn/Winter 2015 collection at London Collections: Men in January.
With their all black ensemble which resonates with their brand's dark aesthetic, Ada Zanditon and Nik Thakkar of Ada + Nik, speaks to PAUSE about the brand, menswear and their love for black.
Tell us about how Ada + Nik was created and how the brand was born?
Ada: The way that we came to the point of creating our brand together was that we were friends and that we worked together on different projects and then we having dinner one evening at a restaurant and Nik said the magical words to me, "When are you going to do menswear Ada?" and I said "When you'll do it with me".
Nik: Ada has her womenswear couture background and a brand with her own name. I have always been attracted to her darker aesthetic in her womenswear designs and I had this vision in my mind to be able to translate that into this ready-to-wear menswear brand that would take onboard the design aesthetic of Ada while also brining onboard a lot of my personal influences into it and that was kind of how we created Ada + Nik. It's a marriage of two different mindset but also very complimentary but the way that we refer to it creatively for the brand is that it is a fusion between pre-industrial revolution Greco-Roman times menswear fused with a 1970s and 80s British punk aesthetic. We are very proud that the brand has a very strong British heritage as well.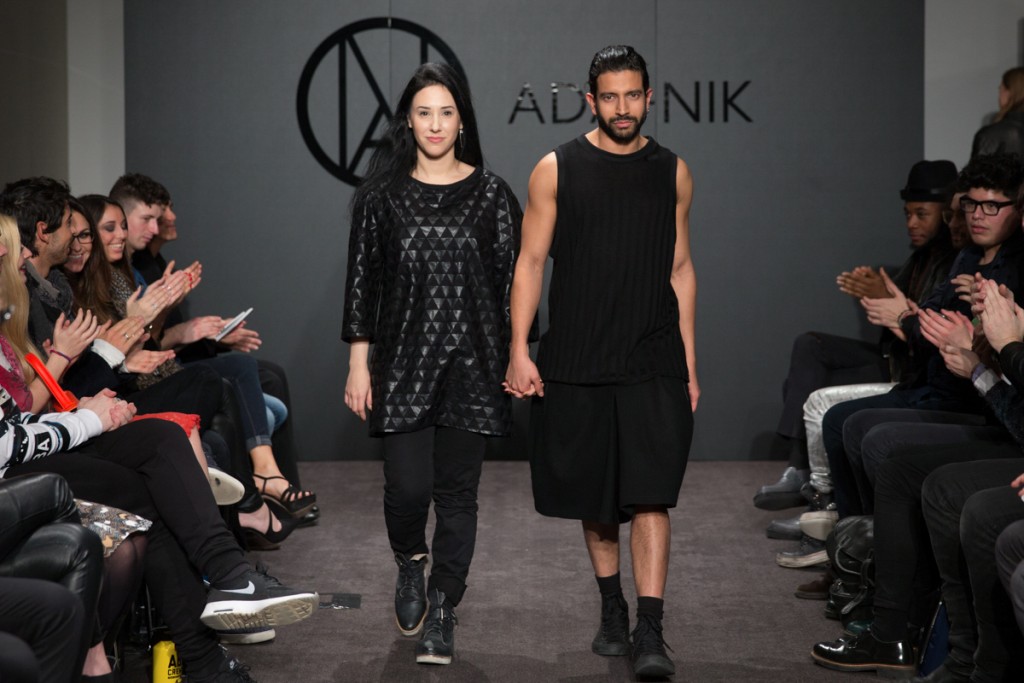 We can see that you both have great chemistry together, so how's your design process like, do you guys always come up with the same idea as one another?
A: Yes scarily.
N: We even finish each other's sentences a lot.
A: There's a lot of finishing each other's sentences and emailing each other with the exact same references at exactly the same time, and generally it is like a dialogue, where we constantly throw things back and forth while visual putting it together.
N: The longer that we have been working together, the more in-sync our creative vision is which is great because from a communications stand-point between the two of us when we are working together its becoming more and more seamless but at the same time we are not joined by the hips throughout the entire week so we also take influences and references with our minds open to various cultural aesthetic which we can then subsequently bring to the table. It's so great working as a duo in that sense because we have the opportunity be in line as one mind and then have our separate bodies to bring different elements to the table as well.
Where do you find inspiration for your designs?
A: So many things. In terms of inspiration, first of all we wanted to go back to this idea of what masculinity was before everyone wore a suit where it is very trapped into the trousers, shirt and jacket combination. Firstly, we always look at ancient warriors, gladiators and what they wore from all different areas of the world and ancient Greece and Rome.
N: Its those authentic god-like heroes that don't exist in society today, we really want to bring that back, and we are bring it back because the man that wears Ada + Nik is a hero on so many levels whether it is culturally or creatively. He could be an altruistic man who gives back to society and wants to help the world be a better place but at the same time, he is string and has a robust masculinity and no fear, less fear than the average male and that's the man we love and embrace and cater to.
So is that the Ada + Nik man?
N: Oh my god, completely.
A: Yeah absolutely.
N: He is a hero.
How do you feel about the menswear scene in London?
N: We are really lucky actually launching and doing Ada + Nik at a time where all eyes are on London Collections: Men. Just this morning I read that it is the most trending top four hashtags on twitter over the last year. It is amazing, because that's a national trending topic and the forth most tweeted about thing was LC:M, it's incredible to know that menswear fashion in the forefront of everyone's mind right now.
A: It is also the fact that LC:M has such diverse menswear whereas with some cities it is very expected of what the silhouettes or the look might be in a season, whereas in London, it brings together the various established labels with the very new labels and huge range of different aesthetics, so it is very eclectic. Plus London celebrates that diversity and individuality which is great.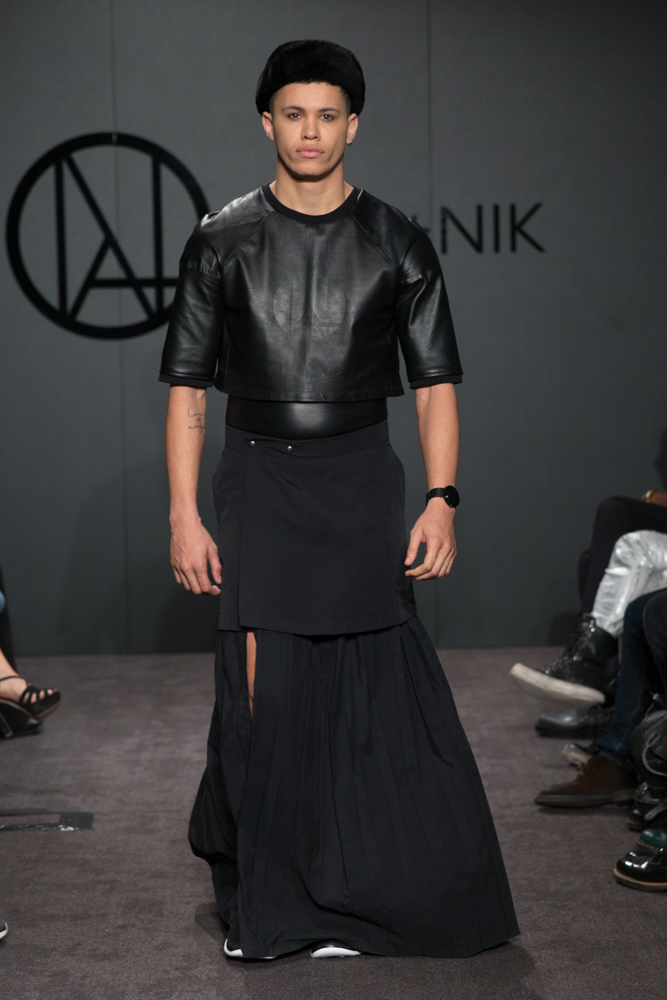 What does streetstyle mean to you?
N: Streetstyle is never a term we associate with our brand. We never see it as one thing or the other.
A: It is becoming such a difficult word to use as well because what does it even mean?
I've seen in an article once saying that you hate a men in suits, why is that so?
A: Nobody hates anything, we have a lot of love and we don't have time for hate. When you look back into history and you look at the kind of tailoring people wore in the 17th Century, there we so many delicate and interesting shapes there so it's not that we hate it but it's the lack of originality. We feel you can now buy suits of the rack and that they become this trap for men and that you are forced into this thing, which doesn't really express anything about the individual. I feel like it is so much more important to express ourselves through our clothing as well that there should be room for us to wear clothing to reflect who we are without capitalism collapsing.
Tell us more about what we can expect from your Autumn/Winter 2015 Collection?
N: So the upcoming collection's name is Noir Desir, where each season we name the collection. We learnt a lot over the last three seasons and we have evolved. We have experimented from a technical, fabric and marketing standpoint. We are starting to understand who our man is, who we are and what Ada + Nik really truly stands for. This is the first season it feels so cohesive.
A: We are now able to define what our core silhouette is and defining that kind of interesting way that we are taking by going with very sports luxe fabrics but then really using them with completely androgynous silhouettes that we are starting to move into. We are evolving into the beast that we are meant to be.
N: We are pushing our boundaries with each season and we are always experimenting. We try to take things to the next level from fabrics and innovation, so we use a lot of tech fabrics and natural fabrics.
A: A key part of the new collection would be the Narrative jacket.
N: It's a jacket that we made with a camera built into it, so it has pony hair details with Italian calf leather making it wearable but a very discreet wearable tech that essentially lets you tell the story of your day without having you proactively thinking about it. The camera we have worked with, the Narrative Camera, it shoots every 15-30 seconds to allow you to capture those moments in your life so you don't have to force yourself to pull out your cellphone. We will be shooting the runway live as well with the model wearing it and walking down the runway.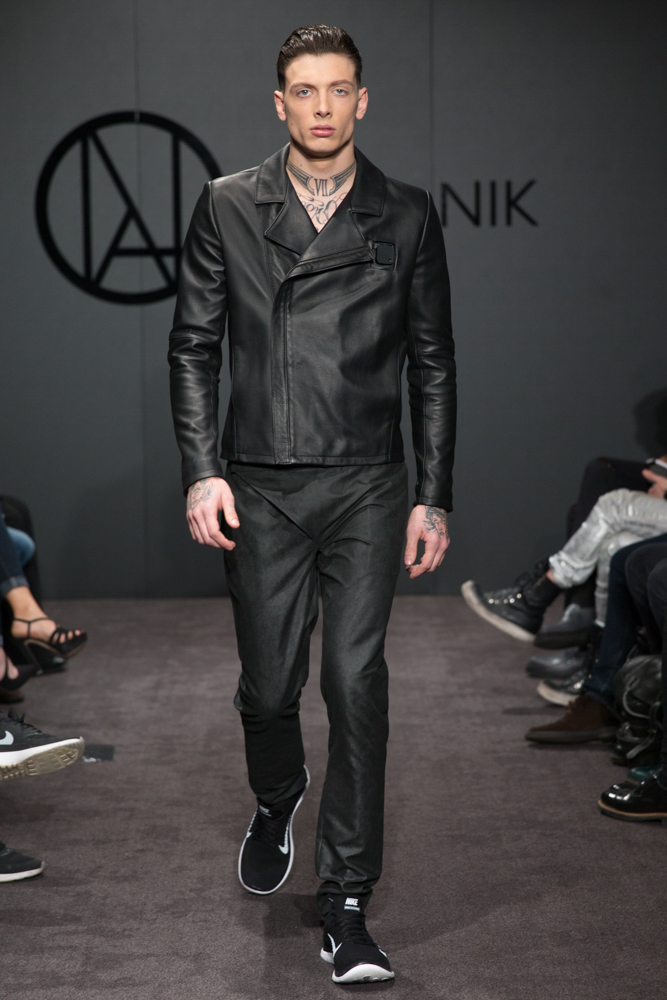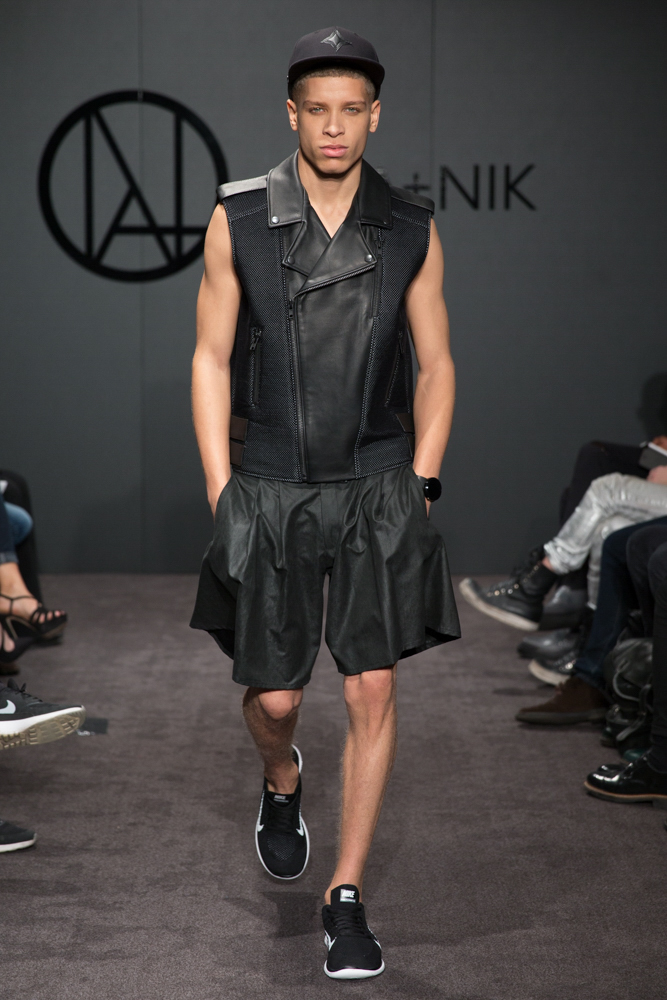 Why wearable tech?
A: Wearable tech is very much like the buzz now, it is what people are now looking at. Rather than just jumping on the bandwagon or doing a jacket that charges your phone and there is a lot of that, we just really feel that a lot of our work is about narrative and telling a story. If we wanted an element of wearable tech into our collection, we wanted it to be part of the spirit of who we are, so very much about the hero of the person who is wearing the clothes and their story.
N: We have a very credible film history, we co-produced our first film with Rankin, the second one premiered on Interview Magazine and the third was hand-picked by Dries Van Noten so it's something that is very much part of the core DNA of the brand so being able to generate visual content from a piece of clothing, for us is pushing boundaries and pioneering something that has not been done before.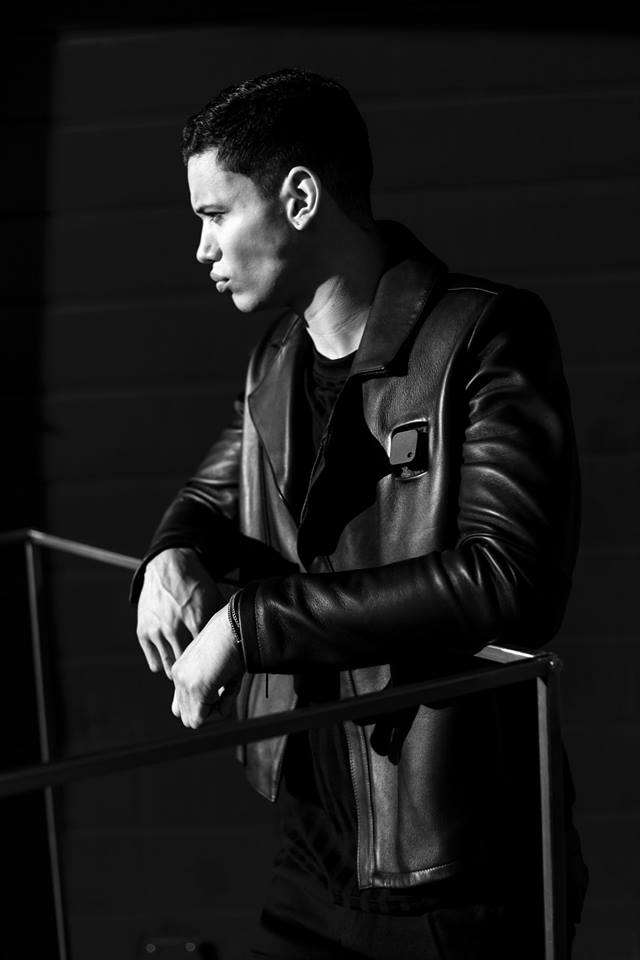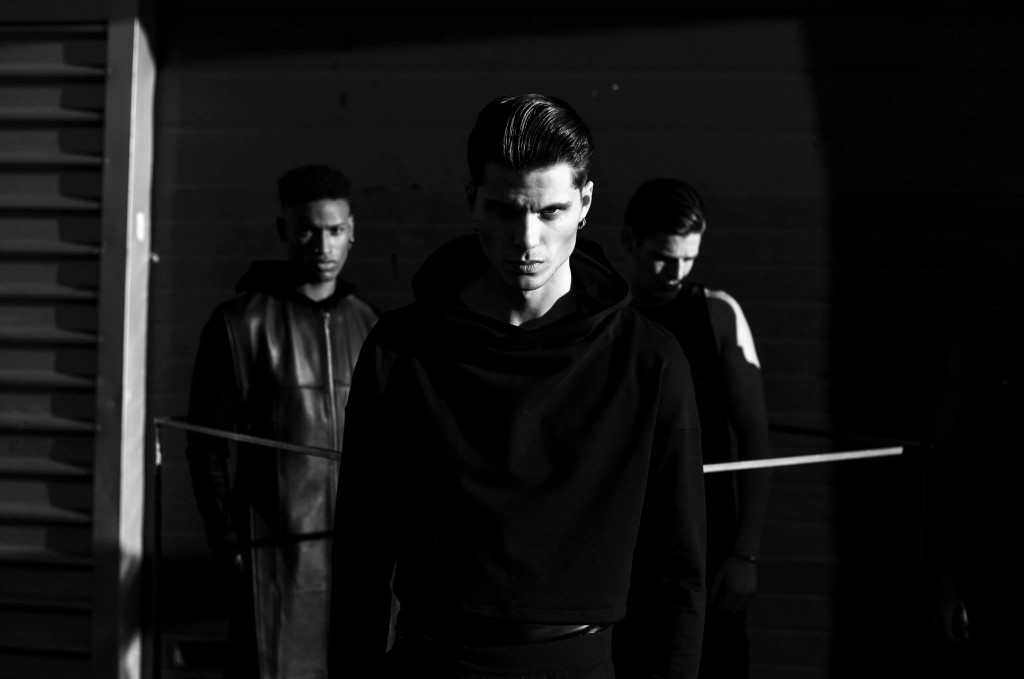 Is your new collection going to be all black?
N: Everyone asks us whether it is going to be black and the short answer is yes, it is all going to be black. We are a dark metal rebellious menswear brand and we do have touches of navy, charcoal and white but black is very much our signature and the aesthetic that we really like.
Black isn't just a colour to you guys, am I right?
A: It's a whole spectrum. I could make a rainbow out of black.
N: There are so many different shades of black and you can be really creative with black and shades of black. You can express yourself beautifully through silhouettes and dark tones.
A: But however this is our vision and this is who we are. I also think our pieces are very timeless, the fact that we use the palette makes our vision timeless and you can take a pieces from our first collection and another from the next collection and it will still work together because that core colour palette connects everything. We have brands that will make one collection look so particular and the next collection would be another idea on its own and this kind of isolated collection that then don't necessarily always connect. That was really important to us, that connection between the seasons.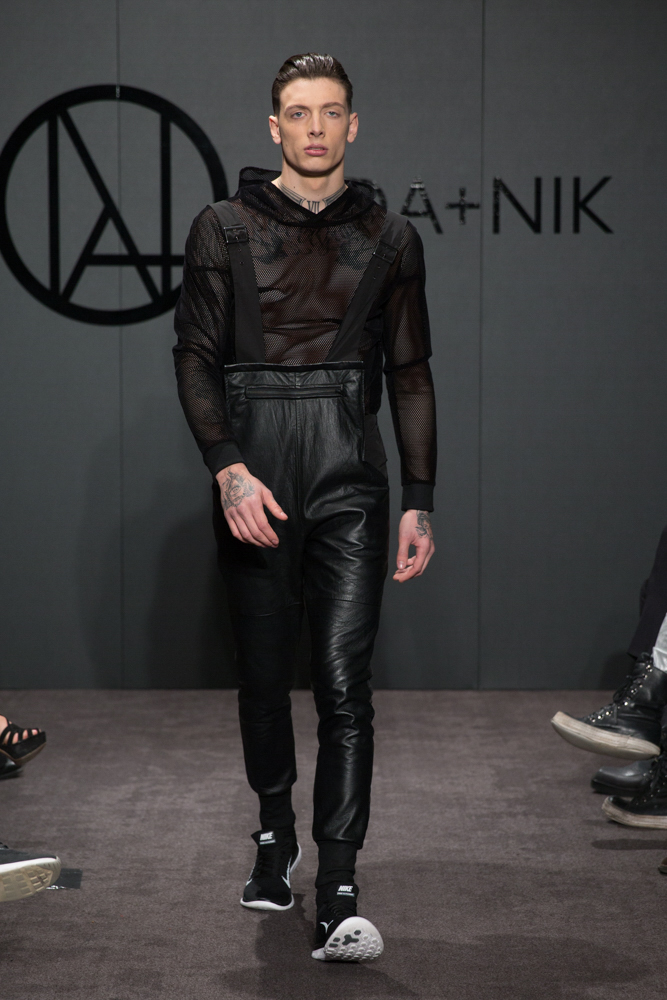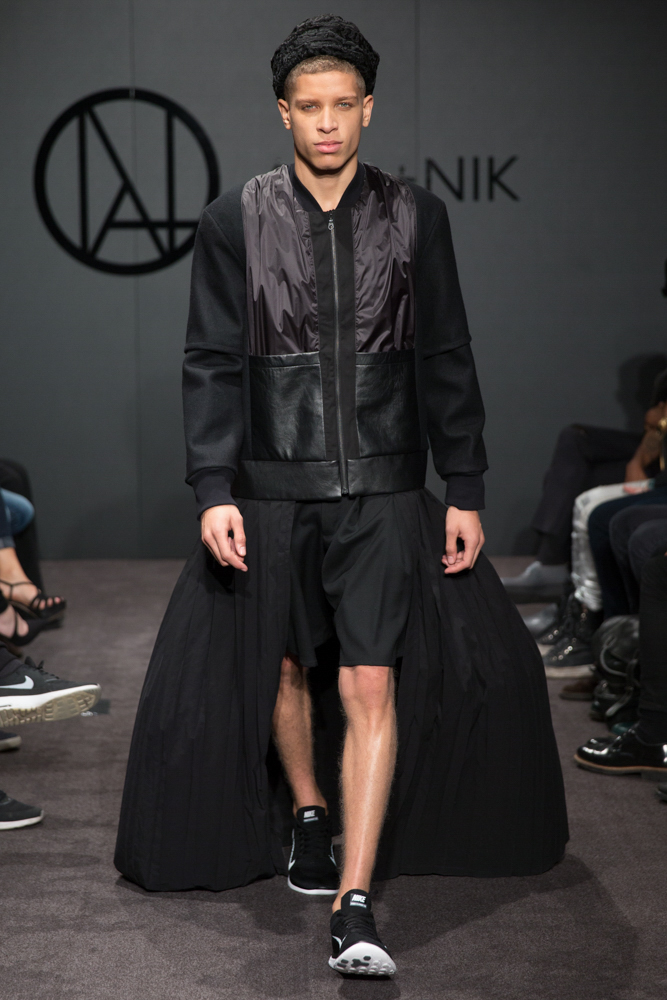 You guys have done a few collaborations but how do you guys find people and brands to collaborate with?
N: We often get approached, we have a really unique aesthetic and that is something that really excites a lot of people. For example, our official shoe partner, which hasn't been announced yet for A/W 15, is Nike. So we are really excited to be working with such a globally renowned, creative and incredibly powerful and innovative which excites both of us to an unreal level. We are really thrilled about that and we are very grateful for all the support we have received over the last couple of years.
Where do you want to see Ada+Nik in 5 years time?
A: For us, the core vision of Ada + Nik is more than clothing, it is really more about a lifestyle. We are very interested in all aspects of the Ada + Nik man's life, whether it's his accessories from luggage to what he is writing with, it is all the aspect of his life and who he is. I think we are really interested in everything that he experiences and we want to cater to that lifestyle and creating the world he lives in. We want to keep creating for a man that is evolving and revolutionary.
N: It is always about being beyond apparel for us, it's a vision and Ada + Nik represents so much more than just leather jackets eventhough it is our signature.
See the full Ada + Nik Autumn/Winter 2015 Collection here and visit www.adaxnik.com for more information.

Shop Ada + Nik Spring/Summer 2015 collection below: