T for Tall SS15.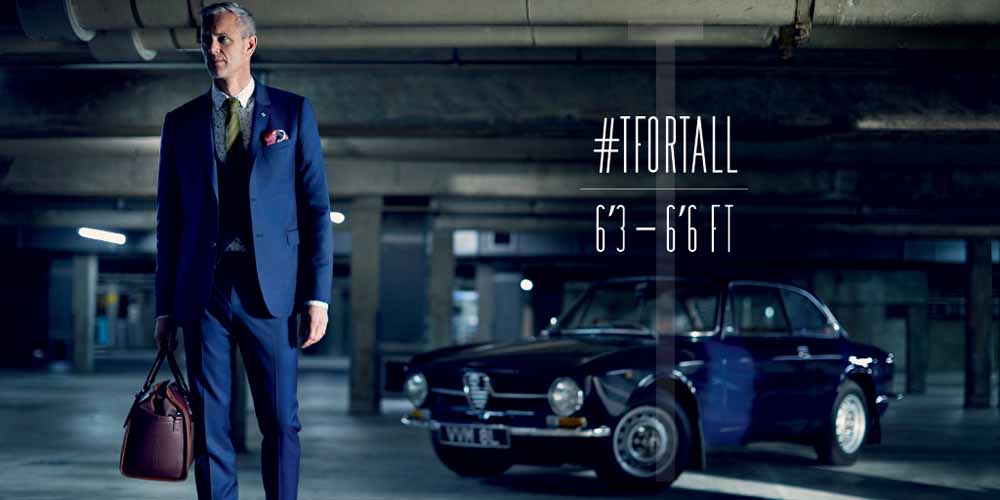 Following the great success of their AW14 collection, Ted is teaming up again with swimming Champ, Mark Foster to create a Spring Summer T for Tall range….
It was while admiring a masterpiece at the T&B Museum, London, that Ted's friend in high places, Mark, became embroiled in a smash-and-grab-gone-wrong with the city's notorious art thieves.
Throwing a sack over the gallery's most prized Renaissance statue, the Loot It & Boot It trio bid a hasty retreat to their getaway vehicle, a rather splendid 1973 Alfa Romeo with beautiful bodywork and a modest boot.
It was only then they realised their prize catch was in fact Britain's most successful all-time swimmer (and occasional foxtrotter).
"How are we going to fit him in there?" one of the crooks quipped, pointing to the car…
To be continued…
Taking its inspiration from the mainline collection, T for Tall offers the 6'3" – 6'6" man a capsule wardrobe of summer essentials. From punchy romantic floral prints to oversized checks and patterned knits, SS15 captures the imagination with smart-yet-stylish looks.
This season sees the introduction of new styles to the T for Tall range. Swimwear in nautical stripes, enlarged checks on short-sleeve shirts and sporty bombers give the tall man an even wider, stylish offering.
A head-turning colour palette refreshes classic styles with bold blues on suits and chinos, whilst striking yellow and colour-block knits inject playfulness. Adding the final touch to the collection, linen textures relax more formal looks.
T for Tall collection is now available online at tedbaker.com