PAUSE Meets: Vas J Morgan
Interviewed by: Johnson Gold
Photography by: Benjamin Glean
Special thanks to Kettners London and essence communications for the location.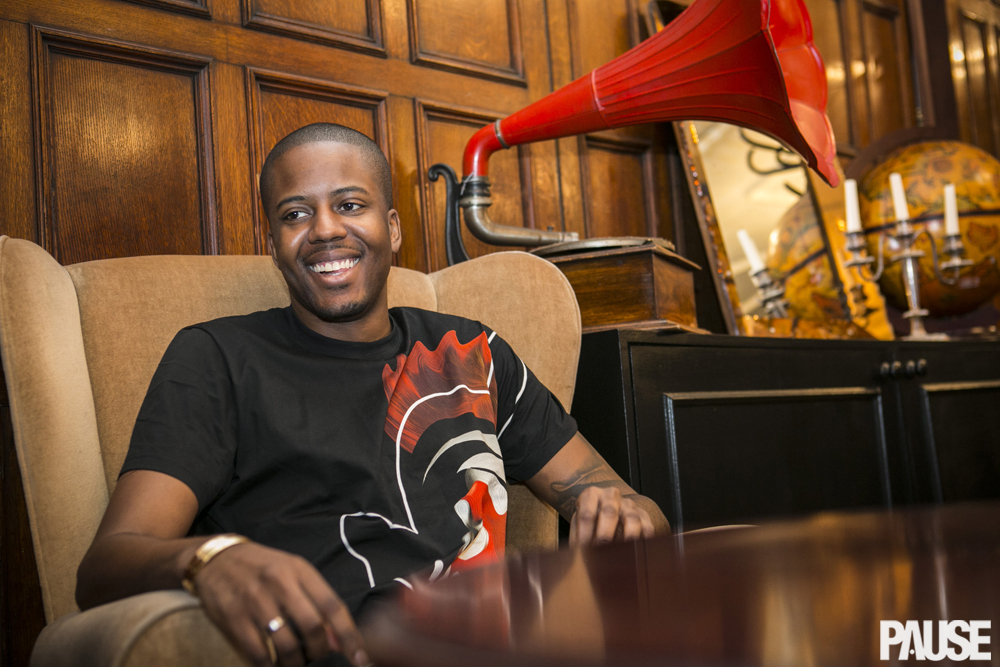 Meet Vas J Morgan. He started his career as a fashion and showbiz blogger back in March 2011 and now appears on the TV show called The Only Way Is Essex. As doors gradually opened for him growing up, due to the people he surrounded himself with, Vas made sure he took every opportunity that came to him. We at PAUSE got a chance to sit down and talk with the reality star and find out more about his careers, all things fashion and TOWIE as well as his upcoming clothing line called Nate & Nico which is set to launch in June 2015.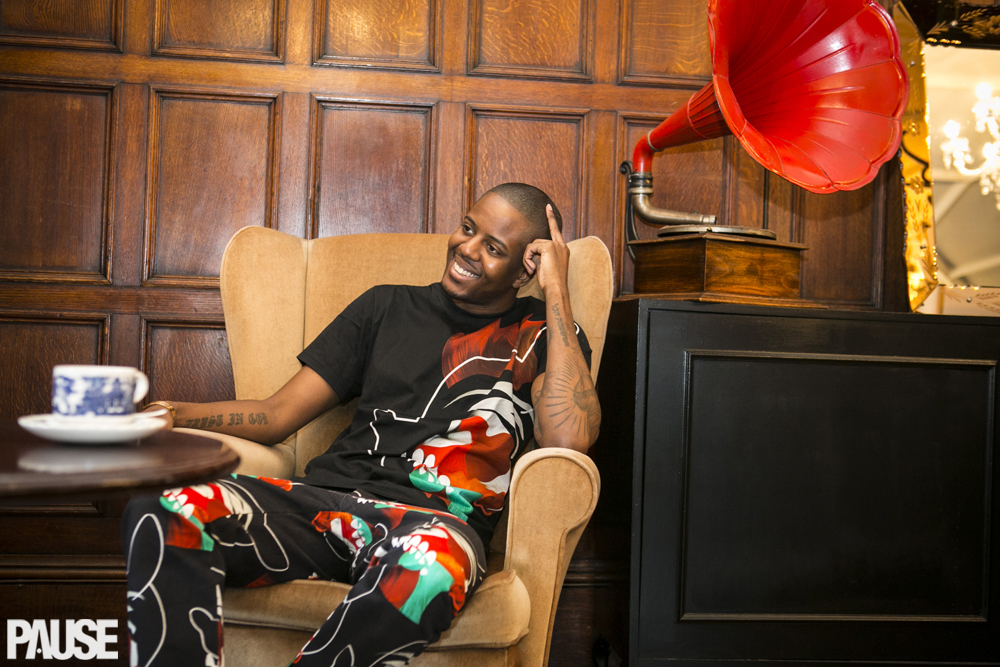 Top – Katie Eary, Trousers: Katie Eary
How did your career all begin? I remember we snapped you for street style back in 2012 at Vogue Fashion Night Out in New Bond Street. Now you're all over the major celebrity magazines, you currently star in TOWIE and run your own fashion blog. Tell us how it all started…
I guess I had a head start. I had a lot of influential friends help me. I guess I had it a lot easier then other people starting off in the industry. My close friends were already in it and they were pushing me. I started off with the showbiz blog which I guess you could call it the UK Perez Hilton. It got a bit hard to carry on doing that because I then became friends with a lot of the people I was writing about so then it went a little bias because I'd end up supporting my friends so I moved into fashion and rather than talk about what they were doing I talked about what they were wearing. From that I then started going to events and meeting other people and it just all escalated from there. I've got this love for fashion. I was more obsessed with what other people were wearing other than myself though. I then became close friends with Lauren Pope who is also on The Only Way Is Essex and for a long time, she kept saying "Come on the show," and I was really reluctant at first because I thought I'm already establishing myself in the fashion industry and in the entertainment industry and I felt I'd be taking a step back by going on the show so I was quite reluctant and now in the end it's been great. Everyone has been so supportive, all the cast have been quite supportive, I try and stay out the drama and keep it real to myself.
So growing up you already knew quite a lot of the cast?
Yeah I knew quite a lot of the cast of TOWIE already before the show started and I grew up with Vanessa and Rochelle from the Saturdays and Rita Ora. I've always known people in the industry.

Tell us about your Fashion Blog Vas J Morgan, what do you blog about and what made you want to start your own fashion blog?
I wanted to start it because I wanted to share my love for fashion with my audience from the showbiz stuff. I loved going to shows, I loved going to Vogue Fashion Night Out so I just wanted to talk about it. I wanted to share my personal looks that I choose for myself. I try to keep it out the box and go for designers that are already established. I don't like going to Selfridges, Harvey Nichols and Harrods and finding the already established brands. I do love supporting the newcomers and helping them. So with my blog I wanted to push that.
What does your blog entail?
I have a showbiz side. Stuff that's already out there. I don't try and break anything new because that's not what I'm about. And then I have the fashion side, which is basically what the celebrities are wearing, where to get it from, how to get the look for cheaper.
The blogging scene has grown massively in the last 2-3 years, how do you set yourself from other bloggers?
I started in March 2011, four years ago! There wasn't many out there. I went to college in LA in America it was already so big. Then I thought I want to bring this to London, obviously there were some blogs already here, but it wasn't as big then. There wasn't much online, the Daily Mail wasn't that big, all this stuff wasn't out there. You either had to buy magazines or go on blogs. That's why I wanted to start it. I'm so glad that now it's such a big thing and now you have the introduction of Tumblr which makes it easy for people to blog. There's also Blogger! All these apps now where you can literally blog off your phone.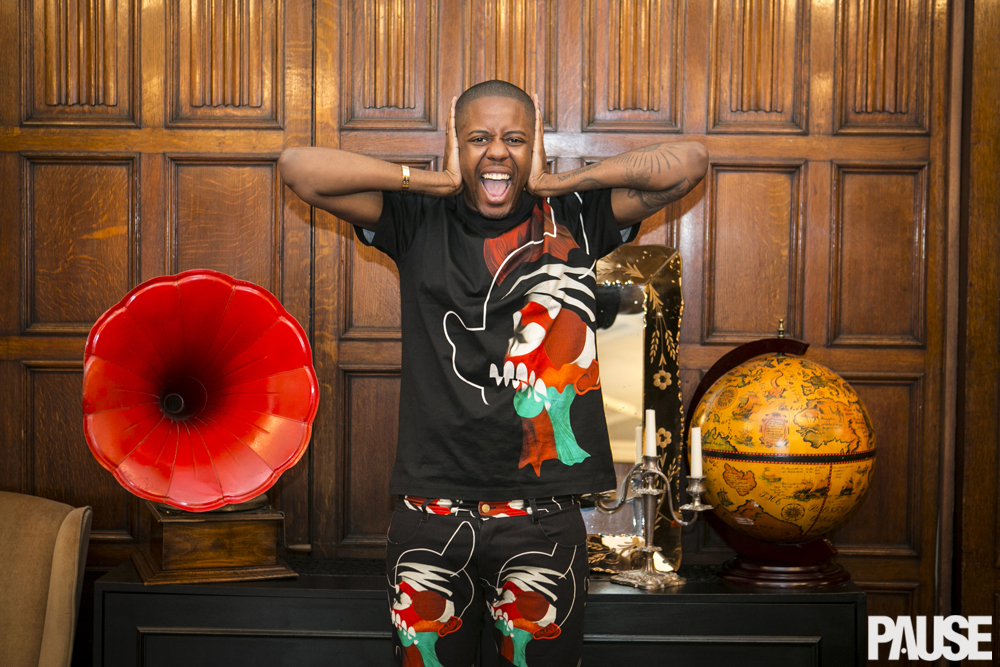 When and how did the opportunity to star in TOWIE begin? I'm sure your life has changed so much, what made you want to decide to become a reality star?
Before I went on TOWIE I already had a fan base and an audience from the blog, but now having been on TOWIE it's drastically changed, my audience is completely different people. It's a much broader scale, going out to millions of people twice a week. I was reluctant because TOWIE has a stigma that everyone knows. It has that thing of 'Your from Essex, your cheap, you have fake tan' and all that. But now I'm on it, I'm so different from a lot of the cast. A lot of them are into fashion, but it's more the Essex look, I'm completely different. Also, I wanted to bring a bit of colour, a bit of ethnicity to the show. There are black people in Essex, I don't what it to just represent the good-looking guy, the blonde girl, we need to show there are diversities in Essex so I'm glad I've brought that to the show. I just wanted to make it a bit different. It's been so good to me, I've had a few arguments and clashes with a few people, but as far as real dramas I stay out of it. I do my fashion, I show my friendship with Lauren and Chloe and then I leave. I don't take all the drama home with me. I feel a lot of the cast of TOWIE they are really Essex related. I go in there, I go off to LA and I have another life basically. It wasn't going to really hurt me that much. It's really fun. It's easy for me because people like Arg and Lydia they are really in love with each other and have to play that out on camera, I've not had that stress yet of having my relationship on the show or have my real life on the show so it's easy with me. I am genuinely best friends with Lauren, I get on with Chloe Sims and I get on with all the guys really well, so it's just going on and having fun with your friends.
Who do you think is the most fashionable person on TOWIE apart from yourself?
I'd have to say Lauren. What I love about her is that she takes fashion really seriously. It's not like, 'I'm going to use my name and my Instagram followers to sell a clothing line' she genuinely eats and breaths and lives fashion now. She's transitioned so much now. Each season she develops. Her fashion, her looks, everything improves. A lot of the other cast, they haven't shown much development.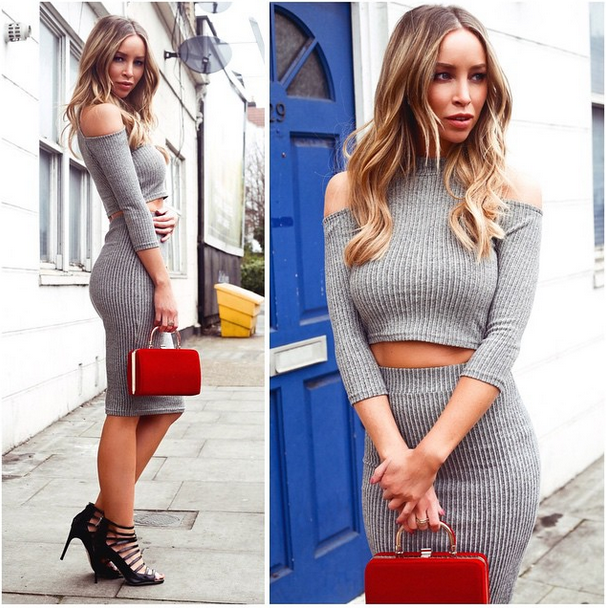 Describe the typical TOWIE look?
Fake tan, hair extensions, dress and a red sole.
So describe your style in three words?
Crazy, quirky and different.


"I'm one of those people that, some things are for the runway and some things are for the street, but I'll take it off the runway and wear it on the street."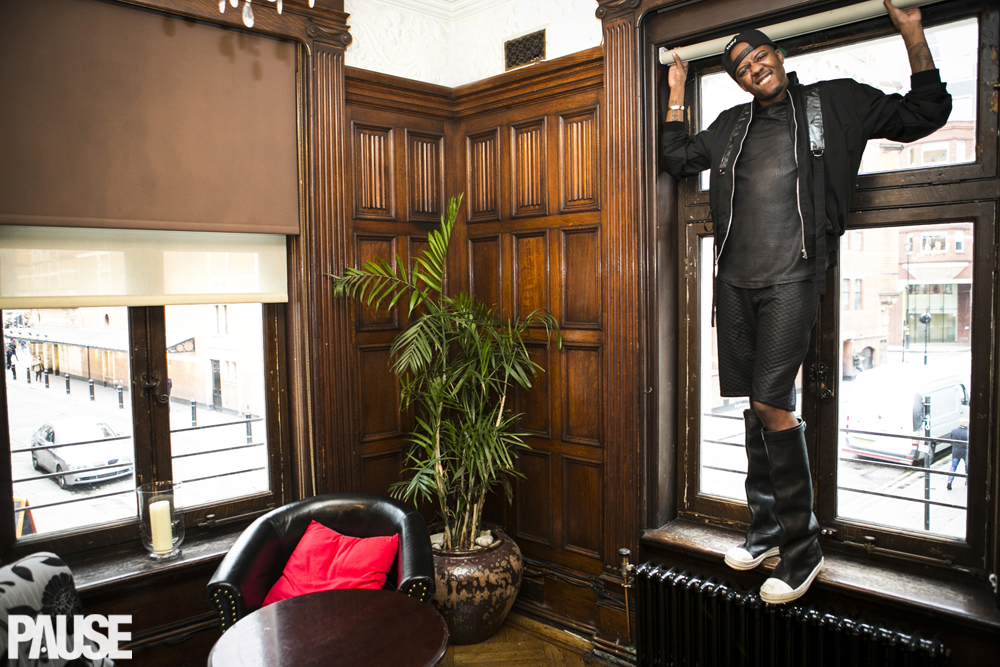 Jacket, shorts & T-shirt – Topman, Boots – Rick Owens
We can see you're a fan of matching prints, what has been your favourite look and why?
Two. One was a Katie Eary look, all orange that I wore on TOWIE a few episodes ago, I loved that. And another one was an adidas Originals x Jeremy Scott matching print look. I love matching prints.

Who is your favourite designer or brand at the moment?
Katie Eary. She just gets me, she is so different. She's so quirky and crazy. I love the pink hair! Our personalities are so similar. She's been a massive inspiration for me. I love matching prints as well. She even says 'You don't have to wear it all at the same time you know?' I'm like yeah I really do! I want to make a big statement. I'm one of those people that, some things are for the runway and some things are for the street, but I'll take it off the runway and wear it on the street. I love that she takes risks and I take risks. I love all her prints, she's so unique. Who else does this?
There's also a new up and coming designer that I love, because I do love urban streetwear called Marbek. They do like bomber jackets which I really like. I always like supporting new people because it's really hard to enter the fashion industry especially nowadays, so I like to go and find the new designers and support them as much as possible.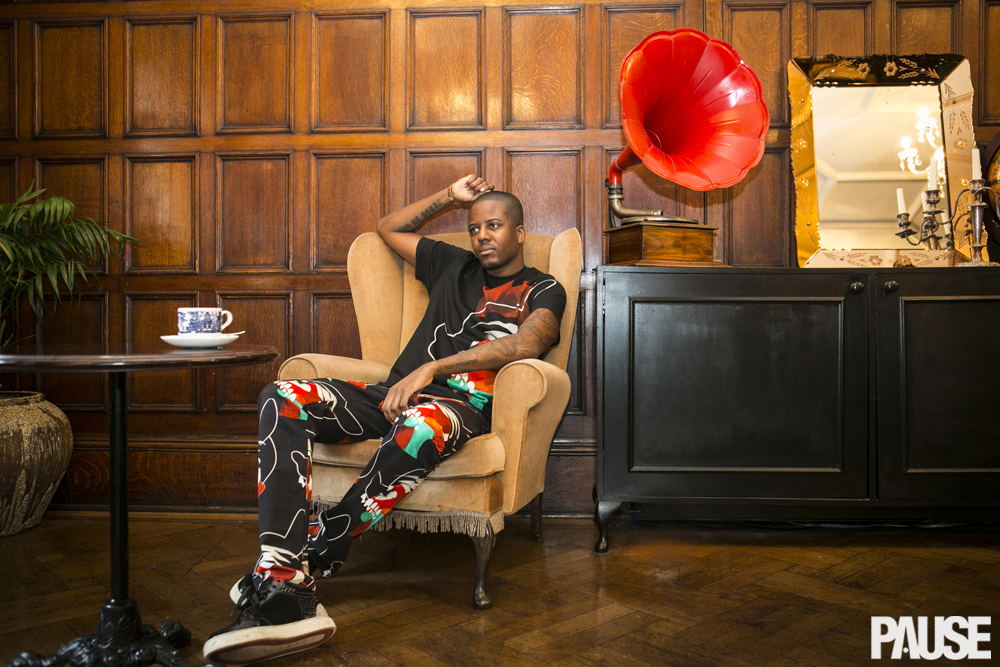 Top – Katie Eary, Trousers: Katie Eary,  Shoes – Royaums
You say you're a designer now, where did that all begin?
I designed a collection with a designer, a leather collection three years ago, I loved working so much with her so I then worked with Topshop for a bit. I made like leather hoodies, leather tracksuit bottoms, leather jackets. She previously did a collection with Katie Price. But we did a whole collection and it sold out in a matter of days so that's when I was like I need to do this myself. So that's when I went over to Topman, I didn't have a collection with them but I was just working with them and that went really well, and now I'm doing my debut first collection which will be out in June. It's called Nate and Nico, which is the name of my two nephews.
Which celebrities do you look up to in terms of style and why?
If you could cross Pharrell Williams, Kanye West and David Beckham into one person that would be my fashion inspiration. If you could merge those three people. They are all very different and this is like me. Sometimes I'll want to wear a suit, sometimes I'll want to wear loud prints or all-black.
Well David Beckham is David Beckham. Pharrell thinks outside the box and is very different. He will throw on a pair of shorts and a suit jacket and some Stan Smiths. He has no boundaries. I think Kanye, not because of his personal style, but the influence he has on the fashion industry. Kanye could wear a bin bag and sell it to a thousand people. I love that he has that influence over people. He can not only influence his fans and the people but he can influence editors and writers into thinking what he's doing is the right thing to do. So I like the influence he has over his personal style.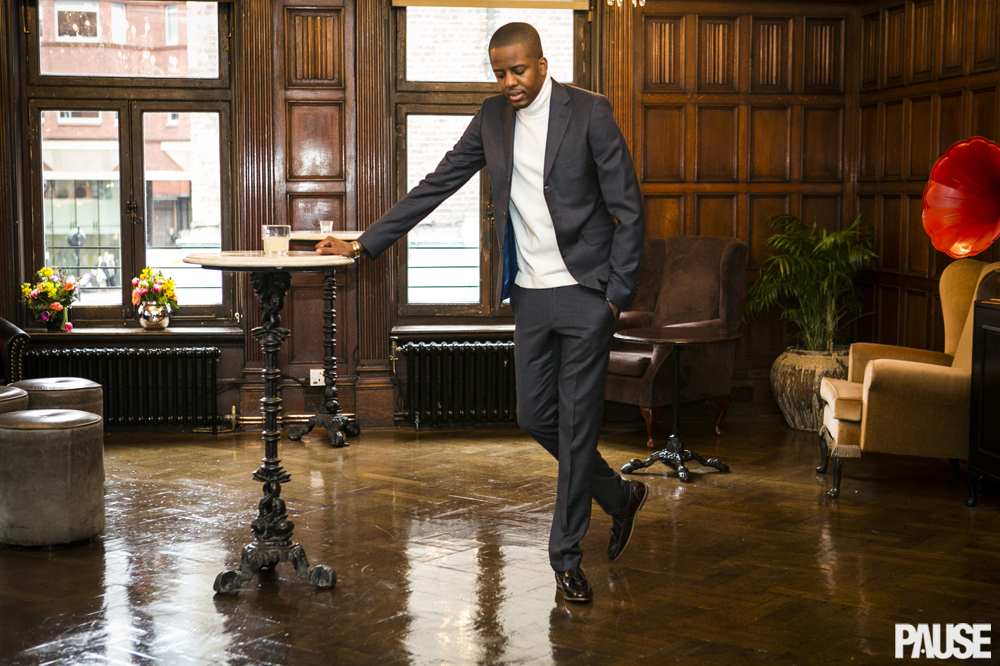 Suit – Kingdom London, Polo Neck – Kingdom London, Shoes – Kingdom London
We can see you're a socialite, which celebrity do you enjoy partying with the most?
I enjoy partying with everyone. I bring the party! I could go out on my own and party! The most fun I've had… I'd have to say Rita Ora.
In the UK, which celebrity is killing it in terms of style, consistently and always being on trend?
Rita, killing it. Dougie Poynter from McFly. I love his style. I think he's a fashion underdog. People don't really pay attention to what he wears because he's from McFly. But I think he kills it, hard. He gets that whole Saint Laurent look which I love. Boots, the hat, the hair, I love that.
Give us one advice for dressing on a night out, what are the kind looks to achieve this spring/summer?
It's weird because what I wear is not what I like for others. If I saw a guy wearing this then I don't think he'd look cool. Keep it smart. I like a nice trench, a nice trilby hat, I like that look. Come on boys.
What can we expect from Vas J Morgan in 2015?
Well obviously my clothing line. Let's hope you get to see that everywhere let's prey. More of TOWIE, that'll be back in June from Marbella. I think that's it for now, that keeps me busy enough.