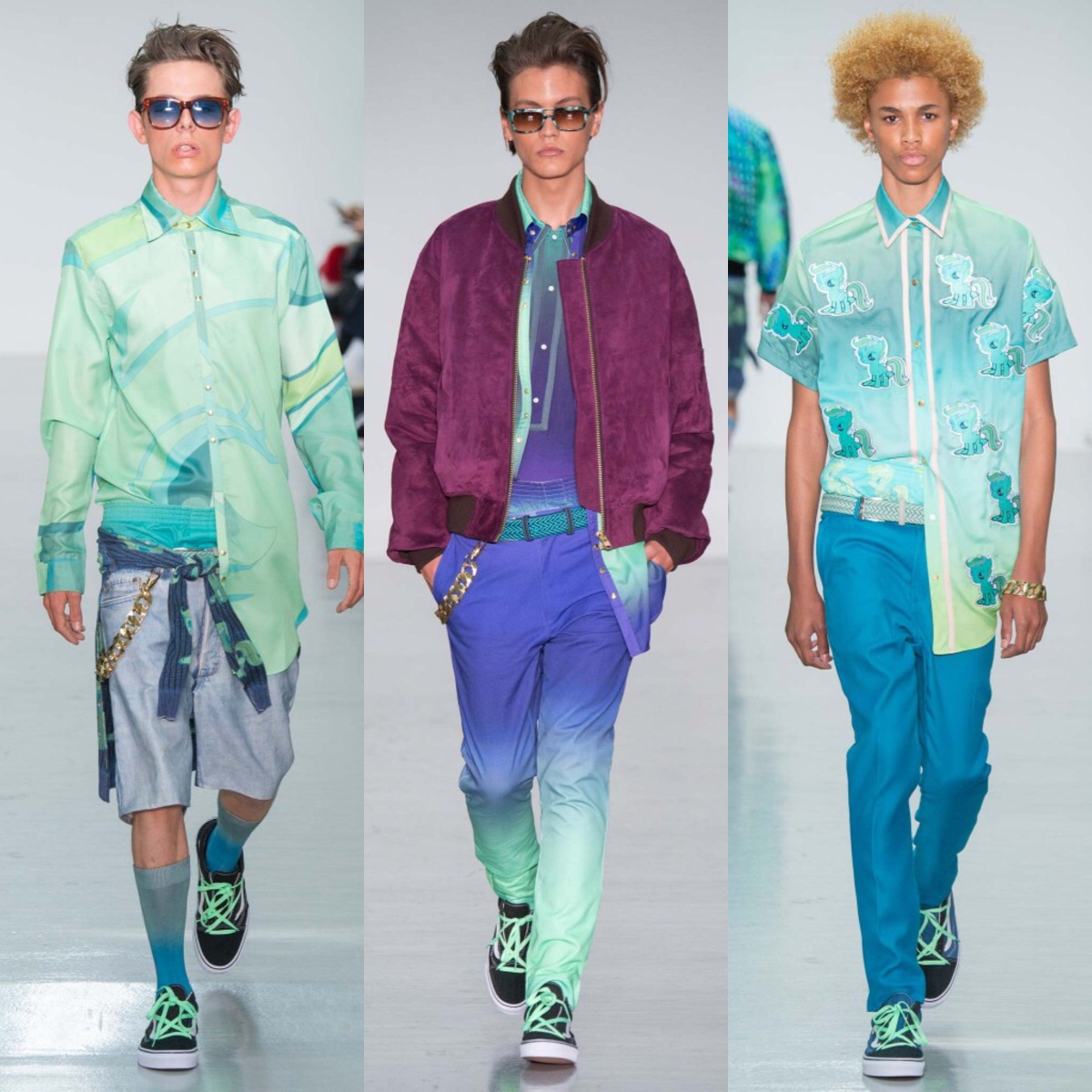 In usual fashion, Katie Eary showcased a vibrant collection at Victoria House during London Collections Men on Monday. The designer, who has previously worked with the likes of Kanye West and River Island, introduced a range of different designs set to make the Spring and Summer of 2016 a very interesting one.
At first glance, you may suspect that Eary had somehow collaborated with the creative minds behind the childhood phenomenon My Little Pony. However, look close enough and you will realise that this season, Katie Eary had decided to create a My Little Pony lookalike featuring very large genitalia, a look that works well with the regular bold ethos behind Katie Eary's collections.
Featuring brightly coloured short sleeved tops, shorts and sunglasses, Eary combines her usual tendency to invoke boldness and flamboyancy through colour with a 1950's teenage male vibe. Layering her purple suede bomber jacket with wide collared open shirts would not go a miss on the likes of Elvis Presely yet somehow, works perfectly well on the fashion forward modern young male.     
The use of ombre effects throughout the collection add to the flamboyancy of the collection, an aspect which is adored by many. With light blues and purples infusing into white and turquoise, Eary's collection appears to be perfect beach wear whilst still being very much so accepted as street style through the incorporation of bomber jackets – a look which has made many appearances through LCM.
If one things is for sure, it is that Katie Eary is continuing to make big and bold moves in the world of fashion and we can do nothing but wait for her SS16 collection to release.