Vogue Japan sets the bar high.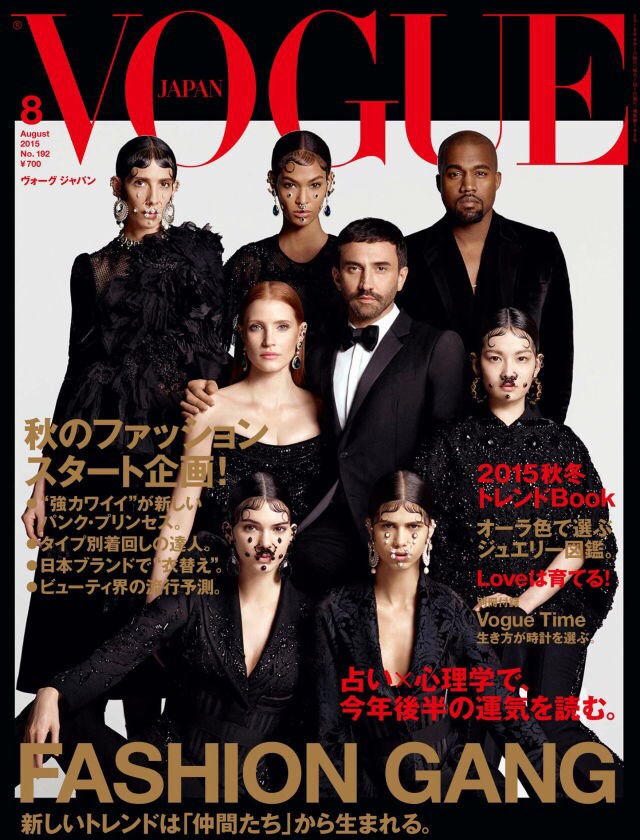 Lot day Vogue Japan reveals their upcoming August 2015 cover which sees fashions highest individuals unite as one. The cover story is entitled "Fashion Gang" and features a few familiar faces who are all recognised for having an influence to the fashion industry. Shot by Luigi and Iango, the cover features Riccardo Tisci, Kendall Jenner, Kanye West, Jessica Chastain, Joan Smalls, Mica Arganaraz, Jamie Bochert and Akimoto Kozue. The legendary fashion icons are all wearing the Givenchy by Riccardo Tisci head-to-toe styled by Katy England. We at PAUSE look forward to seeing the full story later this summer. Stay tuned for the film to launch tomorrow on www.vogue.co.jp and the issue to hit newsstands in July.
Click here to shop Givenchy's latest menswear collection.
William Stone offers a mix of safari looks and tailoring for Spring/Summer 2016.
William Stone's Spring/Summer 2016 outing is a presentation of contradicting aesthetics. From the models' hair styles – dreadlocks, top-knot or tight cuts – to wildness of the prints and mixture of tailoring. The collection includes both sophisticated and more relaxed pieces: tailoring in green and navy stripes are worn in a casual style, while shorts and bomber jackets are worn in a smarter way. The graphic floral prints, colourful and jungle-inspired, can be found across denim western jacket and shorts; moreover, partridges are printed on a bomber jacket and coordinating trousers. The collection includes footwear as well, with leather sandals in different colours.Other elements included softer sweats with chevron stripes and loosely rolled hems, bringing together the small but well-considered collection from the young designer.
You can view the entire William Stones Spring/Summer 2016 collection below, from London Collections: Men.