European Exclusive Release Inspired By WWII Fighter Squadron Nose Art.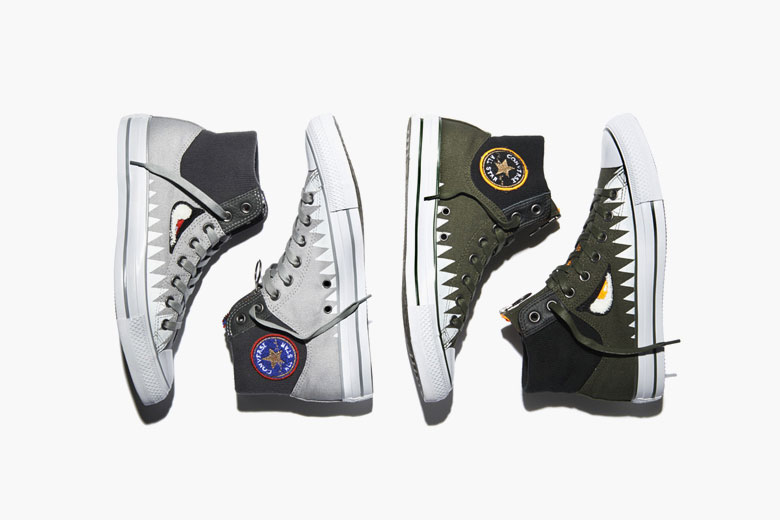 CONVERSE introduces the Converse Chuck Taylor All Star MA-1 ZIP "Shark Pack" for Summer 2015. Since its debut in 1917, the Chuck Taylor All Star has become one of the world's most legendary sneakers with fans, artists and musicians adopting the ubiquitous sneaker as a badge of creativity and self-expression.
The Converse Chuck Taylor All Star MA-1 Zip "Shark Pack" takes its inspiration from key visual elements of iconic World War II fighter planes, and blends them with classic Chuck Taylor All Star DNA to create something new and unique. The sneakers debut in two colorways – dolphin grey and imperial green – that reference camouflage used in military aircraft livery, with premium features such heavy grade 14oz canvas uppers, knitted collars and tongue zip detailing. They are complimented by white midsoles and toecaps with tonal rand stripes, and embroidered ankle patches, offset with vibrant accent color borders. They are finished with a bold "shark mouth" graphic, similar to those made famous on the noses of Curtiss P-40 Warhawk aircraft during World War II.
The new Converse Chuck Taylor All Star MA-1 Zip "Shark Pack" sneakers debut exclusively across Europe at select stores from July 1, 2015, for SRP € 90.00 EUR.