Devin Carlson transitioned from his long and oversized silhouettes to shorter pieces and designs for this collection, which is engaged in a game of symmetry and mirroring.
To give the idea of symmetry, models wearing boxy shorts with tapered hems and bomber-blazer jackets stood next to mirrors: the technique was used emphasized the overdyed fabrics and kaleidoscopic prints, whilst lannel shirts added a rock-punk element to the sportswear inspired collection.
The colour palette for Chapter's Spring 2016 Collection is simple and features black, white, grey, khaki and dyed blue. The designer opted for a wide range of fabrics.
See the full collection below:
Kenneth Ning transforms his inspirations into a Spring/Summer 2016 collection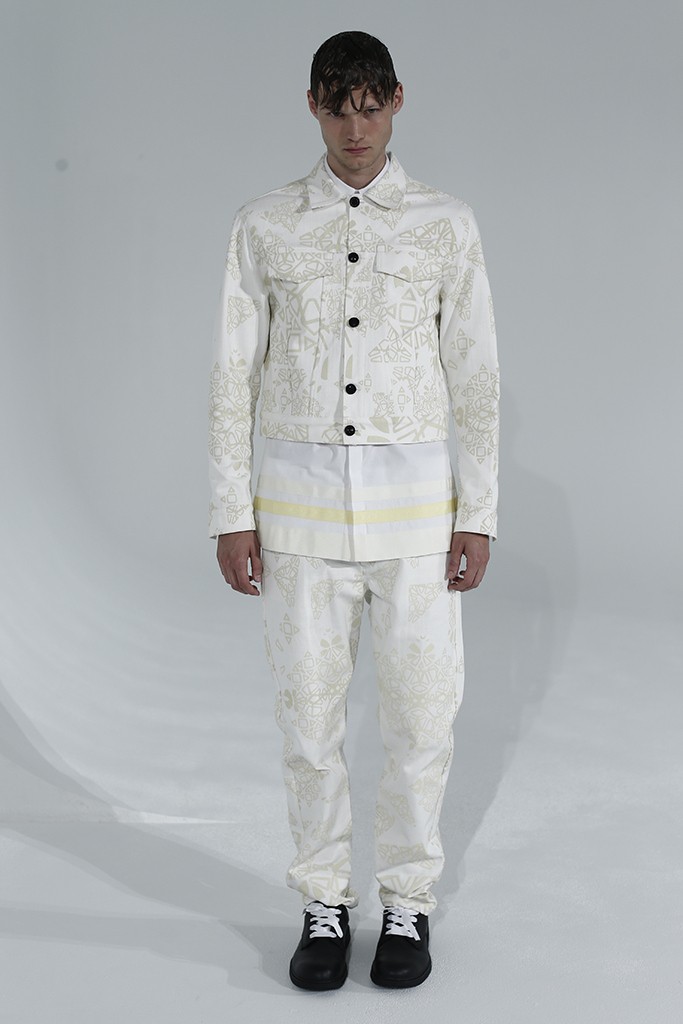 Gathering his inspirations from a variety of influences to create his Spring/Summer 2016 collection, Kenneth Ning constructed a diverse offering to ensure we remain looking fashionable for the new year. Looking to Morocco's spices for his bright colour palette, the designer combines a selection of yellows on shorts, shirts, coats and trousers to spruce up his predominantly monotonous collection. Further inspiration is taken from sand storms for his cotton face masks as well as floral tapestries, which influences the disrupted pinstripe suits.
These themes are manifested into other interesting garments such as a bomber jacket splashed with a watercolour print, pleated shorts, a lace shirt styled with wide-leg trousers, as well as other tonal looks. Additional looks, which are included in the collection, are the graphic black and white silhouettes that seemed to be more conceptual than inspired. The entire Spring/Summer 2016 collection from Kenneth Ning is available to view below, and be sure to look out for him during the new year.