A Copenhagen makeover by Wood Wood.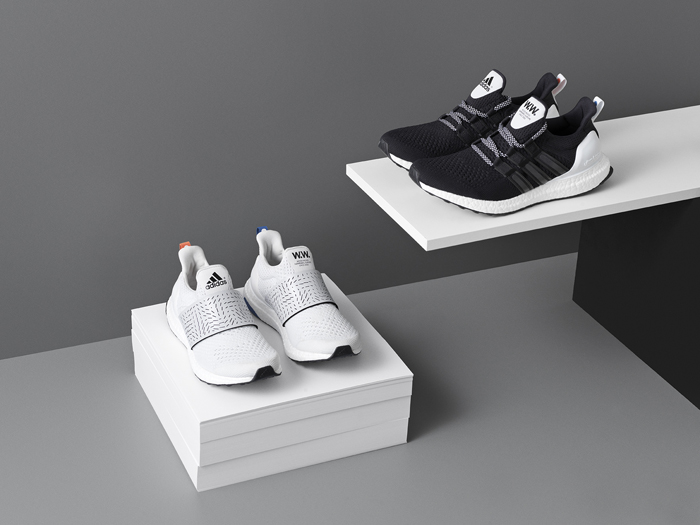 Danish street wear imprint has left their mark on the adidas ultra boost, the venture comes around as part of adidas' Consortium World Tour, this being one of many collaborations between sneaker giant, Adidas and famed street wear mainstay's.
Inspired by the events of The Big Bang, Wood Wood manifest a concept in their take on the UltraBoost, making this a somewhat special collaboration. Countering initial thoughts behind using The Big bang as inspiration, The minimal design of the shoe shoes that the focus on The Big Bang goes much deeper than what meets the eye. The shoe's design is based around the gravitational waves produced by the event, which have still been detected as late 2014. These waves were charted and shared among the scientific community through a chart bearing orange and blue line segments representing the extent of The Big Bang's impact; thus the tonal orange and blue detailing on the pull tab of the sneaker.
The mens version features a standard lock-lacing enclosure in a heavily speckled knit. The womens edition on the other hand features and interesting elestic midpanel, making this a sock slip-on version of the UltraBoost, I'm sure all can agree that Wood Wood left a clean, cut and light finish on the Adidas' front-running shoe; look bellow for more shots of the Adidas x Wood Wood UltraBoost.
Available from the 20th of February at all Wood Wood locations & online at www.woodwood.com.
Tell us what you make of Wood Wood's effort on Twitter @Pause_Online.