An exclusive interview with Polish streetwear brand MISBHV.
Just recently launched their Spring/Summer 2016 collection, we at PAUSE did a quick Q&A interview with Polish streetwear brand MISBHV about their upcoming Autumn/Winter 2016. We also discovered more into MISBHV's gender approach, feeling towards their designs, favourite fabrics and what we can expect from the thriving brand in the future.
Let's start out by asking, who is the MISBHV boy or girl?
Our MISBHV muse is our close friend Sita, she's a Spanish girl who lives in Milan we met her two years ago and since then we became really good friends. When I think about our stuff I always think how she would fit in it which helps us create the collections.
Are most of the pieces from MISBHV unisex?
Most of the stuff unless the garment really needs to be separate like a wool coat because the shoulders would be too wide, unless we need to do it, we don't separate the genders. It works very well in the Asian market because boys and girls kind of have a similar look. It's not like Europe or the states where the boy and the girl are built very differently.
In terms of your demographic, where is your biggest market?
Definitely Asia, I feel like Europeans are more conservative.
What message do you want to convey to people buying MISBHV?
For me it's not so much about a message, we just put out what we feel is cool at a certain time. I wouldn't say there's a huge message behind it but definitely our surroundings, where we're from is coming out and the way we portray our boy or girl. So it's a mix of our surroundings, where we are from and what we are feeling at the time.
What is your main direction for Autumn/Winter 2016?
Our main direction is to go more deeply into silhouettes and fabrics. As we just started with prints on t-shirts and sweatshirts. We feel like we are good and strong with heavy garments, shearling & wool, oversized garments – that's what we want to show to people. We go towards more of an oversized silhouette then we develop from that.
It's also about that we are growing, we feel it is extremely important to build a world that you can live in. We want to be sure that we can build a world that reflects us as designers and as a brand.
Have you named this collection?
It's not really named yet but it revolves around something connected to music, youth and rebellion in a way.
What was your inspiration behind it?
Our inspiration is our life, our background! That has always been the main inspiration. What we try to do now is try to develop on the previous season, we tried to pick up the best selling items and try to rework on them and bring better fabrics, silhouettes, ideas – something that is eye-catching. Like we did choosing the colour orange for AW16.
What has been the most popular item in previous collections?
Definitely the jean jackets that we've been doing for a few seasons now which have been selling very well as well as the oversized long coats. This season (AW16) we introduced them in new fabrics. We've added more studs, it's not just print, we did more colouring, more wash, more distressing.1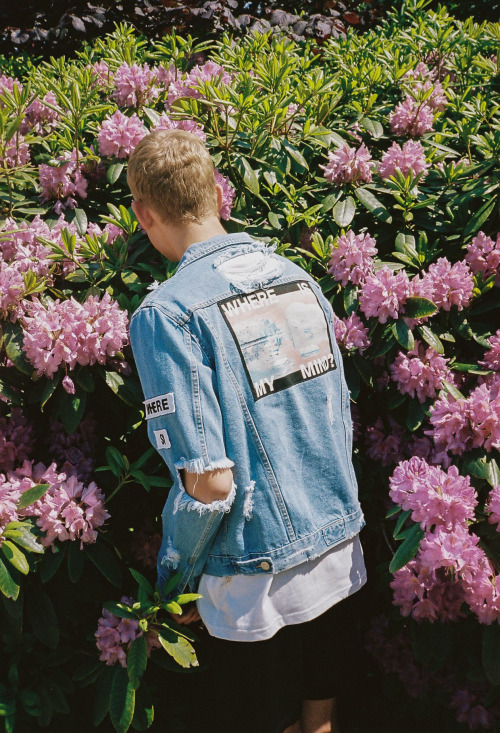 What are some of your favourite fabrics that you used for AW16?
Something quite exciting for us is that it was the first time that we worked with goat leather skin for Autumn/Winter 2016. It was pretty exciting, we made jackets cut from different pieces of leather and sewed them together.
So what can we expect from you this year? In the future?
I think it's all about creating our own world and we learn how to do it by the graphic designers we use, the silhouettes we use and the materials we use. In the future we may do shoes or fashion films. We will continue to go in our own path and create our own world through each season. Our goal is to express ourselves in different ways, that's our goal for the future.