Spring is well and truly upon us and it's time to bid farewell to the heavy winter coats – although it is still only March, so maybe keep them at arms length for those much-loved April showers. Even so, prepare yourself to embrace some of the most daring trends we've seen on the runways in recent years. Let our PAUSE Guide help you with picks of the top trends you should be replicating, as seen at the Spring/Summer '16 and on the streets. These are the biggest looks we think are worthy of copying from the shows in London, Milan, New York and Paris last June.
Chinoiseries & silky fantaisies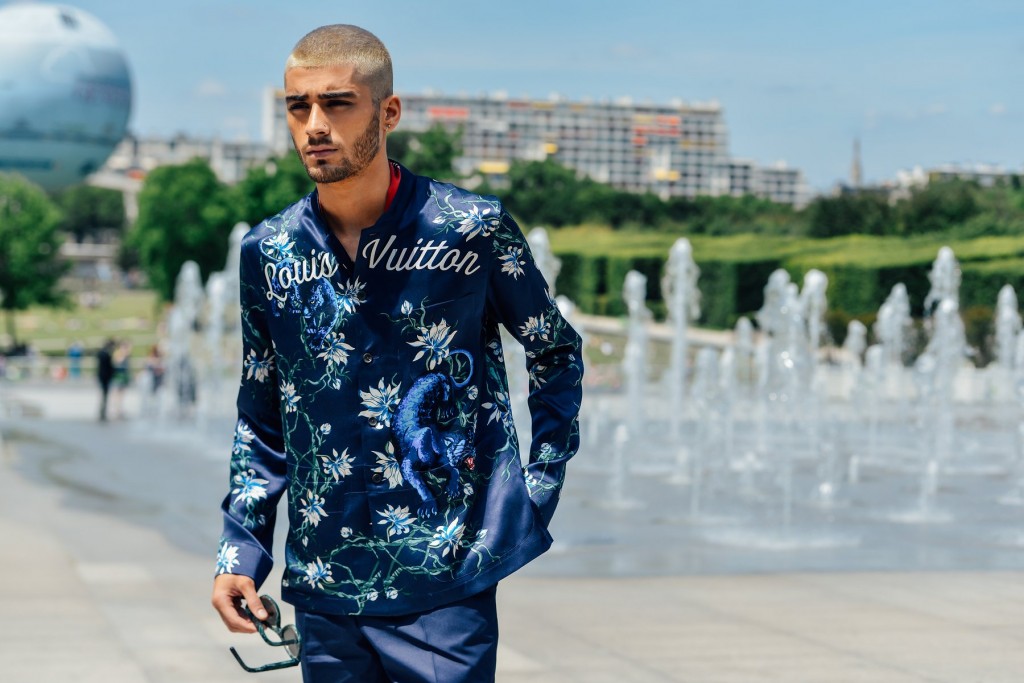 One term you need to know is 'Chinoiserie'. It is the use of Chinese motifs, emblems and techniques in Western art, i.e. the latest menswear shows saw an influx of Chinese concepts on the runway. For SS16, China and its culture was a strong theme, most pertinent in collections by the likes of Valentino, Louis Vuitton, Dolce and Gabbana and Saint Laurent. You've all seen Zayn Malik in that silk Louis Vuitton shirt, right? Silks and satins are having their moment, with all the major brands featuring the luxury fabrics somewhere along the line, further taking influence from Far East orientation.
Gucci proposed suiting emblazed with Chinese-inspired wildlife and botanical fantasies. Alessandro Michele, the Italian brand's Creative Director, has seemingly sparked this heightened level in androgynous dressing (did you really think you'd see floral-embroidered menswear like this on the runways 5 years ago?), showing a collection of feminine-infused clothing for Autumn/Winter '15, to which other designers have replicated this season. Cherry blossom and birds of paradise sit at the heart of Gucci's SS16 offering, which is the epitome of the Chinoiserie we see for the new season. Their satin pyjamas even spurred a trend for Autumn/Winter '16, which saw an unsurprising amount of pyjama and nightwear-inspired looks. Not only they have further blurred the boundaries of gendered dressing, but they have created a whole new zeitgeist, in which you should get involved.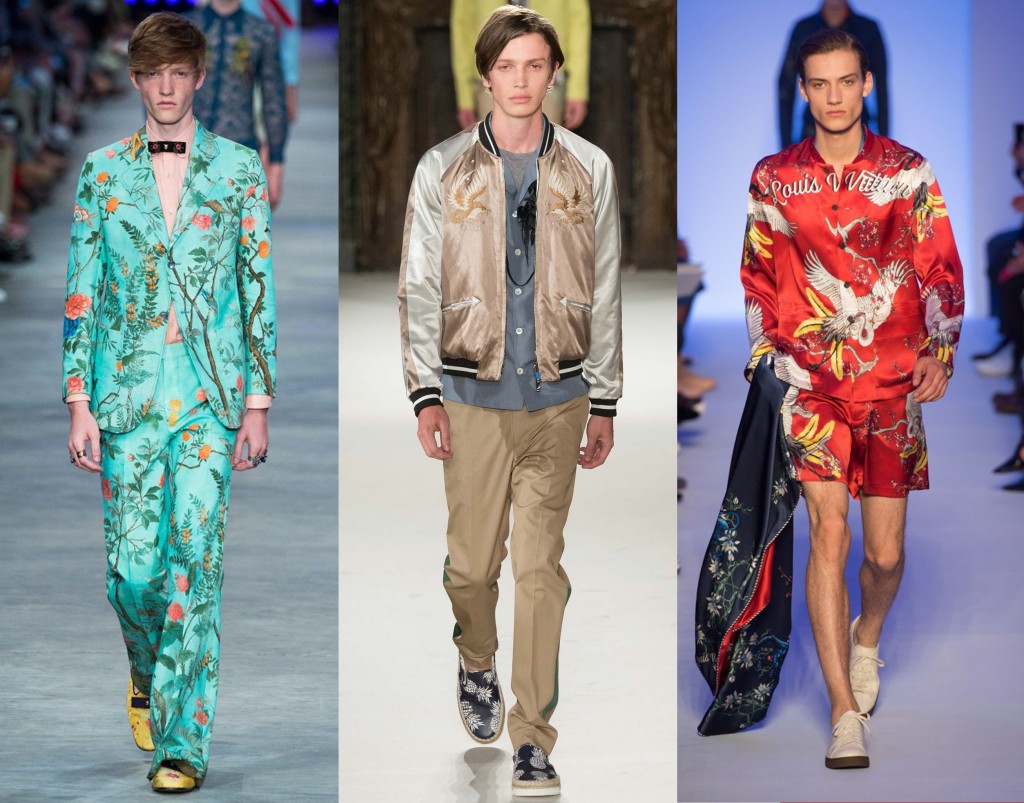 Exploring denim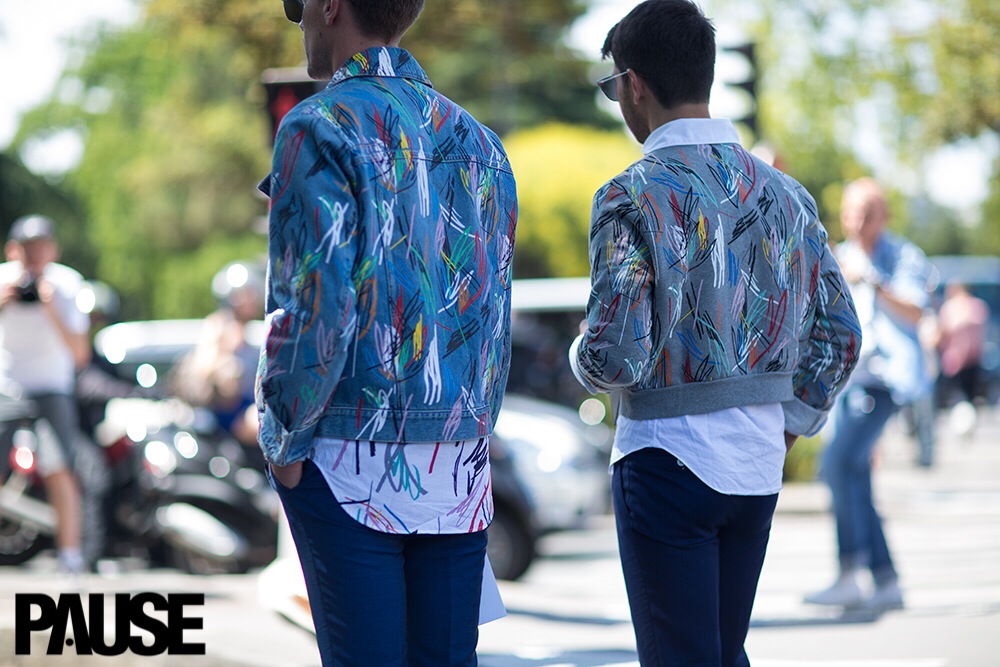 This season, you should be mixing your denim up a little. We have seen vast innovations in the denim department over the past couple of years, which has seen the unlikely revolt against skinny jeans. Instead, voluminous trousers have grown in popularity. Topman Design is a leader in promoting wide-legged pieces, scrapping their dedication to the skinny jeans that we have been wearing for the past decade altogether. Furthermore, denim has seen a radical make-under. Jeans are now as distressed as ever, with ripped, dishevelled and torn looks dominating the runways, from London to Milan. Phillip Plein, James Long and Calvin Klein all favoured ripped and anything-but-destroyed looks, which is good news for men everywhere who prefer to keep the same pair of jeans for a decade or two.
This look shouldn't just stay on the bottom half of your body though. Let it stray upwards and get yourself a torn and bleached denim jacket. J.W. Anderson and Sarah Burton over at Alexander McQueen thought it was time to include denim in their avant-garde collections. Pleated, reconstructed and tailored denim played key-roles in their collections and it looked beyond recognition. Craig Green featured double-denim – a trend that will most likely never leave us as long as '90s fashion is popular and E. Tautz played up to both trends, presenting wide-legged raw denim field trousers. Basically for SS16 you need to completely reinvent how you wear denim – wide, distressed and as far away from conventional skinny jeans as possible.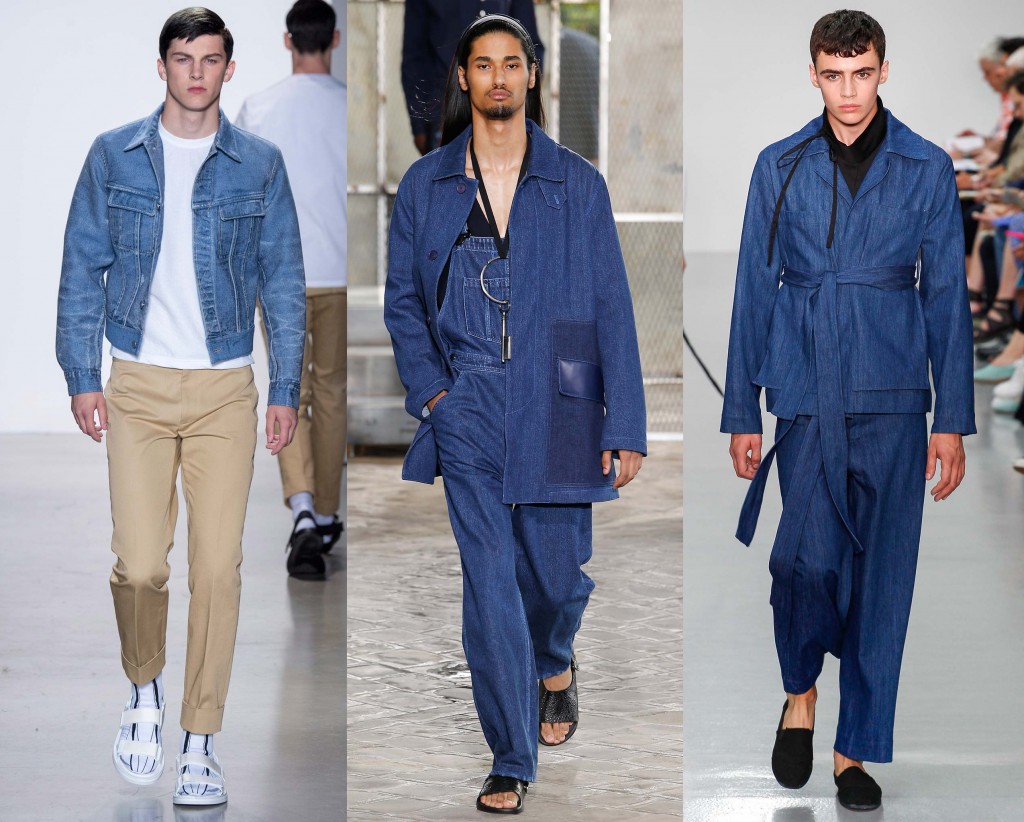 t's not just denim that's baggy. Slim fitting trousers have had their moment and that moment is over. The likes of Agi and Sam, Etro and Craig Green gave us wide-legged looks on the runway, whilst street style at the shows from Paris to New York showed that skinny-fit trousers really have had to move over. Tailoring too, saw a rise in the baggy fit, with Fendi, Lanvin and E. Tautz favouring slouchy cuts. Worn formally as a suit or casually with an oversized sweatshirt, these should be your preferred trousers this season.
 Wide-legged looks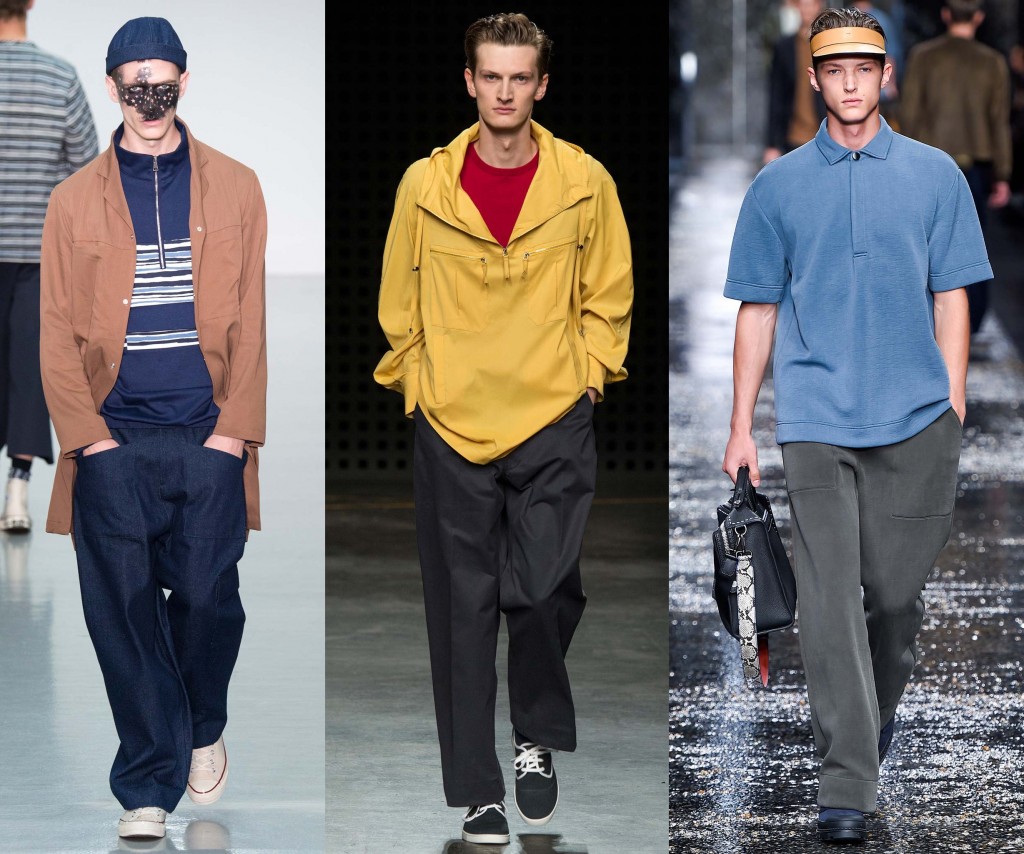 The big bold bomber
With regards to what you should be wearing up top, the go-to jacket for Spring/Summer '16 is bold and lavish. Souvenir jackets with sharp graphics were big on and off the runways and this season is definitely the time to be wearing one. Valentino and Marc Jacobs referenced the early '70s with their embroidered dragons and oriental designs. Saint Laurent, Dries Van Noten and Louis Vuitton followed this trend, working Japanese influences into theirs and using the finest silks and satins. Sporty bomber jackets and blousons have been hits for quite some time, but now they have been upgraded and it's time to give yours a worthy replacement.
 Stripes on the streets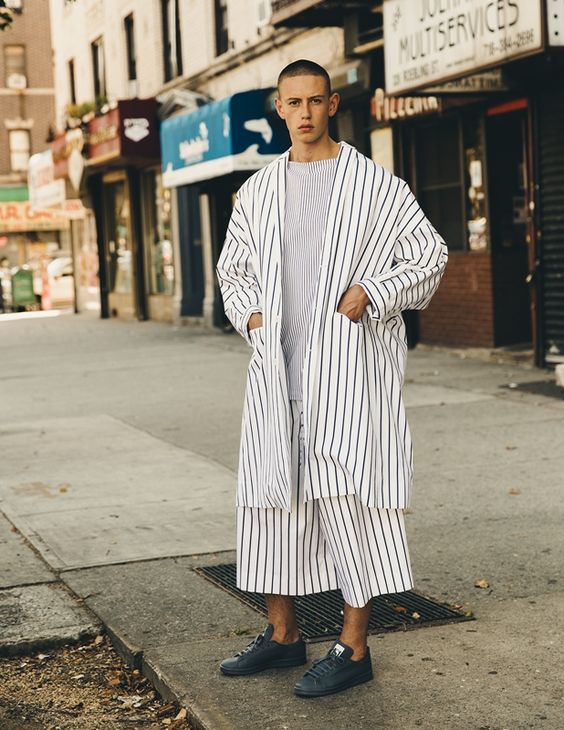 Stripes have always been hot at the men's shows and this season will see them continue their reigning presence. This time however, they're here with a purpose. Bold, loud and making a statement, stripes will be the pattern you will be wearing all the way into the final days of summer. One way to nail the Spring/Summer 2016 trends on the head is to invest in a pair of wide-legged striped trousers with a light or pastel colour – top. Bottega Veneta, Topman, Agi and Sam, Givenchy and 3.1 Phillip Lim all emphasized the need for some stripes this season, with the key-look spread across suiting and casualwear alike. John Varvatos looked towards the Southern-Californian vibes of the cool '70s for his inspiration, with stripes appearing everywhere at his show (literally – even the runway was striped).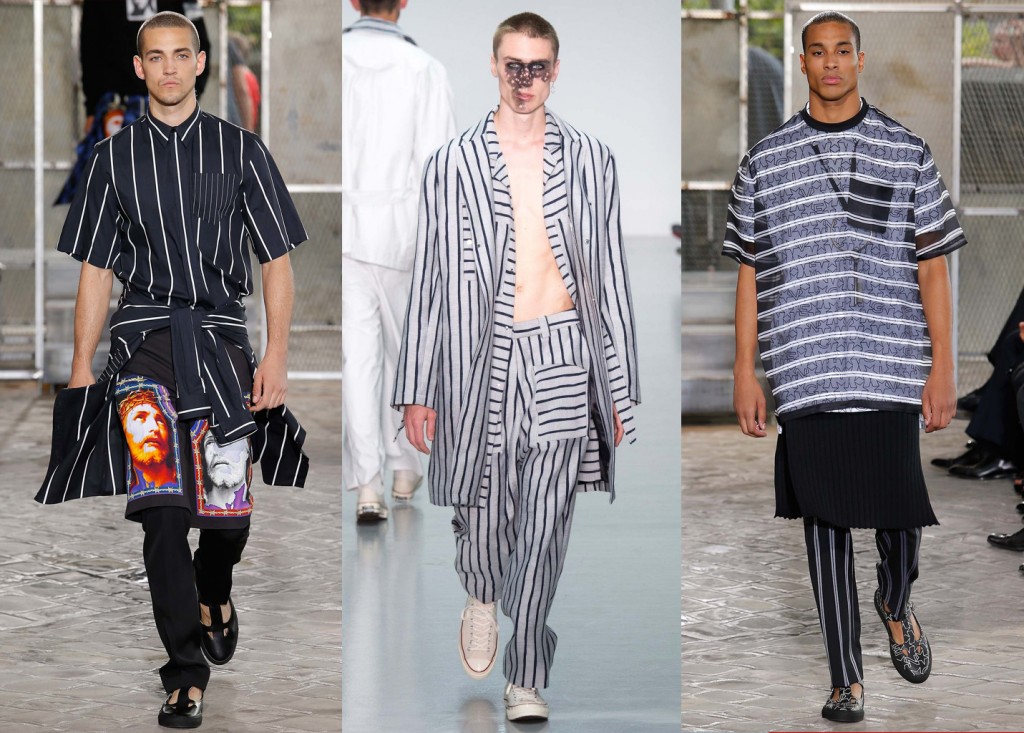 The case of boiler suits

Whilst all of these are major trends for this season, one that really stands out to us is the rise in the male boiler suit (not the paint spattered ones your dad wears to mend the car) Balmain and Alexander Wang led the way with navy and black masculine versions of what was once a strictly female product when it came to fashion. Utilitarian vibes continuing into this season and Valentino gave us a raw denim jumpsuit – one of the best boiler suits out there. Neutral tones and lightweight and loose silhouettes are what you should look for with YMC and Christopher Raeburn offering functional shapes and basic colour palettes. Perfect for those summer evenings.