Check out five of the best men's watches under £200.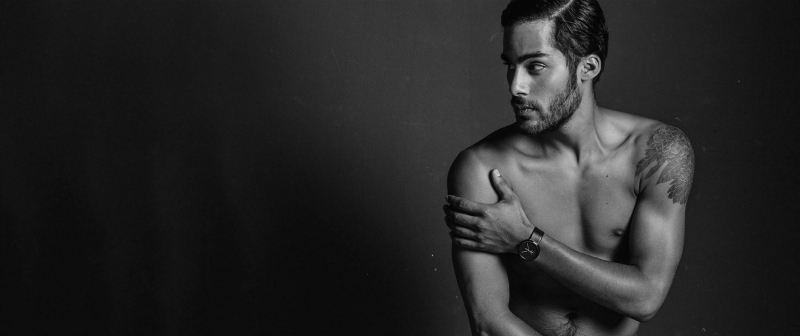 When considering the purchase of a watch, a few things come to into consideration; the style, the materials, the brands and, for most of us, the price. With many watches now easily reaching into stratospheric six-figure digits, the idea of purchasing that perfect timepiece can often seem like an old man's game.
In recent years, however, we've seen a bit of a revival of the traditionalist idea of having a bit of time strapped to your wrist – you need look no further than Apple's efforts with the iWatch for proof of this. As such, we've seen something of a renaissance when it comes to watch manufacturing. You'll still get your Rolex, your Chopard and your Cartier, of course, but there's also a plethora of new boys on the block – both contemporary and classic.
These brands are thankfully aimed at the younger, modern gent and usually combine style, quality and luxury at a more affordable price point. Check out our list of some of the best watches under £200 right now.
Best Men's Watches Under £200
Greyhours – The Essential
A brand born from the disdain of the current first world and the waste it creates. At Greyhours, they believe in producing quality, luxury goods without the inflated price tag. As apposed to most high-end watch manufacturers who pair massive advertising expenditure with lavish centrally placed retail locations; Greyhours are exclusively online and instead of bricks and mortar, they put their money into exclusive, high-quality materials.
The Essential is Greyhours current, and only model as of now – not that it's needs any company. Resting on a supple Italian leather strap, the sleek 40mm stainless steel case features an opulent matte black face which starkly contrasts with both the white hour and minute hands, and the bold electric blue second hand.
Available in both black and white from the Greyhours website for the incredible price of £180.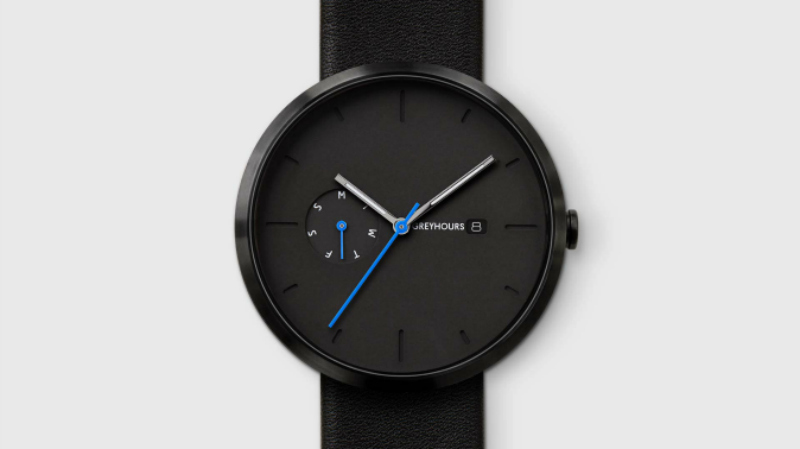 Emporio Armani – Ar1731 Stainless Steel and Leather Watch
When it comes to timeless style, Armani always gets it right. Whether through the means of fashion, grooming, accessories or, indeed, watches – the Italian powerhouse quite rarely gets it wrong.
The simple, classic designed Ar1731 is an ideal starter to any young man's watch collection. The stainless steel casing, navy blue face and matching leather strap would make this option an easy, stylish way to add a little classic flair any outfit.
Available from WatchShop for only £107.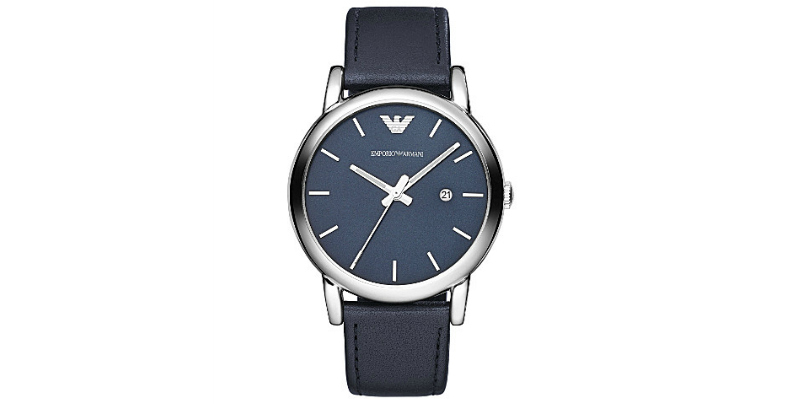 D1 – MO Monochrome Ballistic Watch
Back to the more contemporary, minimal options – D1 watches are another Italian brand that focuses on the sleek, modern silhouette; stripping back on any form of detailing or classic features.
Available in a plethora of colour options, if you're the kind of guy who enjoys tonal dressing – this is the one for you. The chunky, utilitarian build of the timepiece will makes this option a great everyday choice to stand out, while not overpowering.
Available in a multitude of colours from Selfridges for only of £150.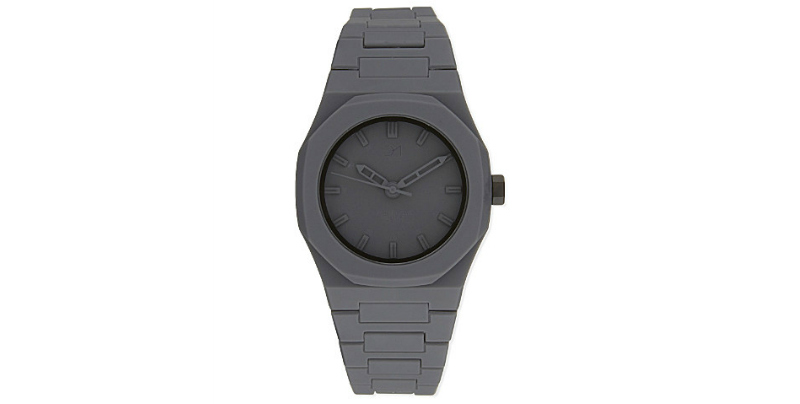 Skagen – Skw2346 Holst Rose Gold-Toned Stainless Steel Watch
Those looking for the more subtle, slightly classic option should consider a timepiece from Danish brand, Skagen. The rose gold 'holst' watch with a genuine leather strap is one of our favourites from the brand – and under £200!
The perfect marriage of classic and minimal features, the contrast of the rose gold hands and features against the black face will draw just the right amount of attention without looking tacky or overbearing.
Available from Selfridges for £155.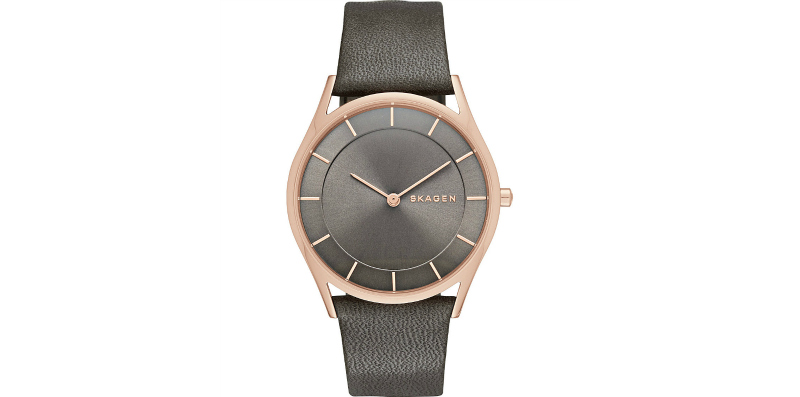 Unknown –  Un14tc05 Classic Stainless Steel & Leather Watch
Last, but not least; for the guy looking to bag himself a stylish piece of arm candy without breaking the bank. London's own watch brand, Unknown, are the perfect first choice to start off any burgeoning watch collection.
The grey dial / brown leather strap combination manages to strike that sweet spot between classic and contemporary, similar to the Skagen option above. For well under £200 – this one's a complete steal!
Available from Selfridges for £55.