ATH x Alex Cannon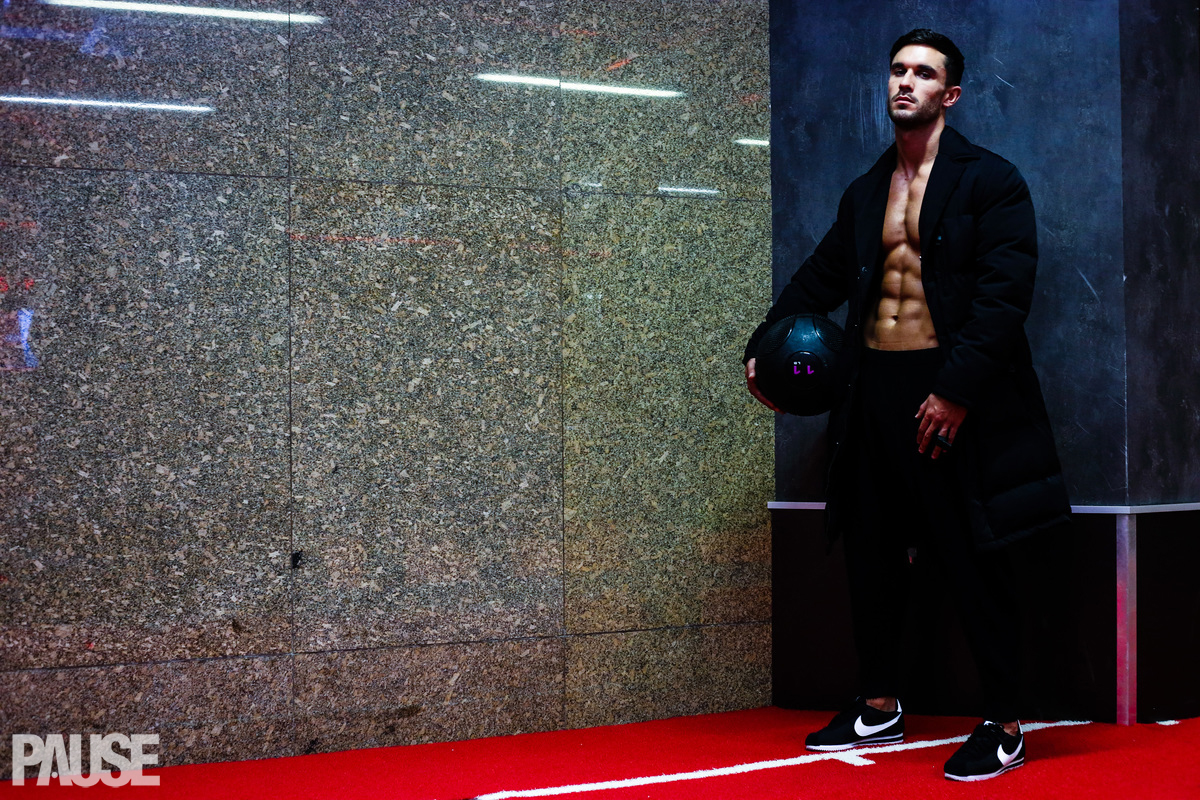 Creative Direction, Styling, & Digital Retoucher: Rhys Marcus Jay // @rhysselects
Photographer: Ohii // @greeninc01
Hair & Make-up: Michael @ Jam Deluxe // @jam_deluxe
Fashion Assistant: Jess Stratton // @jmstratt
W Model: Alex Cannon // @alexcannon
Special thanks to Fitness First (London Bridge) for the location.
Jacket: Björn Borg, Shorts: A.P.C.O.V., Trainers: Nike, & Bag: Côte & Ciel @ Schuh
Tell us more about yourself… 
So, I'm Alex Cannon, 28. At the moment, my main focus is really my fashion blog, which I've just launched, and my supplement range which is coming. So, I've got a lot of work to go into that at the moment. They're my main two priorities.
Let's talk about your fashion blog. What made you want to venture into that?
My background's really in modelling, and then reality TV thing came through my model agents. They were looking for a model for a show who had a personality, and then they put me onto that. The opportunities sort of came through from then, but it was never something that I wanted to pursue, it just sort of came to me. It made sense to me to go down that route, but my interests have always been fashion. And now I've got the profile, it just sort of seemed like a natural progression to go down that route, and it's something I enjoy.
How long were you in modelling for?
Since I was about 18 or so, so it's been about ten years now, on and off.
So why now that you've decided to venture into fashion?
Because of my profile in social media, I had a lot of brands contacting me to post for them, so I felt like the best way to go further was to do the blog. I've always wanted to start my own range, so for me, blogging seemed like the best way to go.
Top: Ron Dorff, Shorts: A.P.C.O.V., & Trainers: Nike @ Schuh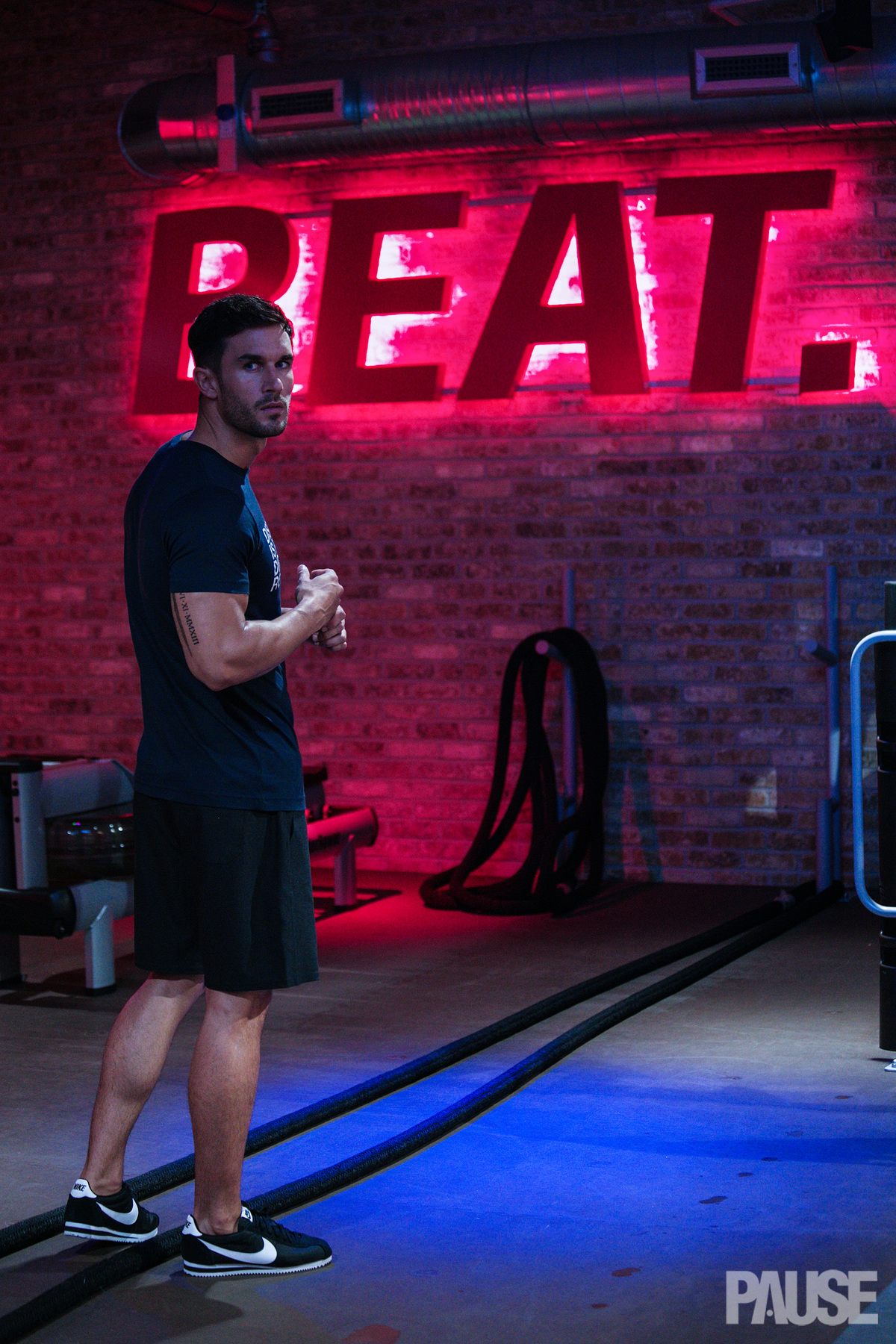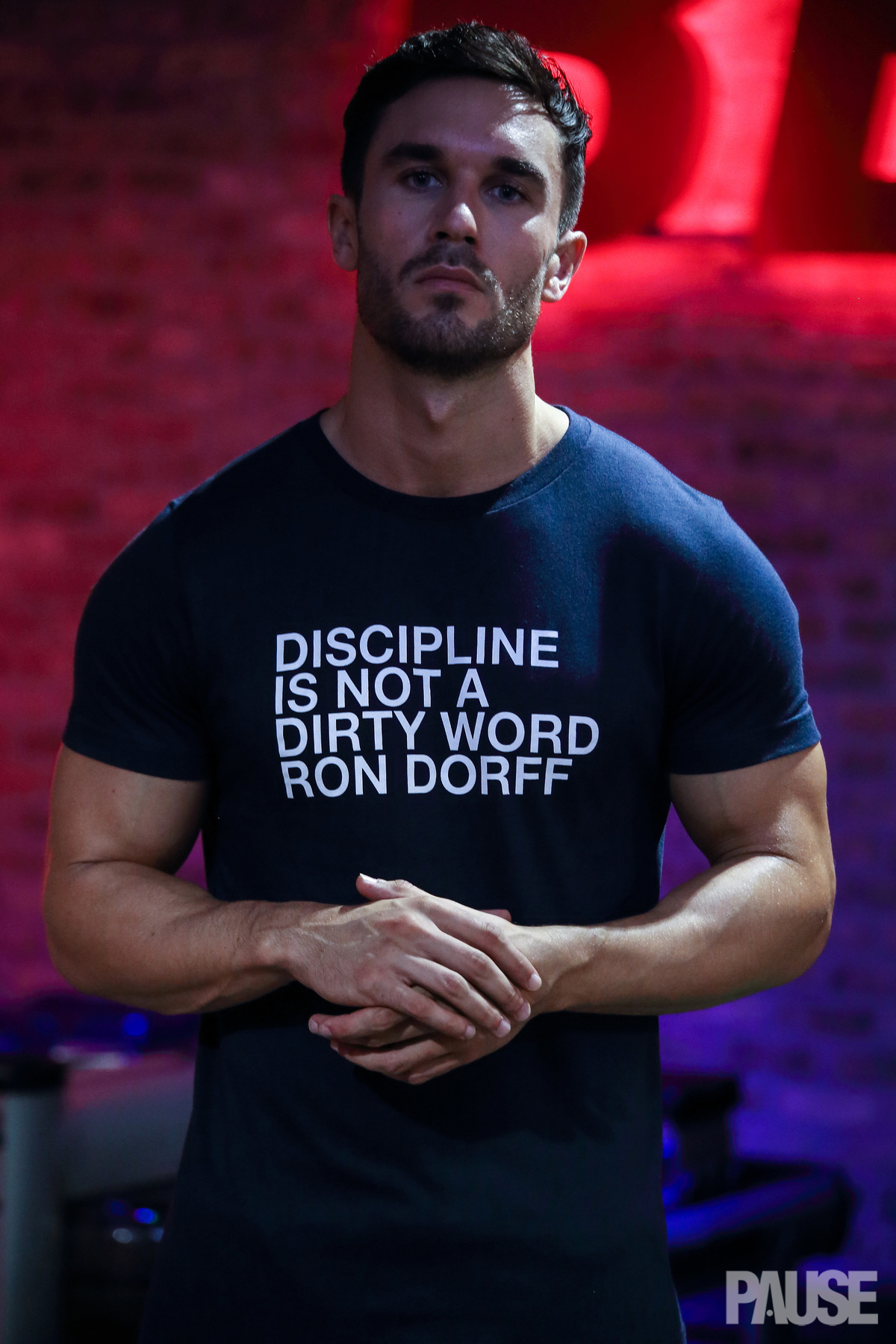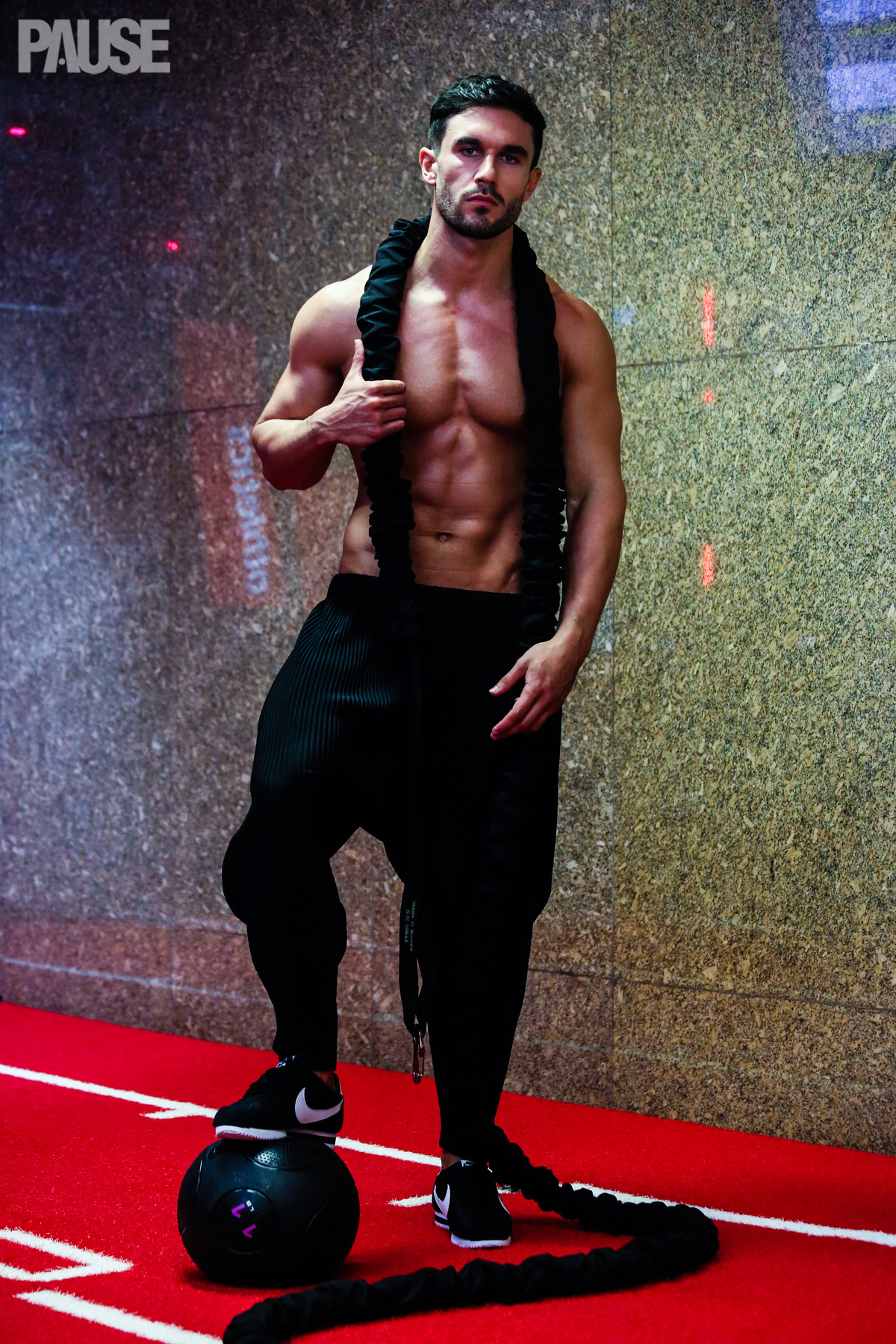 Trousers: Homme Plissé Issey Miyake @ Matches Fashion, & Trainers: Nike @ Schuh
Let's talk about some of the brands you've worked with.
Modeling-wise, I've done Adidas and similar brands. To be fair, with the blogging that has literally just launched, there would be like a lot of start-up brands who wanted me to help boost their business, like cosmetic brands for example. But I've definitely got my eye on some of the big players and I'm working out which way to take it to the next level!
So what is the blog about? What sort of thing do you do with the blog?
Just the things I'm really interested in: fitness, fashion, travelling. They happen to be the things that are most popular on social media as well. It sort of seems like a perfect marriage.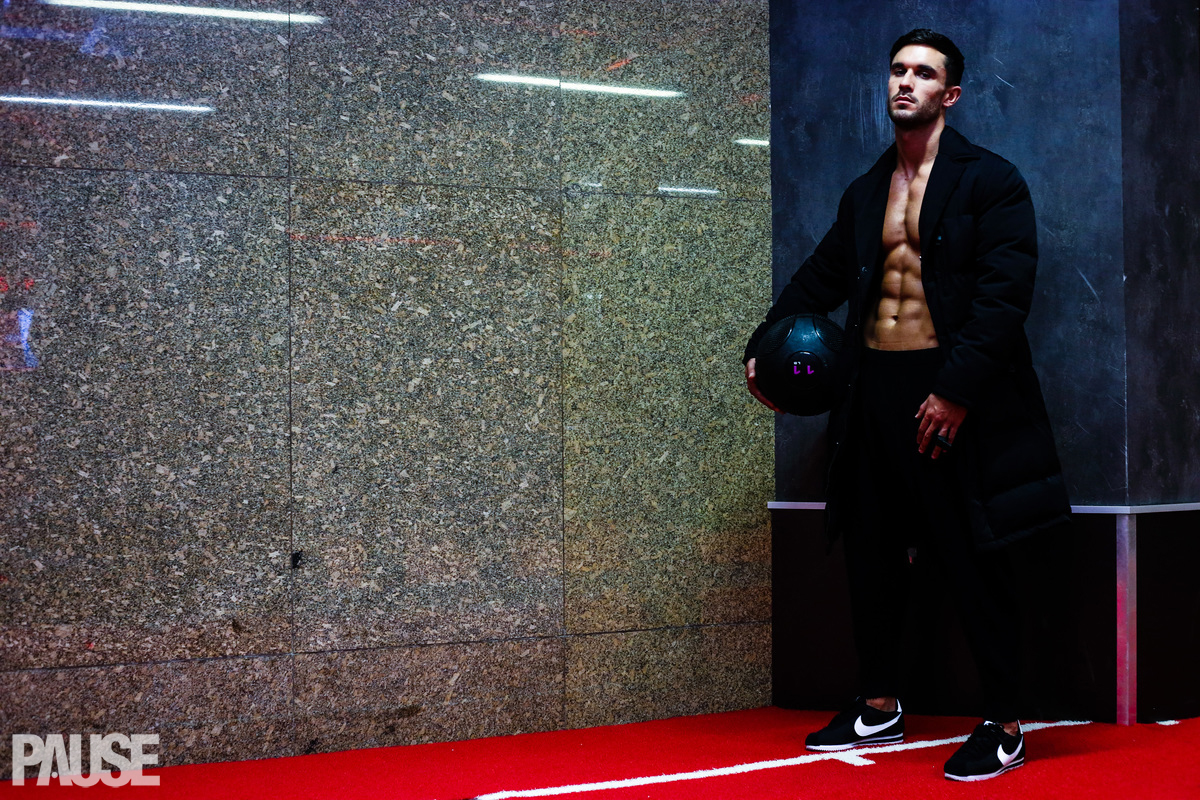 Coat: Lu-mei, Trousers: Homme Plissé Issey Miyake @ Matches Fashion, Trainers: Nike @ Schuh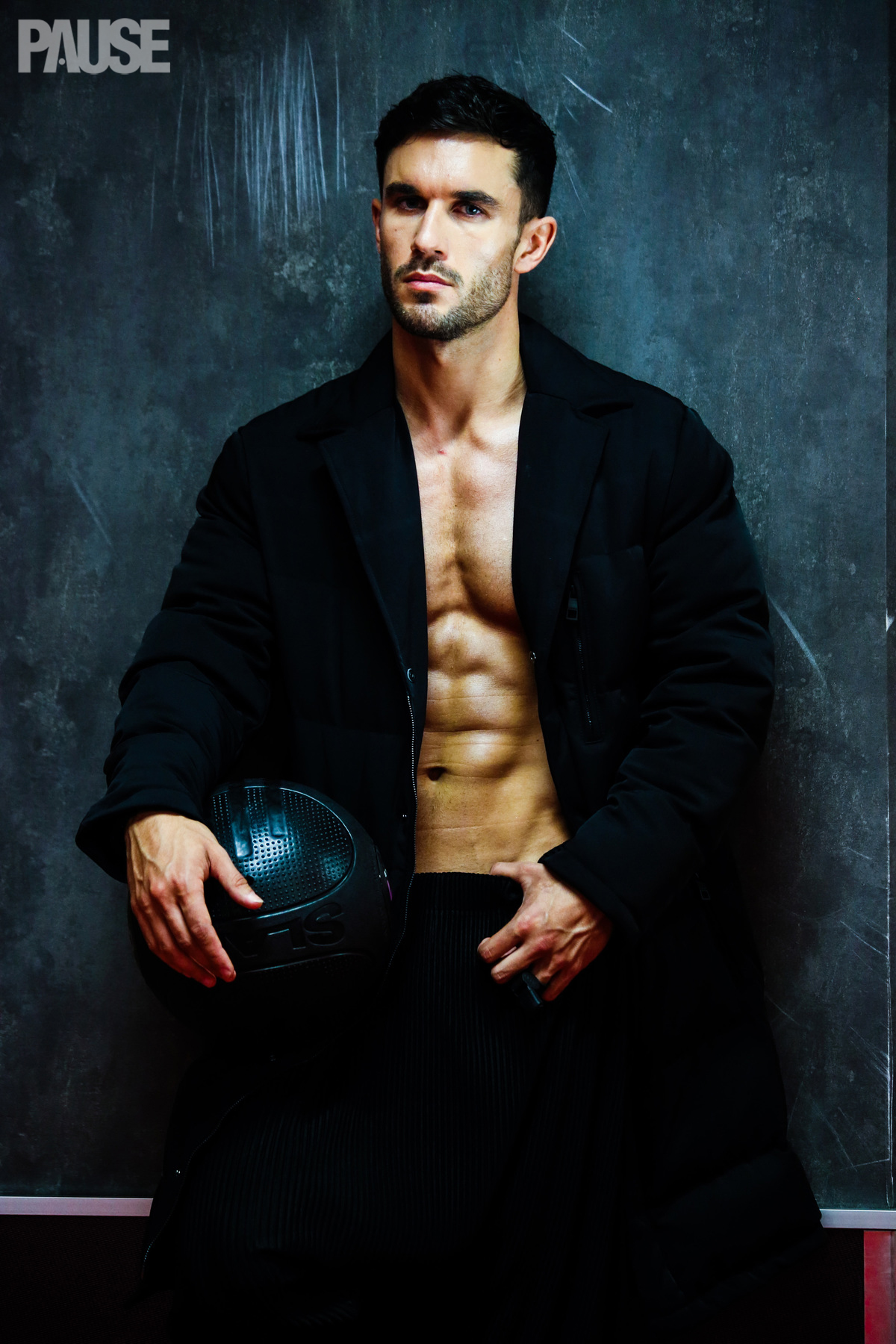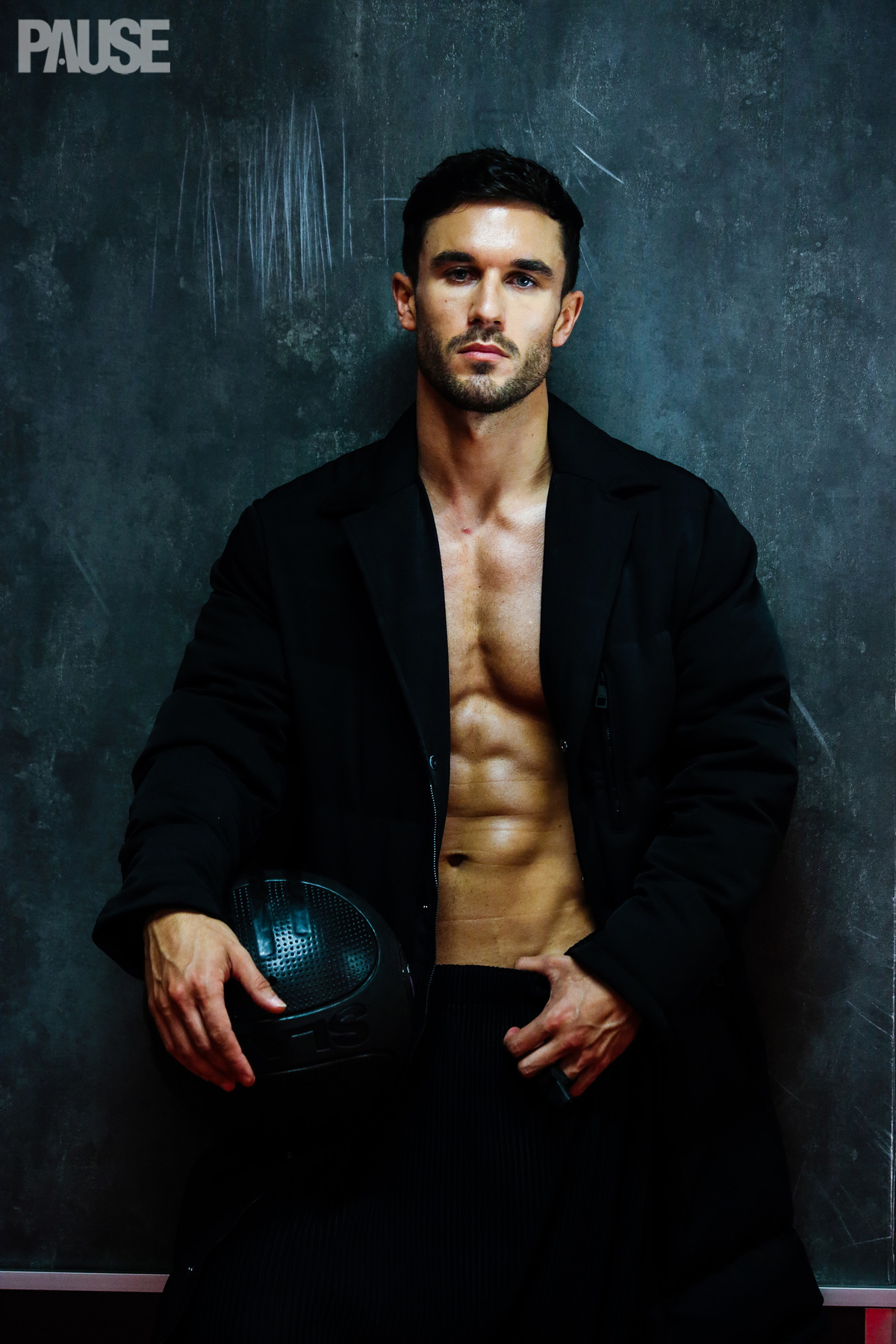 In terms of fitness, what advice would you give? How often do you train?
I'll train every day unless…
Every single day?
Yeah! Unless I'm hungover. Your body will tell you when you need to rest. I sleep but, if my body feels run down then I'll stop. I train 7 days a week, except when I'm travelling.
Wow! So, what do you do Monday to Sunday?
It's mainly always weight-based and I'll finish with some circuits. So, if I did a workout that focused on my chest, shoulders and arms, I finish with a circuit of light weights and cardio, in a circular motion. Everything gets trained at least twice a week.
Do you eat healthy food? Or can you eat anything because you train a lot?
I eat what I want but I know exactly what's in everything. For example, if I wanted to go to McDonald's now, I'd know exactly how much was in each thing, and I'll take it away from other meals. Then, I'll have one healthy meal for the rest of the day. It's more about the education rather than the type of food. Bad foods won't make you fat, but the amount you consume will make you.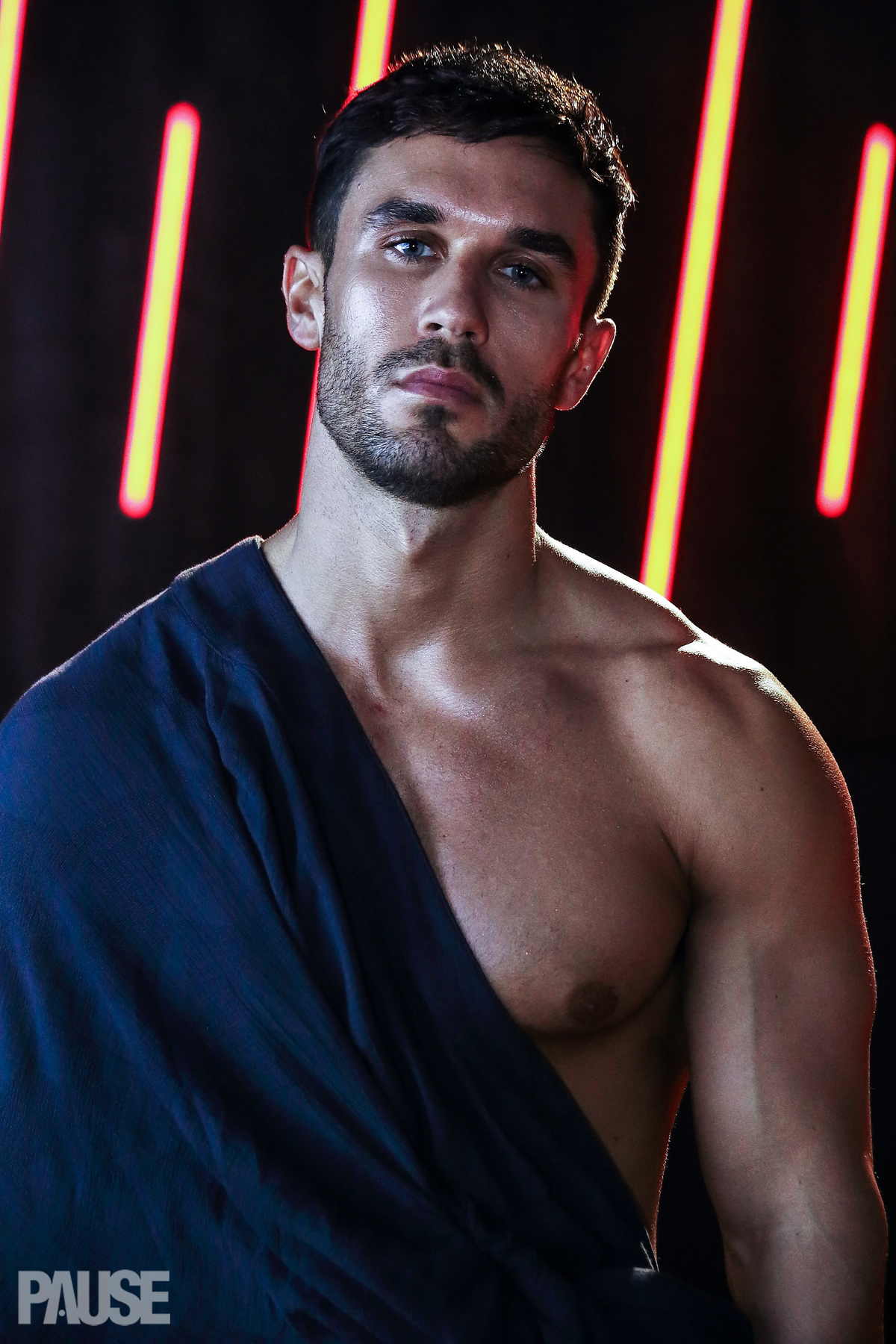 Robe: Danshan Studios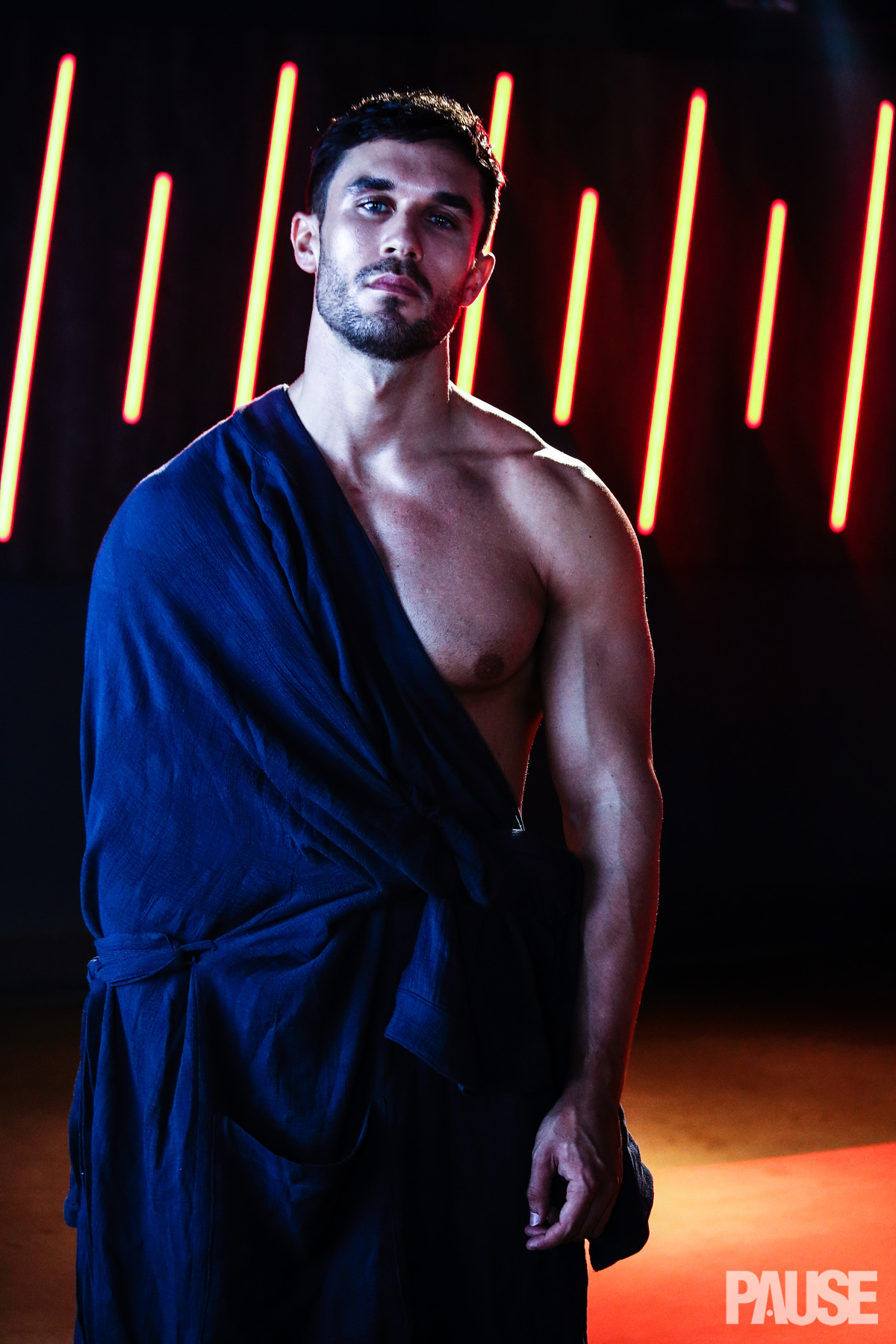 So tell us how would someone get a six pack? What do they need to do?
You definitely need to find the kind of exercise you enjoy… You need to get your diet right first of all. You can spend all the time you want in the gym, if your diet isn't right, then you're almost wasting your time. It's like planting seeds in your garden, not watering them and expecting them to grow! Weight training is best if you want to build muscle. If all you want is to stay in shape and stay trim, you can do anything. You can dance if you want to. But if you want to add muscle, you need to be lifting heavy weights, obviously. With good form proper eating, your body recovers.
So you'd say, it's mainly about eating?
Yeah, everyone's got a visible six pack. You've just got a layer of fat covering in it that's all. If you want 'block abs', you have to tone it up though. It's really about finding what you enjoy and being patient with it. Nothing happens over night.
How often do you run per week?
I'm not really big on running, I go sometimes just sort of to clear my head and that but, I'm more into weights.
So what can we find on your blog about fitness?
The kind of trainings that I'm doing, the requests I often get asked, the different training methods, supplements, foods, and my supplement range. I'll be giving free workouts, guidance, plans and free advice, with people involved. Then, there'll be more in-depth posts coming with the supplements.
Tell us a bit more about the supplements.
What we've got at the moment is the core range, with just protein and fat burner. Then, coupled with that, there'll be be plans for lads and girls. Whatever you want to achieve, whether it's cut down or add muscle, do like 2-week breaks or 12-week transformations. All these packages will come with supplements or they'll come free, depending on the bundle you buy.
Do you think it's important to be aware of being fit and also being stylish at the same time?
I know some people might not be interested in being stylish and having clothes that fit them, they just want to be big. For me as a model, I think it's about important to be able to do both. I think now it's more fashionable to be athletic-looking ranter than bulky. People want to be able to put a shirt on and no one would know you went to the gym, until you took your shirt off. I think that's more appealing to people now rather than being big and bulky.
Do you think that's because of Instagram?
I think so yeah. I don't think it's natural to be overly big. I think people realised that and it's just more pleasing to the eye just to look athletic rather than 'lumps and bumps' everywhere.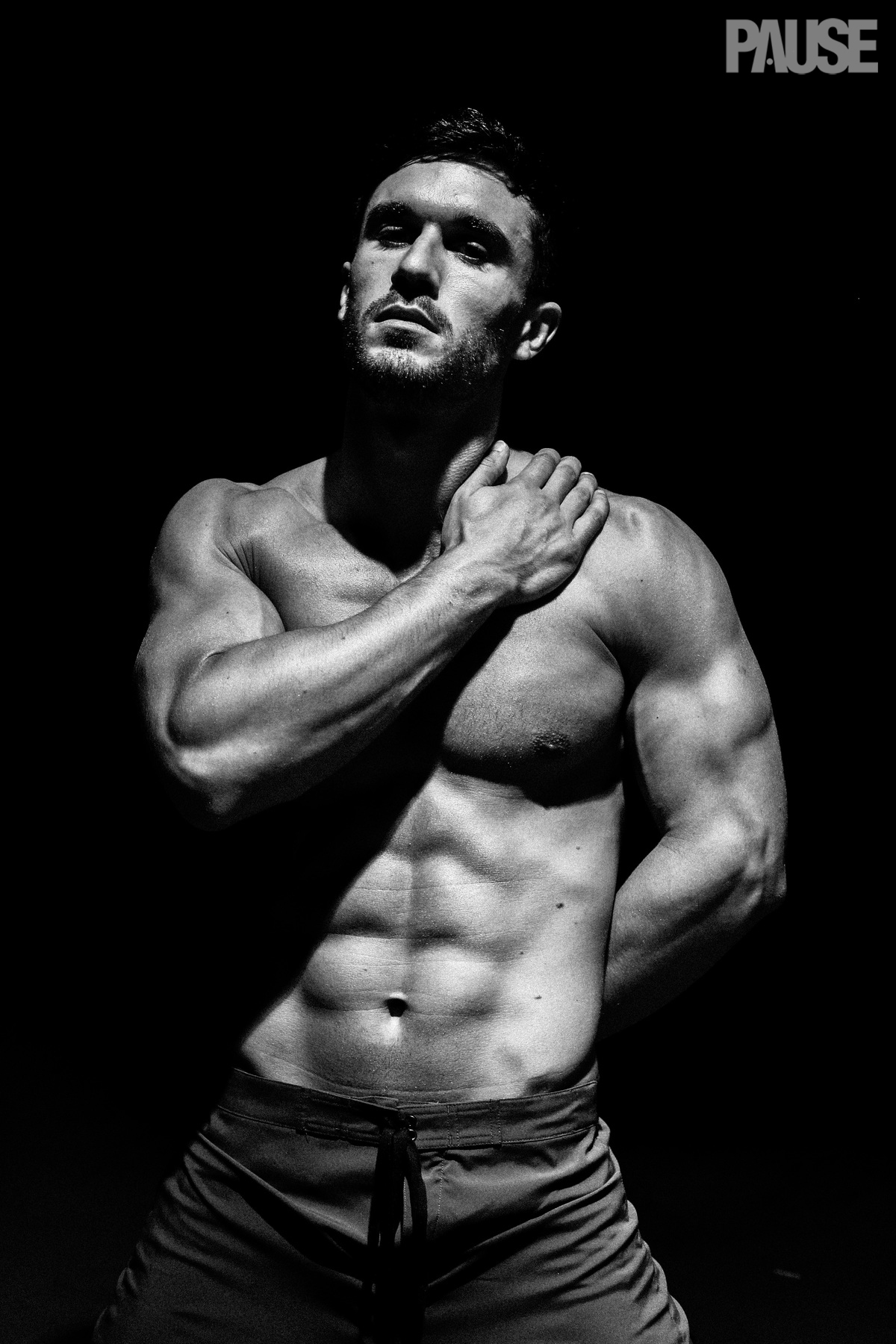 Shorts: Björn Borg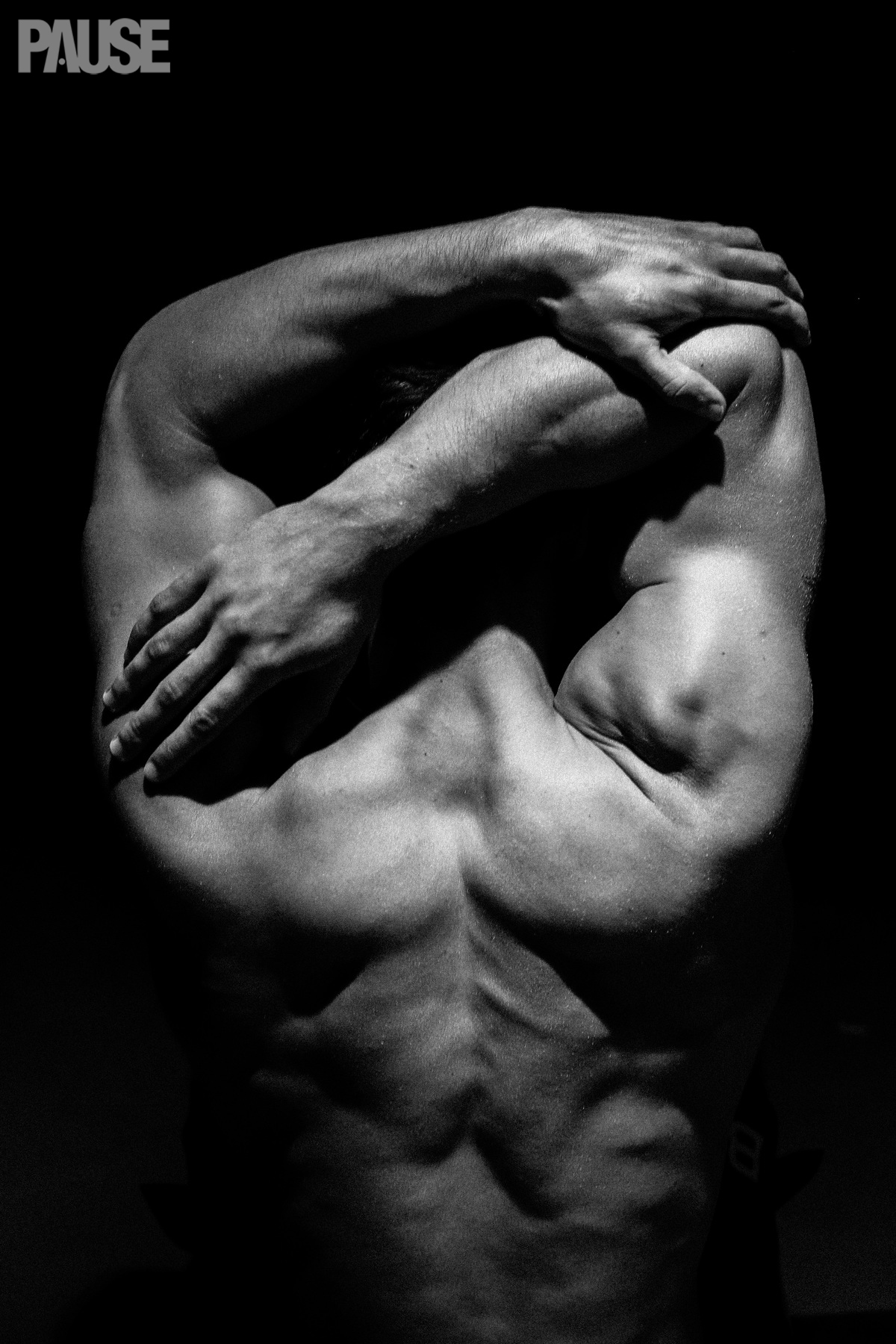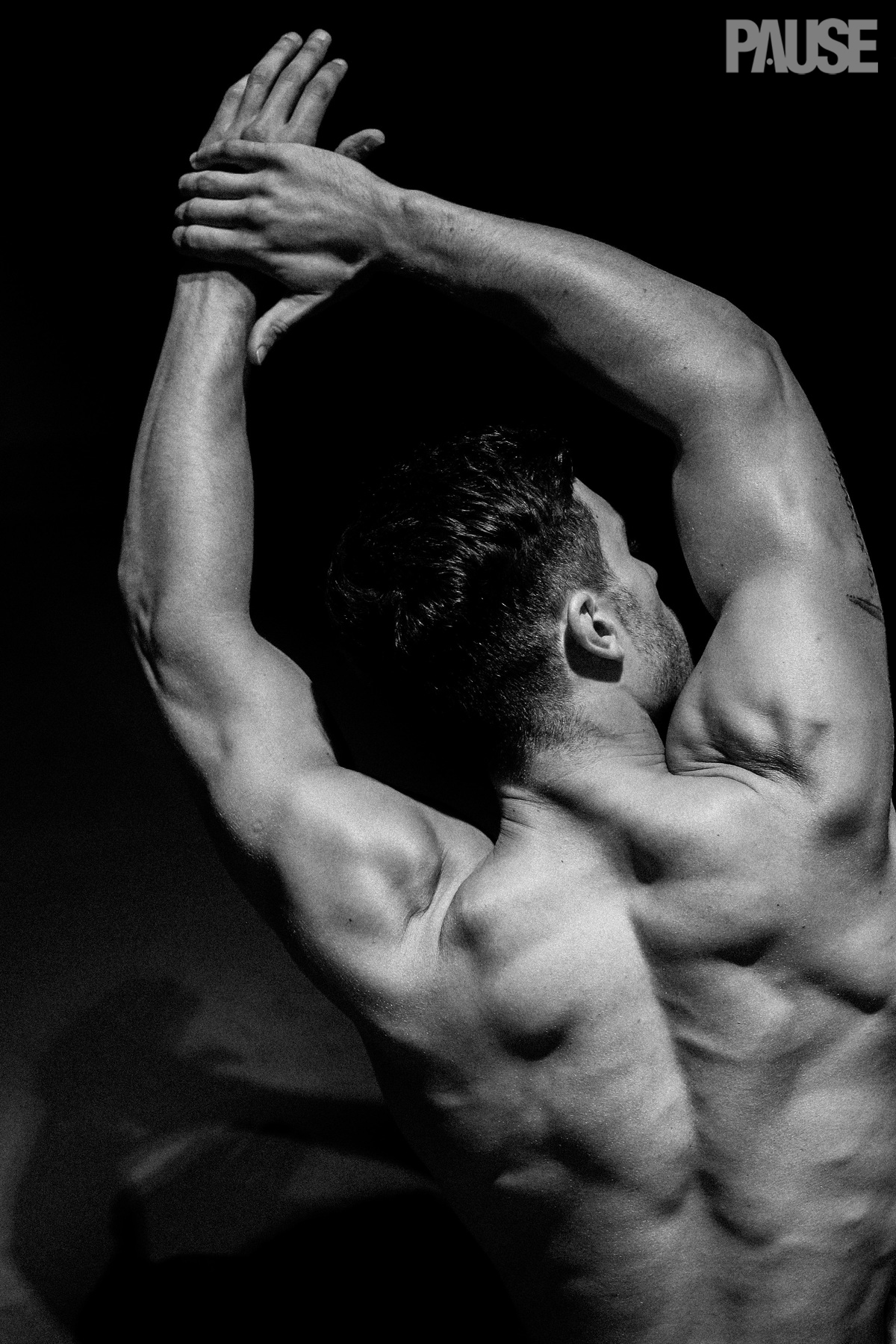 How would you describe your style in one word?
Positive.
And what do you wear to allow yourself to be positive?
You can't beat a good suit but I love my streetwear. So anything that's comfortable, fits well, is good material and washes well. And I like all neutral colours, so I can literally just grab random things and chances are they're gonna match. I go to my wardrobe and it's all neutrals. Now, I'm starting to get back into prints, like printed shirts, beachwear, some shorts and a shirt for example. I can see that I'm going back to colours.
What are your favourite brands?
There's some really cool brands in Paris, one is called Project X, and the other is called 6th June. I like classic stuff like Levi's jackets that you can throw with anything, and ripped jeans. I don't really like buying expensive jeans I buy cheap jeans that fit well and then I can rip them up and do whatever I want with them. To be fair, if I was going to do anything, I've always thought about starting my own jeans line as people always ask me where I got my jeans from. Most of the time they're just cheap H&M or Primark and I just rip them up.
Are you quite entrepreneur-minded? You started your blog, and now you start the nutrition… you're always thinking of more ideas?
I'm really creative and I've never really liked the idea of sitting, making someone else's money when I could make it for myself by working for me. I've always been trying to find ways of doing it myself. Doing reality TV gave me a platform which is what I'm most thankful for. It's given me more options and freedom to do what I wanted to do.