Travis Scott's Best 2016 Looks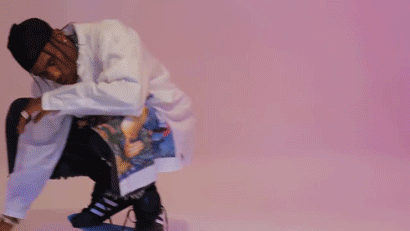 Travis Scott is known for his love of Streetwear, including an extensive and rare Supreme collection, as well as dabbling with high-end fashion after recently featuring in YSL's Spring Summer 2017 campaign video. Wherever he goes, Scott oozes an effortlessly cool style.
Dungarees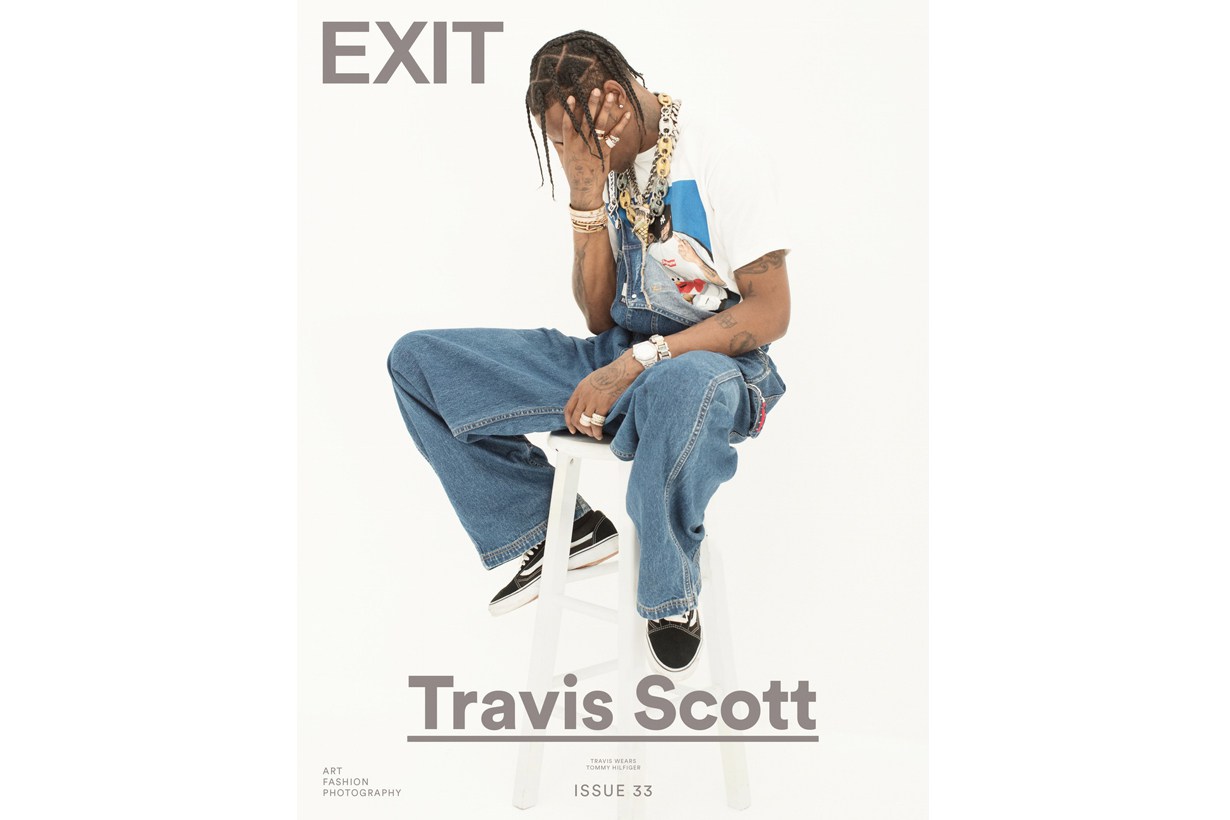 Travis Scott graced the cover of Exit Magazine's 33rd issue in October 2016 wearing streetwear staples. His outfit consisted of vintage, baggy Tommy Hilfiger dungarees, Supreme Raekwon Tee and accessorised with Vans Old Skools and a LOT of gold jewellery.
Clashing Colours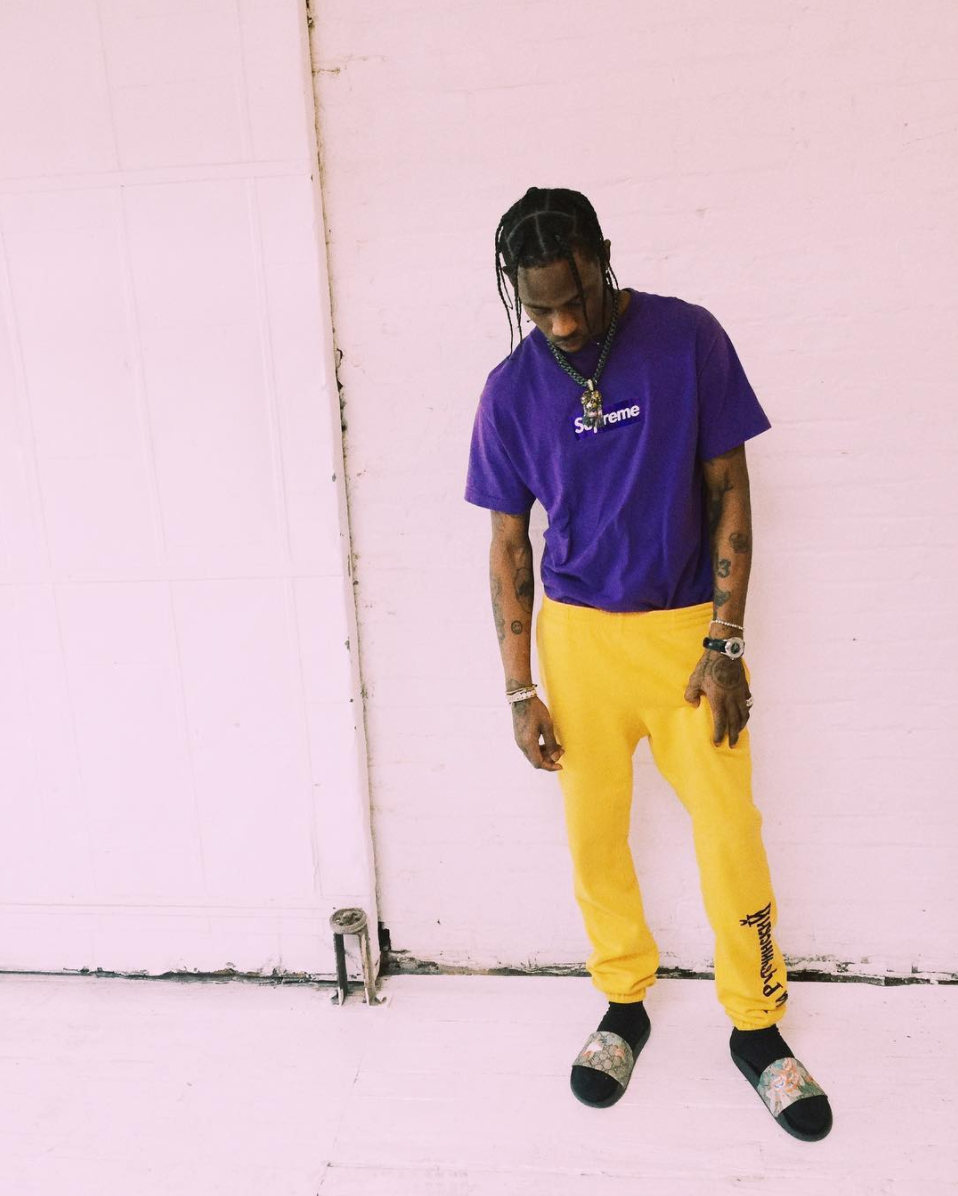 Travis isn't one to shy away from colours, mixing a purple Supreme Box Logo T-Shirt with yellow Gosha Rubchinskiy Logo Sweatpants and patterned Gucci Tian Slide Sandals. Sock and Sandals and never a fashion faux pas when you're Travis Scott.
Vetements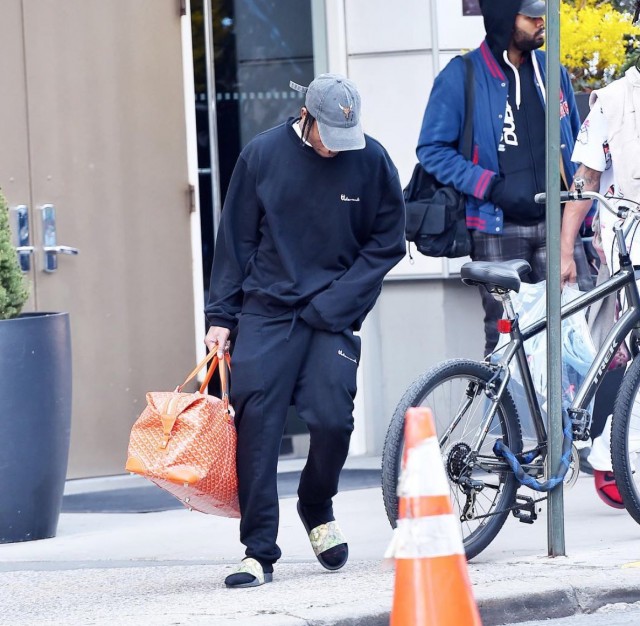 La Flame shows us how to travel in style whilst keeping it high end with this comfy street outfit consisting of a Vetements crewneck and sweat pants, Gucci slides and a Goyard duffel bag.
NikeLab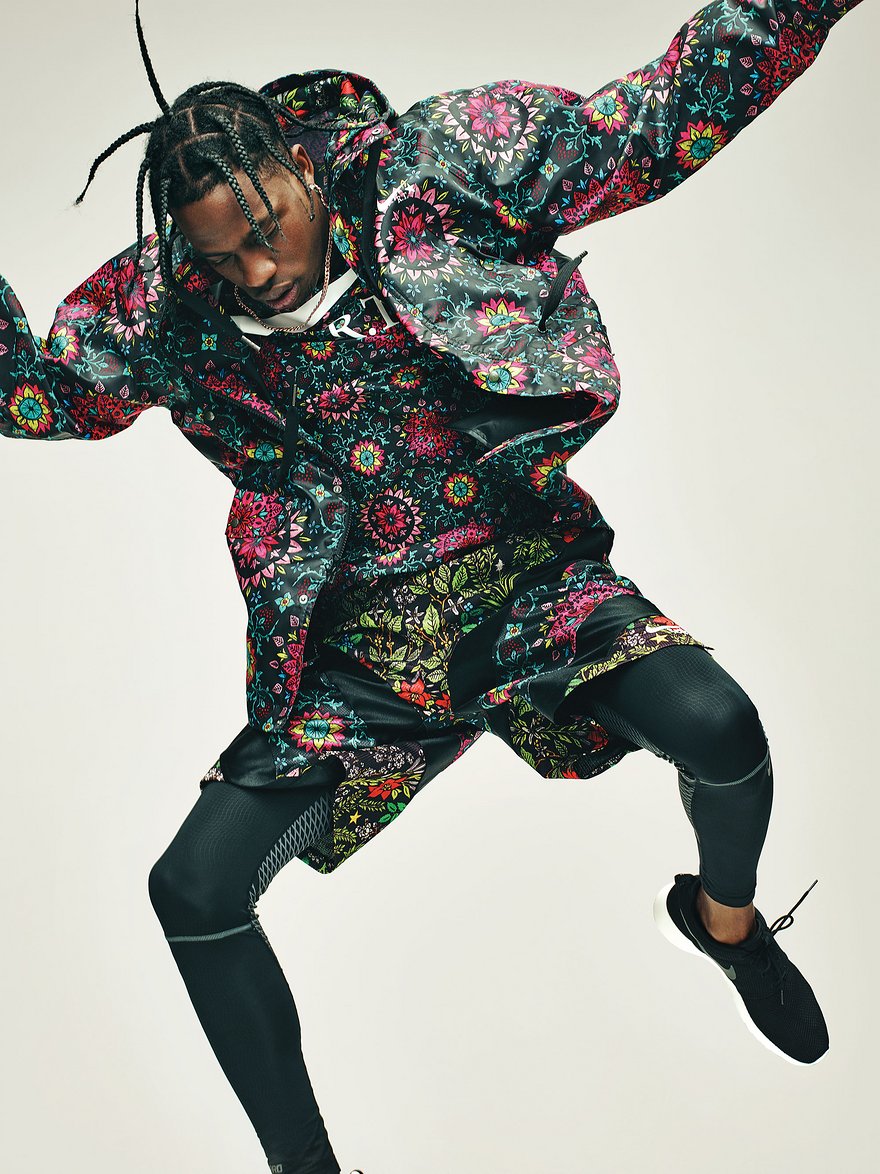 When he modelled for NikeLab x Riccardo Tisci, Scott showed us an outfit different to his usual streetwear offering wearing tights with shorts but kept it colourful with the daring print of the short, top and jacket.
Paper Magazine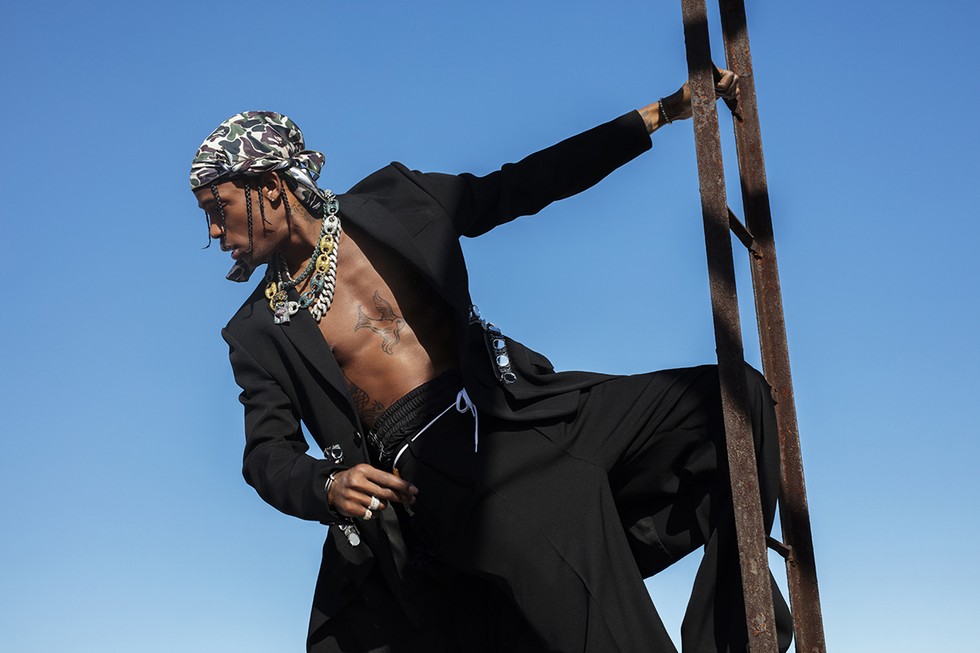 When Travis Scott graced the cover of Paper Magazine we saw him debut a few different looks. The most striking of these was an open Givenchy suit jacket with no shirt underneath, Givenchy trousers, Alexander Wang shorts and his infamous gold and silver chains.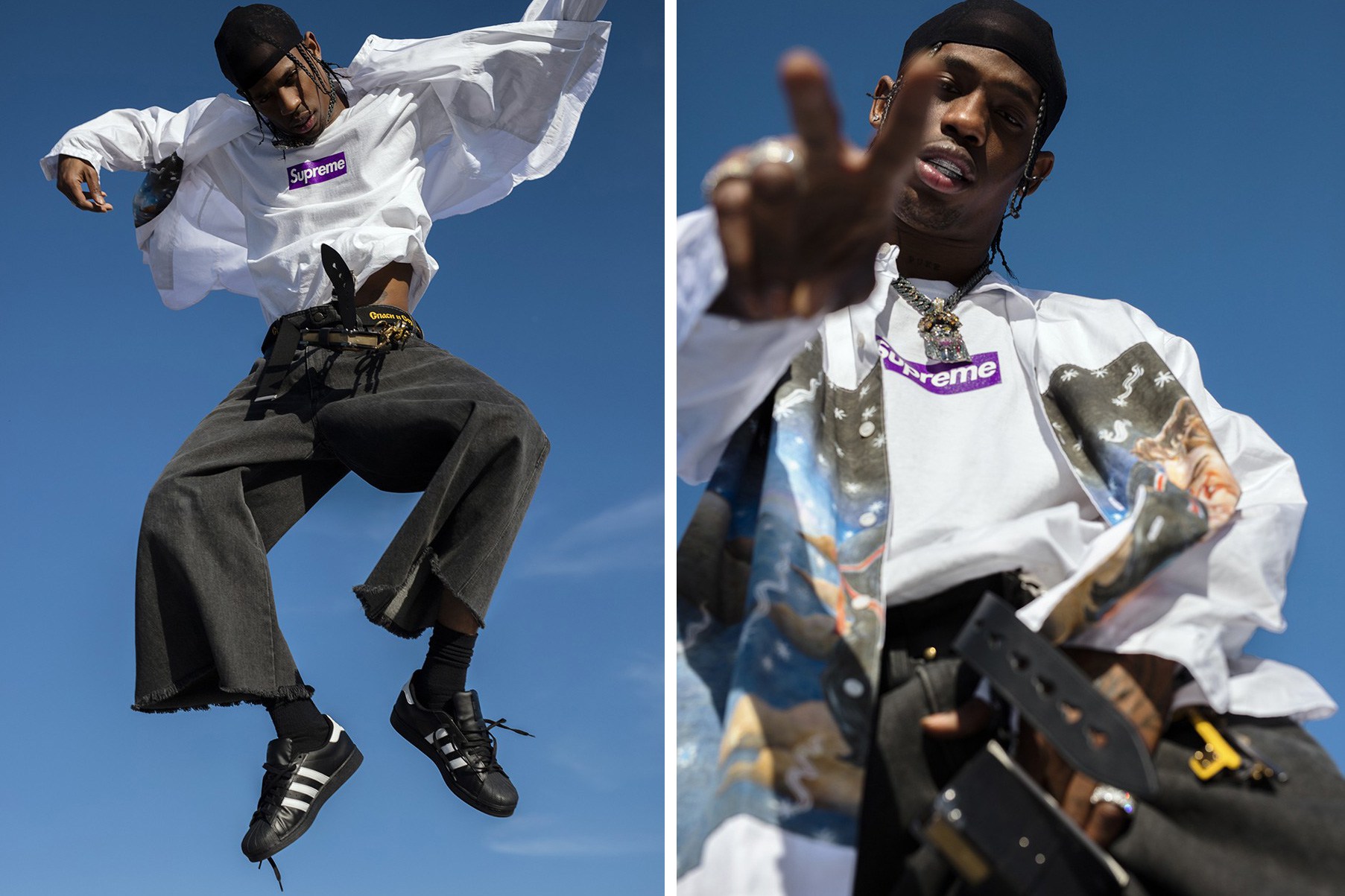 Another look for Paper Magazine showed La Flame's attention to detail whilst constructing an outfit as he wore a Supreme T-Shirt and socks, a Prada shirt, two belts, one Gosha and one Prada and Adidas trainers.
You Cut Me Off Hoodie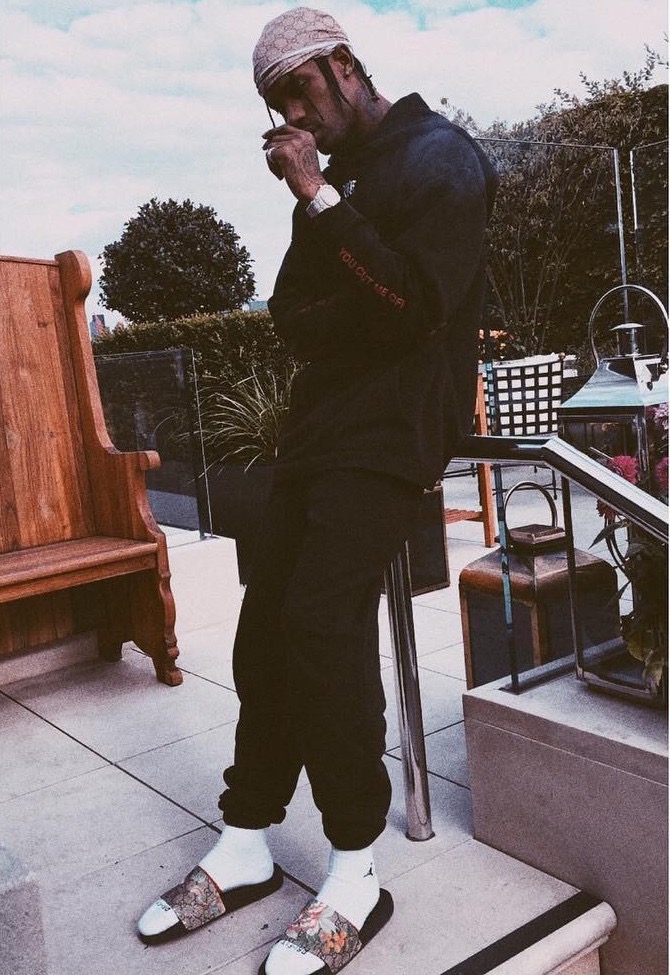 Another great casual look from Scott, again in Gucci sliders and socks and a Cut-Off Off-White hoodie.
Givenchy At Paris Fashion Week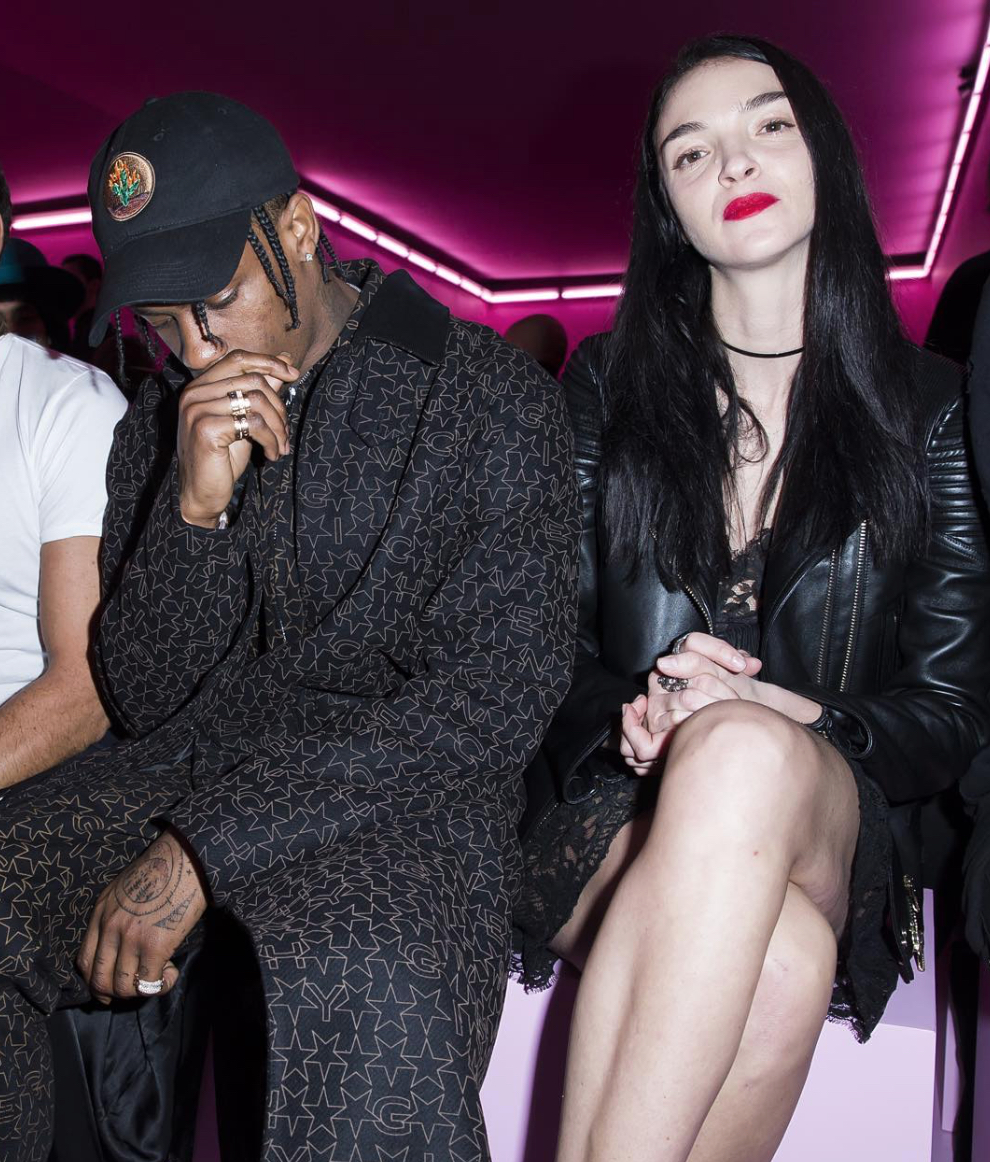 His attendance at Paris Fashion Week for F/W16 was no surprise, but his outfit was. Wearing what seemed to be an alternate, custom colourway of a Givenchy Jumpsuit and Coat, debuted on the runway in blue, but seen on La Flame in black and gold.
Green Hues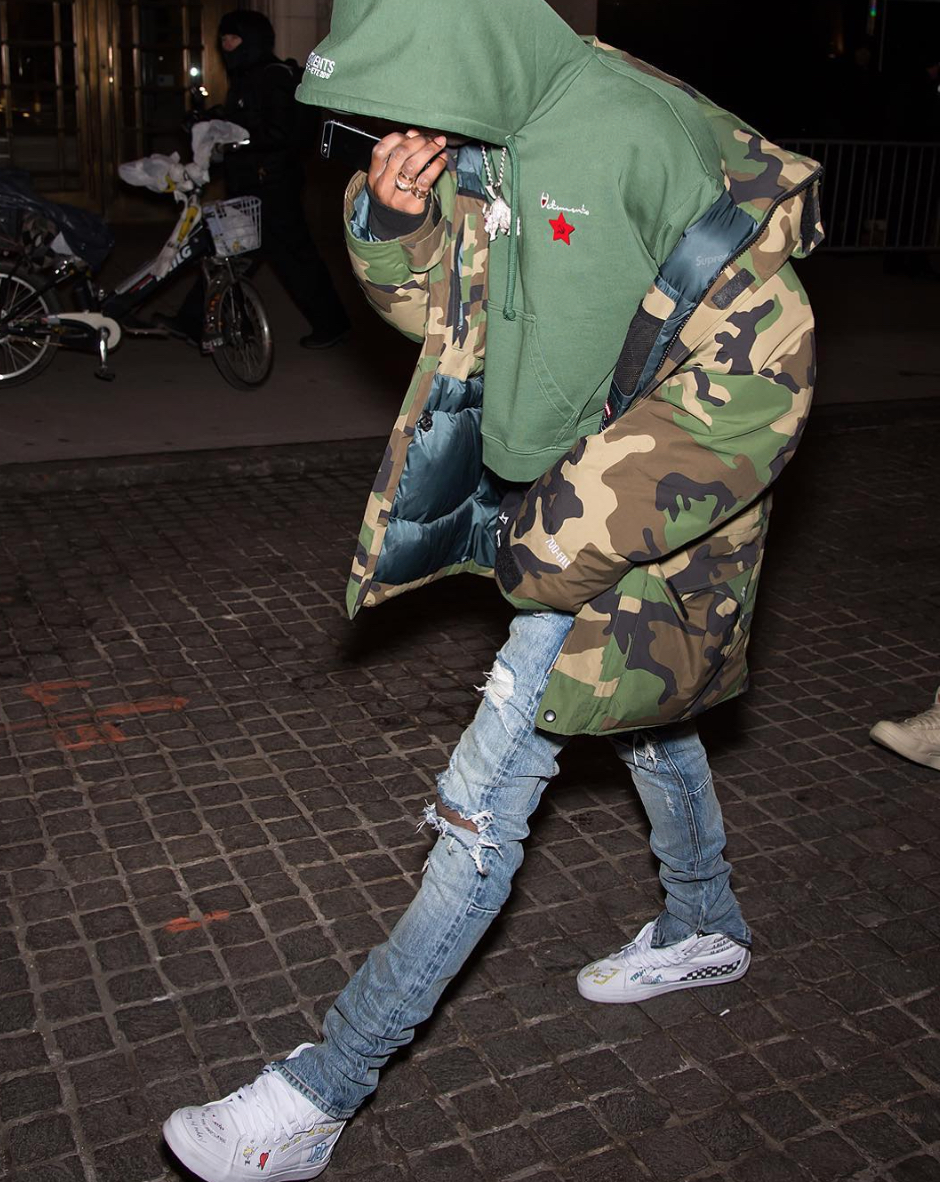 Scott is never afraid to show off his expensive taste, especially with this outfit. Wearing a green Vetements hoodie, Supreme Parka Jacket in Camouflage, Fear of God jeans and Enfants Riches Deprimes x Vans SK8-Hi sneaker, this look is effortless.
Gucci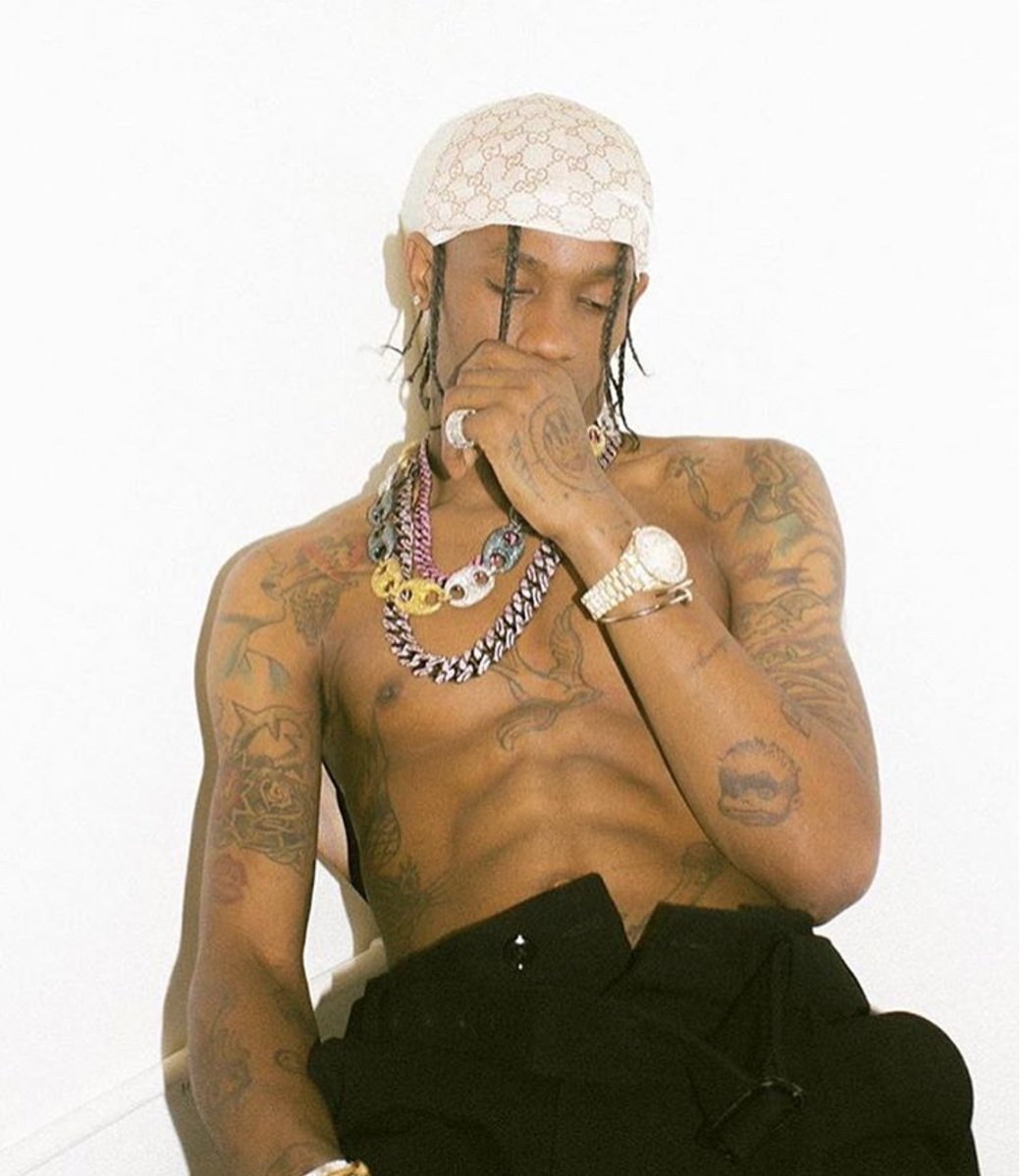 Travis has been seen more and more this year ditching his cap and sporting a Gucci do-rag. Although this fit may be simple with no shirt and black trousers, his headpiece and signature chains and gold watch make this look sparkle.
Saint Laurent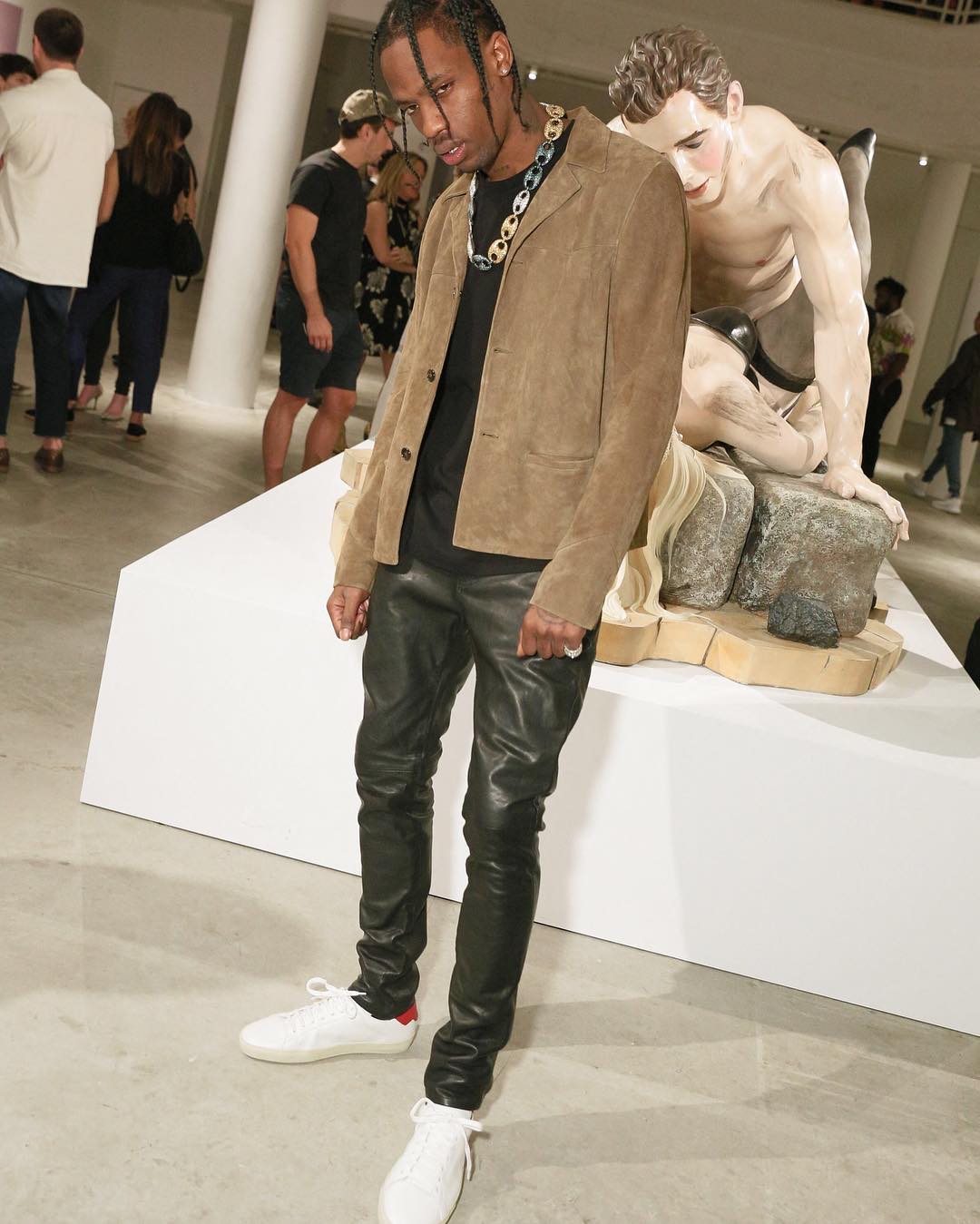 When attending the W Magazine and YSL 'Desire' Dinner, Scott donned an all Saint Laurent outfit including a brown suede suit jacket, black leather skinny jeans and white SL06 low-top sneakers.
Oyster Magazine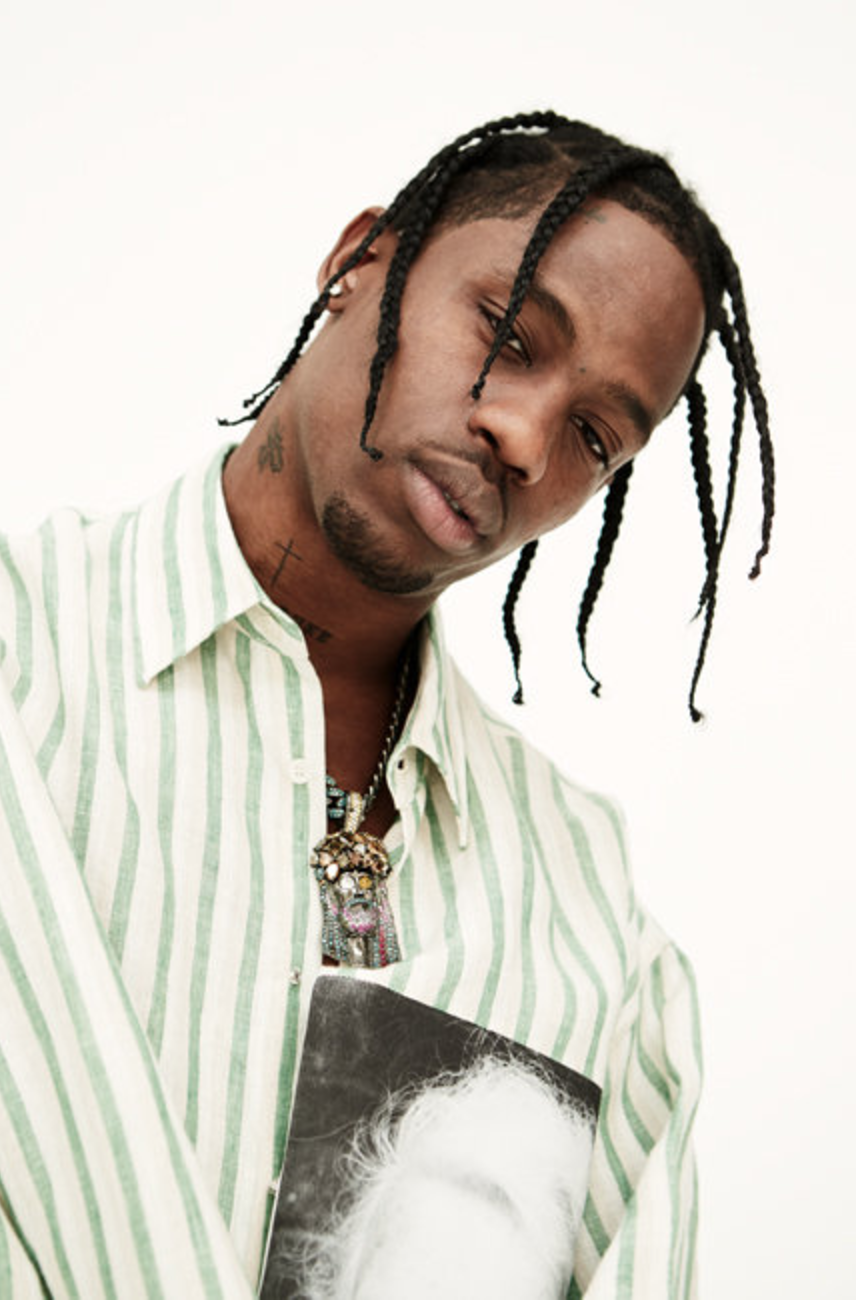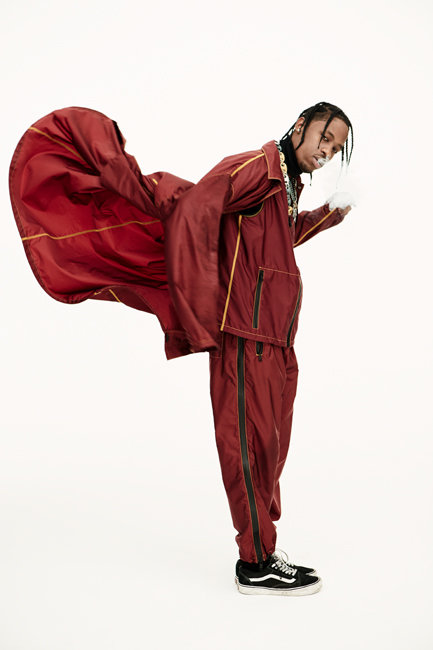 Scott's Oyster Magazine editorial displayed a few different looks to us, mainly highlighting his jewellery he's always seen wearing, but he also wore a green striped Raf Simon shirt and a full Prada outfit with Old Skool Vans.
Summer Tones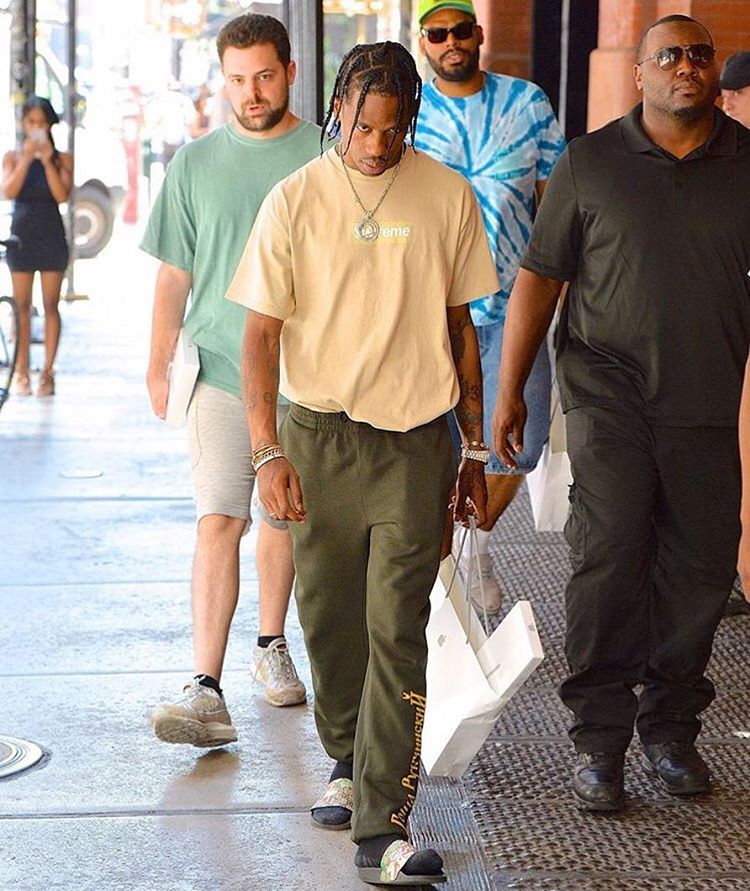 Spotted out and about shopping with his entourage, Travis shows us another comfy fit wearing a rare Supreme Box Logo tee, Gosha Rubchinskiy sweatpants and Gucci sandals with socks.
Saint Laurent Ad Campaign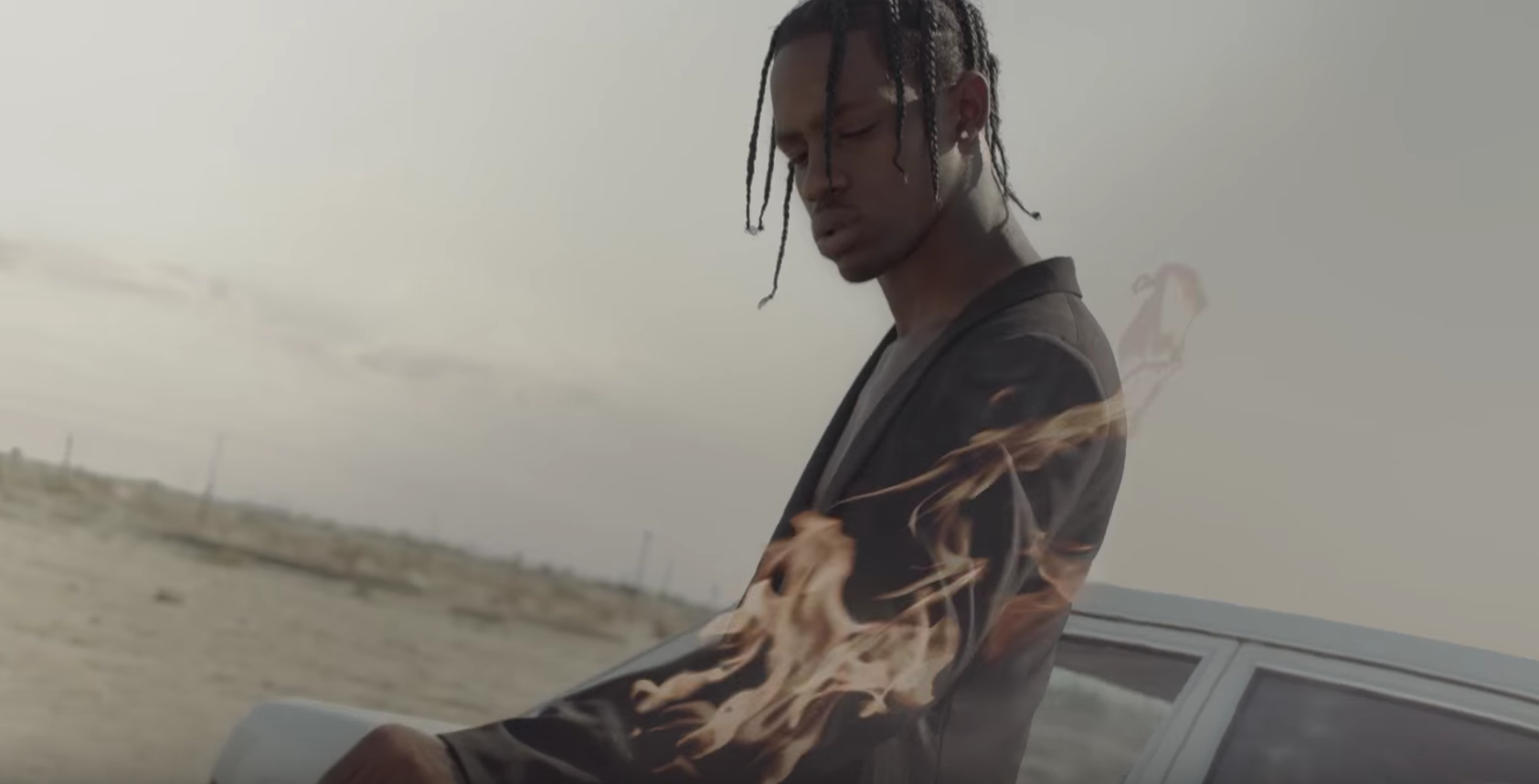 A big moment in Travis Scott's career this year was when we saw him feature in Saint Laurent's Spring 2017 ad campaign video donning YSL sunglasses, a suit jacket and trousers.
Vetements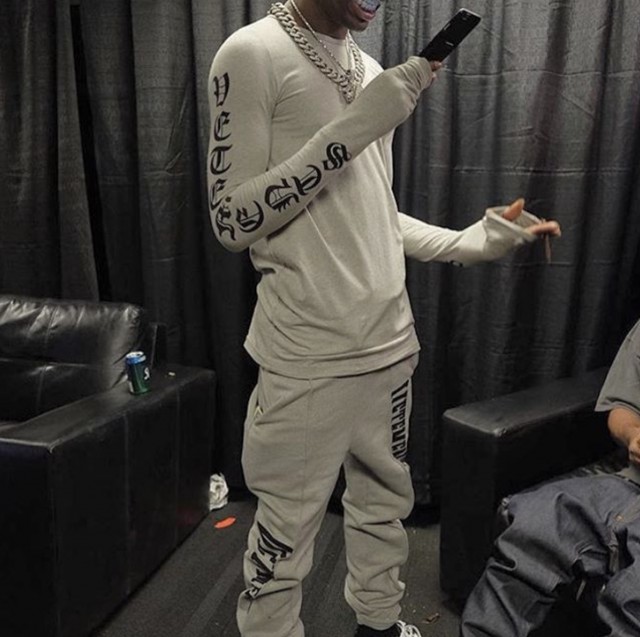 La Flame showcased his love for big designer brands when he wore a Vetements T-Shirt and sweatpants backstage on his Anti Tour at the beginning of the year. He was, of course, wearing his big silver chains.
Birds In The Trap Sing McKnight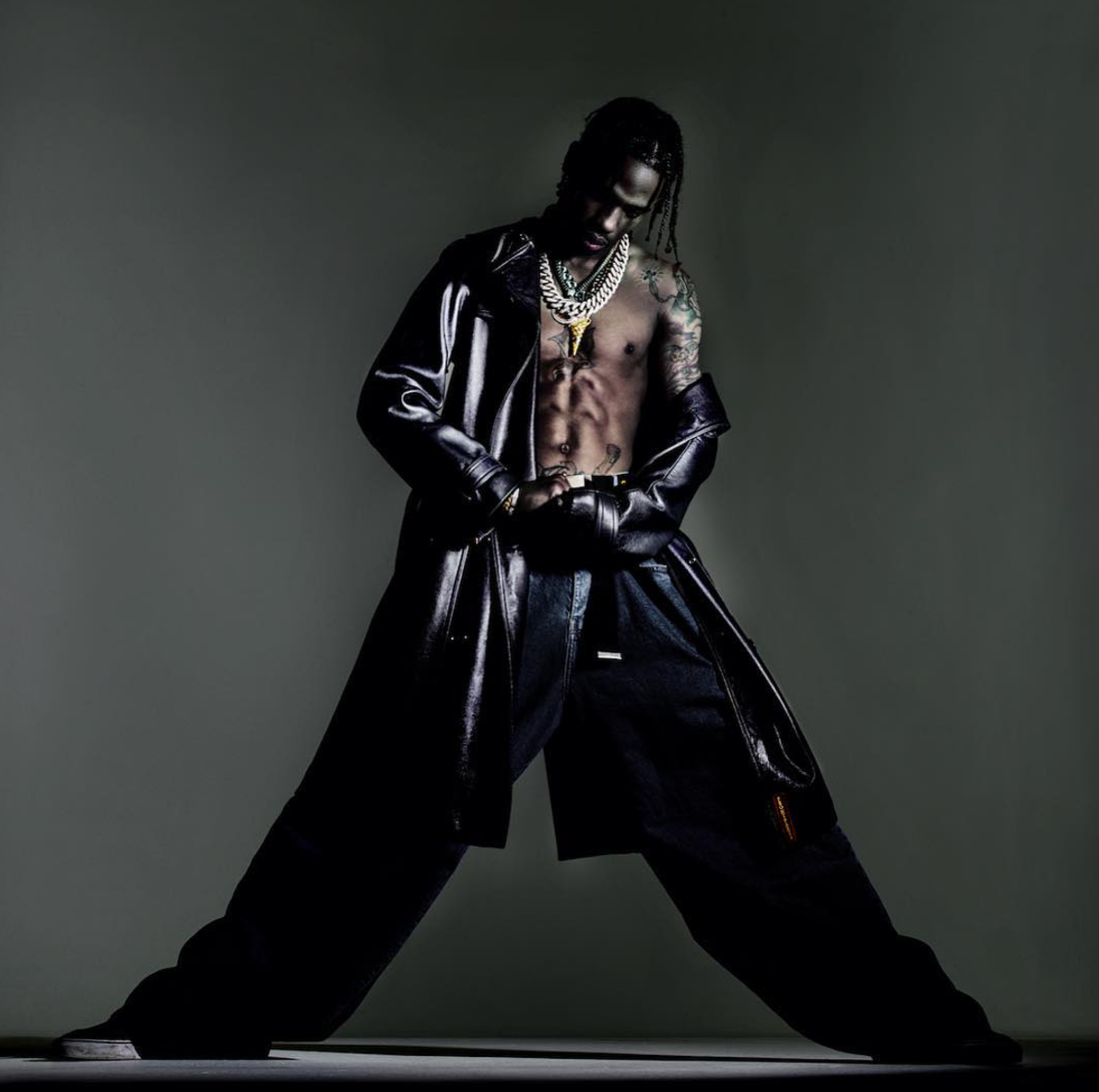 La Flame divided opinion on his outfit when he announced the artwork for his sophomore album, Birds In The Trap Sing McKnight. Wearing clothes designed by Martine Rose and Gosha Rubchinskiy, he sported extremely wide-legged trousers, a long leather jacket, Vans sneakers and his infamous chains.