From Asymmetry to Deconstruction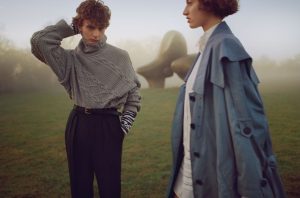 Taking inspiration from the legendary British artist, Henry Moore, Burberry has presented the second 'see now, buy now' collection at Makers House tonight. The fluidity, abstraction, and hollowed forms in Henry Moore's sculptures were beautifully translated into a plethora of asymmetric silhouettes and deconstruction designs.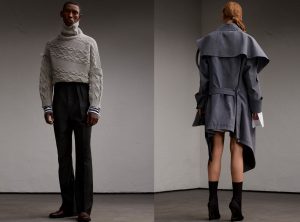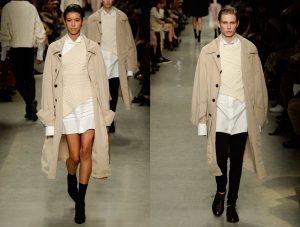 Before the show, a cable and rib knit jumper and a gabardine trench coat were revealed for pre-ordering, and they have pretty much set the tone of the collection. We have seen more stepped hems, cuffs, and even necklines in other pieces, accompanied by some refreshing collision of materials which resembles Moore's unique take on texture. Think intricate lace meets the signature checked fabric. The iconic gabardine trench coats were also reinterpreted into a gender-neutral style with slouchy silhouettes and statement cuffs, seen both on male and female models.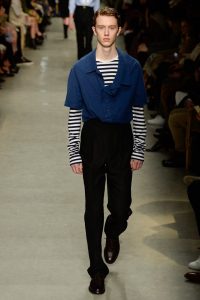 One particular item that caught our eyes would be the reworked blue polo shirt. The misplaced front pocket, offset row of buttons, and exaggerated collar have transformed an everyday item in our wardrobe into a standout piece. A true homage to Henry Moore's conceptual yet effortless aesthetics.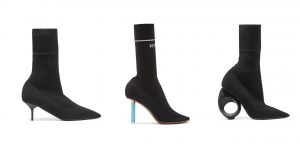 If you think the Moore inspiration in this collection is almost as abstract as his sculptures, the iteration of cutout heels on stretch-knit boots will give you an immediate association with his iconic exploration of hollowed forms. As much as they resemble Henry Moore's work, we think they might look like Vetements' cult 'sock boots' just a little bit too much – or you can say it's how the brand channels 20th century art with a 2017 trend. And we are talking about the collection's obsession on fluted, elongated sleeves too.
Take a look at the key elements of Burberry's February 2017 show:
Deconstruction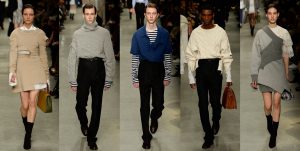 Wing collar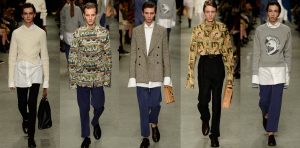 One-shoulder neckline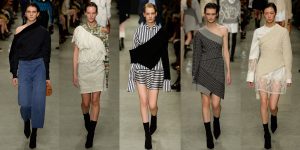 If you are interested in finding out more of the show, the runway venue Makers House will be open to public from 12:00 to 21:00 on 21 February, and 10:00 to 21:00 from 22-27 February, showcasing some of Henry Moore's most iconic works and the runway looks.
Makers House, 1 Manette Street, London
See the full ready-to-wear menswear looks below: