Let's keep things simple.
How many pieces of clothing do you own? And how many do you actually need? Every man needs a few essential items in his wardrobe to serve him through an average week as well as unexpected occasions. Basic pieces will leave you enough room for experimenting and you will also be able to develop your style further while making sure that you are always appropriately dressed.
Here is a list of classics you should have in your wardrobe.
The T-shirt
You have seen this one coming. A simple logo-free T-shirt is essential yet more versatile than you think. A good-quality plain white/ black T-shirt should go with everything you own. If you are in a hurry and do not have time to plan your outfit, a white T-shirt and jeans combination is a timeless classic.
All Saints Mens Crew T-shirt – Click here to buy.
Jeans
Matt McCormack, head of menswear at John Lewis, suggests to "go for the darkest blue possible with no distressing." If you are going for a basic wardrobe, a black/ navy blue pair of jeans will do you no wrong. Invest in a good pair of jeans of your favourite style. Some stylists suggest that the jeans should be slim, but not too tight, stiff but not too stiff. We recommend establishing a small selection of styles that compliment your body type.
All Saints Naniwa Cigarette Jeans – Click here to buy.
White Shirt
This is undoubtedly one of the key elements of a basic wardrobe. You can go for different colours but we, at PAUSE, believe that you cannot go wrong with a white shirt. If you do not like wearing a tie, go for a modern collared shirt. You will look good at your business meeting as well as when you wear it with a blazer and a pair of jeans. In addition, any accessories will look good with your white shirt.
Hilfiger Denim White Stand Collar Shirt – Click here to buy.

Formal Shoes
Keeping the shoes in black or dark brown will allow you to wear them with almost every outfit.  A pair of black lace-ups is simple enough to be worn with jeans as well as a suit. Chelsea boots look particularly good with denim, however, you can definitely wear them with tailoring too.
KG Kurt Geiger Francis Suede Chelsea Boots – Click here to buy.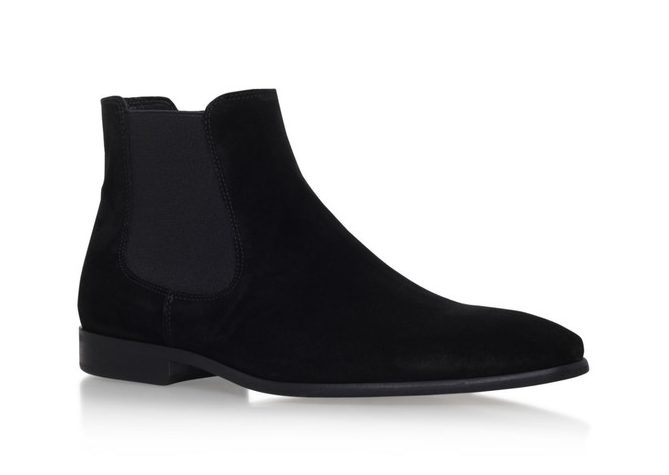 Trainers
We, at PAUSE, are big fans of trainers of all shapes and kinds, however, we recommend getting a classic pair of simple trainers – think Vans/Converse. A pair of white and black trainers will help you build sophisticated yet casual look. You can style them with jeans, chinos and even a suit if you are brave enough.
Raf Simons x Adidas Originals Stan Smith Leather Sneakers – Click here to buy.

White Original Achilles low-top leather Common Projects – Click here to buy.
Suit
It should last you a long time so we recommend paying a lot of attention to every detail when shopping for suits. Find a suit you have no excuse not to wear. Keep the colours neutral – you can wear a black, grey or navy blue suit on almost every occasion. This will allow you to experiment with different styles and colours of ties and pocket squares. A double breasted suit is a highly versatile style that looks good on most guys.
Stone Wool Blend Skinny Fit Suit – Click here to buy.
Bomber Jacket
Because it looks good on everyone and does not seem to go out of style. Invest in a simple black, navy blue or burgundy (you would be surprised how good burgundy looks with most colours) bomber jacket. A slim cut will keep you cosy during spring as well as autumn.
All Saints Braddock Bomber Jacket – Click here to buy.
Denim Jacket
Did you know that denim is one of the most versatile fabrics in the world? This gives you countless options to incorporate denim into your outfit. Putting a denim jacket on is one of the easiest way to dress down an outfit.  Try to avoid double denim outfits because that is very tricky and you might end up looking like a forgotten rapper from the early 00s. If you insist on wearing double denim outfits, make sure that the jeans are darker than the jacket.
Levis Denim Trucker Jacket  – Click here to buy.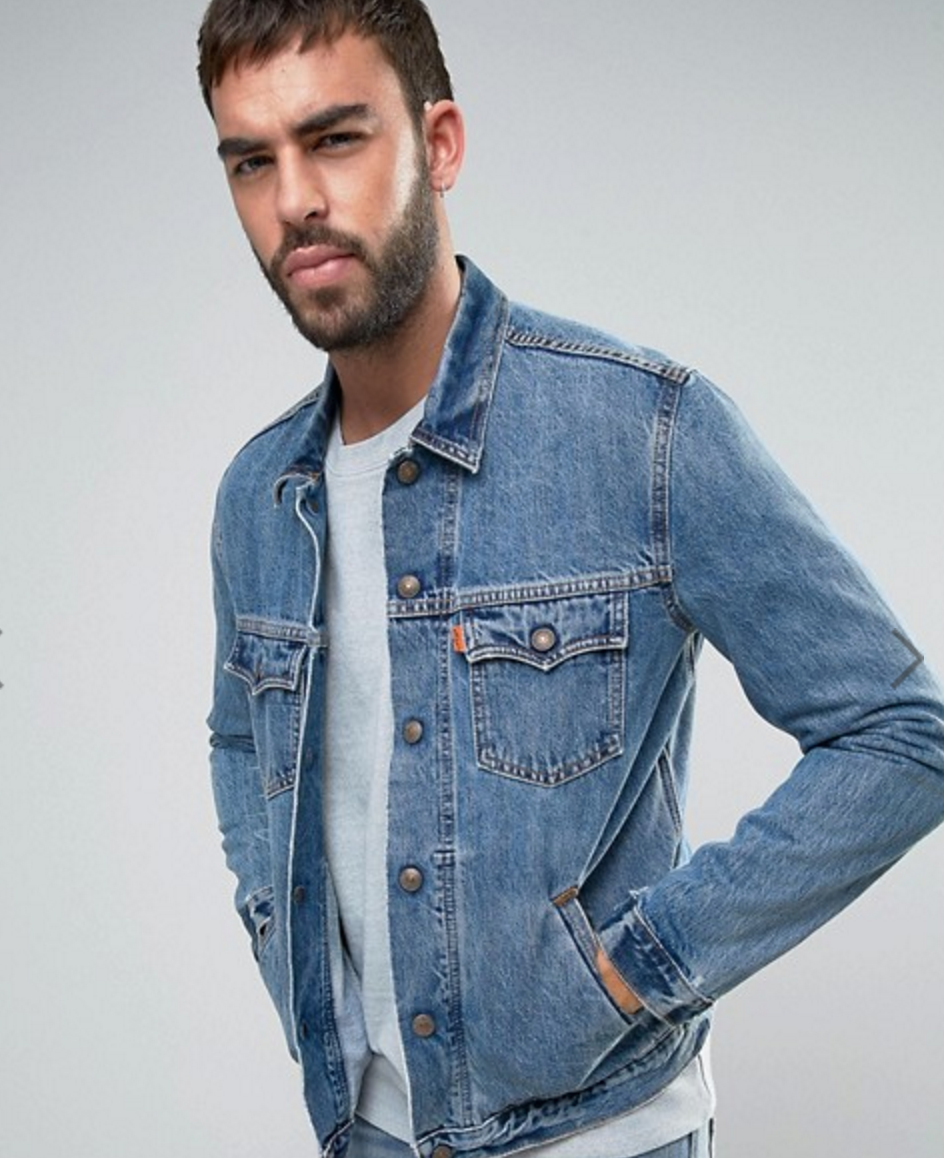 Long Overcoat
An overcoat should be your wardrobe essential as well. When buying an overcoat, you need to think of its fit and versatility. Make sure that your overcoat is wide enough in the shoulders and does not make an X shape when buttoned up. That being said, many guys have been rocking oversized overcoats this season.
Acne Studios Charles Carbon Melange Grey Coat – Click here to buy.