Dress to Impress.
If there's anything even trickier than booking a decent restaurant and picking the right gift on Valentine's Day, it has to be what you wear. Whether you are only starting to see each other, or it's going to be the umpteenth year to spend this special day together, you still need to present the best look. No one wants to sit across someone in off-putting dad jeans and cartoon t-shirt at the dining table after all. To make your February less stressful, we have put together 5 stylish outfits to serve as your inspiration. And while sale period is still alive and kicking, you'd better start investing in your V Day look before it's too late.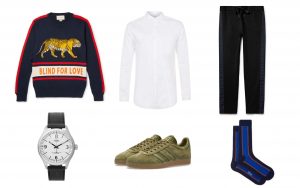 Blind for Love
For those who are madly in love, this Gucci jumper is the perfect item to express your bold style as well as your deep affection to your other half. Clean, simple items like a white shirt and this monochrome watch will do their trick to balance off the flamboyance of the slogan jumper. The versatility in this outfit works well in various scenarios, making it the failsafe choice for this special day.
Shop the look below (clockwise from top left):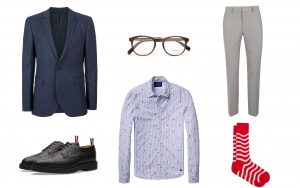 Eye Candy
To nail the perfect medium on the scale of formality, we would go for a navy blazer and some grey suit trousers – a match made in heaven. There's no better way to round off a smart look with a tasteful pair of optical glasses. Think Chris Hemsworth in Ghostbusters and Ben Whishaw in Skyfall and you will know what we mean.
Shop the look below (clockwise from top left):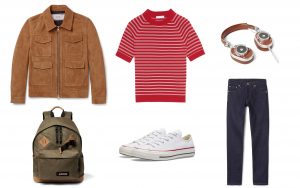 Short and Sweet
This outfit is perfect for an outdoor date, be it a bracing stroll in the park or along the Thames. The Ami suede jacket and Sandro silk and cotton short-sleeved sweater are a sleek combination, guaranteed to make a lasting impression. A trusty rucksack and a pair of Converse sneakers are a practical addition to your ensemble too.
Shop the look below (clockwise from top left):
Warm Her Heart
If weather continues to stay chilly in mid-February (which it will very possibly be), you need an outfit that is warm and cosy, and of course, stylish. This knitted scarf from Raf Simons gives classic style a contemporary interpretation with its frayed edges and the varsity-inspired lettering, giving your look an approachable touch. The double-heart appliqué on this Comme des Garçons cardigan not only nods to the theme of this special day, but also reflects your meticulosity to your date.
Shop the look below (clockwise from top left):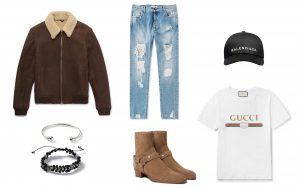 Head over Heels
Should you be expecting some wilder activities than a walk or a quiet dinner, a fierce pair of harness boots from Saint Laurent would be a wise option. Throw on a tonal shearling jacket a pair of ripped jeans then you will surely impress your date with your rugged, Rock n' Roll swagger. Don't forget to complete the look with a cult Balenciaga cap to show that you're keeping abreast of the trend.
Shop the look below (clockwise from top left):