Do you think Gucci ripped off Central Saint Martins BA student's work?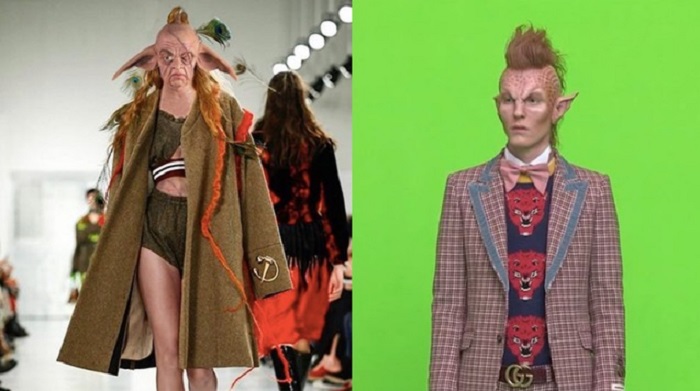 Central Saint Martins BA student Pierre-Louis Auvray has recently taken to Instagram to accuse Gucci of ripping off his work. Auvray believes that Gucci's alien-inspired fall campaign looks too similar to his alien-inspired concept.
Now,  Gucci's Alessandro Michele responded to the allegations. He believes that the likeness is coincidental: "It's about my memories, so movies from the '70s [including Star Trek: Lost in Space] that I saw many times. Pointed ears on an alien, just because you need the character of the alien, is something obvious. It's a very simple language for a kid to translate as an alien … I grew up with this kind of thing."
Michele also touched on the role of Instagram in spreading ideas: "When I was a student, I remember there was a very beautiful collection from Balmain, all red, and I was working on my final work for the school and I did the same … I didn't think that someone was borrowing my work. Instagram is transforming reality."
In a statement issued to BoF, student Pierre-Louis Auvray, stated: "This is an aesthetic that I have heavily featured on my social media for a very long time … I intended to keep working on and make it a part of my graduate collection portfolio, [but] I will no longer be able to do it because I am just a student and Gucci has an international platform … Fashion has some really ugly sides and what happened to me is very sad but I am conscious that some companies [have done] even worse things to plenty of other young artists. But it doesn't mean it should be normalised. Instagram and social medias are great promotion tools for us, I just wish these companies would not use them to steal our ideas."
Check out the posts below and let us know whether you think Gucci plagiarised Auvray's work.