Fashions from the Finals Tables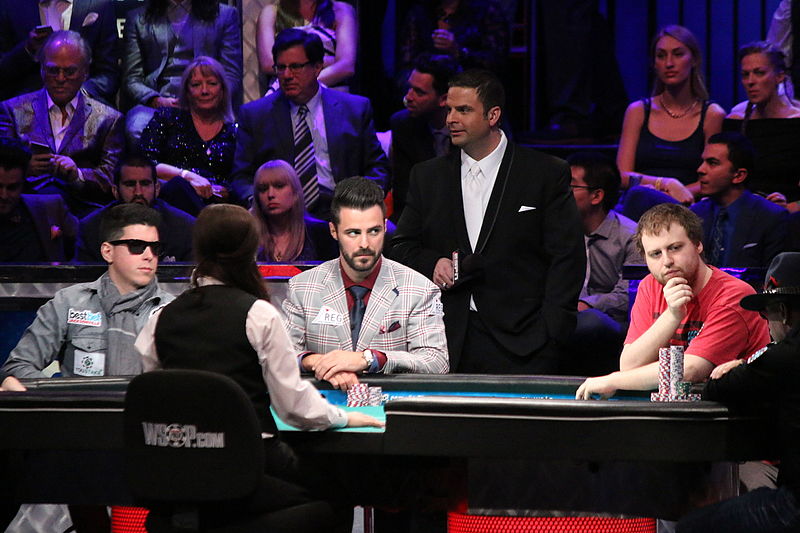 Source: Wikimedia
Fashion finds its way into every environment where there are people. The finals tables of live poker tournaments are no different, but what makes the casino floors particularly interesting is the demographics and mix of styles. Aside from dress codes that might apply in some casinos, players are pretty much free to wear what they want. With so many people from different walks of life involved in the same competition, this can lead to varied results, from super-casual sportswear to perfectly tailored suits — all around the same table.
Indeed, clothes and style of dress may have an influence on how players are perceived by their opponents, and perhaps, even on self-perception and decision-making. Any information that can help to build a picture and profile will be used by experienced players in the poker world, and so it may be possible to use a style of dress to craft an image that is deceptive and therefore advantageous.
Certain fashion accessories may also be directly beneficial to the player. Many pros wear sunglasses at the table, mostly to hide their eyes from opponents who are looking for physical tells. Hoodies and hats can also conceal physical information, as well as encourage comfort and ease.
But poker fashion goes well beyond the practical applications. Fashion is a mode of expression, and the story is no different at the tables.
Poker pro Doyle Brunson still wears a cowboy hat at the tables, in a not-so-subtle nod to the Wild West days from which poker was born. Not many of the newer players can pull off this look — and not many want to — so it is much more common to see pros wearing baseball caps in modern events.
Many players opt for casual wear at the tables, with hoodies and t-shirts now more commonplace than shirts and suits. Phil Laak is one player who can almost always be seen in a baggy grey hoodie with his hood up and sunglasses on. At the other end of the spectrum, players like Max Steinberg and Tony Dunst keep the standards high with silk shirts and suits.
Shorts are often worn in hotter environments at many of the major live tournaments held in Las Vegas. Elsewhere, pants or jeans are the norm, though as always, it all comes down to the individual. Hippie pants have found their way out of the festival scene and into the poker rooms, with Charlie Carrel, winner of the 2017 SCOOP Main Event, managing to pull off the style that so few can.
The aforementioned Tony Dunst is one of the most stylish players in poker. His endlessly stunning attire, designer sunglasses, and smooth-criminal looks have earned him the nickname 'the James Bond of poker'. His $3 million in tournament winnings probably affords him a great number of tailored outfits.
Though the finals tables of major poker tables are often dominated by men, poker has more than its fair share of fashionable females. PokerStars player Liv Boeree is one such diva. She is a model, TV presenter, and a hyper-intelligent poker player who has also scooped up over $3 million in winnings. Her finest fashion moments include a photo shoot for Maxim and a crazy tribal Burning Man costume.
Fashion is everywhere we look. With so many people from all walks of life coming together, the poker tables are an excellent mishmash of the smart and not-so-smart. Either way, the fashion is something worth taking note of.