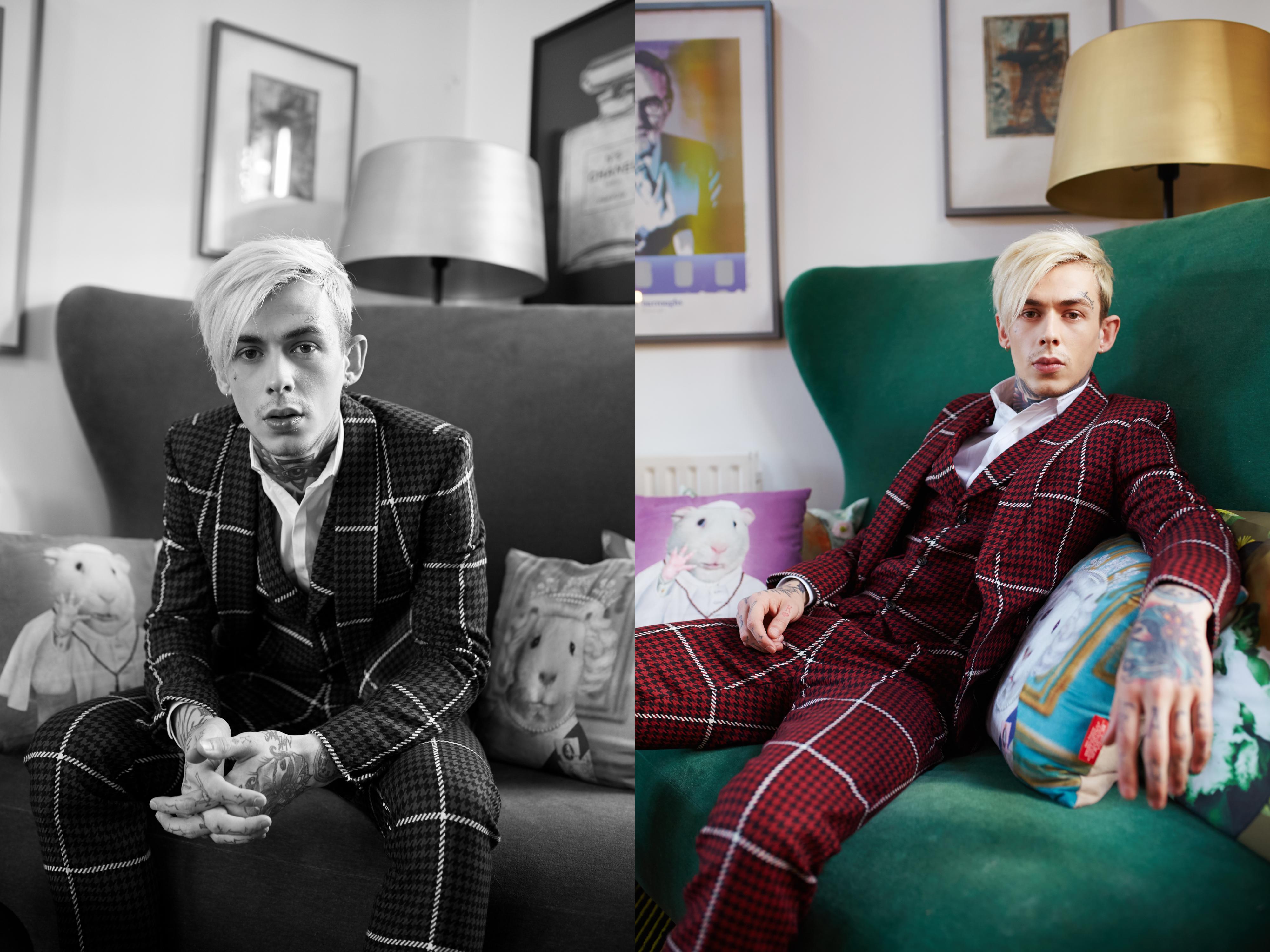 So you're having a career change at the moment. You started off modelling and now going into music. Why the change?
Well, I've always done music, I've been a drummer since the age of four. I used to sing in a school choir, I've always loved music it's always been, my first love. So I'm really grateful for modelling and I'm trying to use it as a gateway into something that I'm a lot more passionate about and I feel will stimulate my mind a bit more than JUST modelling. Don't get me wrong, I love fashion and it's a massive passion of mine as well but music definitely stimulates my mind a little bit more. Gives me something to think about you know?
How long have you been doing music for?
I started drumming at the age of four. So my step-dad that's been in my life almost all of my life has been a massive influence on me. He's in a Blues band. He'd always be listening to Aretha Franklin, B.B. King, James Brown, John Lee Hooker, The Rolling Stones, Guns n Roses, ACDC, Motorhead, Black Sabbath, you know. Everything that you can imagine that's soulful and then I fell in love with Hip-Hop like most people do from our generation.
What age was that?
Must have been around 10. 10 or 11 I remember buying a Slim Shady album with my friend Joel and sitting in his bedroom, it had the parental advisory sticker so we thought we were super naughty listening to the lyrics and stuff.  Fell in love with it straight away, I would always write lyrics. I would always attempt it. Either when I'm on a plane or on the toilet I would usually write lyrics.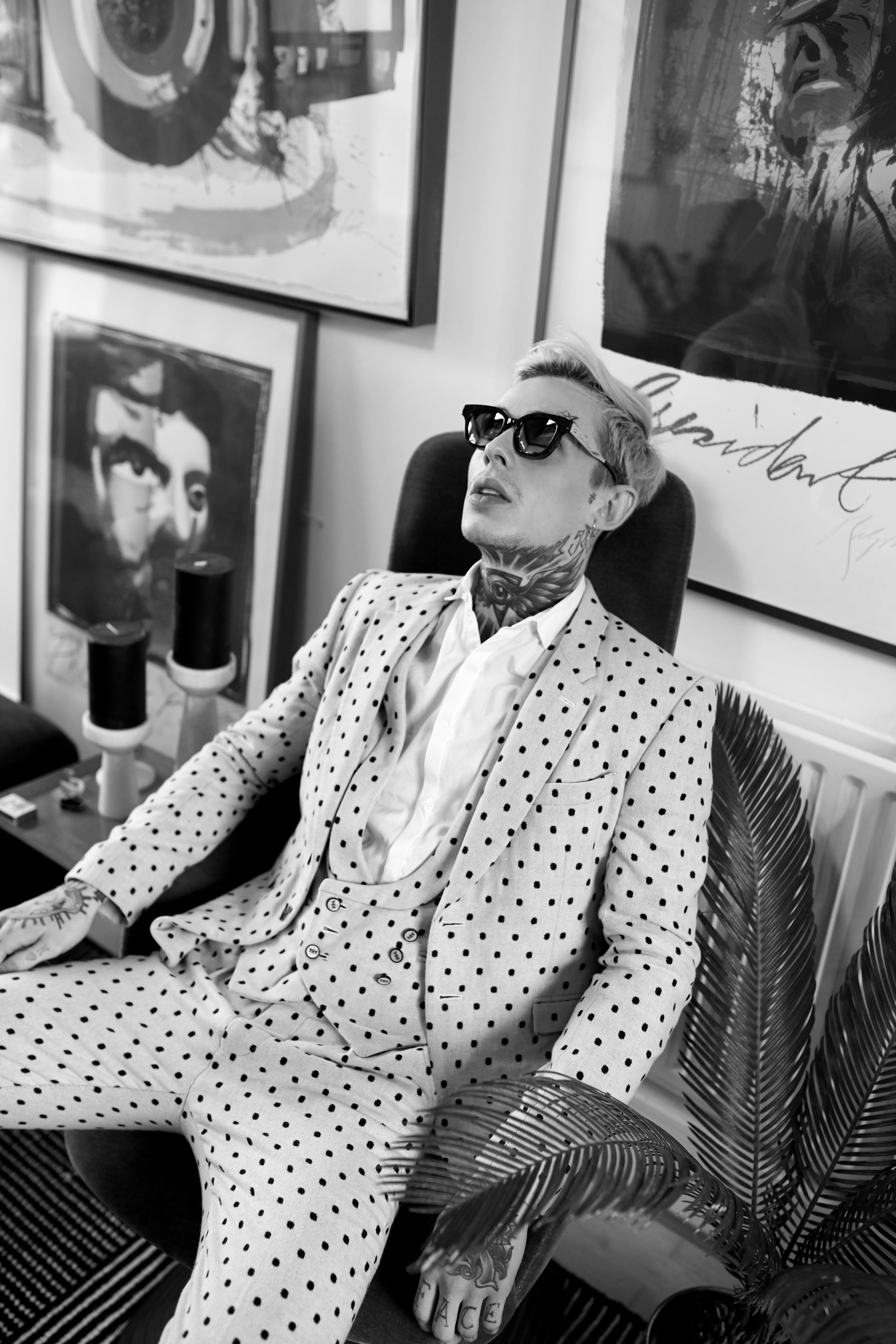 What kind of music do you make? Do you sing?
Yeah, I sing. When someone asks me what it sounds like I say I'm trying to create my own sound.  I'm trying to make music that I enjoy, you see what I mean? So I'm trying to create music that I want to listen to.
Ok, and what kind of music is that?
Well, wait for the EP to drop, see if you like it. But sort of like, imagine Post Malone but from England. I'm inspired by Post Malone, Danny Seth, Noah James, Travis Scott, A$AP Rocky, Machine Gun Kelly. Like I said before, Guns n Roses. I like that Rock sound but I also like Oh Wonder and I like a lot of composers as well. Hans Zimmer, love his work.
Is there one person that's inspired you musically?
My step-dad. Because he does music for love. He loves music and that's exactly what he does it for. My mum loves Soul music as well, I would always love going to watch him play in a place in Bristol called the Prom. I think he's been a massive influence on me and it's so close to home it's such a nice thing to be able to do. My step-dad Nigel yeah. Definitely my inspiration, step-dad Nige haha.
How would you describe your music?
I describe my music as my image. It's an image of me, the way I look. I would like to sound the way I look. I want to be an onomatopoeia, people look at me and hear my music and think "oh yeah definitely."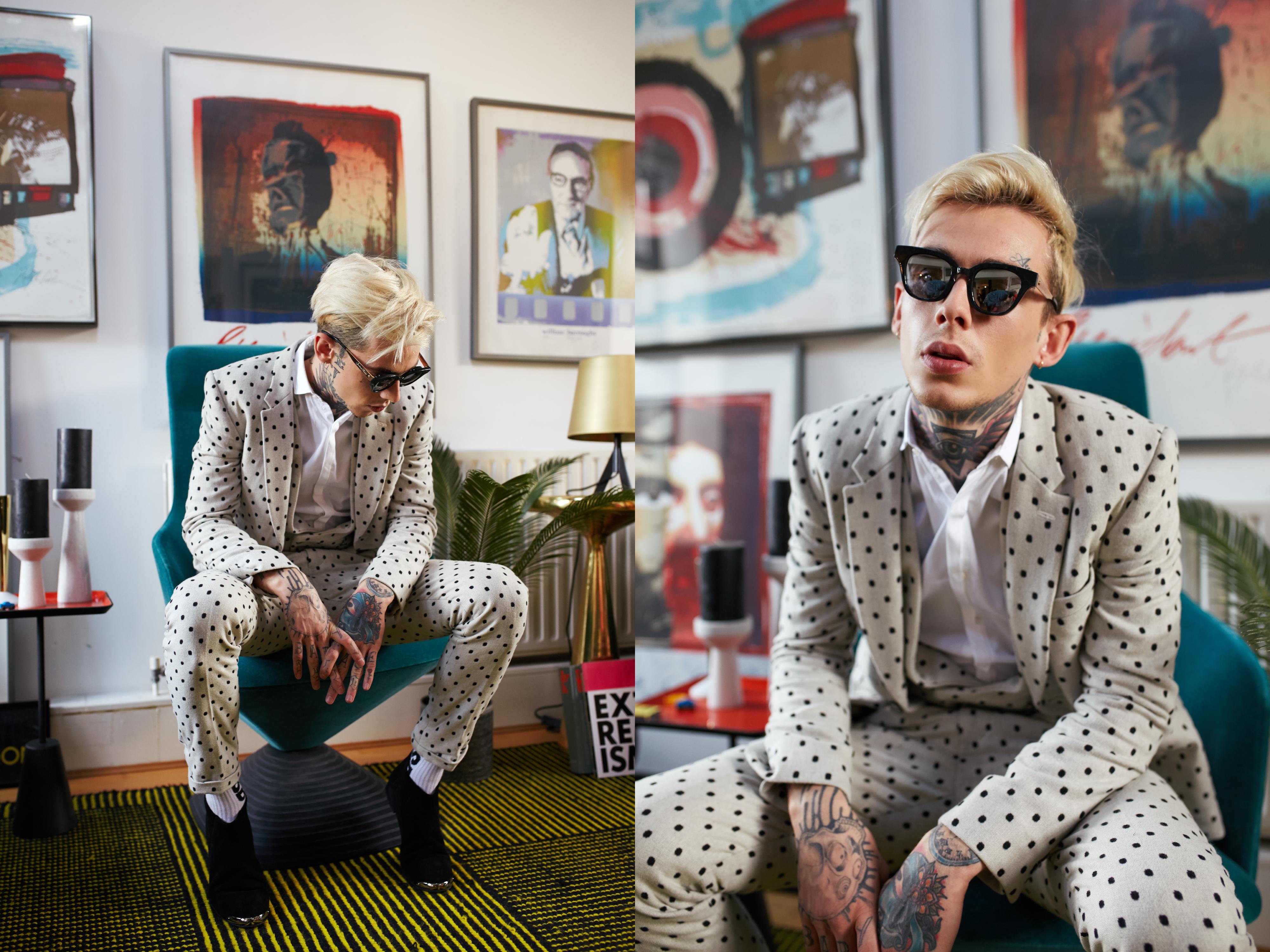 Suit and sunglasses – Joshua Kane, Boots – Giuseppe Zanotti
Right now you're working on your music, what can we look forward to?
So my EP will be dropping soon, it's called Alex In Wonderland.
Why have you called it Alex in Wonderland?
I'm giving people that follow my work a little bit more to see than just what my Instagram has to offer. So anyone that follows me on Instagram can listen to my music and maybe relate to it, maybe not or maybe just enjoy it. It's a little step into my brain. I think Alex In Wonderland gives people an opportunity to see what I like and what inspires me and what I go through on a day to day basis. I talk about things that people have no idea that I've been through and hopefully people can relate.
What made you start doing music now?
I just think as well like nothing lasts forever. I think it was more of a revelation, I'm 25, I'm not getting any younger. I want to have something that I can do forever and modelling is not something you can do forever. Unless you've got that kind of true grit, rustic kind of look which is really cool but I might not get that.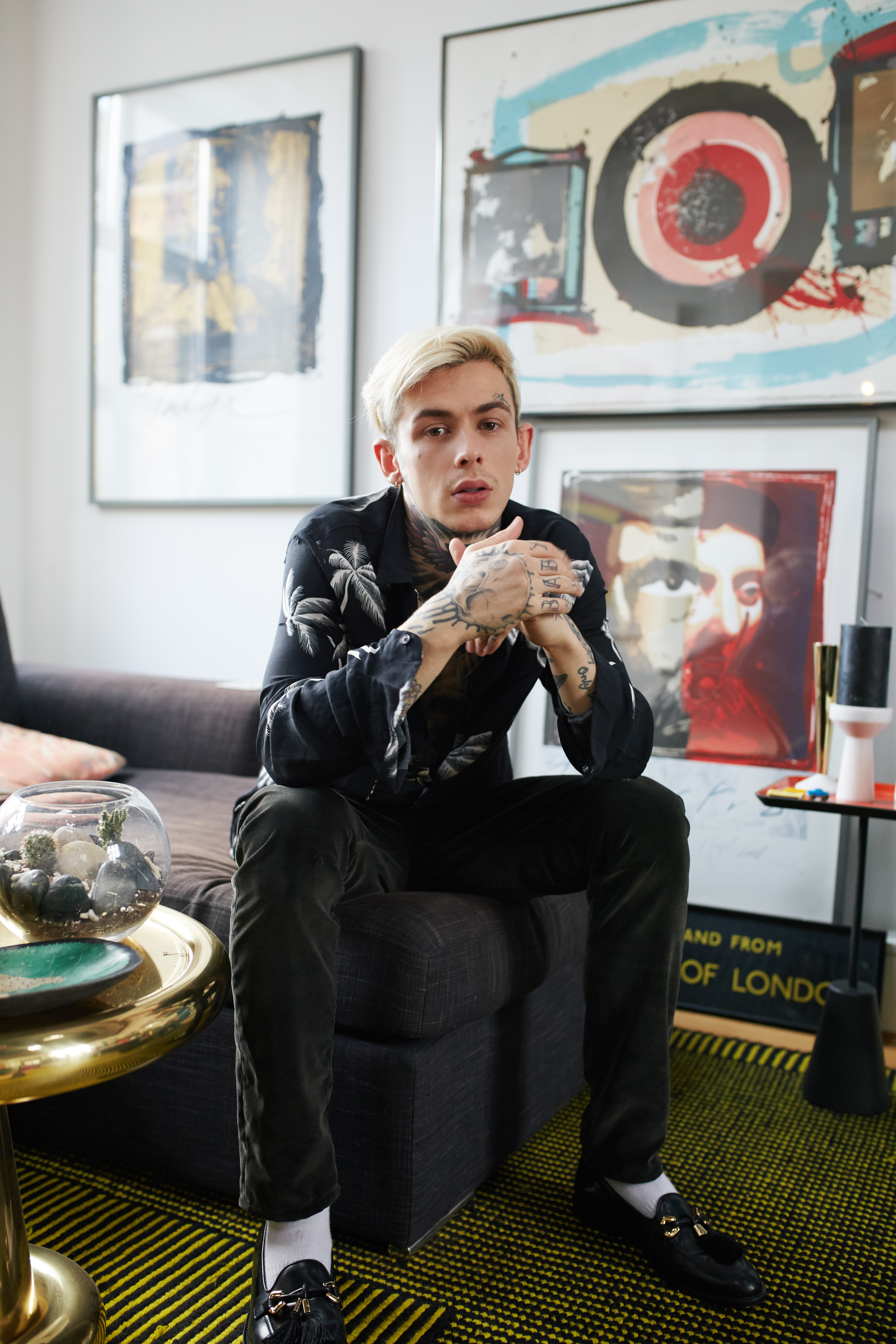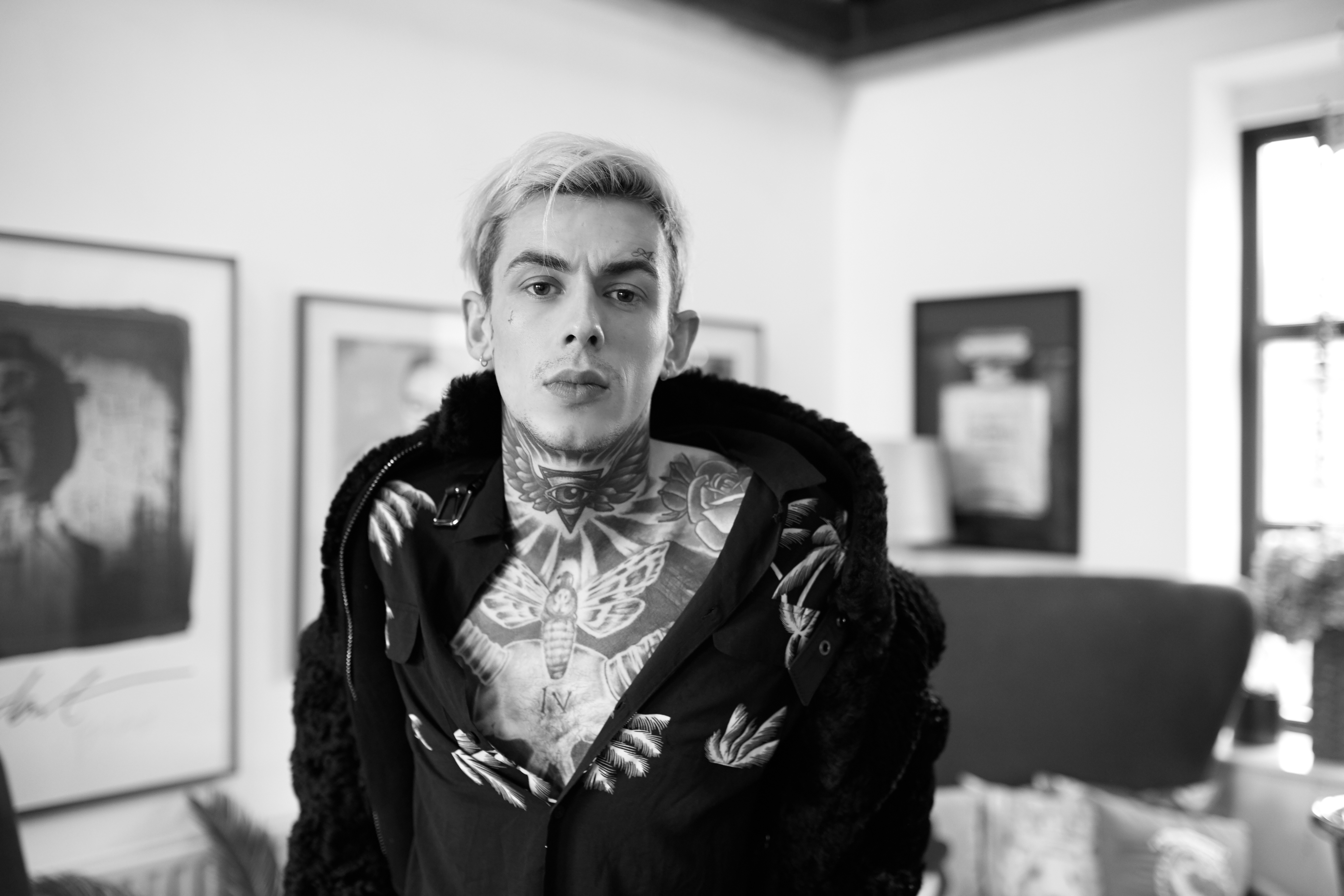 Jacket, trousers and shoes – Giuseppe Zanotti, Shirt – AllSaints
Did you get scouted or did you choose to be a model?
Yeah, I chose to be a model, I chose to give it a go and thank God and God bless everyone that's given me a chance and allowed me to progress. I'm thankful for that 100% but I think it's a nice platform to get to where I want to be.
What kind of music artist would you like to collaborate with?
I would like to collaborate with Yung Pinch, I'd like to collaborate with Danny Seth. I love The HeavyTrackerz, the Grime artists. I  think Grime is so cool.
Which Grime artist would you like to collaborate with?
Big Narstie, 100%. I love Big Narstie because he's an intelligent man. He's an intelligent man and he knows what he's talking about. He's very knowledgeable about things that are going on. Like I didn't grow up in a Grime environment but I understand what Grime is, it's more of a lifestyle than a type of music and I respect that massively. I'd like to collaborate with Machine Gun Kelly, that would be sick. Sammy Switch, check his music out he's really good. Noah James would be a good collaboration and I'd like to collaborate with Lana Del Ray. That would be right up there with cool and The Weeknd, but he'll out-sing me.
How would you describe your style in one word?
Alexander James. There are so many people doing the same thing, you need to be bring something different or you'll fade into the background.
Are there certain moods that make up your style?
Just Rock, Rap really. Hip-Rock.
What kind of brands would I find in your wardrobe?
You'd find Musée Noir, a lot of Nike, Blake Hedley, BODA SKINS. You'd find lots of Zara. Lots and lots of Zara, a bit of ASOS, converse. I don't wear much designer stuff. I like to collaborate with up and coming brands, it's always a good feeling to work with a brand rather than for a brand for a day.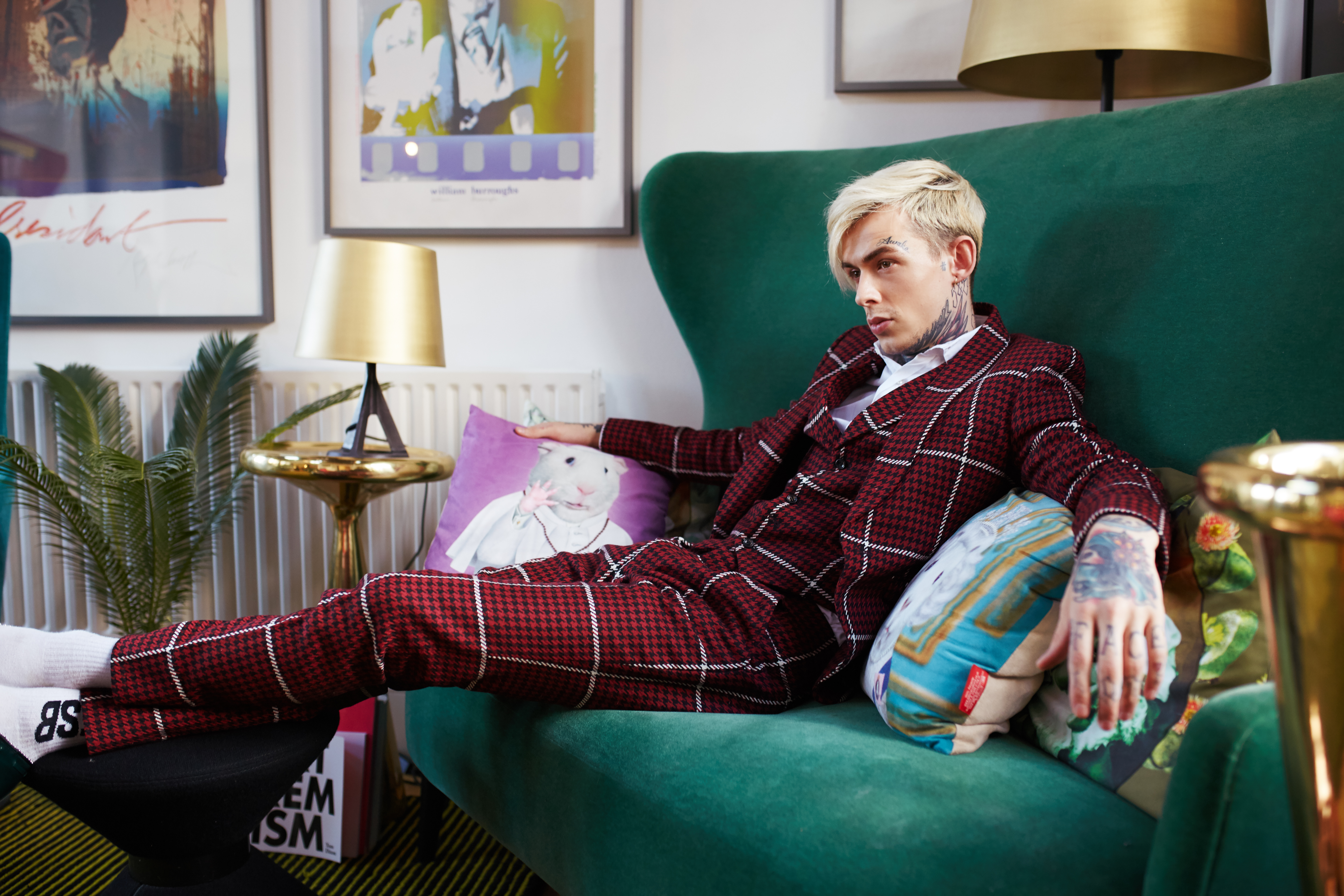 How many tattoos do you have?
107.
When did you start your tattoos?
I got my first one on my arm at age 14 which is a tribal which is being covered up.
Did you get addicted?
100%. It's worse than tobacco or any other substance. 100%. I would be in the chair getting a tattoo and thinking what my next tattoo will be. I am an addict like you know what I mean?
Are you still addicted?
100% yeah. It's just time.
What's the most important tattoo?
They all serve different meanings you know? Because I've obviously been getting them at different places of my life, like I've got my friend's album there, got my friend's signature there. I've got stuff done by my friend Joshua Williams when he was just seeing whether he could do tattooing. I've got my friend's logo from Hawker Sunglasses. I've got my girlfriend's initials, I've got a music stand, I got a nightclub I used to go to, my friend's lyrics from a song. They all serve a different meaning in different ways.
So these tattoos represent your lifetime.
Yeah, they're my vision board. I'm my own vision board.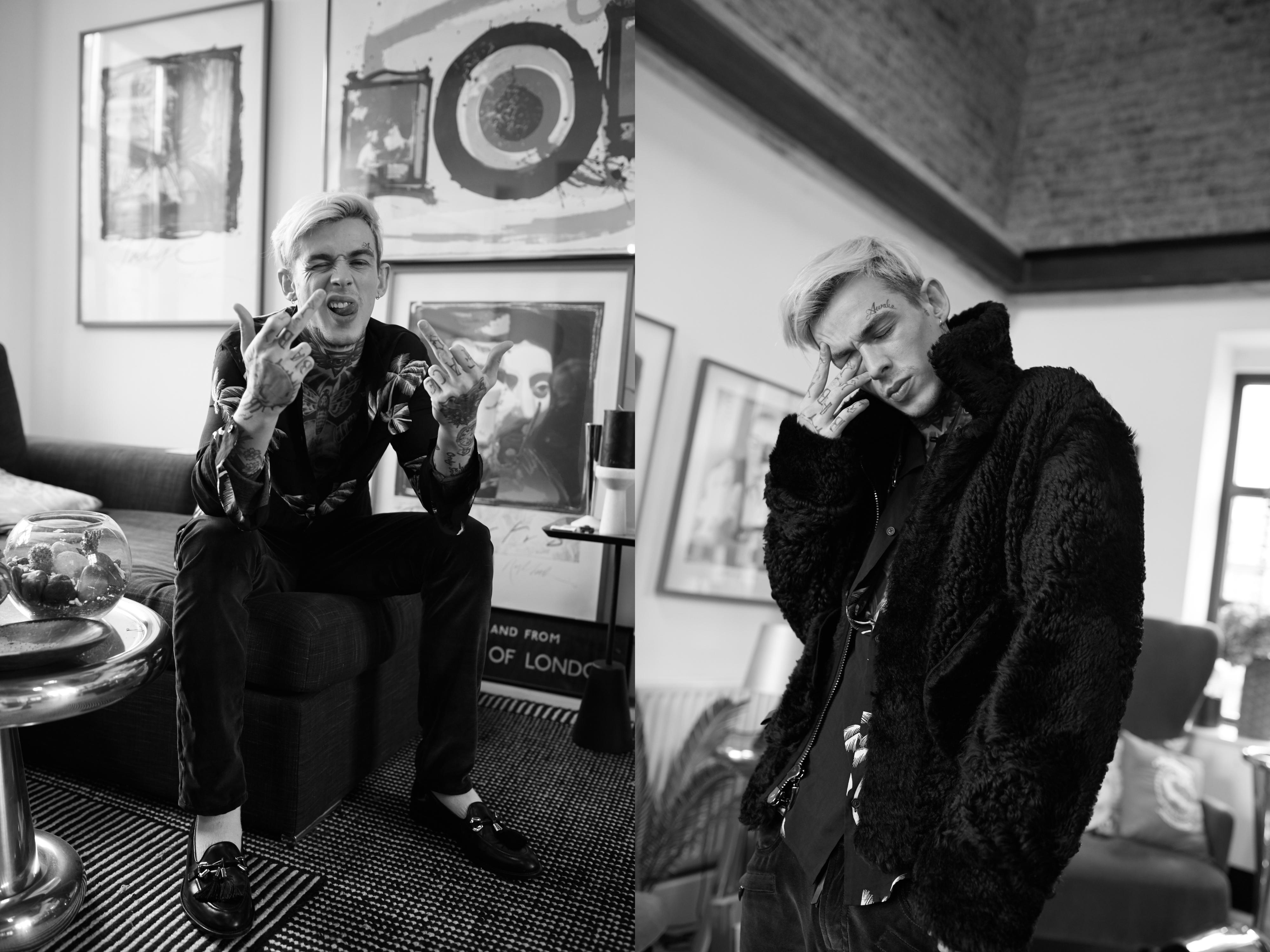 What advice would you give to someone that has a good sound but they're scared to just put themselves out there.

I've got so many people that are gonna ridicule me, I've had so many people that laugh. I've had so many people that tell me to give up but those people aren't in my life anymore. And the people that are around me, I've either proved them wrong or it's a difficult one because the people that are saying "stop making that noise" are the people you want around you because if you can impress them, then you know you're progressing. Don't give up, I know it's a cliche but if you do what you love, you can't fail. There's a famous saying: "You can fail at what you hate, so you might as well have a go at doing what you love." If you're happy doing what you're doing then you can't fail. Surround yourself with people that are going to encourage you, whether that be with negativity and you can turn to someone and be like "look what I've done."
I sent a track I did with a guy called Christian King in Bristol in a studio in Bristol and I made a song I sent it to my man now and he said come to the studio right now we're going to make a song and we got talking and now he's producing my new EP. But you've got to believe in your own sh*t. If you don't believe in yourself no one will believe in you. It starts at home.